Liam Williams
Updated: 05 Oct 23 13:53
Published: 05 Oct 23 11:19
'No, not Cristiano Ronaldo, THE Ronaldo.'
Retirement and the subsequent passing of time often results in a re-evaluation of any athlete's abilities; some get better after retirement, some get worse. Today, Ronaldo's legacy has almost reached mythological levels to the point many will tell you he was better than Cristiano Ronaldo; that he is The Ronaldo.
And from the mid-1990s to around 2003, there was only one Ronaldo.
But when Cristiano Ronaldo signed for Manchester United there were two. And by the mid-2000s, one was about to be a 23-year-old Ballon d'Or winner, and the other was long past his best, suffering more frequent injuries and had gained significant weight.
It became Cristiano Ronaldo and The Other Ronaldo. In some quarters, it was Cristiano Ronaldo and – harshly – Fat Ronaldo. Even Wikipedia has chosen sides, with pages for Cristiano Ronaldo and Ronaldo (Brazilian footballer).
Being identified and differentiated by his weight was an insult not just to the person, but to the legacy of one of the greatest players of all time reaching the end of his career, who it was discovered had hypothyroidism, a condition that causes weight gain.
And searching online for 'The Other Ronaldo' brings up results almost exclusively about the Brazilian Ronaldo.
Ronaldo Nazario had plenty of nicknames throughout his career; one of the earliest was given to him during his time in Italy with Inter: Il Fenomeno – The Phenomenon.
Prior to being a phenomenon, Ronaldo was a highly regarded teenager, signed aged 16 by Cruzeiro for a five-figure fee.
Ronaldo scored 44 goals in 47 games, earning a call-up to Brazil's World Cup squad. Ousted by the Bebeto and Romario, who retired with a combined 94 international goals, Ronaldo didn't play in the United States, but did take a winner's medal to the Netherlands with him as PSV Eindhoven spent around €6m on the teenager.
Ronaldo, still 17, wasn't exactly a footballing secret; bigger clubs than PSV were courting the teenager; he'd made his Brazil debut a few months prior to the World Cup. PSV's trump card was Brazil team-mate and former Eindhoven man Romario, who talked PSV up to Ronaldo.
It shielded Ronaldo from the limelight somewhat. He could've earned more money in Serie A, but all that was still to come. Eindhoven gave Ronaldo a foothold in Europe; a platform to build on.
Remember, Ronaldo was 17 years old; he'd travelled halfway across the world with his mother and girlfriend to a country where he didn't speak the language.
There was no finding his feet in the Netherlands; Ronaldo hit the ground running, scoring 10 minutes into his debut.
He followed his debut with a brace in his first home game and would score in 21 of his 33 games that season, finishing as Eredivisie top scorer on 30. No player in the league reached 20, and only Alan Shearer scored more in Europe's top leagues (at a rate of 0.81 goals per game compared to Ronaldo's 0.91).
But it was the UEFA Cup where he really announced himself. Five days after his 18th birthday, PSV travelled to Germany to face Bayer Leverkusen. The home side would win 5-4, but it was Ronaldo who stole the show. He won the penalty for PSV's first goal, lashed home a thunderbolt from 25 yards for the second and completed his hat-trick in the second half.
Ronaldo finished with three; he could've had six. It wasn't men against boys, it was men against boy, and it was the boy who left the men in his wake.
The following season, Ronaldo picked up where he left off, scoring 12 goals in his first 12 games.
And then it began.
The first of several knee injuries that would plague Ronaldo's career occurred in December 1995.
The Brazilian would only play another goalless 86 minutes of football between his injury and the end of the season, but everyone knew who he was already, and Barcelona were prepared to take the gamble.
Still a teenager, Ronaldo embarked on his second major European transfer for a world record fee.
This was a real step up. He'd served his European apprenticeship with PSV; now was time for one of the biggest clubs of all. To make things more complicated, Barcelona were transitioning from the Johan Cruyff era to new manager Bobby Robson, who'd pledged to make Ronaldo his main man.
Ronaldo wouldn't be overawed. He scored five goals in his first five matches, and after 10 games he'd scored 12 goals, including four braces and a hat-trick, as well as perhaps his most defining goal of all.
There are only a handful of players who, on their day, are truly unplayable; who do things that only divine intervention could prevent. Funnily enough, most of them seem to have donned Barcelona shirts.
Diego Maradona, Ronaldinho, Lionel Messi, Ronaldo. Scorers of goals where blame can't be apportioned to anyone; goals you simply have to accept were beyond you. One such goal scored by Ronaldo came against Compostela.
Ronaldo won possession inside his own half, shirking off four fouls by the same defender; three attempted trips from behind and a shirt pull; none were enough. Dazzling footwork and a burst of speed took him past a second defender. A stop to evade another, a jink between two in the box, and just as it appeared he'd finally lost control, he drives the ball inside the near post, falling over as he does so.
He made professional footballers look like toddlers learning to walk.
Robson, who'd been told his job depended on the success of his big-money signing, wasn't running up and down the touchline like a madman; he merely stood up and held his hands to his head. Like everyone else in the stadium, he couldn't quite believe what he'd just seen.
Barcelona would endure a relatively turbulent season. While they'd win the Cup Winners' Cup – with Ronaldo scoring the winner from the spot – and the Copa del Rey – which Ronaldo was absent for on account of signing for Inter earlier in the month – there were also humiliating defeats, such as the 4-0 defeat to Tenerife and the 3-2 loss at home to Hercules having led 2-0.
Ultimately it was another successful season for Ronaldo, finishing as La Liga top scorer having scored another 34 league goals, but with Barcelona unable to agree a new contract, Inter activated his release clause, making him the second footballer in history – after Maradona – to twice break the world transfer record.
Still yet to turn 21, Ronaldo had scored 76 league goals in Europe as well as 20 with Brazil. He'd twice broken the world transfer record and twice finished as a league's top goalscorer.
The young Brazilian was now heading to the world's most difficult league to test himself again. And there really was no better league than Serie A, with no greater collection of the world's talents.
By the summer of 1997, Italy had a representative in eight of the last nine European Cup finals, winning four. They'd also had 11 teams in the last nine finals UEFA Cup finals, winning six.
Indeed, four of the first five FIFA World Player of the Year awards went to Serie A players with the only exception being 1994 World Cup winner Romario; Lothar Matthaus, Marco van Basten, Roberto Baggio and George Weah. In 1996 it went to Barcelona's Ronaldo. In 1997 it would go to Inter's Ronaldo. And in 1997 it was won by a landslide.
The players behind Ronaldo that year: Roberto Carlos, Dennis Bergkamp, Zinedine Zidane, Raul, Alessandro Del Piero, Davor Suker, Gabriel Batistuta, Alan Shearer, Leonardo, Peter Schmeichel. Combined, they scored 367 points. Ronaldo got 480 on his own.
Serie A also boasted the world's meanest defences. In the five seasons prior to Ronaldo's arrival, the 25-goal mark had only been reached once, by Batitusta. Sure enough, Ronaldo would hit 25 in his maiden campaign in Italy, facing the likes of Paolo Maldini, Alessandro Nesta, Fabio Cannavaro, Alessandro Costacurta, Lilian Thuram and plenty more.
And just as he did at PSV and Barcelona, he'd hit the ground running in Milan, scoring nine goals in his first 11 games.
It was a strong domestic campaign for Inter, but in the mid-to-late-90s, there was one top dog in Italy, and they proved too much.
Juventus in the previous three seasons reached three Champions League finals, winning one and they won the league twice, coming second once.
In 1998, they'd reach another Champions League final and would hold off Inter to win the Scudetto.
But the manner in which they did it left an extremely sour taste in the mouth for Inter. One point behind Juventus with four games to play, Inter went to the Delle Alpi. 1-0 down in the 70th minute, Ronaldo poked the ball past onrushing Mark Iuliano, who couldn't stop himself bodychecking the Brazilian to the ground.
It was a stonewall penalty, ignored by the referee. Juventus immediately went up the other end and after a clumsy challenge from Taribo West, were given a penalty of their own.
Inter players and staff were utterly incandescent. The penalty was saved but Juventus ran out 1-0 winners. The refereeing was so controversial it was brought up in parliament prompting heated exchanges between politicians; it was a national scandal.
Inter dropped points in their next two matches and it's hard to escape the feeling that the Nerazzurri would've gone on to win the Scudetto had the penalty been given. Ronaldo had scored 14 goals in the last 14 games of the season but would come up short domestically.
But Ronaldo would taste more European success, and he saved his finest performance for the final against Lazio.
The top players are defined by and remembered for the big moments. People don't remember Zinedine Zidane's performances in the 1998 World Cup; they remember his man-of-the-match display in the final where he scored two goals.
People don't remember Ronaldo's four goals in the 1998 World Cup; they remember his ghost-like showing in the final. The same would happen in 2002. It wasn't his first six goals people remember; it was the brace in the final.
And in the 1998 UEFA Cup final, Ronaldo would run the show.
Angling a run towards the corner flag, Ronaldo somehow swiped across the ball from the edge of the area striking at a right-angle, only to see his effort cannon off the angle of post and bar. It would have undoubtedly gone down as one of the competition's greatest ever goals.
A popular internet myth tells you that 88 goals Ronaldo scored came by rounding the keeper. It was actually 48, but one of his best came at the 1998 UEFA Cup final.
Not content with waiting on the shoulder of the last man, Ronaldo would track back to his own corner flag to regain possession. And after 70 minutes and already 2-0 up, Ronaldo finally got his reward. Springing the offside trap, Ronaldo was one-on-one with Luca Marchegiani. Eyeball to eyeball, Ronaldo feinted – left, right, left, right – sitting the keeper down and tapping into an empty goal. It was vintage Ronaldo.
Inter ran out 3-0 winners, but it wasn't their night; it was Ronaldo's night, and the World Cup was just around the corner.
Michael Jordan had just completed his second NBA Finals three-peat after coming out of retirement; Tiger Woods was a star before turning pro but won the Masters the year earlier to propel him to the stratosphere. Both Nike athletes, but it was Ronaldo in 1998 who a company official declared was 'the most global of all athletes today'. The greatest footballer in the world, set for the sport's biggest stage. In 1994, it was Romario's turn; in 1998, it was Ronaldo's.
Ronaldo would help Brazil to the final with four goals, only to be felled by a convulsive fit on eve of the showpiece. Ronaldo insisted on playing but was a shadow of himself. It was France and Zidane's night in the Parc Des Princes, the scene of Ronaldo's greatest night just two months earlier had become the scene of his greatest torment.
It was also the night that cost Ronaldo a third straight FIFA World Player of the Year award. When the award was given in 1994, 1998, 2002 and 2006, it went to a World Cup winner each time. Zidane won by a landslide, Ronaldo was a distant second.
His second season at Inter was troubled by injury, though he did still manage 14 goals in 19 games.
But it was his third season where his world and career would come crashing down. There had been concern over the condition of Ronaldo's knees, and in November 1999, Ronaldo limped off having torn a tendon in his knee.
Ronaldo returned five months later for the first leg of the Coppa Italia semi-final with Lazio, coming off the bench. His return would last six minutes. Attempting a stepover, he completely tore the tendon in his kneecap, collapsing to the ground. Instantly recognising the seriousness of the injury, the surrounding Lazio players stopped the game and called for physios. The sheer agony brought Ronaldo to tears with his kneecap now residing in his thigh.
It was 16 months before Ronaldo would wear the black and blue of Inter again, and while he'd struggle with muscular problems – not uncommon after a serious knee injury – he'd score seven goals in 10 games that season, just about proving his form and fitness for the World Cup that summer.
It was one of the greatest footballing comebacks of all time; Ronaldo would score six goals en route to the final, where he'd score a brace as Brazil won 2-0 against Germany. It wasn't just two years of waiting to get back to fitness, it was four years of waiting for another shot at a World Cup.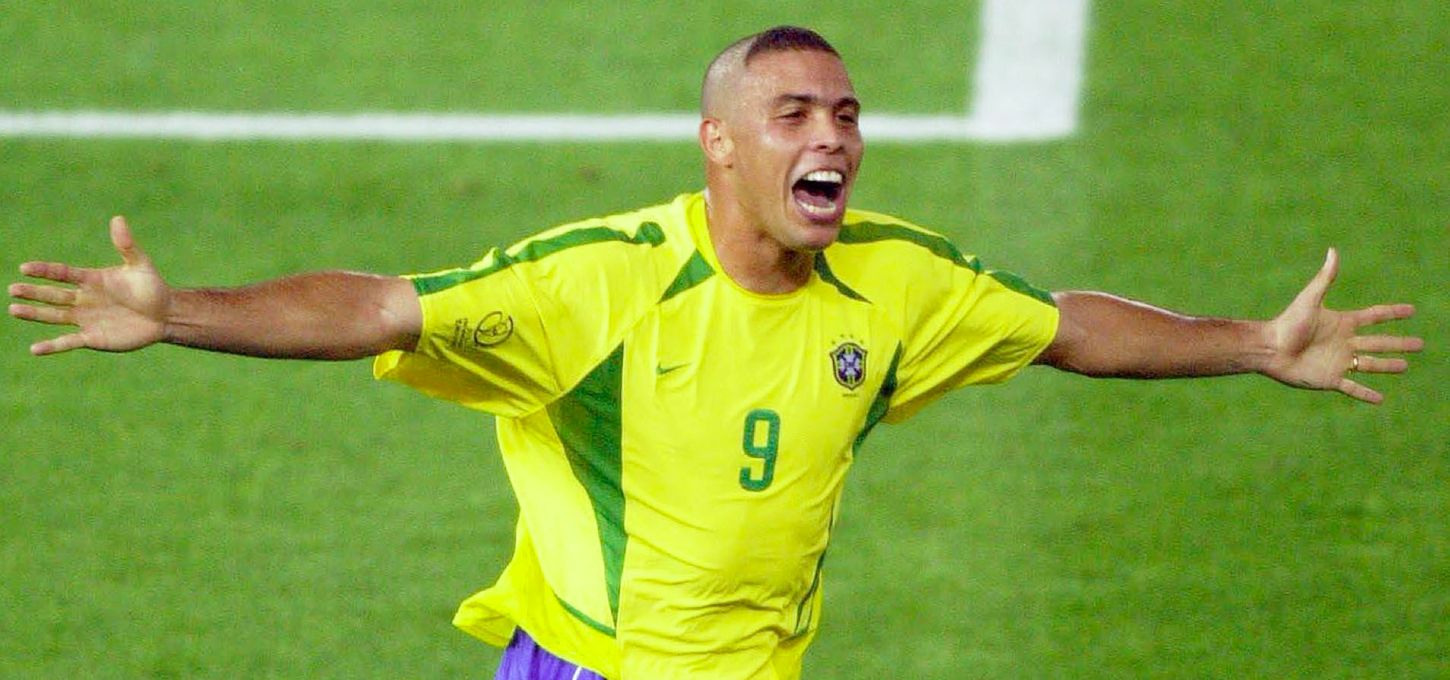 Held so infrequently, the World Cup eludes many of the game's greats – Johan Cruyff, Michel Platini, Paolo Maldini, Cristiano Ronaldo.
It wouldn't elude Ronaldo.
His efforts in South Korea and Japan earned Ronaldo another big-money move, this time to be a part of Real Madrid's Galacticos.
Still only 26 when he made his debut for Real Madrid, Ronaldo was not the figure the world saw explode onto the scene as a teenager. He was bulkier, and while he still had pace, he wasn't quite as quick as he was at PSV, Barcelona or Inter. He certainly didn't have the slender frame that allowed him to weave through defences, meaning he had to adapt his game. Nevertheless, he remained the best striker in the world, clearing 20 league goals in each of his three seasons at the Bernabeu.
He would also take on Manchester United at Old Trafford, scoring a hat-trick that brought a standing ovation from the home fans.
He wasn't the Ronaldo of his youth, but he was still the best striker in the world.
All in all, Ronaldo spent five years in Italy, but missed the best part of three of them through injury. His impact in Serie A can't really be compared to the likes of Gabriel Batistuta, Francesco Totti, Alessandro Del Piero and other greats of Italian football, but he may well be – after Diego Maradona – the greatest player to ever play in the country.
He also managed to raise the game not just of his team-mates but his opponents. While most of the defenders Ronaldo faced could only hope and pray Ronaldo would have an off night, the attackers strived to reach his level.
Del Piero, one of the world's best at the time, told Ronaldo that he inspired him to improve, with Del Piero winning Italian Serie A Footballer of the Year in 1998 (no guesses for who won the overall Serie A Footballer of the Year that season).
It's a testament to just how good Ronaldo was that he can both go down as one of the greatest footballers of all time, and still have people wonder 'what if?'.
It's also a testament to just how good Ronaldo was that his namesake scored more than 120 international goals, more than 700 club goals, won five Ballons d'Or and still isn't known as The Ronaldo.
For The Ronaldo will always be the Brazilian Ronaldo: Ronaldo Fenomeno.