Liam Williams
Updated: 11 Apr 23 09:40
Published: 26 Jul 22 13:04
He spent 10 years as the last human being to win the Ballon d'Or.
Of everything Kaka achieved in his career, his 2007 Ballon d'Or win is one of the first things that comes to mind. But it was a career adorned with countless individual awards and, in truth, far too few trophies.
Two years prior to the Ballon d'Or win he was named the Champions League's best midfielder. At the end of that year he was named in the FIFPro World XI in midfield alongside Zinedine Zidane and Milan colleague Andrea Pirlo. He'd stay in the team the next two seasons alongside Cristiano Ronaldo, Steven Gerrard (twice) and Xavi. Esteemed company.
But the Brazilian was fortunate to even have a career. Aged 18, he cracked his sixth vertebrae on a diving board, and was told to be happy he could walk. His future life as the world's best footballer was thrown into jeopardy.
Kaka of course made a full recovery; deeply religious, he attributed his comeback to God, and one of the abiding images of Kaka is him fallen to his knees looking up to the heavens with 'I belong to Jesus' under his jersey following Milan's Champions League final win over Liverpool.
Back in 2002, the legendary Rivaldo told the world to watch out for a youngster playing for Sao Paulo if he made their World Cup squad. Shortly after his 20th birthday, Kaka did indeed make the World Cup squad, and despite only playing 18 minutes – after he was subbed on for Rivaldo – picked up a winners' medal.
Rivaldo, after his move to Milan, recommended the club sign Kaka from Sao Paulo. The club obliged, and Rivaldo hardly played in black and red again. Fellow playmaker Rui Costa also found himself increasingly sidelined after Kaka's arrival.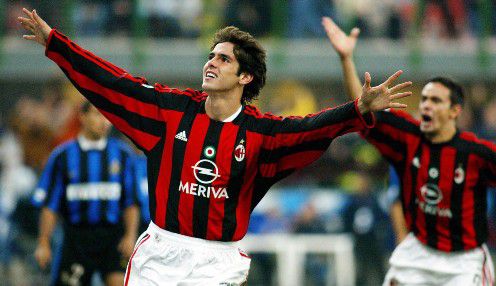 Kaka quickly took to life in Italy
His impact at Milan was instant. Though off the back of a Champions League win, Milan hadn't won the Serie A title for five years. That was immediately rectified, as Kaka – a virtual unknown when signed – scored 10 goals and was named Serie A's Footballer of the Year.
Remarkably, it would be Kaka's only Scudetto, which seems unfathomable. When you think of great Italian teams of the mid-00s, Milan trump them all.

The following season, they finished second behind a Juventus side who had titles stripped due to the Calciopoli scandal, with Milan themselves docked points, then running into an imperious, resurgent Inter, first managed by Roberto Mancini, then Jose Mourinho.
Kaka's second season would see Milan reach another Champions League final. The fearsome XI was littered with stars. World Cup winners past and present. Their starting XI against Liverpool read Dida, Cafu, Stam, Nesta, Maldini, Pirlo, Gattuso, Seedorf, Kaka, Crespo, Shevchenko.
Milan were imperious. The all-star midfield was running Liverpool ragged. Kaka was finding space all over the pitch before one of his trademark runs from deep allowed him to find Andriy Shevchenko… whose goal was subsequently ruled offside.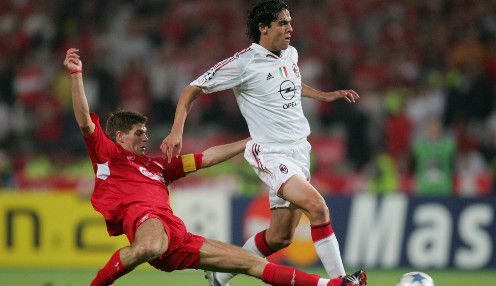 Kaka was outstanding in the first half of the 2005 Champions League final
Moments later, Kaka picked the ball up in space again, burst forward, and his impudent chip found Shevchenko again, whose pass gifted Hernan Crespo with a tap-in.
The next was the best of the lot. Once again, Kaka picked the ball up in space. One touch to turn away from his man, another to slot a pass through the eye of the needle for Crespo to score his second and surely put Milan out of sight.
We all know what happened next, and Kaka was denied a Champions League winners' medal.
The following season, Milan reached the latter stages of the Champions League again. The knockout phase saw them comfortably dispatch with Bayern Munich and then dramatically dispatch with Lyon, who were going through on away goals until Filippo Inzaghi's 88th-minute winner.
But the semi-finals saw them bested by eventual winners Barcelona, whose side featured the likes of Ronaldinho, Deco and Samuel Eto'o.
The 06-07 season saw the departure of hitman Shevchenko to Chelsea, as Milan operated largely with one centre-forward, and more responsibility placed on Kaka's shoulders. Domestically, the season couldn't have started much worse, starting with an eight-point deduction, and winning just five of their opening 16 games.
Europe however, was a different story. Kaka's five goals across their opening four group games saw them as good as through with two matches to spare.
He scored the only goal of the tie to beat Celtic, and in the latter stages of the competition, showed the class that won him the Ballon d'Or.
In the first leg against Bayern Munich, he won – and scored – an admittedly controversial penalty as Milan drew 2-2. In the second leg, he made the first goal and was instrumental in the second, as Milan went to Munich to shut out Ottmar Hitzfeld's side. The Brazilian could have even bagged two more himself.
Onto the semi-finals, and the scene of arguably Kaka's finest hour, at Old Trafford.
The hosts started brightly, taking an early lead, but Kaka was a constant danger. Then, 21 minutes in, a magnificent first touch and burst of acceleration took him past Gabriel Heinze to score from a tight angle with his left foot.
And in the space of 15 minutes, the Brazilian had turned the tie on its head.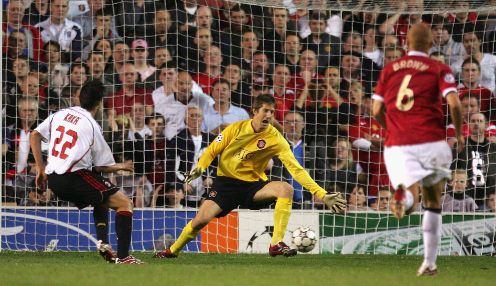 Kaka was at his unplayable best at Old Trafford
Outmuscling Darren Fletcher, then flicking the ball over Heinze's head, he bravely dipped his head in between Heinze and Patrice Evra, who subsequently smashed into each other like a scene from a slapstick film, and with all the time in the world, slotted past Edwin van der Sar. It was as if the Brazilian had conjured a spell on the Manchester United defenders, making them lose control of their motor functions to wipe each other out.
It was a moment that perfectly summed up Kaka. His magic was not akin to fellow Brazilian playmakers Rivaldo and Ronaldinho, who were flashier. Kaka's came through his power and a supreme awareness of his surroundings, speed of thought and turn of foot. As Andrea Pirlo said: "For two or three years, he was the best player in the world. There was a point when teams just had no idea how to stop him."
The second leg saw a battle between the world's two best players, Cristiano Ronaldo and Kaka, for a place in the Champions League final. A win would likely be enough to see Milan through, and on a drenched night in Lombardy, Milan duly obliged. Ronaldo was found wanting; Kaka wasn't.
Running onto a bouncing ball, Kaka hammered home the opening goal. His strength, pace, creativity and eye for goal troubled United all evening as they won 3-0.
Kaka was stifled somewhat in the final, with Javier Mascherano tasked with denying his fellow South American the space to orchestrate the game. Such was the job Mascherano did, it took just six minutes following his substitution for Kaka to find space to enter the final third and feed Inzaghi to put the game beyond doubt.
Kaka finished the season with 10 goals in the Champions League and a winners' medal to boot.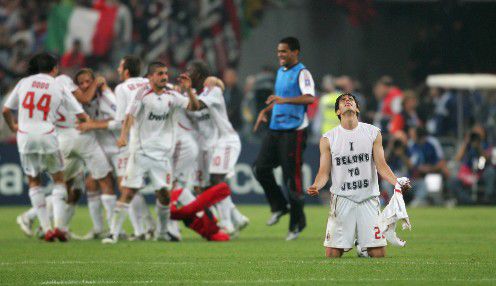 Kaka finally received his belated Champions League winners' medal in 2007
He won the Ballon d'Or, FIFA World Player of the Year, FIFPro World Player of the Year, UEFA Club Footballer of the Year, and Serie A Footballer of the Year.
For six straight years from 2004 to 2009, Kaka was voted in the top 15 of the Ballon d'Or. He finished in the top 10 four times.
But 2007 was Kaka at the peak of his powers – and those of his club. The following season saw an ageing and injury-hit Milan side knocked out of the Champions League by Arsenal in the last 16, and despite Kaka's 15 Serie A goals, Milan, just 12 months after lifting the trophy, failed to qualify for next season's Champions League.
The 2008/09 season was to be Kaka's last in a Milan shirt until a one-season return in 2013. His 16 goals that season helped return the Rossoneri to Europe's elite before leaving for Real Madrid in a world-record deal.
His time in Madrid was mired by injury; the player of the mid-00s was no more, and he returned for one final season at the San Siro in 2013.
Detractors may claim that his peak 'only' lasted two or three years – arguable in itself – but what a peak it was.
Discover more from the world's favourite online betting brand
Latest sports betting and odds
Watch football live streaming including Serie A
Head to the bet365 YouTube channel for exclusive football content