Liam Williams
Updated: 12 Apr 23 10:39
Published: 14 Oct 22 14:54
Serie A in the 1990s was a decade of the world's greatest forwards trying to best the world's greatest defenders.
Few had as much success against those defenders as El Angel Gabriel, Gabriel Batistuta.
In amongst the craft and guile of his contemporaries - the likes of Totti, Baggio, Del Piero - there was something to be said for Batistuta's bull-in-a-china-shop, smash-it-as-hard-as-you-can approach.
'Batigol' was brute force, barging his way through defences with pace, power and tenacity, unleashing a hellish fury upon every ball which he struck. Even his headed goals - of which there were plenty - were met the same way, straining every neck muscle to power the ball home.
Not to say he wasn't capable of the finer moments of artistry. A supremely gifted volleyer, he'd strike a bouncing ball just as well as a grounded one. One only wonders the devastation he could have caused with the more modern footballs.
There's also something to be said for the sheer, unbridled joy Batistuta took from finding the back of the net. Each goal followed with arms outstretched, wild screams, his hair flowing freely. Despite over 300 career goals, it never got tiresome for Batigol.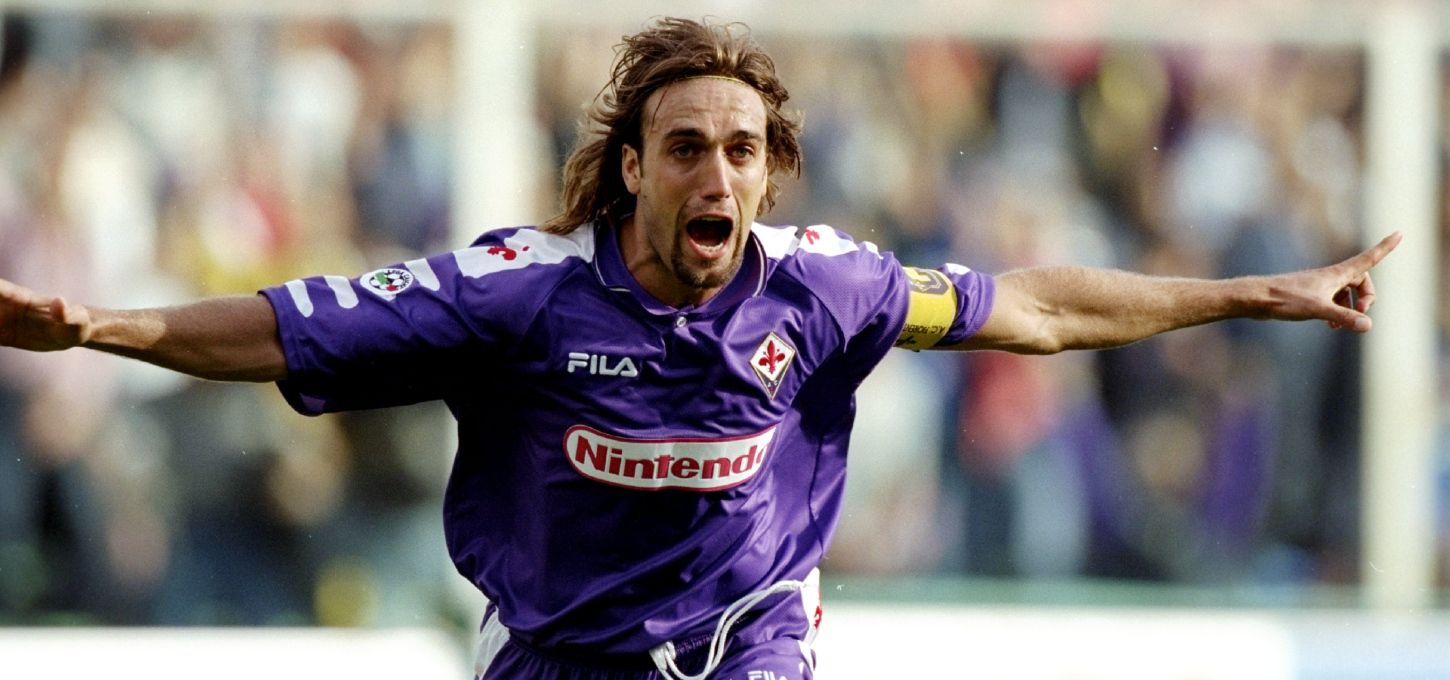 Batistuta's career was kick-started by a certain Marcelo Bielsa, who plucked him out of junior football and brought him to Newell's Old Boys. It wasn't an easy start to life as a professional footballer for Batistuta, struggling to control his weight and adapt to his new home away from his family.
But the hard times didn't last, and Batistuta named Bielsa as the most important coach he ever had. After all, it was Bielsa that laid out the path that would make him an Argentina and Serie A legend.
Batistuta's next move took him to the Argentinian big-time: River Plate. Despite winning the title that year, it wasn't a successful spell on a personal level, having spent time in and out of the side and being played on the wing following the arrival of new coach Daniel Passarella, and so came the move to arch rivals Boca Juniors.
So many of Argentina's best players have played for one of the big two. River: Di Stefano, Ortega, Crespo. Boca: Maradona, Riquelme, Tevez. Virtually none have played for both.
But the manner of his exit meant there was never animosity from either side, and Batistuta began to forge a reputation. Deployed more often as a striker, Batistuta experienced more game time and scored more goals. Enough to earn a place in the Argentina side where he was top scorer in the 1991 Copa America, capturing the attention of Fiorentina.
The switch to La Viola was the biggest move of Batistuta's life, and it did take a little while to adapt. He scored just once in his first 11 games, with team-mates wondering what time the Copa America-winning striker was arriving.
Fiorentina were a long way behind the greats of the early 90s in Milan, Napoli and Juventus, but by December, Batistuta had got to grips with life in Florence, and his final tally of 13 goals fired them to a safe mid-table finish, with the 23-year-old scoring two more goals for his country as they won the Confederations Cup.
The following season, however, despite his 16 goals, as well as the presence of a 24-year-old Stefan Effenberg and Brian Laudrup, fresh off the back of Denmark's Euro 1992 success, Fiorentina were relegated to Italy's second tier.
But despite the heartbreak in Italy, Batistuta would again achieve international success, scoring twice in the Copa America final as Argentina retained their crown as the kings of South America.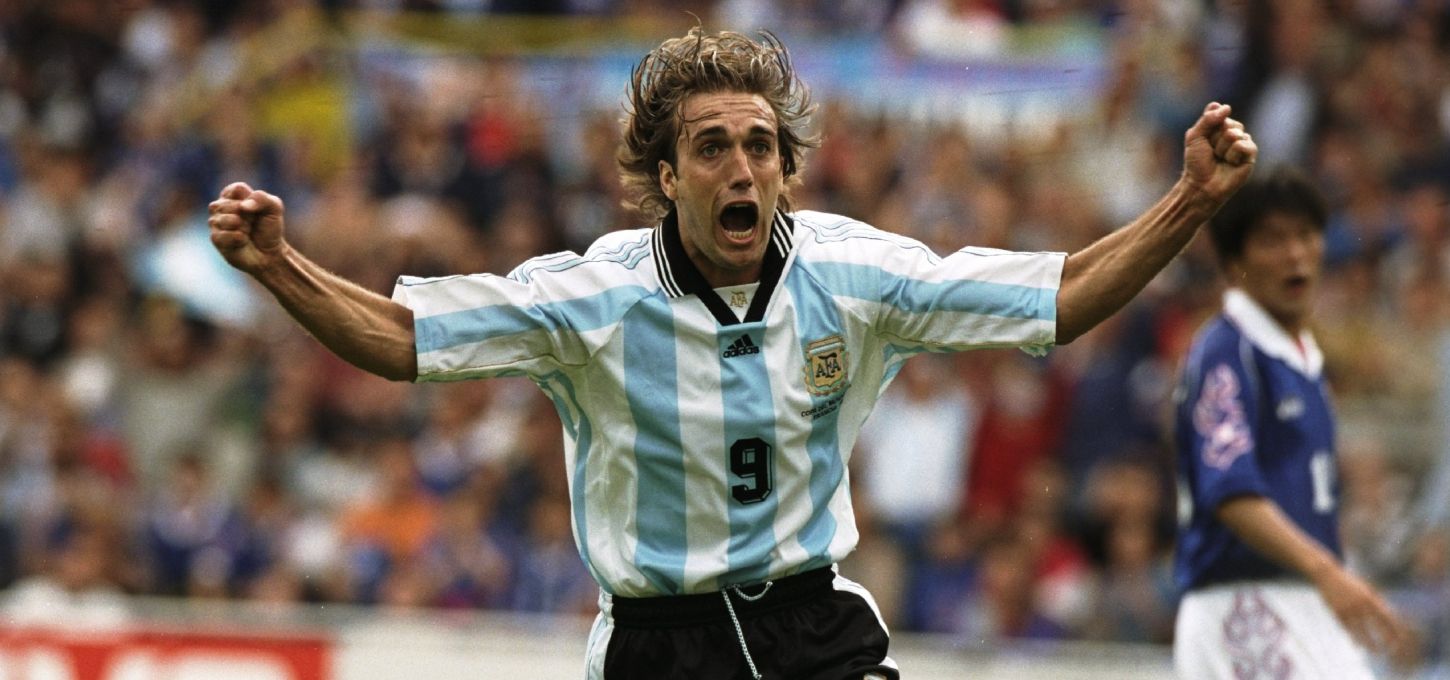 Though Fiorentina would be playing in the second tier in a World Cup year, Batistuta remained in Florence, and with new manager Claudio Ranieri,
In a reversal of the previous season, Batistuta achieved success at club level, winning promotion back to Serie A, but disappointment on the international stage. With Diego Maradona's drugs ban, acquired during the tournament, Argentina would exit the World Cup in the second round to Romania. He did, however, score the first of two World Cup hat-tricks. He remains the only player to have scored a hat-trick at two different World Cups, and one of only four to score two World Cup hat-tricks (after Sandor Kocsis, Just Fontaine and Gerd Muller).
"For me, he's the best striker I've ever seen."
- Diego Maradona on Gabriel Batistuta
The 1994/95 campaign marked a coming of age for Batistuta. Maradona was gone from the international scene, and though he had already lifted his final international trophy, from the start of 1995, Batistuta would score 32 goals in 41 games, en route to becoming his country's greatest ever goalscorer, eclipsing the likes of Diego Maradona and Mario Kempes.
To this day he still has a better goal ratio for his national side than both at 0.7 goals per game, and even better than successors Sergio Aguero, Hernan Crespo, Gonzalo Higuain, and even Lionel Messi.
Back in Serie A, the Argentine scored in each of La Viola's first 11 league games, scoring 13 in the process. Think of how impressive Jamie Vardy scoring in 11 straight Premier League games was, then imagine doing it for a newly-promoted team in the Serie A of the mid-90s.
He would be named Capocannoniere with 26 goals, a figure nobody had surpassed in Serie A since 1961. Batigol had arrived.
As had Rui Costa, who'd become a key part of a side who were finally in a position to contend for trophies.
Fiorentina would come up short in Serie A, but did finally win silverware with the Coppa Italia. In the semi-finals and final, Fiorentina scored seven goals across the four games. Batistuta got six of them.
Just five years into his time in Italy, Batistuta was recognised with a statue, commissioned by the Fiorentina faithful.
A disappointing 1996/97 season saw Ranieri replaced with Alberto Malesani, who moved on after 12 months in charge and was replaced by Giovanni Trapattoni. If the Florentines were going to make a serious tilt at the Serie A title, this was the time.
Two seasons into the Trapattoni era would be the closest Batistuta would come to winning a Scudetto with Fiorentina. Leading the way for much of the season, a second-half collapse saw Fiorentina win just three of their final 15 games, finishing 14 points behind winners Milan, but securing a maiden Champions League berth.
Batigol went on to bag three in the group stage, including one at the Nou Camp (for the second successive season) and the most explosive effort from the tightest angle at Arsenal's temporary home of the old Wembley.
The second group stage saw him produce more goals against Europe's elite. His strike in Florence was enough to beat reigning champions Manchester United, before the return game produced one of his most memorable goals.
Batistuta received the ball with back to goal: one touch to control, one touch to take it away from Jaap Stam, and another to unleash - as described by Clive Tyldesley - a 'speed-of-light strike'.
The striker of the day doing it at the home of the European champions. A shot from the best part of 30 yards with such power and swerve and dip that it went straight over Mark Bosnich's head, with the keeper no more than two yards off his line. Like so many Batistuta goals, it was simply unstoppable.
But failure to progress to the Champions League quarter-finals, as well as failure in Serie A, saw Batistuta bid an emotional farewell to Fiorentina.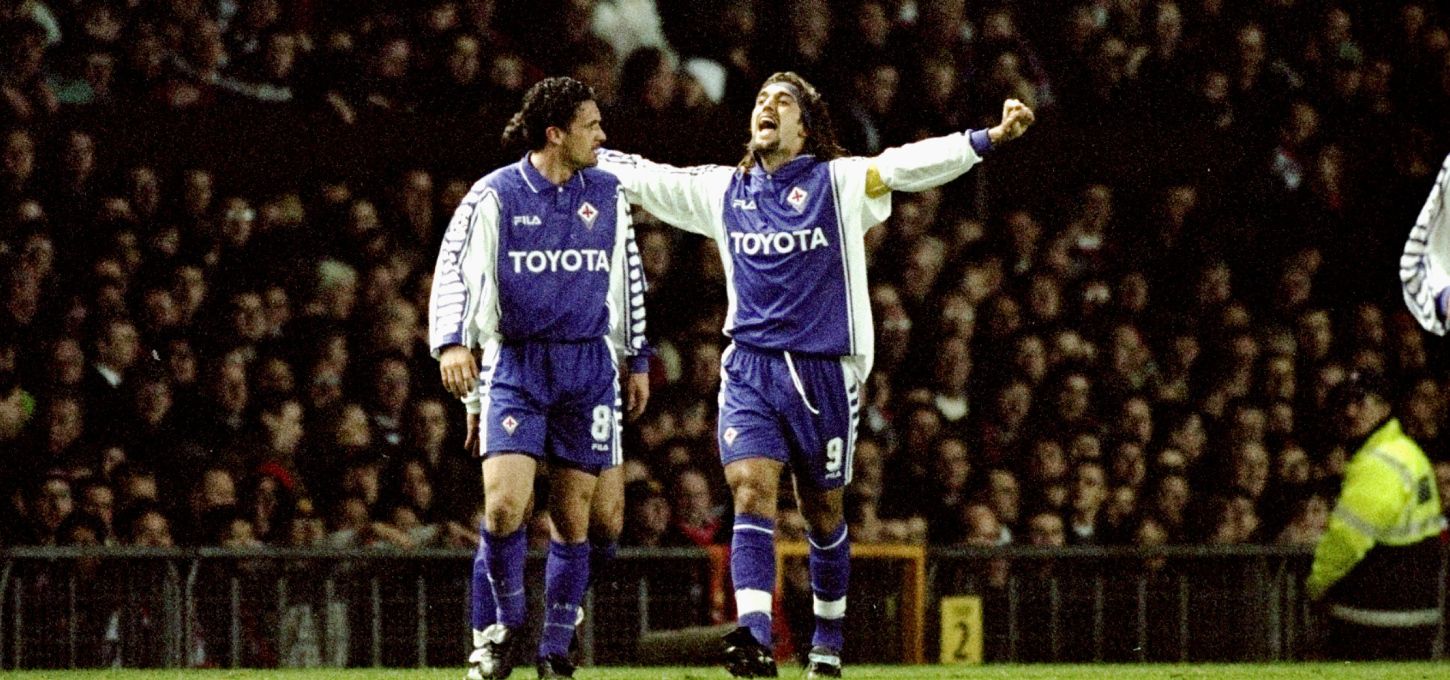 It was with the heaviest of hearts that Batistuta left Florence. This was the city where the boy had become a man. The 21-year-old had moved to Italy with his then-girlfriend-now-wife and started a family there, and even with his departure, the bond he'd forged with the club and the city was unbreakable.
But after nine years, the promised title bid hadn't really materialised, and now over 30, Batistuta was running out of time to win major silverware.
In eight straight Serie A seasons, he'd reached double figures for goals. It's an achievement unmatched by the other greats of his era. You name any of the great forwards from Serie A in the 90s, none of them scored double figures in eight straight seasons.
Despite being in his 30s, Roma stumped up over £30m for Batistuta, unheard of for a player of that age. The 25-year-old Hernan Crespo broke the world transfer record that summer for only a few million pounds more.
Vincenzo Montella, the would-be-deposed #9, had claimed that Batigol would have to prove himself all over again in Rome. He made a mockery of the challenge. In just eight games, Batistuta made it nine straight seasons in which he'd hit double figures.
But there would be no familiar celebration for his 10th goal of the season. No outstretched arms, no wild screams. For his 10th goal of the season came against, of all clubs, Fiorentina. You sense that after instinctively hammering the ball towards goal, he was quickly overcome with panic, like a child playing in the street when their shot starts sailing towards the scary neighbour's living room window.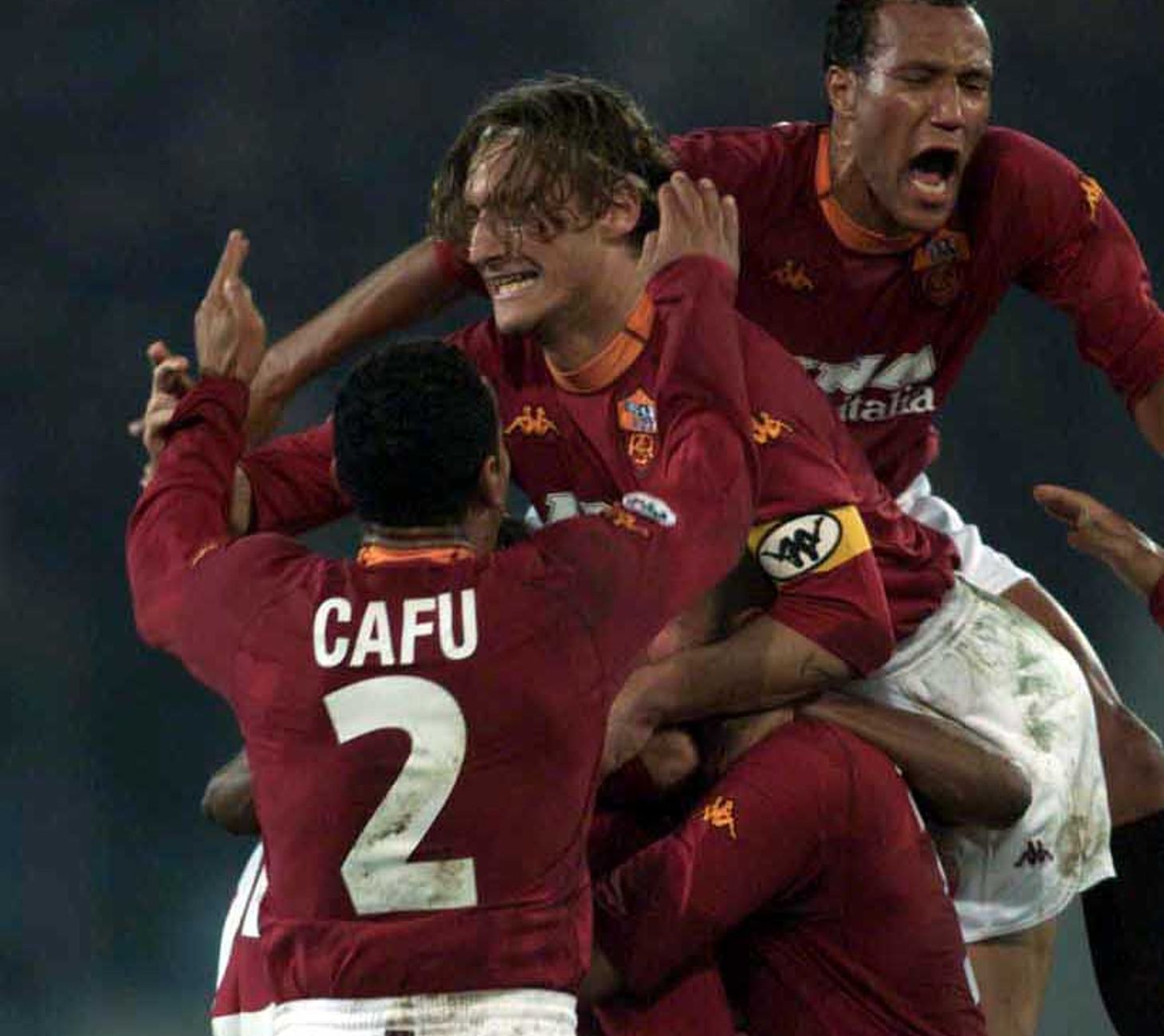 There was no stopping the shot, and Roma would beat Fiorentina 1-0.
Before the game he'd paid tribute to the travelling fans, and again at full time, after scoring the late winner.
It was a classic Batistuta goal, meeting the bouncing ball as it crossed his body, unleashing a drive, much like his goal at Old Trafford, over Francesco Toldo's head.
Mobbed by his team-mates for scoring such a crucial goal, Batistuta looked crestfallen. This wasn't just the classic respectful refusal to celebrate against your old club; Batistuta had tears in his eyes. It was a bizarre sight to witness Francesco Totti hoist Batistuta over his shoulder in jubilation, while the distraught Argentinian covered his face in despair.
At the end of the match, the beaten Toldo gave his former team-mate a reassuring pat on the head. You'd be forgiven for thinking the result had been reversed.
You sense Batistuta's tears and emotion weren't simply about one goal or one game. While Enrico Chiesa had admirably replaced his goals, Fiorentina were about to fall into a huge spiral, resulting in their bankruptcy and demotion to Serie C2 at the end of the following season. The Fiorentina he'd grown up with - the Fiorentina he'd left behind - was soon to be no more.
Meanwhile his new club Roma had built a title-winning side and were led by a title-winning manager. Fabio Capello had added Batistuta's compatriot Walter Samuel and fellow South American Emerson. There was also the likes of Cafu, Montella and Totti.
In his nine years with Fiorentina, Batistuta had failed to win the title. Roma hadn't won a title since 1983. But their pair came together, the stars aligned, and Batigol got the trophy his career deserved at the first time of asking.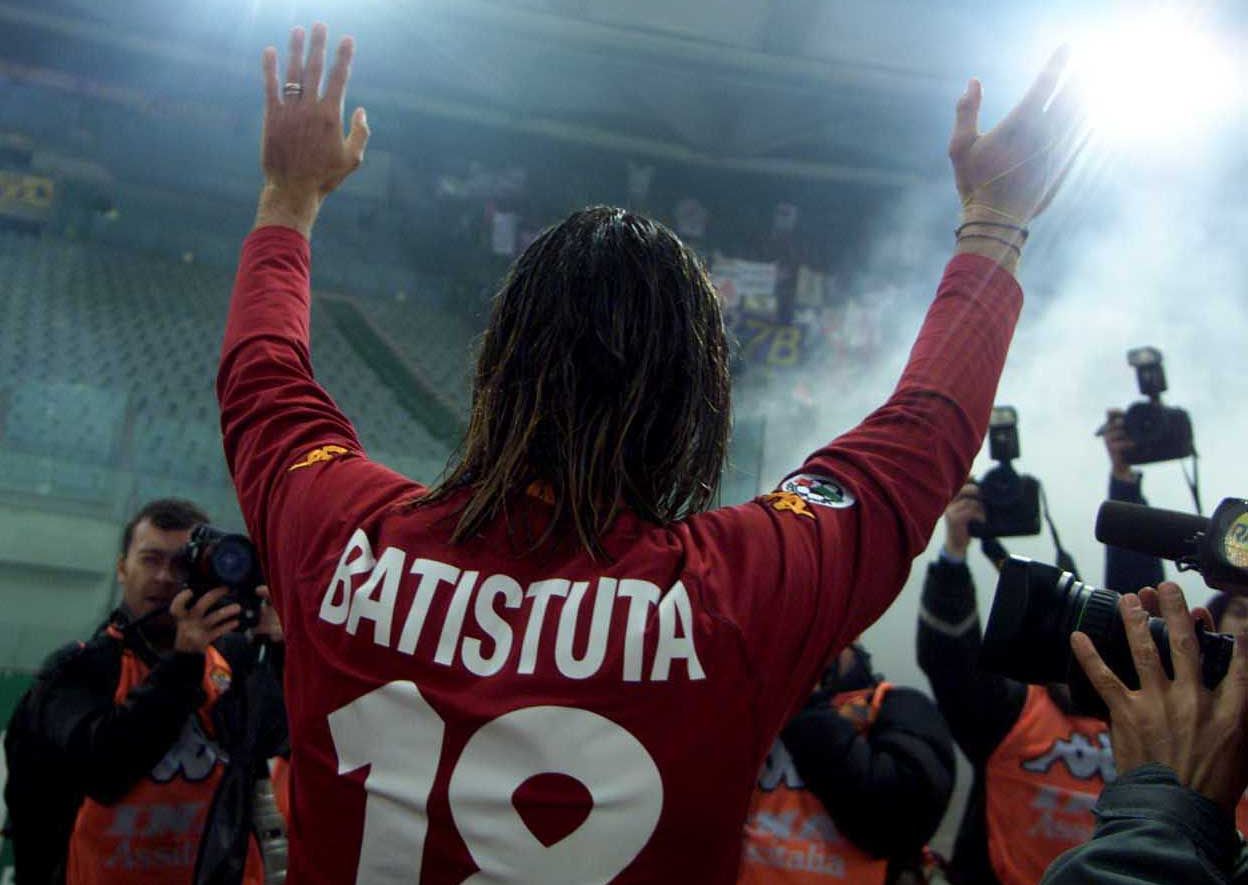 Age began to catch up with Batistuta from there, with injuries hampering the end of his career and him hanging his boots up aged 35 before being inducted into Fiorentina's Hall of Fame in 2014.
Had Batistuta forced a move earlier in his career, he'd have surely won more trophies, but at the expense of the undying adoration he received from the Fiorentina fans.
Do you reckon he ever looks back and wonders, 'what if?'
Not a chance.