bet365 News Team
Updated: 16 Jul 23 10:06
Published: 05 Jul 23 08:18
We look back on an era of dominance for Australian cricket as they won three consecutive World Cups between 1999 and 2007.
The Australia teams of the 1990s and 2000s are regarded as some of the greatest ever to take to the field, both in Test cricket and One-Day cricket.
From the middle of the 1999 World Cup to half-way through the 2011 World Cup, Australia went undefeated for a staggering 34 games in a row.
Here is the story of how Australia dominated all that came their way on the world stage…
1999 - Australia ease to victory after classic semi-final
After suffering a shock defeat in the 1996 final to Sri Lanka, Australia arrived in England for the 1999 final desperate to lift the trophy for the first time since 1987.
Steve Waugh captained an Australian side which boasted the likes of Adam Gilchrist, Ricky Ponting, Michael Bevan and brother Mark Waugh in the batting ranks. The bowling attack was no less formidable, with Shane Warne, Glenn McGrath and Damien Fleming spearheading Waugh's men.
But after a routine victory over Scotland, Australia suffered surprise back-to-back defeats to New Zealand and Pakistan to leave their hopes in the balance.
The Aussies then kicked into gear, as a resounding victory over Bangladesh was followed by a composed chase against West Indies to secure qualification for the Super 6 stage.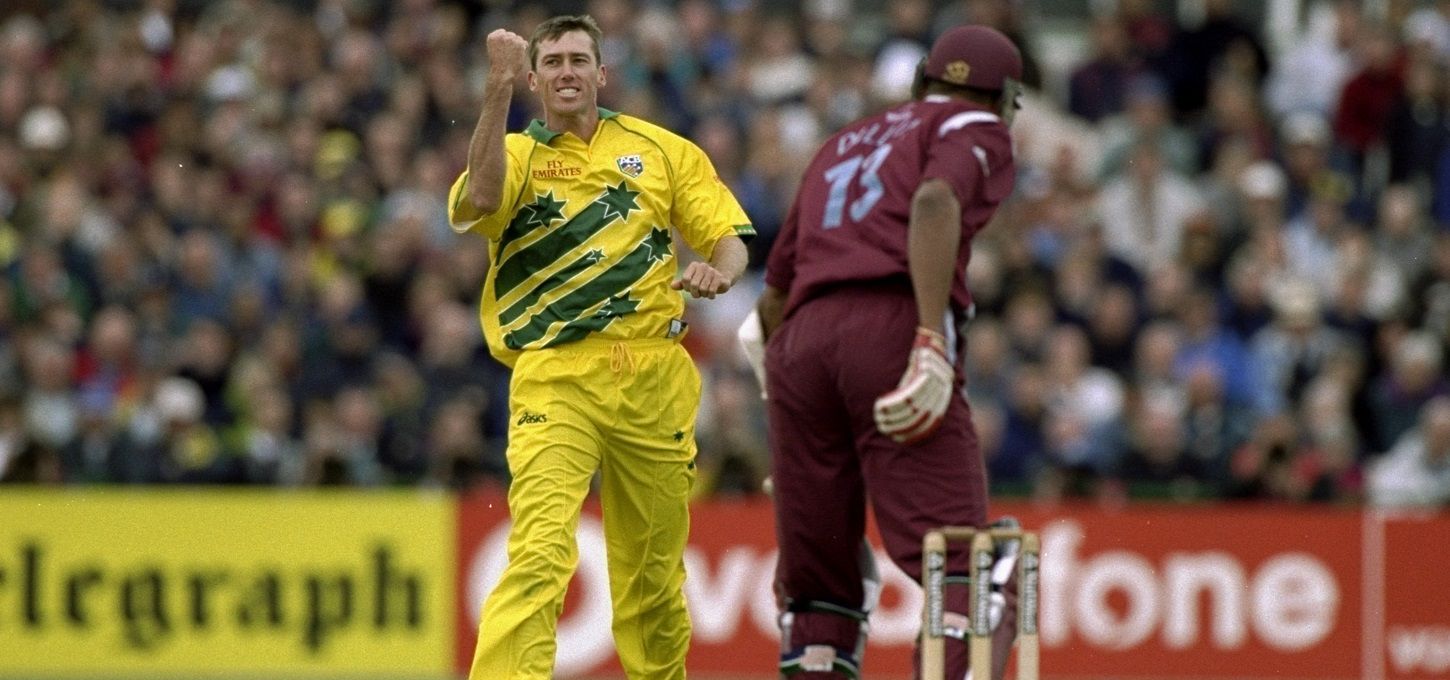 Results from the group stage carried over and with Pakistan and New Zealand both progressing, Australia were up against it again.
Mark Waugh produced scores of 83 and 104 as Australia overcame India and Zimbabwe, before they made the trip to Edgbaston to face South Africa with a semi-final place on the line.
Herschelle Gibbs scored a century as South Africa posted 271-7 from their 50 overs, and at 48-3 in reply, Australia needed something special to reach the semi-finals.
Waugh, who would go on to score only his second hundred in 266 one-day internationals to that point, flourished alongside Ponting as he dragged his side back into the game.
He was famously dropped on 56 by Gibbs, with Waugh taunting his opponent by saying 'You've just dropped the World Cup." How right he was.
Australia went on to seal the victory with five wickets remaining and two balls to spare, which ironically set up a semi-final between the same two teams.
What followed has gone down in cricketing history.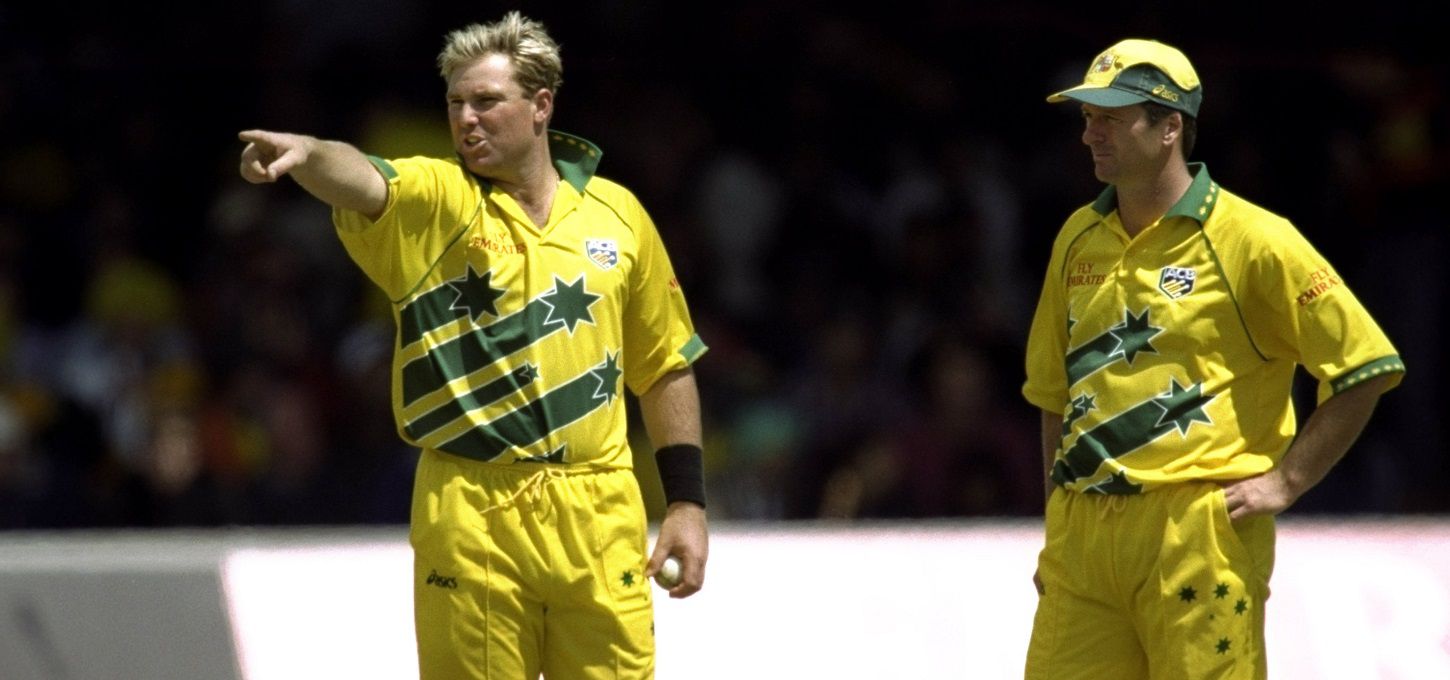 Michael Bevan and Steve Waugh scored crucial half-centuries in Australia's middle-order, but with just 213 on board, it was very much advantage South Africa in a fascinating semi-final.
Shane Warne, who would finish the tournament as the joint-highest wicket-taker with 20, was in devastating form to take three wickets in the space of two overs as Australia made in-roads into the Proteas' top-order.
Jacques Kallis and Jonty Rhodes steadied the ship with a partnership of 84 after their side had been reduced to 61-4, but after both men fell, South Africa found themselves 175-6 heading into the final five overs.
Lance Klusener, who had made a number of vital contributions down the order during the tournament with his aggressive approach, then scored a flurry of boundaries.
Needing nine runs from the final over, Klusener hit the first two balls for four and with the scores tied, South Africa needed one more run due to Australia's superior net run rate in the Super Six stage.
Allan Donald was at the other end as the last man. The following ball saw Donald almost run out when he backed up too far and Darren Lehmann's throw missed the stumps by a whisker.
The next ball was pure chaos. Klusener attempted to drive Damien Fleming's yorker down the ground but he didn't get hold of it as it trickled to mid-on.
Klusener set off for a risky single, Donald hesitated and he was run out half way down the pitch. South Africa had choked and Australia were in the final.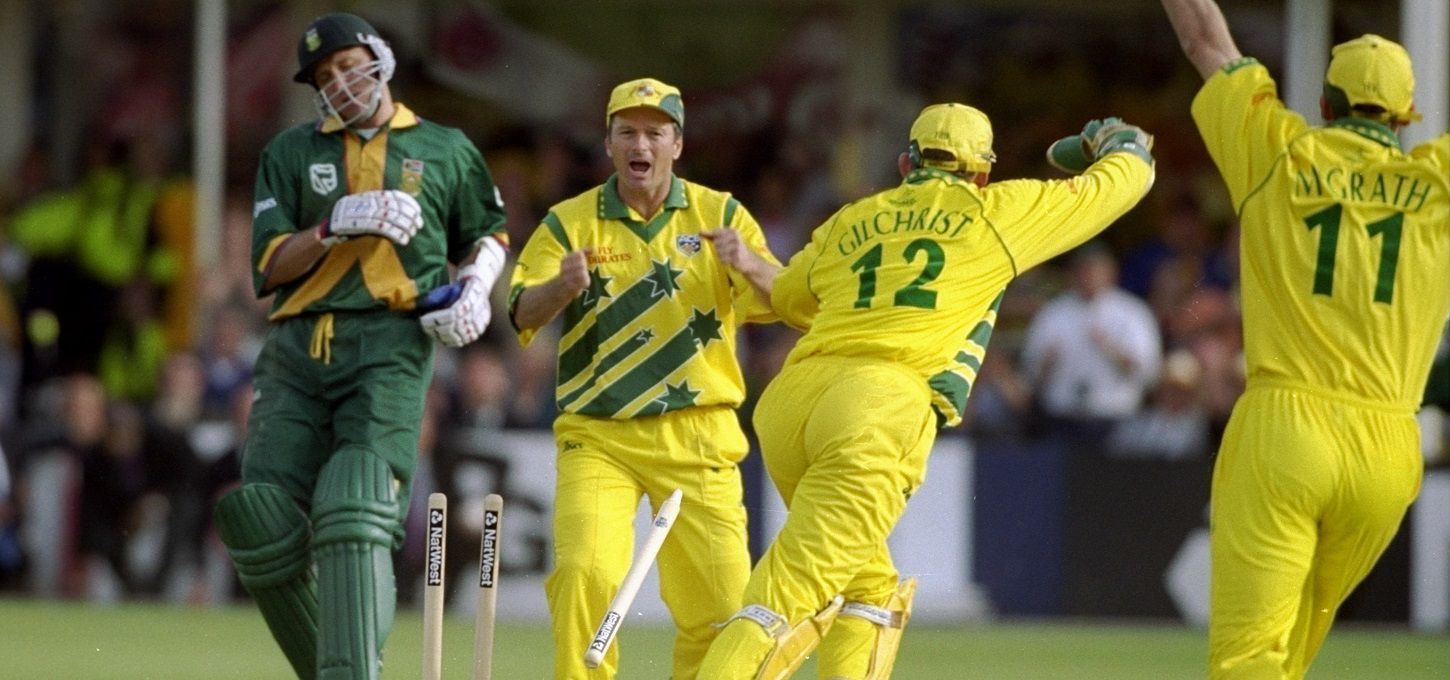 If the semi-final was an all-time classic that would be spoken about for years to come, the final was nothing short of a formality for Australia.
Pakistan, who had beaten Australia earlier in the tournament, just never got going. They batted first and could only muster up 132, with the imperious Warne claiming another four wickets.
Requiring just 133 runs to lift the trophy, openers Mark Waugh and Gilchrist removed any remote chance of an unlikely comeback by putting on 75 for the first wicket in just over 10 overs.
Gilchrist fell for a quick-fire 54, but Waugh was there at the end alongside Lehmann as Australia reached their victory target for the loss of two wickets and almost 30 overs to spare.
2003 - Australia retain World Cup with ease
If luck played a part in Australia's journey to the final in 1999, there was no doubt at all that they were the best team in the world four years later.
The Waugh brothers had retired from white-ball cricket, as had pace bowler Damien Fleming, while Shane Warne was suspended and ruled out of the tournament.
The new faces included players such as opener Matthew Hayden, batting all-rounder Andrew Symonds, wrist-spinner Brad Hogg and pace duo Andy Bichel and Brett Lee.
Australia began the group stage with an 82-run victory over Pakistan courtesy of an unbeaten 148 from Symonds, before thrashing India in a nine-wicket win at Centurion.
Victories over Netherlands and Zimbabwe followed, before bowling out Namibia out for just 45 as Glenn McGrath claimed the tournament's best ever figures of 7-15 to seal a comprehensive 265-run victory.
It was England who came the closest to inflicting defeat on Australia at the tournament in a game that saw Nasser Hussain's men sent home before the Super Sixes.
Bichel produced a sensational spell of bowling to take 7-20 as England laboured to 204-8, before he joined Michael Bevan in guiding Australia from 135-8 to their victory target with two balls to spare.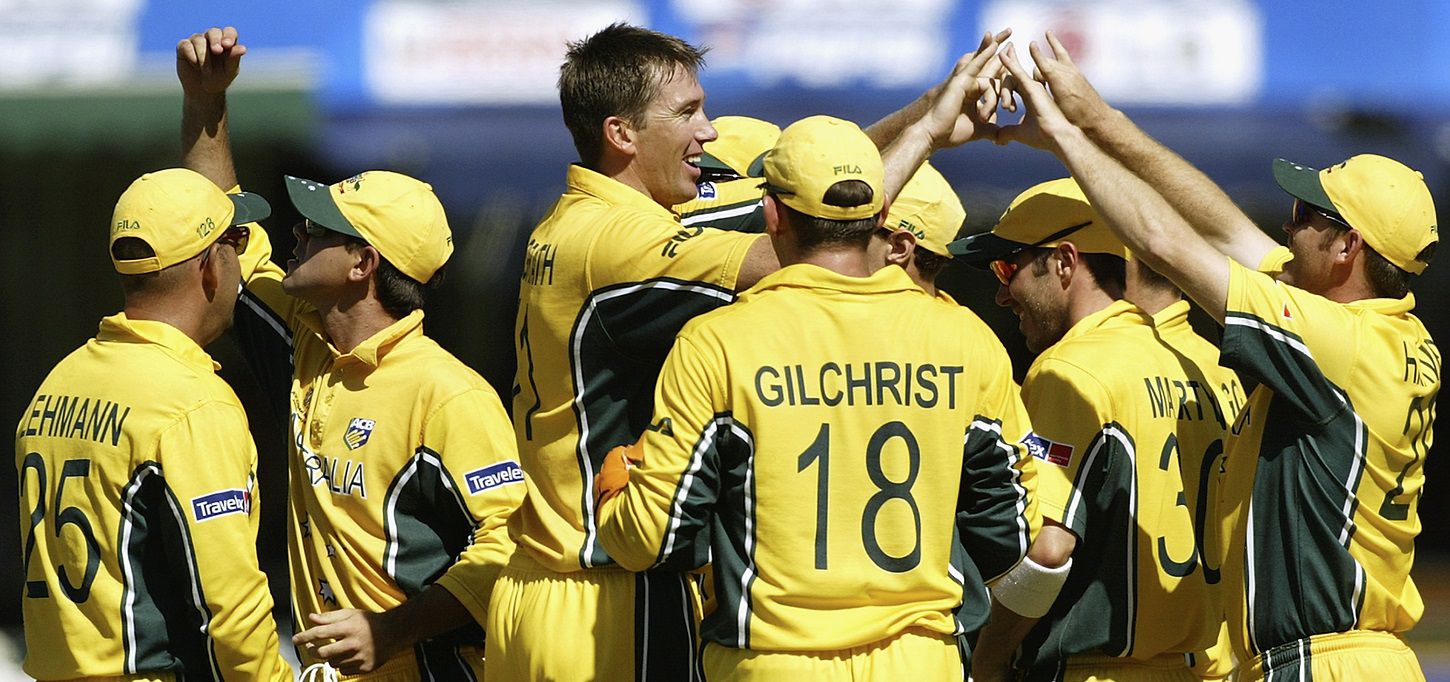 Australia carried their victories over India and Zimbabwe through to the Super Sixes stage and they would take a giant leap towards the semi-finals with a resounding victory over Sri Lanka.
Next up was New Zealand in Port Elizabeth, where Shane Bond ripped through Australia's top order on his way to claiming 6-23, as the Aussies were limited to 206-9 despite half-centuries from Bichel (64*) and Bevan (56).
But Australia were able to confirm their place in the semi-finals as New Zealand were bundled out for just 112 as Lee (5-42) and McGrath (3-29) ran riot.
Kenya, who caused the biggest shock of the tournament by reaching the last four, were Australia's last opponents before the semi-finals.
There was no chance of the reigning champions taking their foot off the pedal as Lee took a hat-trick in just the fourth over to reduce Kenya to 3-3.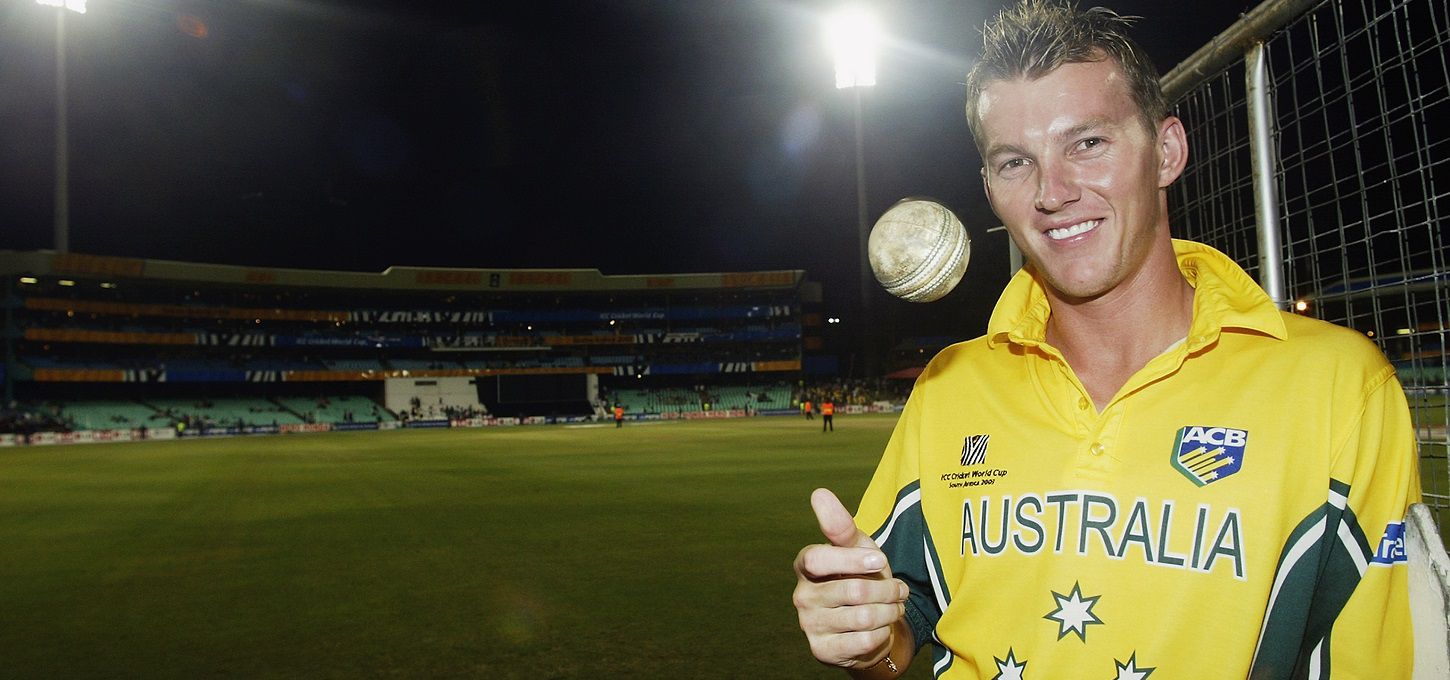 Their opponents rallied to 174/8 with runs in the middle-order, but Australia completed a five-wicket win with relative ease to set up a semi-final with Sri Lanka.
Batting first on a slow Port Elizabeth pitch, Australia posted 212/7 from their 50 overs, largely thanks to an excellent unbeaten 91 from Symonds.
Earlier in the innings, Gilchrist famously walked when given not out on 22, a moment which earned him a lot of admirers around the world.
Lee (3-35) once again led the way with the ball as Sri Lanka found it incredibly difficult to score runs in testing conditions.
Kumar Sangakkara and Chaminda Vaas guided their side from 76-7 to 123-7 when the rain came to end their hopes. Australia won by 48 runs via the Duckworth/Lewis method.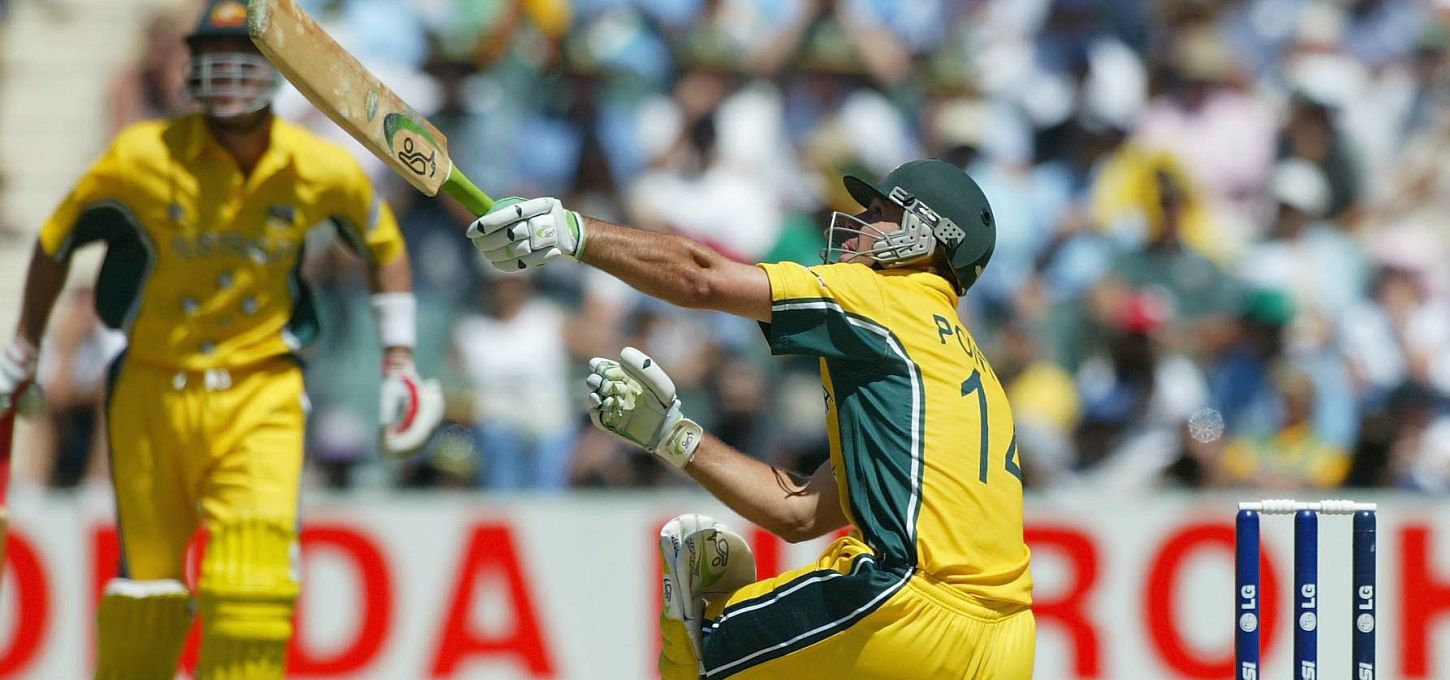 Like the 1999 win over Pakistan, the 2003 final victory over India was a walk in the park, with Ricky Ponting (140*) and Damien Martyn (88*) putting on a record third-wicket stand of 234 to guide Australia to 359-2.
The game was as good as over just five balls into the chase, as McGrath had Sachin Tendulkar caught and bowled for just four.
Virender Sehwag scored a fine 82, but India were never in the game and eventually bowled out for 234 to give Australia back-to-back World Cup triumphs.
2007 - Hat-trick secured in the Caribbean
The feeling four years later that it was the start of a new era for Australian cricket, with several great players either retiring or approaching the end of their careers.
The likes of Gilchrist, Hayden, McGrath and Ponting provided valuable experience, but the likes of Bevan, Lehmann and Martyn had all stepped aside.
But as in previous World Cups, Australia had players available to step up to the plate.
Michael Clarke and Mike Hussey were established international players, all-rounder Shane Watson had been on the scene for a couple of years, and pacemen Shaun Tait and Mitchell Johnson were auditioning to be mainstays of future Australia sides.
The group stage pitted Australia against South Africa, plus associate nations Scotland and the Netherlands. It went pretty much as expected.
A 203-run win over Scotland was bettered by a 229-run victory over the Netherlands, before Australia then amassed 377-6 on their way to a victory against South Africa to secure top spot.
Ponting, Brad Hodge and Hayden had all hit centuries and it was already ominous for other teams.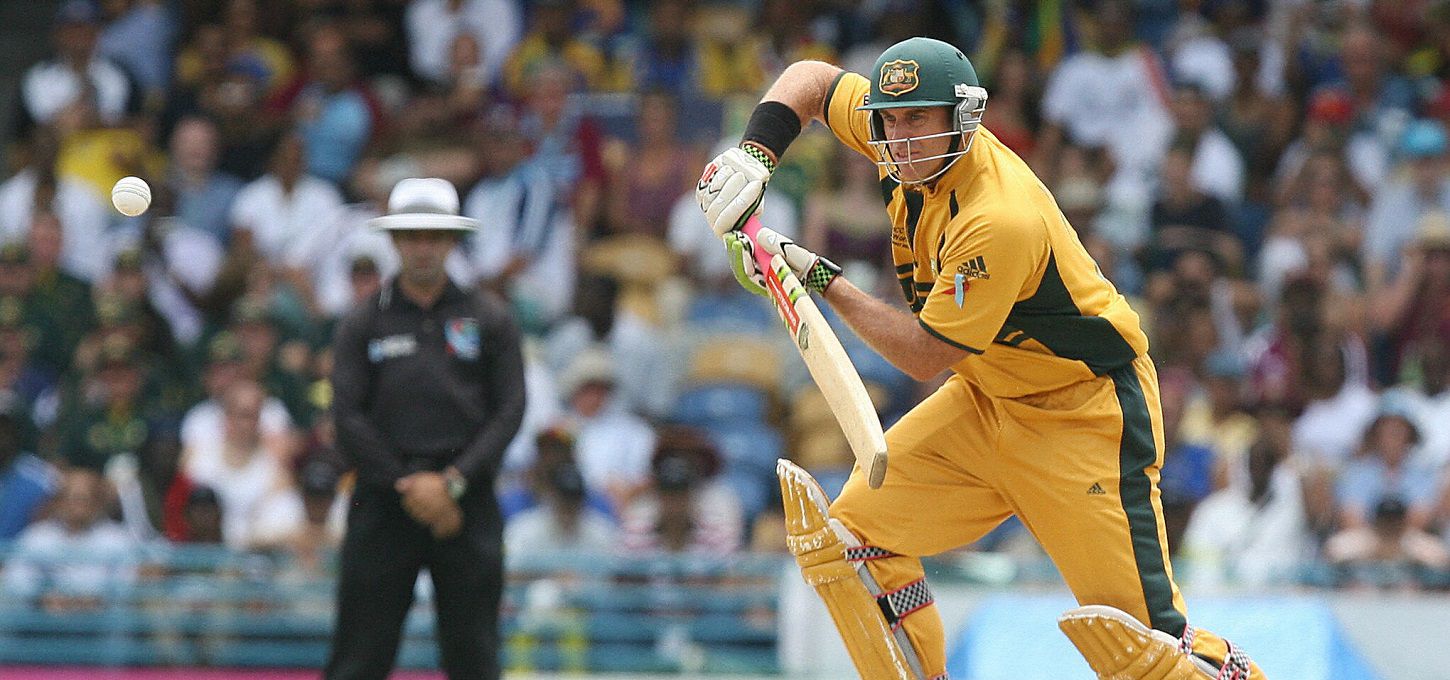 Australia then flexed their muscles throughout the Super 8 stage, qualifying unbeaten for the semi-finals.
Hayden scored a sensational 158 as hosts West Indies were blown away in Antigua, before a ten-wicket victory was achieved inside 14 overs against Bangladesh.
England were dispatched with ease, Ireland were overwhelmed in Bridgetown and Sri Lanka were beaten in a preview of the eventual final.
It was all becoming a bit too easy, emphasised by a 215-run victory over semi-finalists New Zealand in the final group game.
South Africa lay in wait for the semi-finals, but there was to be no sign of the drama at the same stage eight years earlier.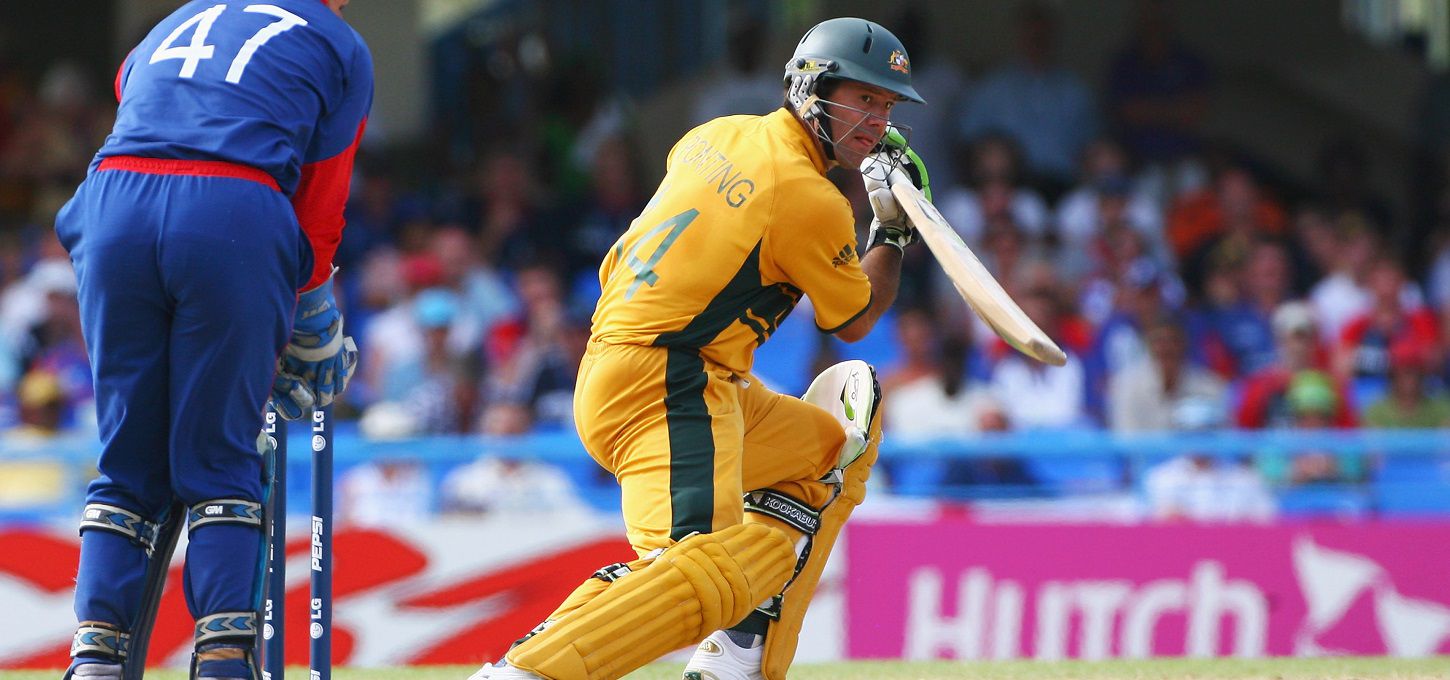 The Proteas won the toss and elected to bat first, but a flurry of early wickets left them 27-5 after 10 overs.
Tait (4-39), McGrath (3-18) and Bracken (1-15) were all excellent and while South Africa did manage to recover in the lower order, they could only muster a total of 149.
Charl Langeveldt bowled Gilchrist in the second over, but South Africa needed a cluster of wickets to fall, not Ponting and Hayden stabilising the innings and setting up a routine win.
Clarke top-scored with an unbeaten 60 to help Australia reach their target with 18 overs to spare.
A fourth consecutive World Cup final was secured and they had the chance to become the first nation to win three in a row.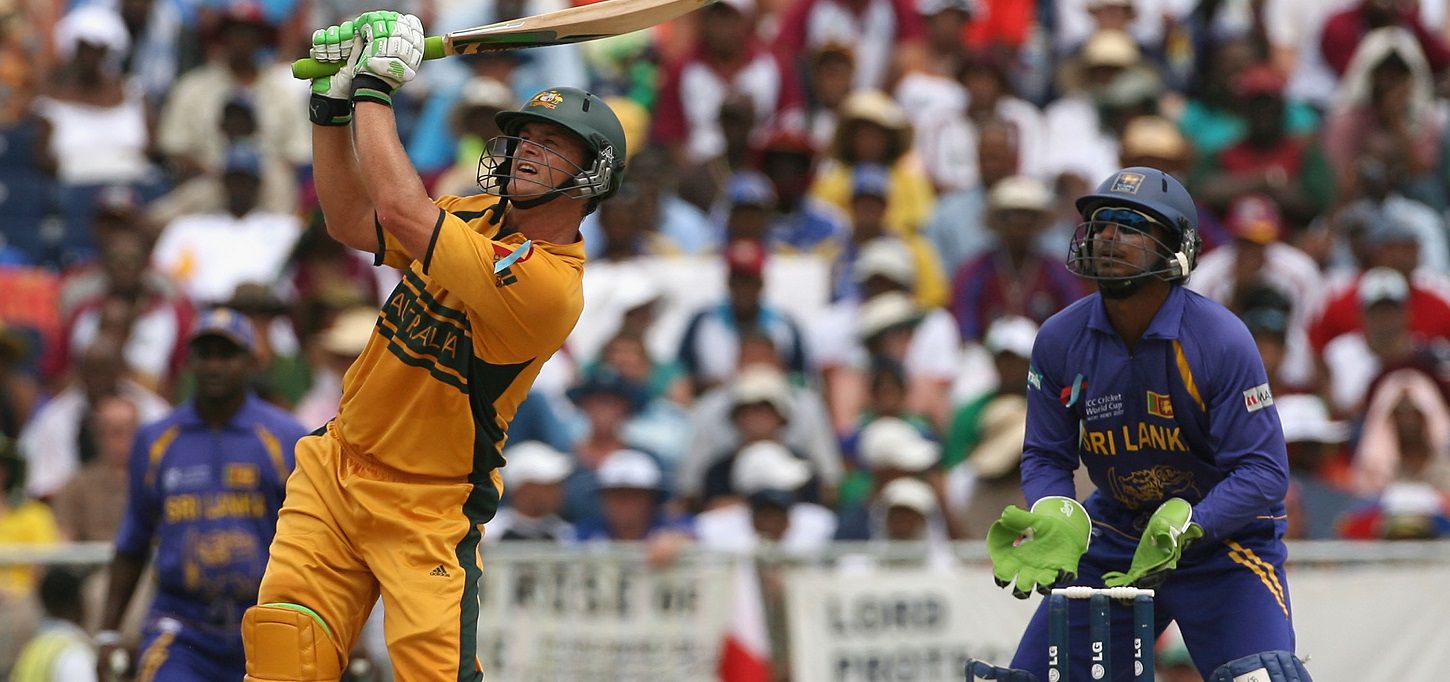 The repeat of the 1996 final with Sri Lanka was reduced to 38 overs per side following heavy rainfall in Barbados.
Australia decided to bat first and they were duly rewarded when Gilchrist, in his final World Cup innings, produced an extraordinary display of hitting to score 149 in just 104 balls.
It was the highest score in a World Cup final, beating Ponting's previous record four years earlier, as Australia set Sri Lanka an imposing 282 to win, which would later be revised to 269 from 36 overs due to more rain.
Sri Lanka's innings was going well with Sanath Jayasuriya and Kumar Sangakkara sharing a century partnership for the second wicket.
But 123-1 inside 20 overs soon became 156-4 as the spin of Brad Hogg and Michael Clarke helped the Aussies tighten their grip on the trophy.
Sri Lanka finished on 215-8, 53 runs short of their target and Australia had completed an unbelievable hat-trick of World Cup wins.
Their reign at the top would eventually end at the quarter-final stage in India four years later, but between 1999 and 2007, Australia were simply untouchable.