bet365 News Team
Updated: 16 Jul 23 10:06
Published: 13 Jun 23 12:45
Associate nations are traditionally the whipping boys of World Cup cricket.
There can be the occasional shock of course, and there hasn't been many bigger than at the 1996 World Cup when Kenya took on a West Indies outfit that included Richie Richardson, Brian Lara, Shivnarine Chanderpaul, Curtly Ambrose and Courtney Walsh.
It was the African nation's first foray onto the biggest stage in international cricket and after Kenya laboured to 166 in the final over of their innings, they galvanised themselves to dismiss their illustrious opponents for just 93.
It was an incredible performance, but for many it felt like it was Kenya's 15 minutes of fame, a feat that they would fail to live up to in future World Cups.
It proved to be the case three years later in England as they failed to win any of their five group matches, but when it came to the 2003 tournament, hosted by South Africa, Zimbabwe and Kenya themselves, something miraculous happened.
View latest Cricket World Cup odds
Big names eliminated as Kenya progress
Kenya's opening game against South Africa provided no clues as to what was about to follow, as Kenya were bundled out for just 140, with Lance Klusener recording figures of 4/16 from his eight overs.
Herschelle Gibbs (87*) and Gary Kirsten (52*) produced an unbroken first-wicket stand of 142 to lead their side to a resounding 10-wicket victory, and it looked set to be a long tournament for the minnows.
An opportunity to register a win against fellow associate nation Canada was up next, but Kenya headed into the game as underdogs after their opponents' 60-run victory over Bangladesh in their opener.
Thomas Odoyo claimed figures of 4/28 as Canada were all out for 197, before his unbeaten 27 helped his side win by four wickets, after opener Ravi Shah's classy 61 earlier in the chase.
Kenya were then awarded the victory over New Zealand after the Kiwis refused to travel over safety concerns, with a request to move the fixture to South Africa or Zimbabwe rejected by the ICC.
The shock result of the tournament followed as a highly-fancied Sri Lanka side suffered their only loss of the group stage.
Kennedy Otieno (60) top-scored for the co-hosts as they reached 210-9 from their 50 overs despite Muttiah Muralitharan's figures of 4-28.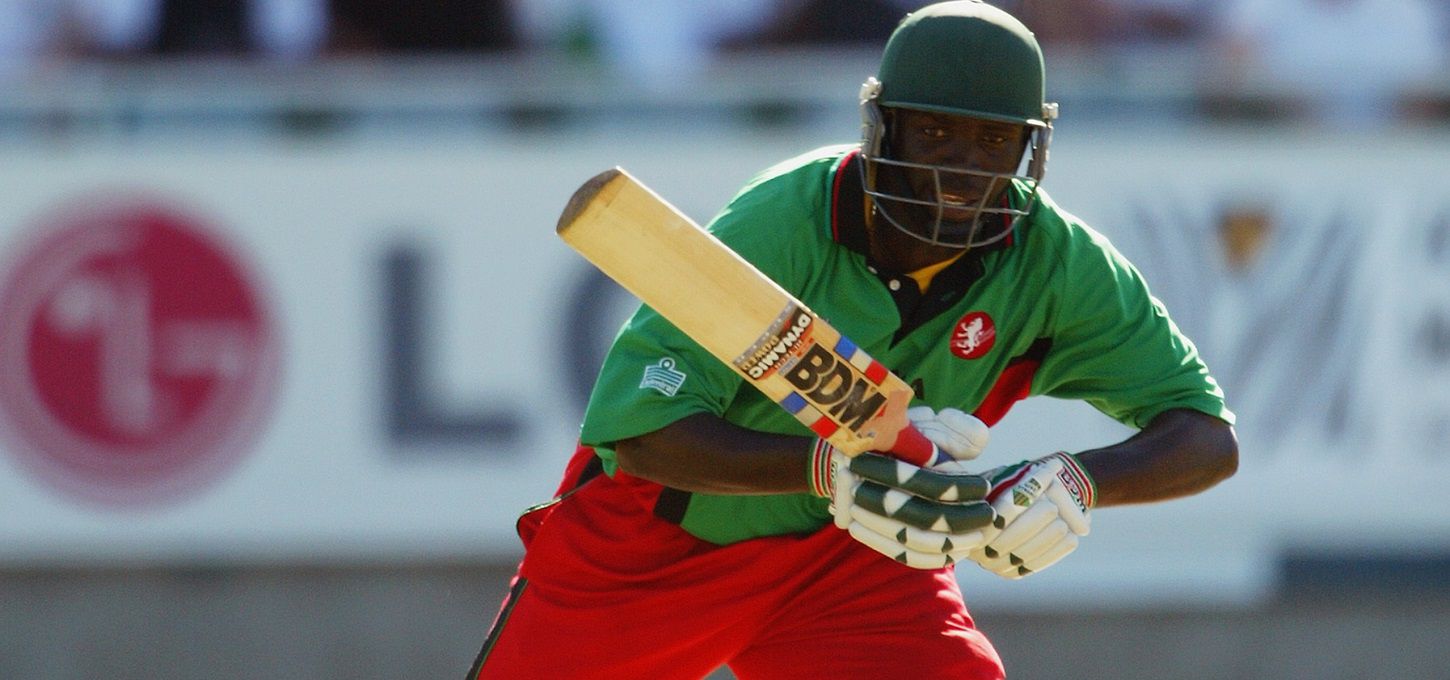 But the great man was to be upstaged by Kenya's leg spinner Collins Obuya, who dismissed top-order batsmen Hashan Tillakaratne, Aravinda de Silva, Mahela Jayawardene and Kumar Sangakkara on his way to a five-wicket haul.
Sri Lanka were eventually knocked over for just 157 to put Kenya on the brink of a shock Super Sixes spot.
Their progression through the group stage was confirmed in the next game as a sensational all-round performance from Maurice Odumbe (52* and 4/38) saw Kenya defeat Bangladesh by 32 runs in Johannesburg.
A 142-run defeat by West Indies followed in the final group game, but it wasn't enough for their opponents as they bowed out along with hosts South Africa, while England and Pakistan were eliminated from the other group.
The Super Sixes line-up consisted of Australia, India, Sri Lanka, New Zealand, Zimbabwe and incredibly, Kenya.
Format benefits Kenya as they reach the semi-finals
The Super Sixes stage saw teams play against the three teams who they hadn't played against during the group stage.
Points were carried over and crucially four points were awarded to victories over teams still in the tournament, while one point was awarded to victories over teams who were now eliminated.
This meant that Kenya, who had beaten fellow qualifiers Sri Lanka and New Zealand, had eight points on the board and were top of the group, ahead of games against India, Zimbabwe and Australia.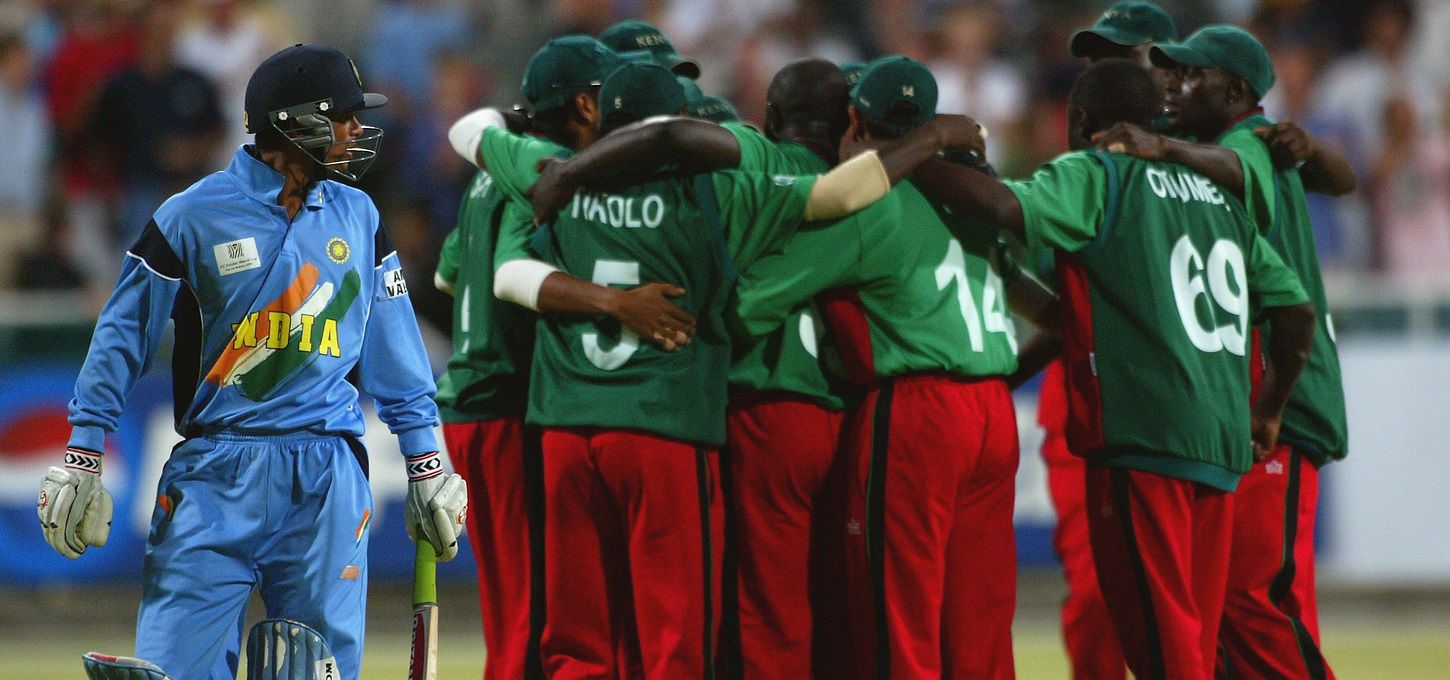 Sourav Ganguly's unbeaten century gave India a six-wicket win in Kenya's next game, before a seven-wicket victory over Zimbabwe confirmed Kenya's place in the last four.
Ironically, the result paled into insignificance as Kenya would have been through with a defeat, after New Zealand suffered a heavy defeat to India.
Defeat to Australia followed in the final Super Sixes game but Kenya had done enough, a non-Test playing nation had reached the semi-finals of a World Cup for the first time.
Kenya bow out before Australia retain their crown
After Australia's semi-final win over Sri Lanka on a slow Port Elizabeth pitch, we knew the winners of the tournament would be Australia, India or Kenya. For Kenya to be mentioned in that statement is nothing short of remarkable.
India posted 270/4 from their 50 overs, with Ganguly (111*) once again scoring a century, while Sachin Tendulkar also made an excellent 83.
A tentative start to the chase followed from Kenya as they reached 20-0 after eight overs, but an imposing seam trio of Zaheer Khan, Javigal Srinath and Ashish Nehra proved too much as Kenya slipped from 20-2 to 36-4.
Kenya were eventually dismissed for 179 and the fairy-tale was over, but it was a memorable tournament for a side who had won just one World Cup match heading into the event.
Australia went on to retain the World Cup after an incredible batting display in the final, but for many the story of the World Cup was about an African nation who shocked the world.

Bet on the 2023 Cricket World Cup