Liam Williams
Updated: 19 Oct 22 15:51
Published: 26 Jul 22 15:46
"I like this t-shirt, I need"
"My man Khabib!!!"
A Twitter exchange between Khabib Nurmagomedov and Conor McGregor from September 2014, such pleasantries utterly unthinkable not four years later.
Of course, this was before Conor McGregor was the Conor McGregor known all around the world; before he could sell fights better than Jordan Belfort could sell pens.
But McGregor discovered quickly there was money to be made in animosity.
So often in combat sports we hear fighters trade barbs and threats, only to acknowledge the mutual respect between each other after a fight, and, with no more fight to sell, put the bad feeling to one side.
But for McGregor and Nurmagomedov, this wasn't simply performative drama to sell tickets. Certainly not for the latter.
After becoming a two-weight Cage Warriors champion in 2012, McGregor moved over to the UFC. He'd set his sights on the top, and after five straight wins, four of which came by TKO, McGregor hit the world stage.
The fight with all-time great Jose Aldo was made.
More from The Greatest
The Greatest - UFC Champions: Anderson Silva
The Greatest - UFC Champions: Ronda Rousey
The Greatest - British Boxers: Amir Khan
The Greatest - British Boxers: Joe Calzaghe
McGregor had built an army of Irish fans, but the press tour exposed McGregor and his words to a wider audience. The press conference between the pair in Dublin was evidence of how far McGregor's hands – and words – had taken him, and he wasn't about to stop there. McGregor snatched Aldo's belt from the table and held it aloft to the most rapturous and raucous of receptions.
It's a style that the Notorious would maintain throughout his career.
When the postponed fight eventually took place on 12th December 2015, McGregor was on the crest of a wave. Coincidentally, it was 24 hours after Nurmagomedov was due to fight Tony Ferguson at the TUF 22 Finale.
As it was, Nurmagomedov was nearing the end of a two-year layoff through injuries. When he took leave from the Octagon, he'd beaten future lightweight champion Rafael dos Anjos, with UFC president Dana White saying "we're probably going to do big things with this kid".
Ahead of his return, he did have something to say about McGregor's future and him making his desire to move to lightweight clear, opining that "Conor has to stay in the featherweight division" at least until he had beaten Frankie Edgar.
More from The Greatest
The Greatest - Sporting Comebacks: The Miracle at Medinah
The Greatest - Sporting Rivalries: Ferguson v Wenger
The Greatest - Sporting Rivalries: Khabib v McGregor
At the time, few could have predicted the two were on a collision course which would result in the highest-selling UFC PPV of all time, though during the press tour for the original Aldo fight, McGregor did express the belief that Khabib would go on to take the lightweight crown.
The prospect of the two meeting anytime soon however became even less likely when McGregor – having announced his desire to take the lightweight title – jumped two weight classes to fight Nate Diaz at welterweight – and lost.
The following month, Khabib made his long-awaited return to the Octagon, not against Tony Ferguson, who he was due to fight in a title eliminator until Ferguson's withdrawal, but relative unknown Darrell Horcher.
Khabib was dominant and moved closer to a title shot, but once McGregor exorcised his welterweight demon, he moved back down to lightweight to take the title from Eddie Alvarez, becoming the UFC's first simultaneous two-weight champion.
Now a bona fide worldwide mega-star, Conor McGregor made the much-hyped 'money fight' with Floyd Mayweather, vacating his UFC titles.
Meanwhile Khabib was furious his shot at the title had been bumped to make way for McGregor to fight Alvarez instead.
His anger was taken out on Michael Johnson. Throughout the fight, while winning rounds 10-8, Khabib told not only White that he deserved a title shot, but Johnson as well, saying 'you have to give up, I deserve to fight for the title, you agree?'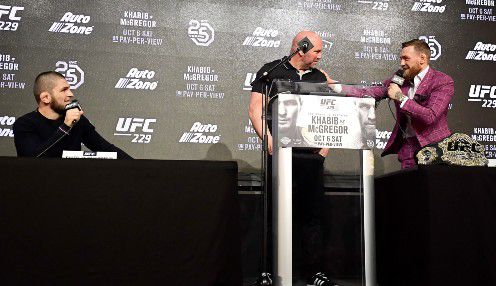 Khabib refused to engage in McGregor's verbal warfare
It wouldn't be the last time Khabib talked to his opponent mid-fight…
When finally due an interim title shot with Tony Ferguson, Khabib fell ill, and would have to settle for another warm-up fight in December against Edson Barboza.
Eventually, the stars aligned for Khabib, who would claim the vacant lightweight title in April 2018.
However, long before Khabib got his hands on the gold, McGregor's friend and sparring partner Artem Lobov in an interview had called Khabib a coward who didn't care about his fans for so often pulling out of fights, ultimately sparking the most unedifying scenes ever witnessed in MMA.
More from The Greatest
The Greatest - Serie A Players: Kaka
The Greatest - Serie A Players: Gabriel Batistuta
The Greatest - Serie A Players: Francesco Totti
The Greatest - Serie A Players: Pavel Nedved
Lobov later said that Nurmagomedov had called McGregor a chicken, claiming it was an extremely severe insult in his native Russia, and that he felt compelled to defend his friend.
When Khabib bumped into Lobov the week of UFC 223, with both fighters due to fight on the same card, he wanted answers. Khabib was furious that Lobov had called him a coward and confronted him, telling him not to speak about him anymore, and if he had anything to say, he could say it now to his face.
Lobov denied disrespecting Khabib, saying that he didn't directly call him a coward, and that he was merely defending his friend's honour. He received a slap for his words, and McGregor hopped on a plane to New York.
His detractors will forever have plenty to say about McGregor, but his loyalty is without question. He was utterly incensed by Khabib's behaviour to a long-time friend of his.
McGregor with his entourage, two days later, discovered the bus carrying Nurmagomedov at a UFC media day, and when Khabib refused to get off, McGregor launched a hand cart and a bin into a window. Fighter Michael Chiesa was cut by broken glass, and a warrant was put out for McGregor's arrest.
This had gone way past the trash talk in front of the cameras or on social media. This was done backstage, had resulted in injuries to fellow fighters, and instantly made headline news. It was the sort of thing you'd be more inclined to see in the WWE, certainly not in the UFC.
White called it "the most disgusting thing that has ever happened in the history of the company".
When Khabib won his fight that weekend, there was only one fight left to make, and once McGregor's legal issues were resolved, the fight was announced on 3rd August, for three months' time.
More from The Greatest
The Greatest - Premier League Matches: Man Utd 4-3 Man City
The Greatest - Premier League Matches: Liverpool 4-3 Newcastle
The press conference two weeks before the fight saw a stoic Khabib pay little attention to McGregor. Perhaps he knew his opponent could do enough talking for the both of them. He was also happy to do his talking in the Octagon – literally.
In turn, McGregor seemed to drift from his Ali-esque witticisms to a much more vitriolic rhetoric. The 45-minute press conference was mostly sheer invective from an increasingly angry McGregor.
How much of this was a reaction to Khabib's confrontation with Lobov, how much of it was due to knowing this time he was against someone who wouldn't bite as easily as a Diaz or an Alvarez, and how much of it was McGregor trying to gear himself up for the toughest fight of his life remains unknown, but it was certainly a different McGregor.
He took aim at Khabib's record, the past of his manager, and even Russian politics.
McGregor then left Khabib waiting at the pre-fight press conference a couple of weeks later, when Khabib, a normally respectful fighter, stated that he categorically wouldn't be shaking McGregor's hand after the fight. McGregor echoed the sentiment.
The weigh-in saw another confrontation, but nothing to jeopardise the fight.
And so, to the fight itself. It cannot be stressed enough how this wasn't an ordinary fight, they weren't just fighting for money or even a title; this really was personal, and the score wouldn't be truly settled on the night of 6th October 2018.
The first two rounds were classic Khabib. There was no question who the better striker of the two was, nor who the better grappler was, but it was the champion who landed the biggest shot of the fight, with a huge right putting McGregor down.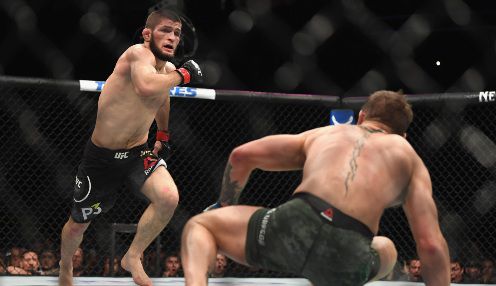 Khabib landed a shock knockdown, leaving McGregor scrambling
A prolonged spell of ground and pound was interspersed with some trademark conversation from Khabib, who must be the only fighter in history to talk more during a fight than before. He kept taunting McGregor with 'let's talk now'.
At the end of the third, McGregor was suggested to have said – but since denied – 'it's only business'. Khabib didn't see it that way.
To McGregor's credit, he came back well in the third, becoming the first fighter to take a round off a seemingly tiring Nurmagomedov.
But Khabib was simply too good, winning by submission in the fourth round, and such was the bad blood between these two, Khabib was reluctant to even let go of McGregor after the tap, with referee Herb Dean having to pull his fingers apart. Even then he wouldn't get off McGregor until Dean forced him away.
He kept his promise that there'd be no handshake. Despite all the words between McGregor and Nate Diaz before their fights, both ended with a warm embrace and a clear feeling of mutual respect.
There was no mutual respect here.
Once Nurmagomedov had been prised away from McGregor, he then turned his attentions to McGregor's team, hurdling the cage to set about Dillon Danis. Things only got worse from there, with three of Khabib's team entering the Octagon and attacking McGregor.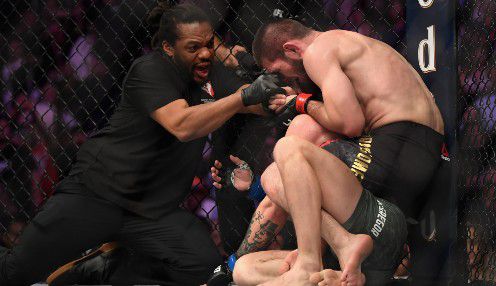 Khabib needed prising off McGregor by ref Herb Dean
What wasn't apparent at the time was that it was actually McGregor who threw the first punch at one of Khabib's team, having seen his opponent leap out of the Octagon, McGregor was all set to follow him, throwing a punch at one of the rival camp who had the same idea, before being attacked in the Octagon by two more.
Total chaos had broken out, with Khabib eventually being appeased, but demanding his belt. White expressed the belief that if they announced him as the winner of the fight in the Octagon, fans would start throwing things in his direction, which in true Khabib fashion, he announced 'I'm ready for this'.
Once removed from the heat of battle, a contrite Khabib apologised to the Nevada State Athletic Commission, who'd withheld his purse immediately after the fight. Though it did come with a 'but'.
Khabib was perplexed that everyone was talking about him jumping the cage, but no one talked about how 'he' talked about his religion, his country, his family, as well as the bus attack.
He also stood by how he was a respectful fighter, and how MMA was a 'respect sport', and that he felt the media had played a part in this.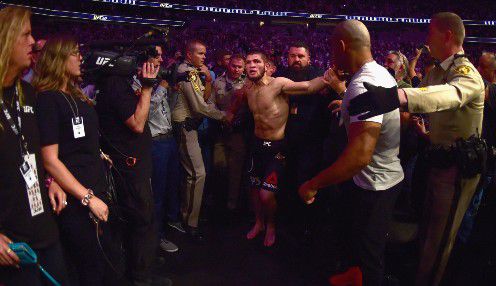 The fight didn't end in the Octagon, however...
Khabib later admitted that part of his reaction was due to how quickly McGregor tapped, saying he was preparing for war in this fight, and felt disappointed that McGregor quit, and was left wondering why he trained so hard.
Due to the nature of the aftermath of the fight, it was never going to end on that night, and an ongoing social media back-and-forth continued for months after.
McGregor acknowledged the 'fair and square' nature of the defeat, posting a lengthy statement with his thoughts on the fight, and Khabib replying with the same three words McGregor reportedly said mid-fight – 'it's only business'.
Even in the aftermath, years later, Nurmagomedov denied that McGregor would want the rematch, such was the conviction in the victory.
"I think he was happy [not to have a rematch]. What's going to happen if the referee wasn't there? They never asked to fight again," Khabib said.
Still, McGregor's been happy to keep the embers burning ever since, even throughout his victory against Donald Cerrone and defeats to Dustin Poirier.
Despite being told by the UFC that they both needed to tone down their insults towards each other back in April 2019, Khabib commented on Poirier's victory over McGregor, in which the Irishman broke his leg, saying 'good always defeats evil', to which McGregor responded with a thinly-veiled, now-deleted remark about Nurmagomedov's late father, the passing of whom prompted Khabib's retirement from MMA.
Although Nurmagomedov was adamant he'd never return to the Octagon, and McGregor's recent record is not that of someone who'd deserve another go at the former champion, it's impossible to ever definitely rule out the prospect that we'll see them face off again.
It's almost a shame that, with the first fight so many years ago, one no longer an active fighter, and with a rematch so unlikely, that, even if it is the most intense rivalry in UFC history, there's never really been a resolution between them.
And considering all that's been said and done, it's unlikely there ever will be.
Discover more from the world's favourite online betting brand
Latest sports betting and odds
Head to the bet365 YouTube channel for exclusive boxing content
Looking forward to the week ahead