Liam Williams
Updated: 21 Sep 23 11:32
Published: 27 Jul 22 12:33
"All the champagne was in the American team room."
As Justin Rose later recounted, it needed to be sheepishly moved into the European team room.
'Miracle' is not a term to throw around lightly, but for what happened at Medinah in 2012, nothing else seems sufficient.
The Miracle at Medinah saw 12 heroes in Chicago pull off the impossible.
After a close-run finish on Monday at Celtic Manor in 2010 the Americans, back on home soil, were fancied - albeit marginally - to reclaim the Ryder Cup.
But in contrast to usual Ryder Cups, Europe had four of the five top-ranked players in the world in Rory McIlroy, Luke Donald, Lee Westwood and Justin Rose.
Not only did Europe have the omnipresent team spirit, they had star power to match the Americans.
When play began on Friday however, the typically reliable team formats weren't producing typical results for Europe.
In four of the last five Ryder Cups Europe had won, they'd held a lead going into Sunday (in 2002 the teams were tied 8-8 after Saturday). In 2010 it was three points, in 2006 it was four points, in 2004 it was six points, and in 1997 it was five points.
It was important for Europe to establish themselves across the first two days.
But McIlroy and Graeme McDowell took just one point from three matches together.
Lee Westwood's only point across three matches came with Nicolas Colsaerts, who in truth, won the point on his own with eight birdies and an eagle.
Meanwhile Phil Mickelson and young rookie Keegan Bradley looked unbeatable, winning their matches 4 and 3, 2 and 1 and 7 and 6, the latter against Westwood and Donald no less. A real scalp.
Through the first 14 matches, Bubba Watson/Webb Simpson, Jason Dufner/Zach Johnson and Dustin Johnson/Matt Kuchar had taken seven out of eight points between them.
The Americans seemed to have a newfound team spirit, and Europe seemed to have lost theirs.
So to Saturday evening. Europe 10-4 down with Sergio Garcia playing with Donald, taking on Tiger Woods and Steve Stricker, and in the bottom match, McIlroy getting a new partner in Ian Poulter, taking on Dufner and Johnson who were 2-0 for the week.
Europe simply had to win both matches to have even a glimmer of hope on Sunday.
The penultimate match could've gone either way. Europe were 4-up at the turn before a rallying Woods and Stricker nearly secured a crucial half, winning four of the last five holes.
More from The Greatest
The Greatest - Sporting Comebacks: The Miracle at Medinah
The Greatest - Sporting Rivalries: Ferguson v Wenger
The Greatest - Sporting Rivalries: Khabib v McGregor
In amongst the madness of the match behind them, it's easy to forget what happened at 17.
Woods, after getting the match back to 1-down, stuck his tee shot to 4ft. Europe's delicate lead becoming more delicate still with Woods set to make birdie.
Donald followed and stuck his tee shot to 3ft.
Pressure? What pressure?
A pair of birdies, and the match was dormie one.
Even then on the 18th, Stricker had a birdie putt inside 10ft to secure a half point, but one of the best putters in the world saw his putt lip out. Europe survived.
So to the final match.
Poulter got up and down from the 15th bunker for a second birdie in a row to keep Europe all-square in a must-win match.
What happened on 16, 17 and 18 would go down in Ryder Cup folklore.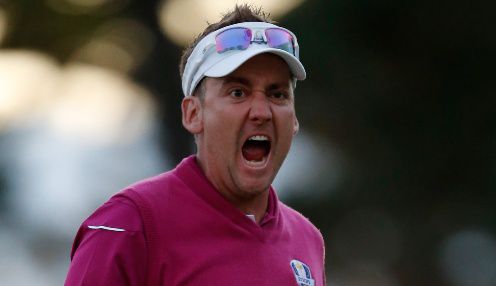 Ian Poulter's incredible birdie run on Saturday gave Europe hope
To make those three putts, given the circumstances, was a 1 in 100 shot. Three incredible birdie putts – with Dufner and Johnson in hot pursuit – to give Europe that glimmer of hope.
The untamed celebrations, the wild, bulging eyes. A war cry to the Americans that they weren't going away without a fight.
The Europeans watched on in hope on the 18th green, with Molinari, Rose and Garcia jubilant, while McDowell, fist pumping, remained more reserved, because despite the remarkable result, Europe were still huge underdogs. But Poulter had given them a chance.
Then came the line-ups for Sunday's singles.
It's easy to look back and think that Europe merely came from 10-6 (even 10-4) down to win, but the USA weren't simply 10-6 up, they were 10-6 up while playing much better golf than their opponents.
While the best six players on both teams are usually quite evenly matched at the Ryder Cup, it's lower down the order where America finds its depth. But where America finds its depth, Europe finds its upstarts. The lesser-known, lesser-ranked players with something to prove. The likes of Philip Price, Paul McGinley, Costantino Rocca, all securing big points for Europe on Sunday in Ryder Cups past.
But this was the USA's favourite day. While Europe fared well in team play, America's individuals usually came to the fore on Sunday for singles.
Usually.
More from The Greatest
The Greatest - UFC Champions: Anderson Silva
The Greatest - UFC Champions: Ronda Rousey
The Greatest - British Boxers: Amir Khan
The Greatest - British Boxers: Joe Calzaghe
Captain Jose Maria Olazabal's hand was forced. He couldn't make the mistake of Nick Faldo from 2008, who recognised he'd need points from his lower order if Europe were to win, then seeing the trophy lost long before it even got to the lower order.
So out came Donald, Poulter, McIlroy and Rose.
But of course all 12 players needed to play, and Europe found themselves with Tiger Woods up against Francesco Molinari in the bottom match. Molinari had played two matches and not seen the 17th hole.
Brandt Snedeker, who'd played well, up against Paul Lawrie.
Matt Kuchar (2-0 for the week) against Lee Westwood, who was bang out of form.
World number 12 Steve Stricker against Martin Kaymer, who'd endured a miserable 2012.
Jason Dufner against Peter Hanson, who'd been trusted with just one match and lost that 5 and 4.
Dustin Johnson against rookie Nicolas Colsaerts, who'd lost both matches since his brilliant Friday performance.
Remember just 4.5 points would be sufficient for the USA to regain the Ryder Cup. On paper, they looked to have 6 right there.
But, of course, golf isn't played on paper.
Europe needed a fast start and got one. McIlroy, who unforgettably needed a police escort to the course after forgetting what time zone he was in, chipped in on the very first hole. A missed tee time, which he was minutes away from realising, would've seen him forfeit the match with Keegan Bradley.
He, Donald, Rose and Lawrie all started well. But one by one the blue started to ebb away from the leaderboard. With all matches on the course, the USA were projected to win 16-12. Europe needed to make things happen.
Donald nearly threw his comfortable lead away, Rose let his lead slip and found himself battling desperately for a half, and McIlroy was unable to pull away either.
Thankfully, Lawrie managed not just a win, but a 5 and 3 win shortly after Donald secured Europe's first point.
McIlroy then secured his point, and Poulter, who admitted he simply didn't have the energy that saw him through Saturday's battle, narrowly overcame Webb Simpson.
More from The Greatest
The Greatest - Premier League Matches: Man Utd 4-3 Man City
The Greatest - Premier League Matches: Liverpool 4-3 Newcastle
Europe were level, but there was red on the board. Red that didn't look like turning blue.
Dustin Johnson secured America's first point of the day, while Zach Johnson, Jim Furyk and Dufner all led with just a handful of holes to play. The bottom three matches were in the balance.
Meanwhile Justin Rose was still on the course with Phil Mickelson, playing out a match for the ages.
Rose got up and down out of the bunker on 15, but at 1DN with three to play, he needed to take two holes to secure a much-needed point.
Faced with a 15ft putt to avoid going dormie two, he found the cup and let out a huge "Come on!". A putt so good, Mickelson smiled, applauded and gave a thumbs up. Still alive, but needing to win the last two holes. Halves simply weren't enough anymore.
To 17.
Mickelson flew the green, but Rose too was long, finding the back of the green, on a hole he really needed to win. The adrenaline clearly flowing through both men's veins.
More from The Greatest
The Greatest - Serie A Players: Kaka
The Greatest - Serie A Players: Gabriel Batistuta
The Greatest - Serie A Players: Francesco Totti
The Greatest - Serie A Players: Pavel Nedved
Of course, missing the green was seldom a problem for the short-game wizard that is Phil Mickelson.
Never one to doubt himself, Mickelson didn't merely ask caddy Bones to tend the flag, he wanted it removing altogether. Forget trying to put one close, he was trying to hole this. The audacity of it! And so off his pitch went, landing in the perfect spot on the green.
Mickelson would've known it was good when he hit it, he'd have known it had a chance when it landed.
Sure enough, he trots to get in line with his ball, club raised. This was the moment.
He thought he'd holed it. Everyone thought he'd holed it.
He didn't hole it.
It shaved the hole and everybody around the 17th green was in disbelief. Keegan Bradley, his partner for the first two days was the first to get to Mickelson, holding his hand out to remind him that it was still a good shot, and was surely enough to take a half going to the last with a lead.
After all, Rose was 50ft away.
Rose would make the putt of his life. No loud celebration this time; Rose was silent, arms out. After the most incredible putt to give him a chance of winning the match, he needed to keep the heart rate steady. Onto the last.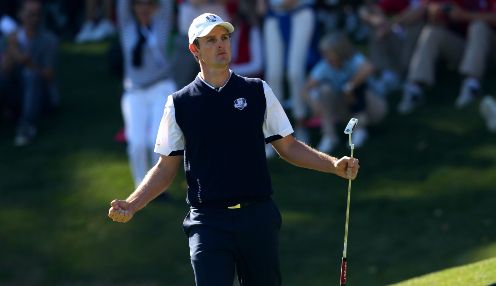 Justin Rose, after the putt of his life
Mickelson's approach skipped off the green, while Rose left himself a 12ft putt to win the match. He did just that, and Europe were level at 11-11. The pendulum was swinging Europe's way.
But they still needed to turn those all-squares blue, as well as holding onto the leads they did have.
Zach Johnson won his match against Europe 2010's hero Graeme McDowell, and the hosts needed 2.5 points from 5 matches, with them all still in the balance.
Westwood edged clear of Kuchar to take a point. 12-12
And then came the match that turned the whole event on its head.
Jim Furyk had led Sergio Garcia throughout much of Sunday and on 16 had a putt to go dormie two. He dropped his putter, raised his arms… and watched his putt cruelly lip out. Garcia's blank, almost confused stare over his shoulder at the prematurely-celebrating, now-crestfallen Americans was priceless.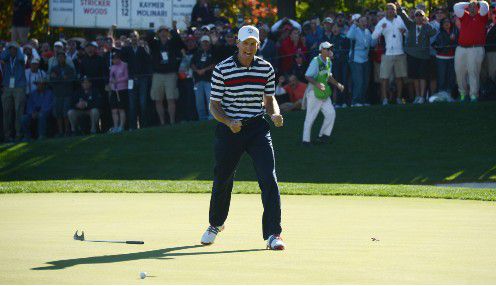 Jim Furyk's putt, agonisingly lipping out
But the Spaniard really needed to win the last two holes. Or failing that, he needed Furyk to lose them.
Such a strong putter, Furyk would miss putts inside 15ft on each of the last three holes. He made bogey on 17, and missed a short one on 18. Garcia – or rather Furyk, with his two closing bogeys – had turned not just his match, but the whole Ryder Cup upside down. It suddenly became Europe's to lose, needing just one point from the final three matches.
Peter Hanson was unable to peg Dufner back and lost his match. 13-13.
Still, the USA needed to win one of the last two matches.
Stricker took the 16th to get back to all-square with Kaymer, but both tee shots on the 17th left a lot to be desired. Kaymer's, a wicked pull leaving him a good 80ft from the hole, Stricker facing a nervy chip down the hill.
All eyes were on this match. It was easy to forget a certain Tiger Woods was following them, but it all hinged on this match. If Stricker could win it, the USA were huge favourites. If he lost it, he'd lose the cup. Half it, and it'll all come down to Woods v Molinari.
Kaymer ran his putt about 5ft past, but a poor chip from Stricker left him just outside of Kaymer and putting first.
His putt lipped out. Kaymer's didn't, and he had a lead going up the 18th. A half on the last would now see Europe retain the Ryder Cup, against all odds.
Stricker's approach was miles past the hole, and Kaymer had two putts from inside 40ft to retain the Ryder Cup. Simple, right?
Wrong.
Kaymer admitted later that he didn't want to just cosy one up to the hole. He wanted the glory. So to hell with pragmatism, he did just that. And while it looked like stopping 1ft or 2ft past the hole, the ball ever so slowly rolls and rolls and rolls and suddenly, it's a missable 5ft away.
Missable for the rest of us, anyway.
But the German, with ice in his veins, rolled the putt in, dead centre, and the European contingent at the side of the green erupted. Jubilation, astonishment. The champagne was transferred to the European team room. The celebrations could begin.
Unbelievably, it was Europe's Ryder Cup.

Discover more from the world's favourite online betting brand
Latest sports betting and odds