Liam Williams
Updated: 21 Sep 23 10:33
Published: 01 Aug 23 12:42
Ahead of the 44th Ryder Cup, we've put together an A-Z of the biennial team event between Team Europe and Team USA.
A – Azinger
A member of the 1989 US Ryder Cup team, Paul Azinger went 3-1-0 on debut, recording a win in a fiery affair with Seve Ballesteros in Sunday's singles.
The rivalry would continue into 1991, with Azinger involved in a rules controversy in the very first match of the competition against Ballesteros and Jose Maria Olazabal.
His first point of 1991 came with a resounding 7&6 victory over the dubious European pairing of Nick Faldo and David Gilford, then beating Olazabal on Sunday.
Undefeated in four singles matches, Azinger would captain the USA to the 2008 Ryder Cup, their first win in nine years.
B – The Belfry
Four-time host of the Ryder Cup, The Belfry has been the site of some of the most memorable moments in the competition's history.
From Christy O'Connor Jr's 2-iron to beat Fred Couples, to Nick Faldo's hole-in-one, to Paul McGinley jumping in the lake, the Belfry will forever be a part of Ryder Cup folklore.
C – Concession
One of the most iconic moments in Ryder Cup history. So iconic a golf course is named after the moment itself; a moment that embodies the spirit of the Ryder Cup.
In 1969, Great Britain, having avoided the biennial trouncing at the hands of the United States, found themselves neck and neck with their rivals going into the final singles session.
But at the matches went on, the best GB could do was tie the match, with the US retaining the Ryder Cup.
And in the final match of the week on the 18th hole, Tony Jacklin was left with a putt to secure the tie, knowing a miss would see the US win outright.
His opponent Jack Nicklaus famously conceded the putt, saying that he didn't think Jacklin would miss, but he wasn't going to give him the opportunity, as the USA tied with Great Britain.
D – Drama
Wrap up all four days of drama from all four majors and you've got an idea of what you'll get in one hole at the Ryder Cup.
Marc Calcavecchia's collapse in 1991, Bernhard Langer's missed putt later that day, Justin Leonard's heroics in 1999, Ian Poulter inspiring the Miracle at Medinah in 2012, Rory v Reed in 2016; the list is endless.
Quite simply, there's nothing else like it.
E – Europeans
For 50 years, the Ryder Cup was a hugely one-sided affair that struggled to garner all that much interest. But the arrival of the continental Europeans changed everything.
Though the US would win the first three editions against Europe, in 1985, a Seve Ballesteros-led side captured the Ryder Cup.
From Ballesteros, to Olazabal, to Langer, to Garcia, to Kaymer, to Stenson, to Rahm, the Ryder Cup wouldn't be the same without them.
F – Format
Those unfamiliar with the Ryder Cup may find themselves confused by the format of the play, certainly over the first two days.
On Friday and Saturday, the two respective captains pick eight players to play in pairs in four-balls and then again for foursomes (reversed in the United States).
In four-balls, each player plays their own ball and the player with the lowest score wins the hole, with the most holes won at the end of 18 holes (or earlier if the result is already confirmed) winning the match.
In foursomes, each player on the team plays the same ball, taking turns to play shots. For example, Player A tees off, Player B plays the next shot, then Player A until the hole is completed. Each player takes turns teeing off on each hole.
G – Garcia
Nobody in Ryder Cup history has scored more than 25 points… with the exception of Sergio Garcia, who tops the lot on 28.5.
The Spaniard also holds the record as the youngest player to ever feature in a Ryder Cup, and remains the only teenager to have played, as part of Europe's losing effort in 1999, despite no one across either team bettering his three-and-a-half points that week.
He added three more in 2002, before being joint-top point scorer in 2004 and 2006 with four-and-a-half and four respectively, eventually overtaking Nick Faldo in 2018 at Le Golf National.
H – Henrik Stenson
The early years of Henrik Stenson's Ryder Cup career brought about mixed results. While he'd only take three points from his first seven matches, he did hole the winning putt on debut in 2006 at the K Club.
After missing 2010 and 2012, Stenson headed to Gleneagles in 2014 armed with a new partner in Justin Rose.
The pair played each of the first three matches, leading Europe out on Friday, winning 5&4, 2&1 and 3&2.
In 2016, Stenson and Rose lost 3&2 to the stellar pairing of Jordan Spieth and Patrick Reed, getting their revenge with a 5&4 victory that afternoon.
Stenson and Rose were sent out together for both foursomes matches in France, winning 3&2 and 2&1 as Stenson found himself on the winning side for the third time.
I – Ian Woosnam
One of only 12 Europeans to have played more than 30 Ryder Cup matches, Ian Woosnam was a member of the winning teams in 1985, 1987, 1989, 1995 and 1997.
Striking up a potent partnership with Nick Faldo, Woosnam took three-and-a-half points from four matches with Faldo in 1987, extending their unbeaten streak as a duo to seven in 1989, before finally being taken down by Chip Beck and Paul Azinger in 1989.
J – Jack Nicklaus
A PGA of America rule meant that players couldn't earn Ryder Cup points for five years, so seven-time major winner Jack Nicklaus had to wait until 1969 to make his debut, and it was as memorable as any of his other appearances.
Tony Jacklin, the 1969 Open champion, played Nicklaus in the final singles match of the event, and with an unlikely Ryder Cup victory ebbing away from Great Britain making only a tie possible, Nicklaus denied his opponent the chance to miss his final putt on the 18th hole.
The USA would retain the Ryder Cup, Great Britain would secure a tie, and a moment of wonderful sportsmanship was born.
K – The K Club
The scene of perhaps Europe's greatest triumph.
Darren Clarke, just weeks after the passing of his wife, made the decision to play as one of Ian Woosnam's two picks alongside good friend Lee Westwood.
Clarke received a rapturous reception on arriving at the first tee, and the Northern Irishman would win all three of his matches.
Europe took a 10-6 lead into Sunday, winning eight of the 12 singles matches to run out 18.5-9.5 victors – a score still not bettered by Europe.
L – Luke Donald
Of those to have played a minimum of 10 Ryder Cup matches, who has the best points percentage of all European golfers? If you said Nick Faldo, Ian Poulter, Sergio Garcia, Lee Westwood, Seve Ballesteros or Jose Maria Olazabal, you'd have been wrong.
The correct answer is Europe's 2023 captain, Luke Donald.
Donald was unbeaten in team play on debut in 2004, taking two-and-a-half points for the week. He extended the unbeaten run by two with wins playing in foursomes with Sergio Garcia in 2006, picking up three more points for Europe in 2010, securing a vital point with Garcia (whom he went 4-1-0 with in Ryder Cup matches) on Saturday evening at Medinah to give Europe a way back into the match.
Donald was tasked with going out first on Sunday at Medinah, securing a point against Bubba Watson as Europe completed a miraculous turnaround from 10-4 down to win 14.5-13.5.
M – Montgomerie
Not Nick Faldo, Ian Poulter or Sergio Garcia managed more than Colin Montgomerie's seven points in Ryder Cup singles, going unbeaten in eight matches – and one of them was conceded by captain Seve Ballesteros in 1997 to stop him potentially going 7-0-1 on Sundays.
Europe's talisman was a cornerstone of the team throughout the 1990s as Europe won in 1995 and 1997, top scoring at Valderrama.
Monty would also be top scorer in 2002 with four-and-a-half points from five matches, as well as finishing as joint top scorer in 1999, going on to captain Europe to victory in 2010 at Celtic Manor.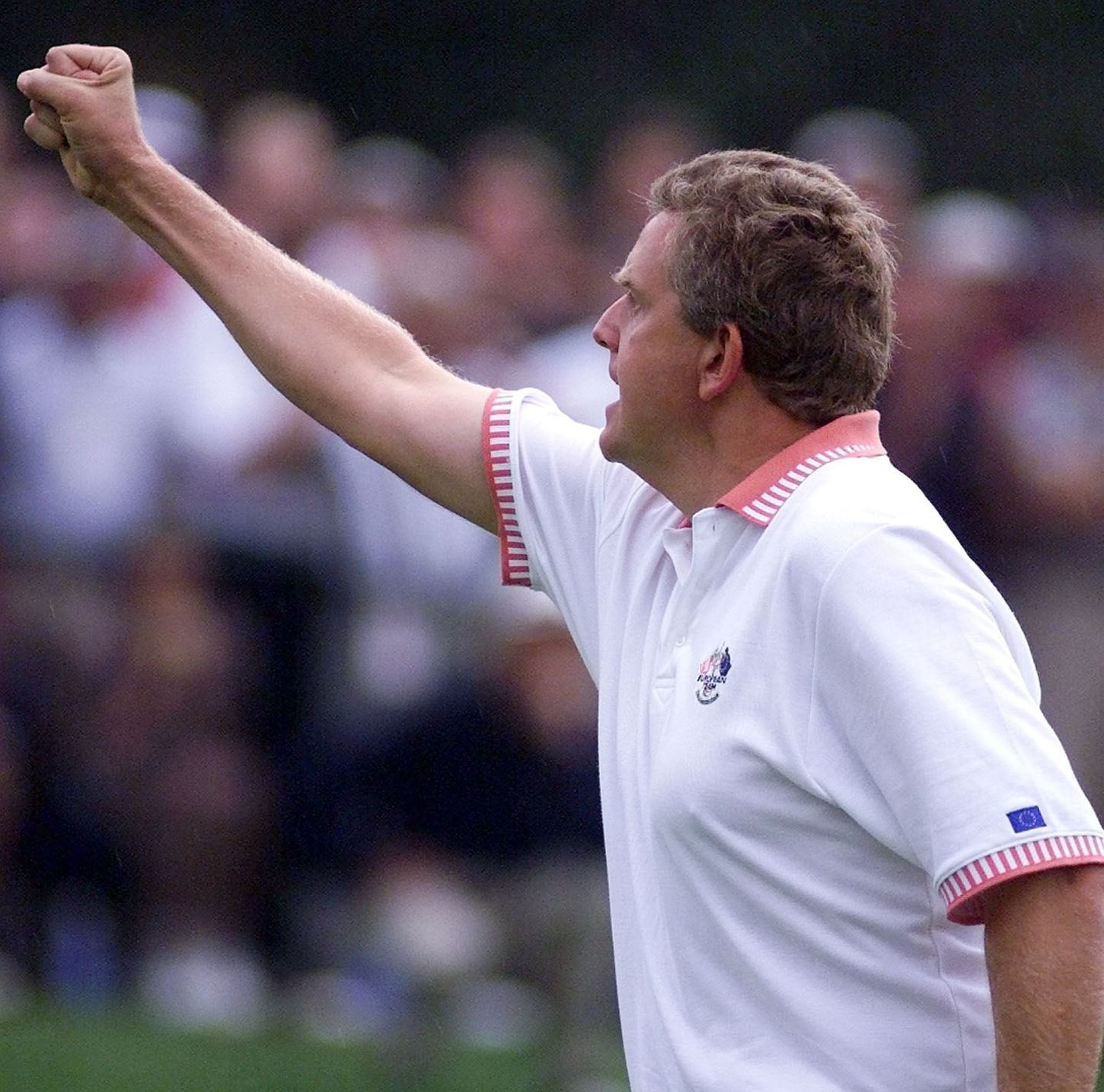 N – Nick Faldo
Appearing in just the 11 Ryder Cups from 1977 to 1997, Nick Faldo played in every Ryder Cup for 20 years and was the leading European appearance maker until he was overtaken by Lee Westwood in 2021, and the leading points scorer until Sergio Garcia took three points in 2018.
Although his Ryder Cup career ended on a sour note with the comprehensive defeat to the United States as captain in 2008, Faldo will forever be a European icon.
O – Olazabal
Seve Ballesteros's record in the Ryder Cup before 1987 was a mixed 6-6-3. He then found the perfect foil in compatriot Jose Maria Olazabal.
The pair won three points in 1987, three-and-a-half points in 1989, three-and-a-half points in 1991 and two points in 1993 for a total of 12 from a possible 16.
Ollie knew how to get the best out of his good friend and the pair became near-unstoppable. In the history of the Ryder Cup, no pair have ever scored more than six points together while Seve and Ollie recorded double that.
Olazabal would then captain Europe in 2012, inspiring his team to the unforgettable Miracle at Medinah.
P – Poulter
Nobody has ever had the desire, the determination and the sheer will in the Ryder Cup that Ian Poulter had.
Over the years, we saw passion from Poulter that suggested the Ryder Cup meant more to him than any other tournament meant to any other golfer. By his own admission, he lived for the Ryder Cup
It's a stretch to say Poulter has been one of Europe's all-time great golfers, considering he got in the team on merit just twice, but the fact he was a captain's pick in 2008, 2012, 2014, 2018 and 2021 tells you all you need to know about what Poulter meant to a European Ryder Cup team.
Nicknamed 'The Postman' for his ability to deliver a point, Poulter's points-per-match ratio in singles is unrivalled, taking six-and-a-half points from a possible seven.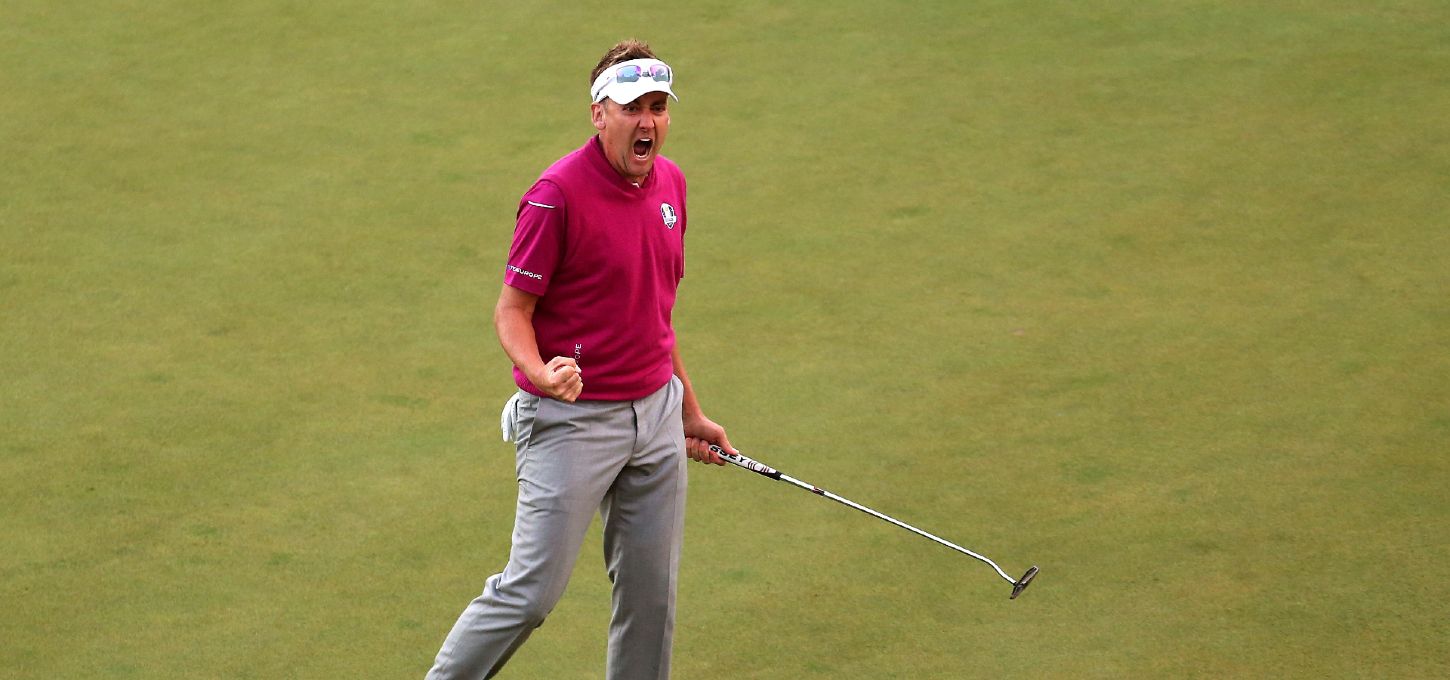 Q – Qualification
Qualification criteria frequently changes for both teams.
For 2023, the US team will be picked with the six highest players on the points list (formulated by money earned) with six captain's picks.
Europe will be the three highest players on the European points list, with the next three from the world points list who haven't already qualified.
R – Rookies
There's nothing quite like appearing at a Ryder Cup as a rookie.
Luke Donald admitted just trying to get the ball on the tee on his 2004 debut before slicing his opening drive 40 yards right.
Donald would get off to a fine start in the end, but some rookies have thrived in their maiden appearances.
Justin Rose went 3-1-0 in 2008, with Paul Lawrie and Sergio Garcia each scoring three-and-a-half points in 1999, while Thomas Pieters was top scorer in 2016 with four points, even going as far as shushing the American crowd!
S – Seve Ballesteros
Quite possibly the most important man in Ryder Cup history.
Seve Ballesteros led the way for European players in the 1980s, helping to bring the Ryder Cup into the public eye throughout the 1990s, taking it outside of the British Isles for the first time in 1997, captaining Europe to victory at Valderrama.
Forming a potent partnership with fellow Spaniard Jose Maria Olazabal, the pair recorded 12 points from a possible 16.
He was even a key figure in 2012, a year after his passing, with his silhouette emblazoned on European bags and shirts.
T – Tony Jacklin
Ninth in Ryder Cup appearances and eighth in points, Tony Jacklin will forever be remembered as a Ryder Cup icon.
Perhaps best known for his match with Jack Nicklaus in 1969, it shouldn't be forgotten that Jacklin registered 17 points in 35 matches during a time of total US dominance.
Jacklin would captain Europe to a narrow 14.5-13.5 defeat in foreign soil in 1983, going on to lift the cup as captain in 1985, 1987 and 1989.
U – Uniforms
The team uniforms are part of what makes the Ryder Cup what it is, and while Europe have typically worn safer numbers, featuring blue and white with the occasional pink and green thrown in, nothing will ever compare to the eyesore the Americans wore in 1999.
Readers of a nervous disposition should stop reading here…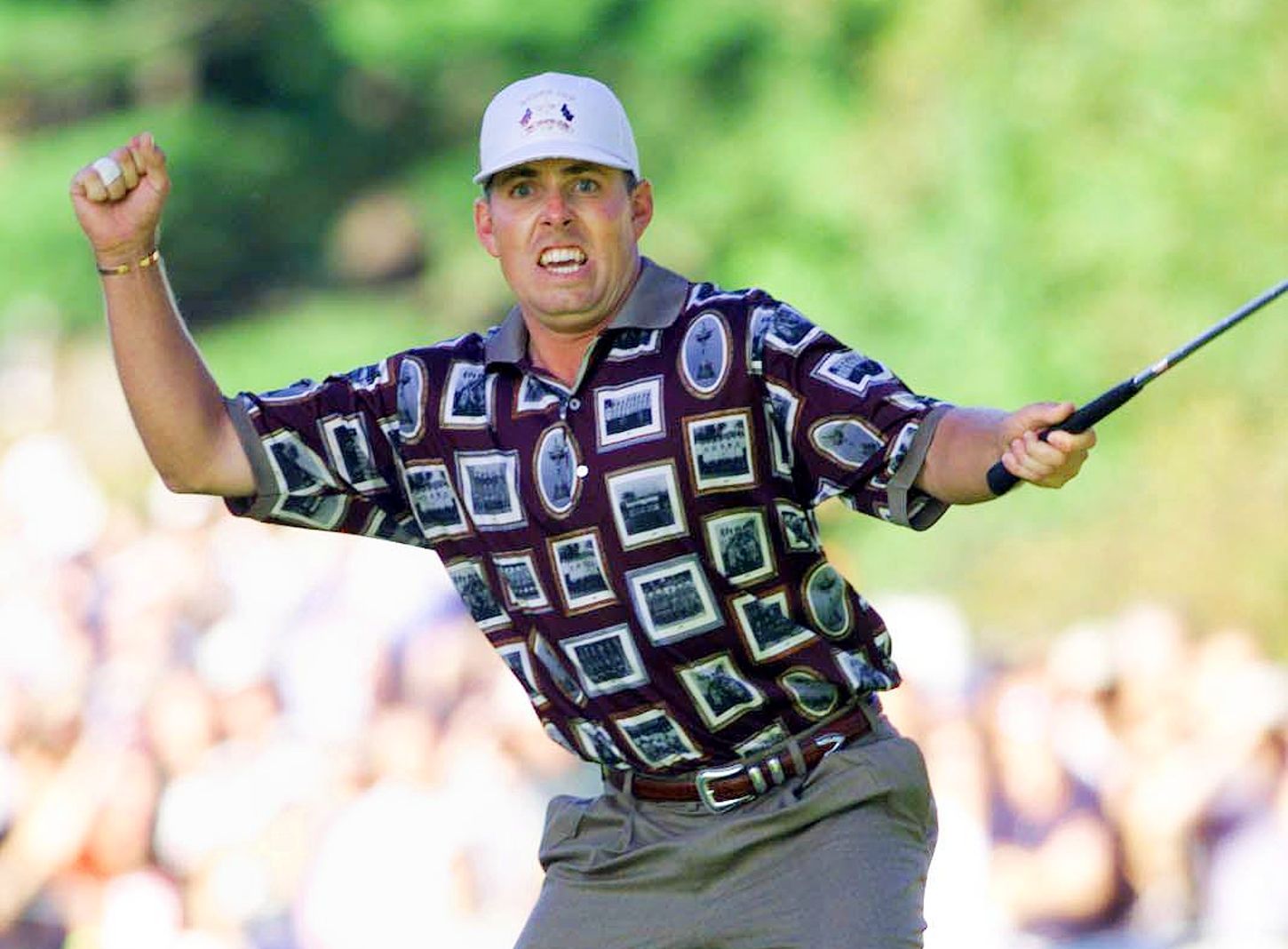 V – Valderrama
Seve Ballesteros was a pioneer of the Ryder Cup for a number of reasons, but mostly for his captaincy in 1997.
He was behind the move to take the Ryder Cup to the contintent as well as switching the four-ball and foursomes format around, feeling it better favoured the hosts.
Ballesteros also ensured the course was manufactured to nullify the United States' biggest weapons.
Although the visitors mounted a comeback on the Sunday, the match was as good as over by Saturday evening when Europe led 10.5-5.5.
W – Whistling Straits
A venue that will give 12 Europeans nightmares.
The disparity between the two teams was apparent long before the first tee shot, but Europe were 6-2 down after the first day and 11-5 down going into Sunday.
A course that played perfectly into the big-hitting Americans' hands, the hosts ran out 19-9 victors, a Ryder Cup record.
X – Xander Schauffele
Winning both foursomes matches with Patrick Cantlay and his only four-ball match with Dustin Johnson, Xander Schauffele got his Ryder Cup career off to a perfect start.
Schauffele was sent out first on Sunday but fell to a 3&2 defeat to McIlroy, but will undoubtedly be a US player to watch in Rome.
Y – Young
Vice-captain Fred Couples made the unusual move of confirming that Cameron Young would be one of three captain's picks alongside Max Homa and Jordan Spieth nearly two months ahead of the event.
The big-hitting American has four major top-10s to his name and was part of the victorious 2022 Presidents Cup team.
While his occasionally wild driving is unlikely be useful in foursomes, the 2023 WGC Match Play runner-up could prove invaluable in four-balls.
Z – Zach Johnson
One of the few Americans in the modern era to have a positive Ryder Cup record, Zach Johnson has been part of five teams from 2006 to 2016, winning at Hazeltine after being a part of four losing efforts previously.
Johnson only lost one singles match – against Darren Clarke in 2006 – winning three, and will captain the United States in Rome this year.