James Wilson
Updated: 24 Oct 23 11:55
Published: 06 Oct 23 11:44
One of Manchester United's greatest ever academy products, David Beckham was one of the first players voted into the Premier League Hall of Fame in its inaugural year in 2021.
David Beckham Profile:
| | |
| --- | --- |
| Name | David Beckham |
| Date of Birth | 02/05/1975 |
| Place of Birth | London, England |
| Position | Midfielder |
| Premier League club(s) | Manchester United |
| Premier League appearances | 265 |
| Premier League goals | 62 |
| Premier League assists | 80 |
| Premier League titles | 6 |
The making of David Beckham
When you think of English football, David Beckham naturally comes quickly to mind.

Part of Manchester United's famous 'Class of 92' – alongside fellow homegrown talents Gary Neville, Phil Neville, Ryan Giggs, Paul Scholes and Nicky Butt – David Beckham quickly developed into one of the finest players in the country at Old Trafford.

After impressing in United's youth teams and reserves side – winning the FA Youth Cup in 1992 – Beckham eventually made his first team breakthrough at the beginning of the 1995/96 season with Sir Alex Ferguson opting to blood a number of young players into the side.

It was out with the old and in with the new at Old Trafford, as established first team regulars such as Paul Ince, Mark Hughes and Andrei Kanchelskis were moved on and the likes of Beckham, Butt and the Neville brothers were brought into the fold.

Initially prompting widespread derision and scepticism, with the Red Devils succumbing to a 3-1 defeat at Aston Villa on the opening day of the season, Man Utd eventually went on to win the Premier League and FA Cup double in 1995/96 with Beckham and his fellow academy stars playing important roles.

Having nailed down a starting berth on the right-side of midfield, Beckham scored the winner in United's 2-1 FA Cup semi-final triumph over Chelsea before assisting Eric Cantona's winner in the final against Liverpool.

It seemed as though Beckham's first league title win would have to wait with Newcastle United 10 points clear of Sir Alex Ferguson's men at the turn of the new year, but the Red Devils eventually rallied to knock the Magpies off their perch and claim the trophy.

Not long turned 21 and already a Premier League champion, Beckham's rapidly growing reputation would soar further on the opening day of the 1996-97 campaign, with the London-born midfielder scoring a spectacular goal from the halfway line in a 2-0 win for Man Utd at Wimbledon.
Demonstrating extraordinary technique to execute the long range finish, the young Beckham raised his arms and walked away smiling in celebration, marking an iconic moment at the beginning of a truly illustrious career.
United would go on to retain their Premier League title in 1996/97, with Beckham scooping the PFA Young Player of the Year gong in the process.
The following season saw Beckham inherit the esteemed number seven shirt at Old Trafford, previously adorned by United legends such as George Best and Eric Cantona.
Although Beckham finished the season with the most assists in the Premier League with 13, the 1997/98 campaign proved to be a forgettable one for United as they failed to accrue any major silverware, finishing second behind Arsenal in the league.
If the 1997/98 season was a disappointing one for Man Utd, Beckham and Co more than made up for it the following year.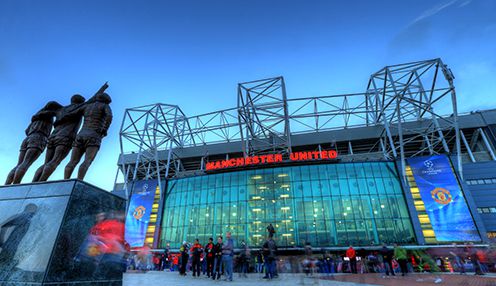 Despite hailing from London, David Beckham grew up in a Man Utd-supporting household and attended matches at Old Trafford from a young age.
Treble winner
After becoming a publicly vilified in the wake of his red card for kicking out at Diego Simeone as England exited the 1998 World Cup in the last 16 against Argentina, Beckham was forced to battle through adversity at the beginning of the 1998/99 domestic season.

At one point rumoured with a move away from England such was the level of vitriol he was receiving from the press and public at the time, Beckham decided to stay put with his Man Utd teammates rallying in support of their key man.

A season which began as the low point of Beckham's career would end in his finest hour, with Man Utd clinching the Treble with a last-gasp 2-1 Champions League final victory against Bayern Munich at Camp Nou to go along with the Premier League title and FA Cup.

Beckham played a pivotal role as United claimed the Premier League title on the final day of the season, netting the equaliser as Sir Alex Ferguson's side fought back from a goal down to overcome Spurs 2-1 at Old Trafford and pip their North London rivals Arsenal to the trophy.
The Englishman's performances in Man Utd's Treble-winning season saw him voted runner-up to Ronaldo in the 1999 European Footballer of the Year and FIFA World Player of the Year awards.

Man Utd's domestic dominance would not end there, with the Treble winners retaining their Premier League title in 1999/00 by an impressive 18-point margin, with Beckham scoring five goals as the imperious Red Devils won their last 11 league games of the season in a row.
The following season would see United win a third consecutive Premier League title, only the fourth time this feat had ever been achieved, with Beckham again at the fore with a league-high total of 12 assists as well as nine goals.
Although Beckham's career continued to prosper on the pitch, his growing celebrity status and relationship with his future wife Victoria Adams - a popstar with girl group The Spice Girls - began to create tensions between himself and United boss Sir Alex Ferguson.

Beckham showed little sign of his new off-field interests affecting his performances for Man Utd, however, with the midfielder registering 16 goals in all competitions in 2001/02 despite United failing to land any trophies for the first time in four seasons.

Twelve years on from signing for the club as a 16-year-old trainee from Tottenham in 1991, Beckham was to depart from Old Trafford following his sixth Premier League title win with Man Utd in 2002/03.

With no conspicuous drop off in form, the deterioration of Beckham's relationship with Man Utd manager Sir Alex Ferguson appeared the primary reason behind the England international's exit to Real Madrid.

A manager renowned for ruling with an iron fist, there was a growing sense Ferguson had grown tired of the increasing baggage Beckham carried with him and that his A-list celebrity status violated his ethos of 'no player being bigger than the club'.

Making his Premier League debut for Man Utd in a goalless draw against Leeds United in April 1995, Beckham racked up 265 appearances and 61 goals in the English top flight over the next eight years.

Undoubtedly one of the sweetest strikers of the ball English football has ever seen, the scale of David Beckham's achievements with Man Utd will ensure he is forever be looked back on as an icon of the Premier League.

Style of play:
Typically deployed on the right-hand side of Sir Alex Ferguson's preferred 4-4-2 setup at Man Utd, Beckham was not a conventional winger who would run at defenders and attempt to dribble past them.
Instead, Beckham's game revolved around his phenomenal passing range and crossing ability, with the ex-England skipper fostering a great understanding with Gary Neville down United's right flank.
Arguably one of the best crossers of the ball in the history of the game, Beckham was a reliable assist-maker for strikers including Andy Cole, Teddy Sheringham, Ole Gunnar Solskjaer and Ruud van Nistelrooy.
Beckham's masterful technique was also displayed in his free-kick taking ability, with the Man Utd legend scoring a remarkable 65 goals from free-kicks throughout his career.

The Londoner was also a tremendous athlete, playing professionally until his late-30s, and was always willing to track back and make tackles for the benefit of the team.

Later on his career, as his physical capacity declined with age, Beckham began to increasingly adopt a central midfield position, where his passing range and all-round technical skillset was put to good use.

Life after football:
Since retiring from professional football, Beckham's brand as a businessman, celebrity and philanthropist has continued to grow.
One of the most recognisable sporting figures in the world, Beckham has worked alongside some of the biggest commercial companies in the world including Adidas, Armani, Pepsi, Gillette and H&M.
He has also been involved in a range of charitable initiatives, supporting organisations such as UNICEF, Help For Heroes, United for Children, Unite Against AIDS and Malaria No More UK.
In 2014, Beckham exercised his option to buy an MLS expansion team, which he had received as part of his contract to sign for LA Galaxy in 2007.
In 2018, an ownership group led by Beckham launched Inter Miami, with the team officially entering the MLS in 2020.
In 2023, Inter Miami brokered deals to bring football legends Lionel Messi, Sergio Busquets and Jordi Alba to the club.
Beckham also became minority stakeholder in English League Two club Salford City in 2019, alongside his fellow Class of 92 teammates from his playing days at Man Utd.

Did you know?
One of dozens of tattoos across his body, Beckham has the number 99 etched on one of his fingers – in homage to the year of his Treble win with Man Utd, marriage to Victoria and birth of his first child Brooklyn.