David Schneidman
Updated: Jul 05 2023 14:28
Published: Jun 02 2023 17:16
Just six years after joining the NHL as an expansion team, the Vegas Golden Knights are Stanley Cup champions!
Recap all the action from the 2023 Stanley Cup Final, as the Vegas Golden Knights defeated the Florida Panthers four games to one to win their first title in franchise history.
Vegas lifts the Cup just six years into existence as an NHL franchise, having joined the league ahead of the 2017/18 season. No expansion team has managed to win a Stanley Cup quicker.
Jonathan Marchessault, who was a member of the inaugural Vegas team six years ago, was awarded the Conn Smythe Trophy as the most valuable player in the Stanley Cup Playoffs.
The Golden Knights were +1400 to win the Stanley Cup before the 2022/23 season.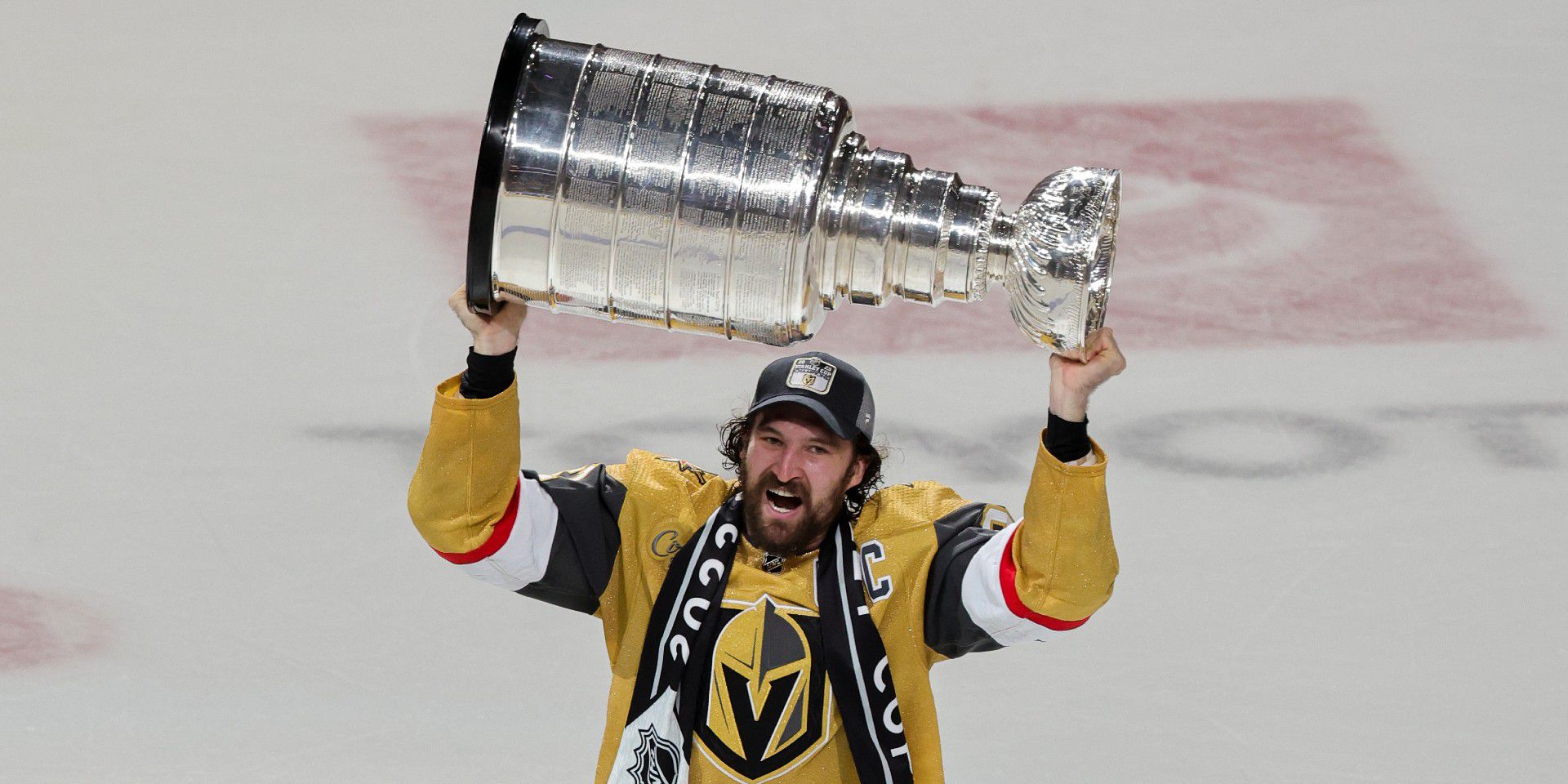 Vegas Golden Knights captain Mark Stone lifts the Stanley Cup.
Vegas scores nine in Cup-clincher
If being down three games to one, traveling back across the country to Nevada, and being without their best player, Matthew Tkachuk, wasn't enough to rule out the Florida Panthers, the Golden Knights' Game 5 performance was.
Forget Vegas' three-goal third period in Game 1, or even their seven-goal outburst in Game 3.
Tuesday's Game 5 was a goalscoring display for the ages put on by the Knights.
Mark Stone (hat trick), Nicholas Hague, Alec Martinez, Reilly Smith, Michael Amadio, Ivan Barbashev, and Nicolas Roy all scored in Vegas' 9-3 rout over Florida, dismissing any notions of pressure or nerves in a Stanley Cup closeout game.
Star center Jack Eichel tallied three assists to finish his first postseason with more points (26) than anyone. Marchessault, the Conn Smythe Trophy winner who finished the playoffs with 25 points, including a 10-game point streak to end it, logged an assist in the clincher.
Vegas goaltender Adin Hill deserves the plaudits, too, as the once-backup performed at an all-world level through his team's run to the Cup. Hill posted two shutouts and a .932 save percentage in his first playoffs and allowed just 12 goals in five games in the Cup Final.
Vegas rebounds, wins Game 4 in Florida
Brand new champions in both the NHL and NBA could be crowned on consecutive nights this week.
The Vegas Golden Knights are one win away from their first Stanley Cup in franchise history, just six years since being founded in 2017. The Knights staved off a Panthers comeback for a 3-2 win in Saturday night's Game 4.
Vegas got out to a typical hot start, as a pair of goals from Chandler Stephenson plus William Karlsson's 11th of the playoffs put the away team up 3-0 midway through the second period. Jonathan Marchessault assisted on Karlsson's strike, his 22nd point in the last 14 games.
Five minutes after Karlsson's goal, Florida's Brandon Montour made it 3-1, then team captain Aleksander Barkov made it 3-2. Could another comeback, perhaps resulting in an overtime winner, be on the cards for the feisty Panthers?
That's been Florida's usual path to victory this postseason, but it was not to be on Saturday.
Vegas stood strong, with goalie Adin Hill (29 saves) somehow keeping the puck out as chaos ensued during a last-second Florida power play. Matthew Tkachuk, who played less than 17 minutes in Game 4 as he battles multiple injuries, had the puck on his stick as time expired.
Time ran out there with me and [Sam Bennett] whacking away," Tkachuk said. "Two more seconds there, you never know."
Panthers score late in 3rd, early in OT to win Game 3
No team has been more clutch than the Florida Panthers in these NHL playoffs.
It was only fitting that their two most clutch performers tied, then won Thursday night's Game 3 to reignite the franchise's hopes of a first ever Stanley Cup.
Trailing 2-1, Matthew Tkachuk scored off a rebound with 2:13 remaining, forcing the game to overtime – Florida's seventh such game this postseason. Carter Verhaeghe – the Game 7 OT hero in round one against the Bruins – flashed home the winner less than five minutes into the extra period.
The 27-year-old now has four career overtime winners in the Stanley Cup Playoffs, all of which have come in the last two seasons. Only five players in NHL history have more.
Most Overtime Goals in the Stanley Cup Playoffs
| | |
| --- | --- |
| Player | OT Goals |
| Joe Sakic | 8 |
| Maurice Richard | 6 |
| Glenn Anderson | 5 |
| Patrick Kane | 5 |
| Corey Perry | 5 |
| Carter Verhaeghe | 4 |
| 16 others tied | 4 |
"Over the course of his career, [Verhaeghe] has gotten a puck off his stick faster than somebody can react to it," Florida head coach Paul Maurice said, per ESPN.
Jonathan Marchessault continued his extraordinary scoring run by slotting Vegas' second, a first-timer that squeezed through an incredibly tight window and past Sergei Bobrovsky.
Marchessault has scored in eight of his last 10 games, including all three in the Stanley Cup Final. He has seven multi-point games since the start of the Golden Knights' second round series against Edmonton.
Vegas scores 7 in Game 2 rout
The Vegas Golden Knights are playing at a level NHL fans have not seen in more than two decades.
In Monday night's commanding 7-2 win, Vegas set all-time marks for goals scored across the first two games of a Stanley Cup Final (12) – a number that only the 1982 Islanders have matched – and total margin of victory in the first two games (eight).
The last team to win the first two games of a Cup Final by eight goals was the 1996 Colorado Avalanche, also against the Florida Panthers.
Jonathan Marchessault scored the opener, assisted the second, then tacked on Vegas' fifth in the third period. He led all skaters with three points, while five other Golden Knights logged two points.
"We set the tone…" Marchessault said, per ESPN. "It was scoring the first goal there. But we're still pretty far from our goal here."
Marchessault is now the favorite to win the Conn Smythe Trophy.
Brett Howden (two goals), Jack Eichel (two assists) and Chandler Stephenson (two assists) all got on the statsheet in what was a Vegas rout from the start.
Panthers goalie Sergei Bobrovsky, who entered the series the favorite to win the Conn Smythe Trophy, was pulled seven minutes into the second period after the Golden Knights scored a fourth. But we won't see a permanent goalie change, per Panthers coach Paul Maurice.
"We can be a little better in front of our goaltender," Maurice said. "I got [Bobrovsky] out to keep him rested."
Tempers flared late in the second when Matthew Tkachuk drove into Eichel with his right shoulder, sending the Knights star flying. It was Tkachuk's second game misconduct penalty, forcing him out of the game. Eichel was forced to the locker room but later returned to the ice.
Golden Knights score 3 in third to take Game 1
The Panthers waited 10 days between their conference-clinching Game 4 victory over the Hurricanes and Saturday night's Game 1 in Las Vegas.
It was enough to take them out of rhythm and the Golden Knights, who last played five nights ago, were the beneficiaries.
Vegas scored three times in the third period to run away with a 5-2 Game 1 win, and are now three wins away from their first Cup in franchise history just six years after joining the NHL.
"We just wanted to play the right way and be disciplined, and tonight we were able to be the better team," said Vegas' Jonathan Marchessault, per ESPN.
Florida suffered just its second loss since the first round, and first since May 10. They had won 11 of their last 12 postseason contests heading into Game 1.
Panthers center Eric Staal got things started with a shorthanded wrap-around that caught out Golden Knights goalie Adin Hill. Vegas then went up 2-1 midway through the second via Marchessault - who has been with Vegas since their inaugural 2017/18 season - and a rare Shea Theodore goal.
Alex Duclair equalized for Florida 11 seconds before the end of the second period, but what could have sparked momentum into the third had an inverse effect.
Vegas exploded in the third behind a raucous T-Mobile Arena, with Zach Whitecloud getting the go-ahead seven minutes in, a laser past Sergei Bobrovsky. The hammer blow for Florida came six minutes later, when a sloppy clearance was batted down by Mark Stone right in front of goal.
The Golden Knights captain made no mistake one-on-one with Bobrovsky.
Panthers head coach Paul Maurice, known for his calm demeanor, expressed the same level-headedness after his team's first loss in three-and-a-half weeks.
"It's going to be tight," Maurice said. "Everybody breathe."