David Schneidman
Updated: Jun 19 2023 15:38
Published: Jun 19 2023 14:39
The United States men's national team are CONCACAF Nations League champions for the second time, defeating Canada in the final, 2-0, behind goals from Chris Richards and Folarin Balogun.
Coming off Thursday night's emotional 3-0 win over Mexico in which Weston McKennie and Sergiño Dest were sent off, forcing two starters to miss the final, the U.S. men's national team had to re-group.
Interim head coach B.J. Callaghan, in for Gregg Berhalter – who, as reported Friday, will stay on as USMNT head coach for the road to the 2026 World Cup – had to make changes to the XI and plan for the jubilant, upstart Canada men's team, in some ways the opposite of an aging Mexico side.
Sunday night's Nations League final from Allegiant Stadium in Las Vegas, Nevada was another test for USMNT, and it passed with flying colors.
A strong start by the Americans was rewarded when 23-year-old Chris Richards nodded home a Gio Reyna corner kick in the 12th minute for his first national team goal.
But Richards wasn't the only Premier League player to score his first international goal on the night.
Arsenal striker Folarin Balogun, who confirmed his decision to represent the United States national team over England in late May, snuck behind the Canada defense in the 34th minute and smashed home another Reyna through ball, giving the U.S. a 2-0 advantage.
Balogun, 21, has made just two appearances in the Premier League, but broke out while on loan at Ligue 1 side Stade de Reims this season. His 21 goals were fifth-most in the French league, more than both Lionel Messi and Neymar Jr.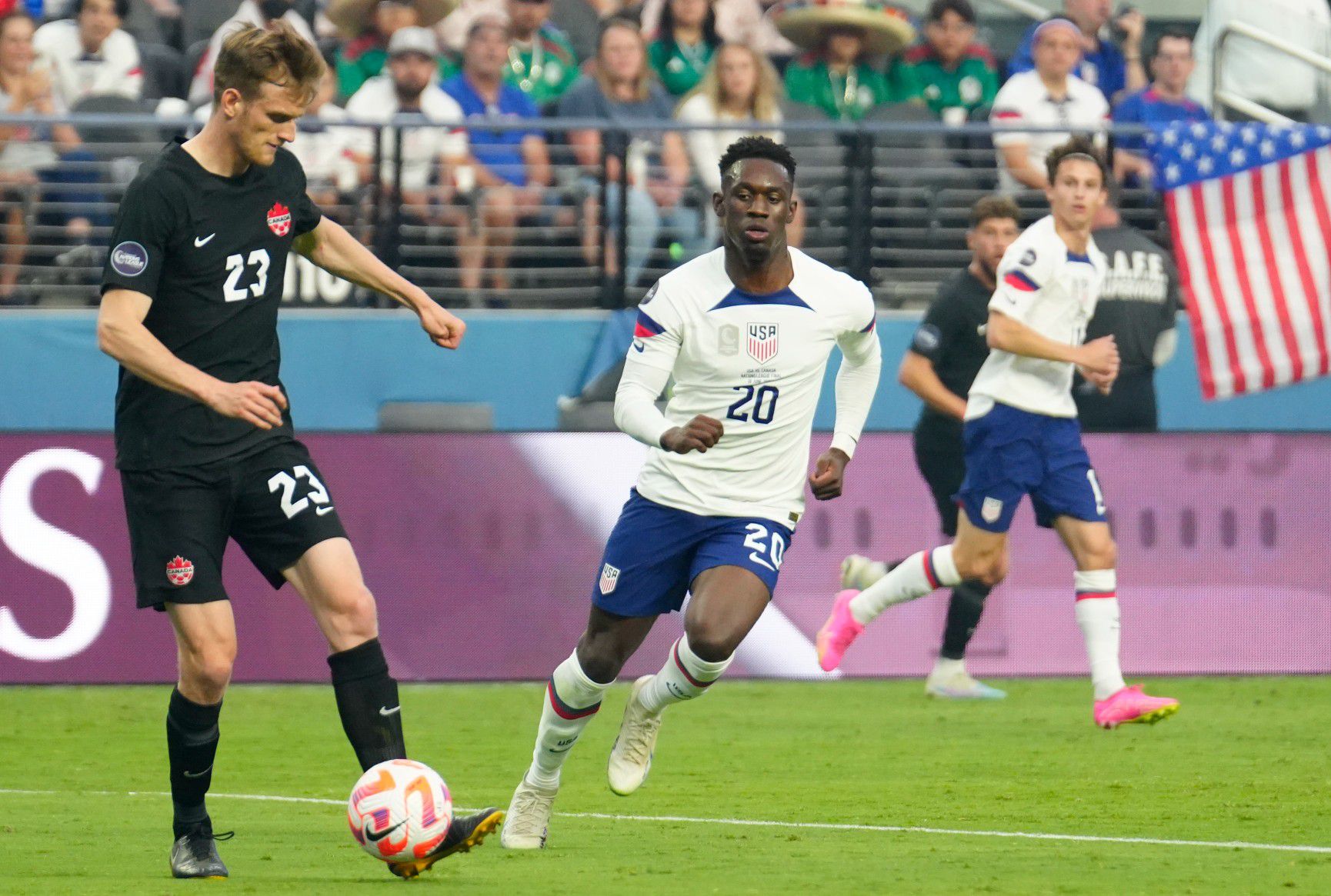 Folarin Balogun (center) in action for USMNT.
If his commitment to USMNT didn't make national team fans hugely optimistic for the future, his right-footed rocket on Sunday night sure did. The Americans lacked a true goal threat at the No. 9, a big reason they fell in the Round of 16 at the 2022 World Cup, and Balgoun's name on the team sheet fills that gap.
Balogun intends to play a part for Arsenal in the 2023/24 Premier League season, stating "I definitely won't go on loan again," as reported by Goal.com.
Balogun and Richards gave supporters plenty to be optimistic about, but the bright spot for the United States in the Nations League was Gio Reyna.
The 20-year-old made headlines during the World Cup after he received just 53 minutes of playing time across four games in Qatar, then slammed Berhalter for allegedly making false promises he did not follow through on. Berhalter was hugely critical of Reyna's work ethic and commitment to the national team, leading to his regular omission at the World Cup.
That led to a public scuffle between the Reyna family and USMNT head coach, which, following Reyna's recent performances and Berhalter's new contract, seems to have gone by the wayside.
The Borussia Dortmund man, donning a new bleached hair look, was hugely impressive in both U.S. wins in Las Vegas, and had both assists in the final triumph over Canada.