bet365 News Team
Updated: Oct 05 2023 11:11
Published: Nov 14 2022 13:38
Opposition supporters have cited Argentina's Lionel Messi as the opposing player they fear most in Qatar.
In football there are always certain players that you don't want your team to face.
Whether it's the lethal strike force of Cristiano Ronaldo, Lionel Messi and Karim Benzema or the defensive units of Virgil van Dijk and Rúben Dias, the bet365 Fan Nation Survey has questioned thousands of supporters from around the world to find out the most feared men in the 2022 Qatar World Cup.
Fans could vote for multiple players, due to varying playing positions.
Which player do fans fear facing the most in Qatar 2022?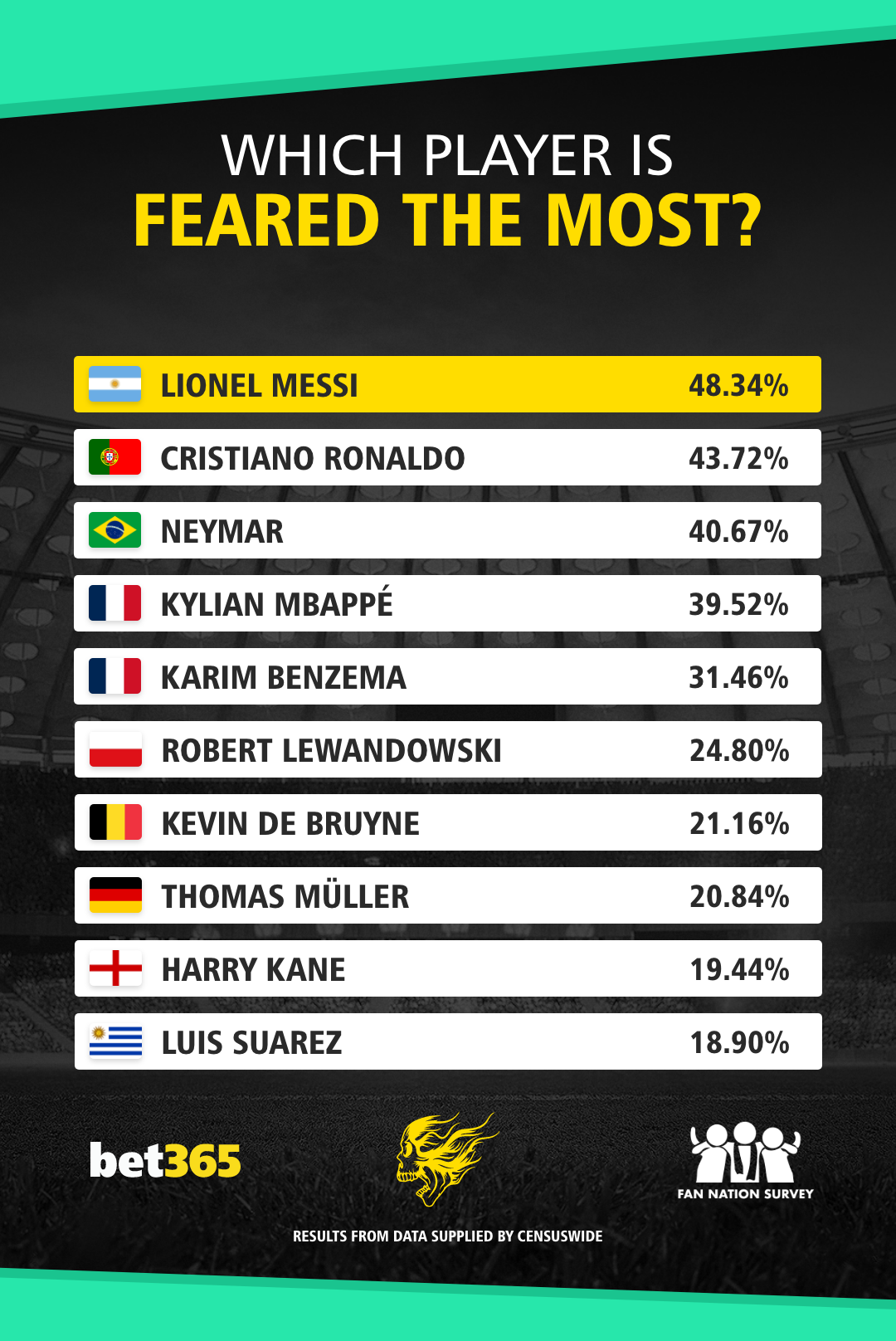 Just over 48% of fans from countries competing in the 2022 World Cup cited Lionel Messi as the player they fear coming up against the most.
The PSG superstar will be desperate to add the World Cup trophy to his extensive collection after winning the Copa America last year with his country.
Messi will be aware that this could be his last chance to win the biggest prize in world football unless he manages to play in the 2026 tournament at the age of 39.
Cristiano Ronaldo ranked second on the list with 43.72% of fans on average voting him as the player they do not want to face during the tournament.
The Portuguese captain currently holds the record for the most international goals with an incredible 117 in 191 caps and that looks unlikely to be broken by anyone soon.
Brazil's Neymar was behind Ronaldo in third place in the survey results, garnering 40.67% of votes on average.
The forward is the country's record goal scorer with 75 in 121 appearances and he will certainly be looking to add to that tally in Qatar.
His teammate and French forward Kylian Mbappe was fourth on the list, with 39.52% of fans naming him as the player they are scared of coming up against.
France striker and current Ballon d'Or holder Karim Benzema completed the top five, which meant four of the players are in their thirties.
Benzema gained 31.46% of the votes on average from all fanbases who took part in the survey. It's easy to see why, with the Real Madrid marksman coming off the back of an unbelievable year in front of goal, helping Madrid to a League and European double last season.
Plus, after missing out on the squad when France won the tournament back in 2018, you can bet he will have a big point to prove this time around.
But Which Players Do United States' Fans Fear Playing the Most?
The table below breaks down the results of how American football fans voted.

Do you agree with the results?