bet365 News Team
Updated: Nov 24 2022 10:08
Published: Nov 24 2022 10:03
Brazil fans are the most passionate supporters according to our Fan Nation Survey.
A wise man once said, 'You've got no fans!' and it perfectly showcased the one thing that unites soccer fans from around the world: Their pride and passion when supporting their teams, both at club and international level.
Over the years we've seen great examples of fan support at World Cups, but which country has the most passionate fans? Asking thousands of fans around the world from Brazil all the way to Wales, we finally have the answer to that very question.
Which international teams have the most passionate fans?
bet365, in conjunction with Censuswide, asked fans across the globe to pick the fans that they believed to be the most passionate.
Fans were able to select up to three teams, and the average selection percentage was formulated to create the Fan Nation Survey 'Most Passionate Fans' league table.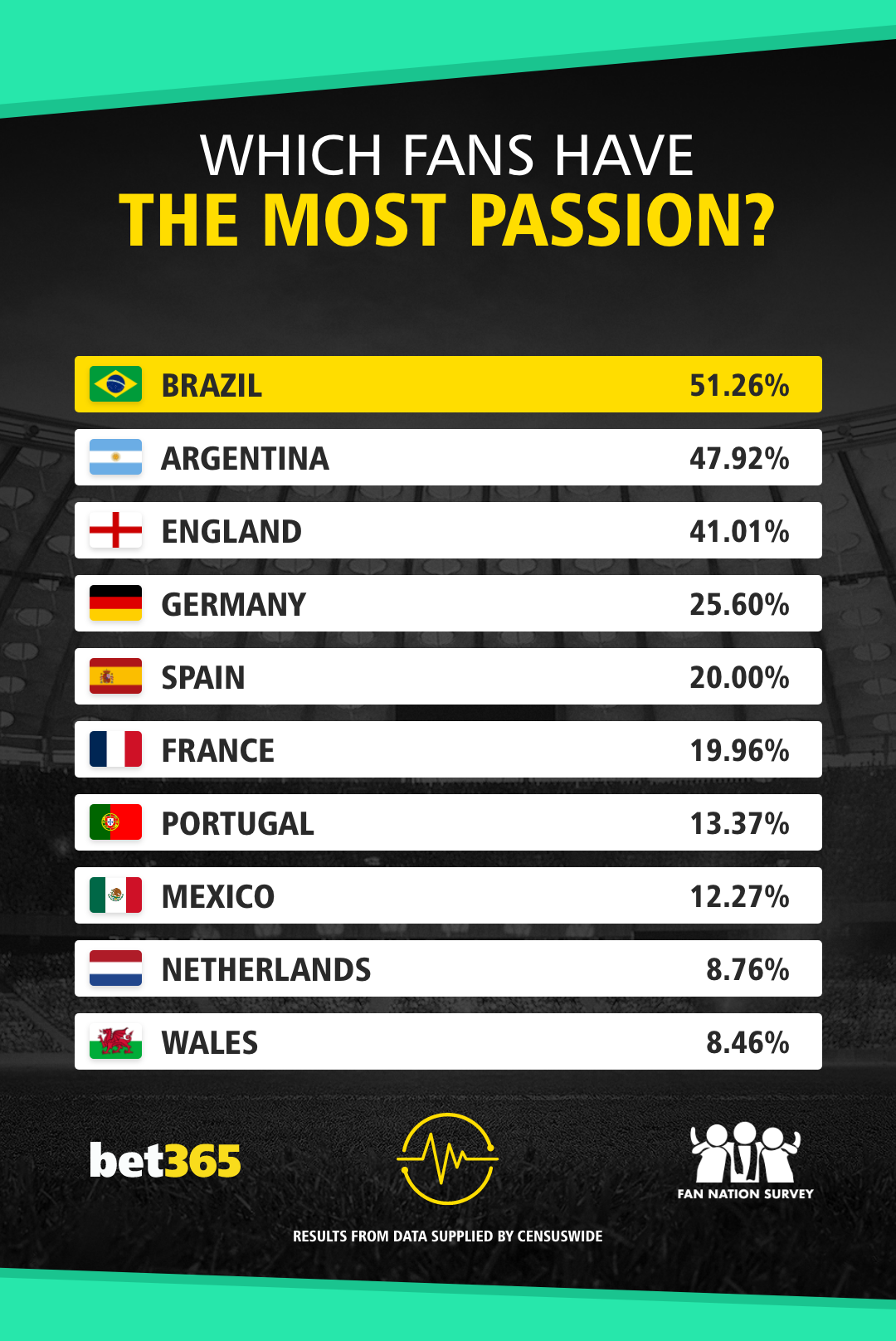 Brazil gained over 51.26% of votes on average, putting them clear as the most passionate supporters across the globe. To break this down, it means that Brazilian fans appeared in 51.26% of answers worldwide, to the question, which nation has the most passionate fans?
The five-time World Champions are looking to add a sixth title to their collection after going 20 years without a World Cup win.
Their South American rivals Argentina placed second on the list, with fans voting for them 47.92% of the time, on average.
La Albiceleste will be hoping to win the tournament for the first time since 1986 when they were led to victory by the great Diego Maradona.
This time around presents a similar opportunity for Lionel Messi, with this likely to be the 35-year-olds last shot at winning the trophy with his country.
Three Lions fans placed third on this list, gaining just over 41% of votes on average from respondents.
England supporters are not shy of making themselves heard during a major tournament and they will be hoping for their side to finally end 56 years of hurt, especially after losing the Euros final on penalties.
Germany (25.6%) and Spain (20%) rounded off the top five most passionate supporters in the survey.
Hansi Flick's side enters this World Cup looking to improve on their last few outings in major tournaments, exiting in the first round in 2018 courtesy of South Korea and losing to England in the round of 16 at Euro 2020.
However, they have been in good form during their Nations League campaign this year and will be hoping to carry that forward to Qatar.
Spain on the other hand will be aiming to build on their encouraging performance during the Euros, with their new side making it to the semi-finals before being defeated by eventual champions Italy.
The team has undergone a huge transition in recent years, with their 'golden generation' nearly all retired.
Signs for the future are good though, with the likes of Gavi, Pedri, and Ferran Torres all proving their worth in a national team jersey over the last few years.
The bet365 Fan Nation Survey has been powered by survey data collected from Censuswide.