Original article published 24 October 2022
With the Premier League Top 4 race hotting up, we're looking at how the odds have changed for the contenders throughout the season.
Manchester City - 1/500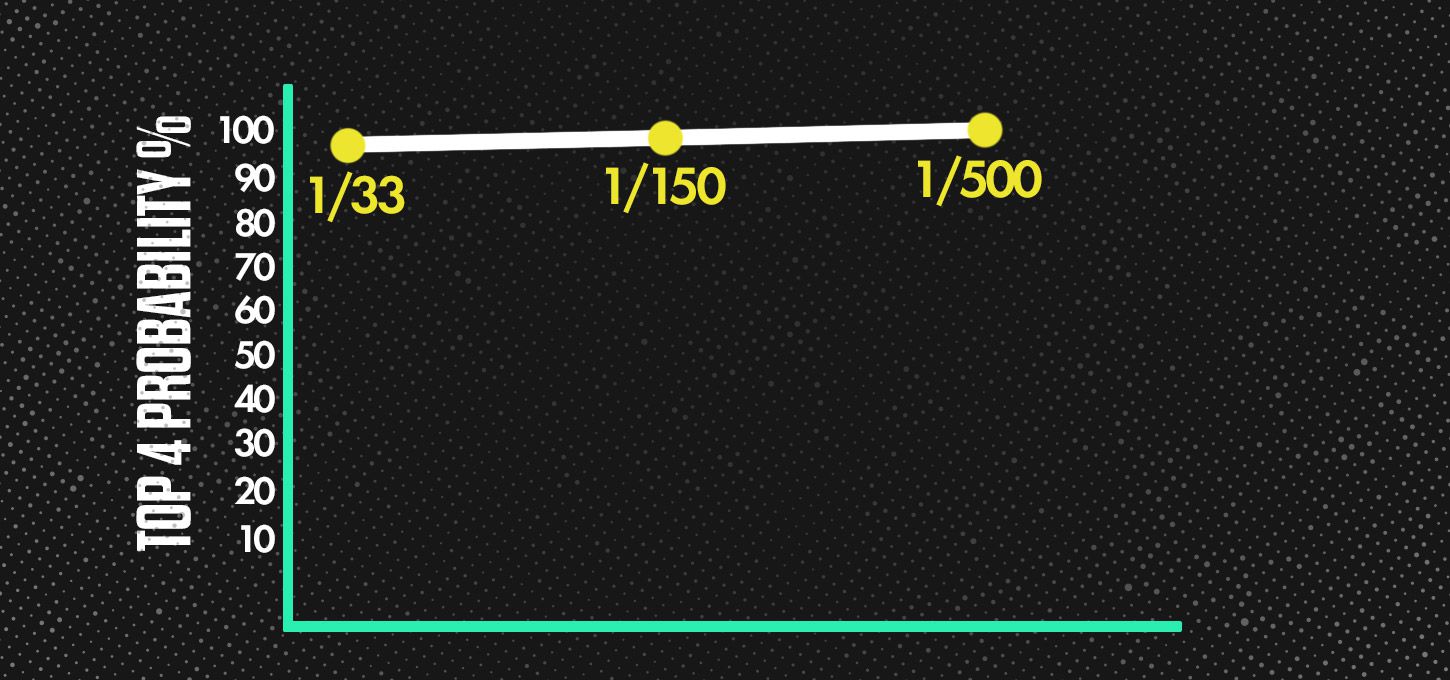 Not a whole lot to cover here… Manchester City opened 1/33 and at no point in the season has it looked like Pep Guardiola's men would finish outside of the top two let alone the top four.
The defeat to Liverpool did see them drift to 1/150, but with the City machine rolling on and their top-four rivals – if you can call them that – dropping points in the last week, they're now 1/500.
Latest Premier League Top 4 odds
Arsenal - 1/6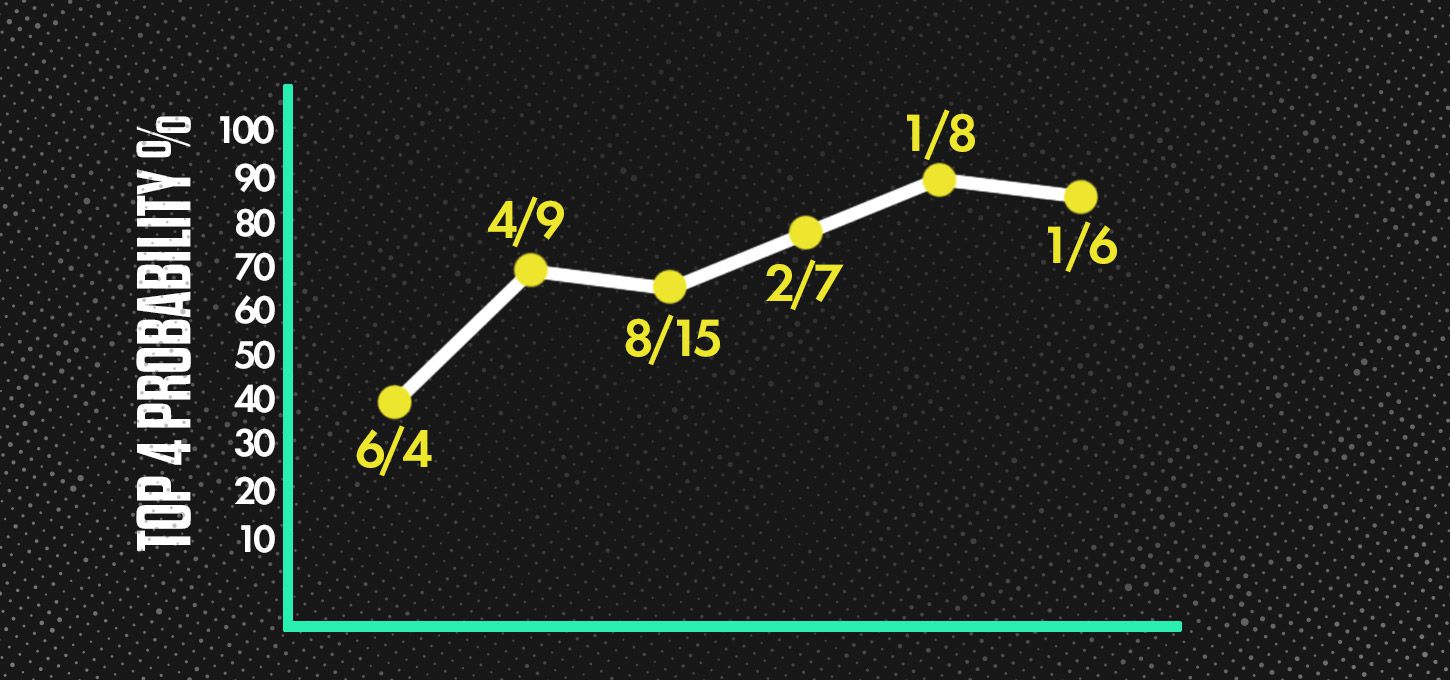 Since being left in the Europa League wilderness, only fleetingly had the Gunners looked like returning to Europe's top table, with winning runs in February and April last year leaving their destiny in their own hands.
But Mikel Arteta's men had an uncanny knack of following winning runs with winless runs. On six occasions last season, the Gunners failed to win for at least two consecutive games, constantly scuppering their chances, and the end-of-season collapse with defeats to Tottenham and Newcastle gifted their North London rivals a Champions League place.
This really does feel different, though. Arsenal have blown away most sides they've faced, dropping points only to Manchester United and Southampton.
Having opened at 6/4 for the Top 4, they were odds-on after two games, putting four past Leicester.
More Market Movers
Plymouth and Tranmere shorten in promotion race
Nottingham Forest shorten for relegation
The Gunners would win their first five on the bounce, and with their rivals dropping points left, right and centre, Arsenal were 4/9 after the 2-1 win over Aston Villa. The first real test of the season came at Old Trafford, and when the Gunners came up short, they were out to 8/15.
Their second big test came in the North London derby when putting Spurs to the sword and coming back in to 2/7.
Arteta would've been delighted to have faced off against opposite number Jurgen Klopp when he did, with Liverpool in disarray, consigning the Reds to another away defeat. A win at Elland Road saw Arsenal into 1/8 for the Top 4, with the 1-1 draw at Southampton seeing a slight drift to 1/6.
But Gunners fans must be delighted with not only their own performances and results, but those of their rivals.
Liverpool - 4/6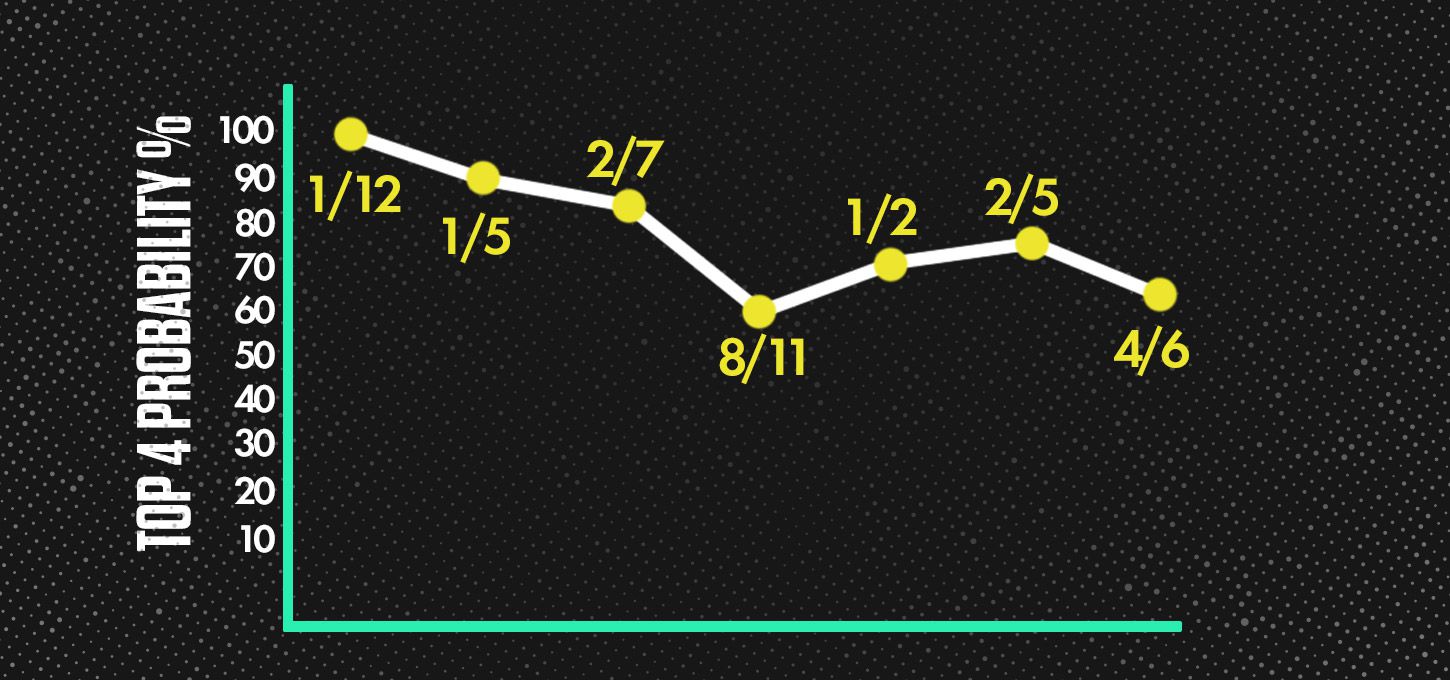 With Liverpool, we may be seeing a perfect storm of an ageing squad who lost a key player in Sadio Mane combined with far too many injuries to sustain a title challenge.
The Reds were 1/12 for the Top 4 after beating Manchester City in the Community Shield – doesn't that seem a long time ago? – with plenty tipping them to go one better than last season.
Dropped points in their first two games set up a trip to Old Trafford, where the theory was that Klopp's side would turn over Manchester United who'd just been beaten by Brentford and battered by Brighton.
But Erik ten Hag's tactical masterclass denied Liverpool from implementing their usual style, falling to a 2-1 defeat and drifting to 1/5 for the Top 4.
Struggles on the road continued, failing to beat Everton, before Roberto De Zerbi's Brighton took a point from Anfield as the Reds drifted further to 2/7.
Many believed that Liverpool would click before long as players returned from injury, but the loss to Arsenal saw them pushed out to 8/11.
The win against Manchester City on the back of the 7-1 win over Rangers seemed to put them back on track at 1/2 for the Top 4, shortening slightly more to 2/5 after the West Ham win.
But Liverpool's wait for a win on the road goes on, suffering a shock defeat to Nottingham Forest, and while they're still 4/6, their place in the Champions League is looking much more precarious than anyone predicted in the summer.
Chelsea - 4/5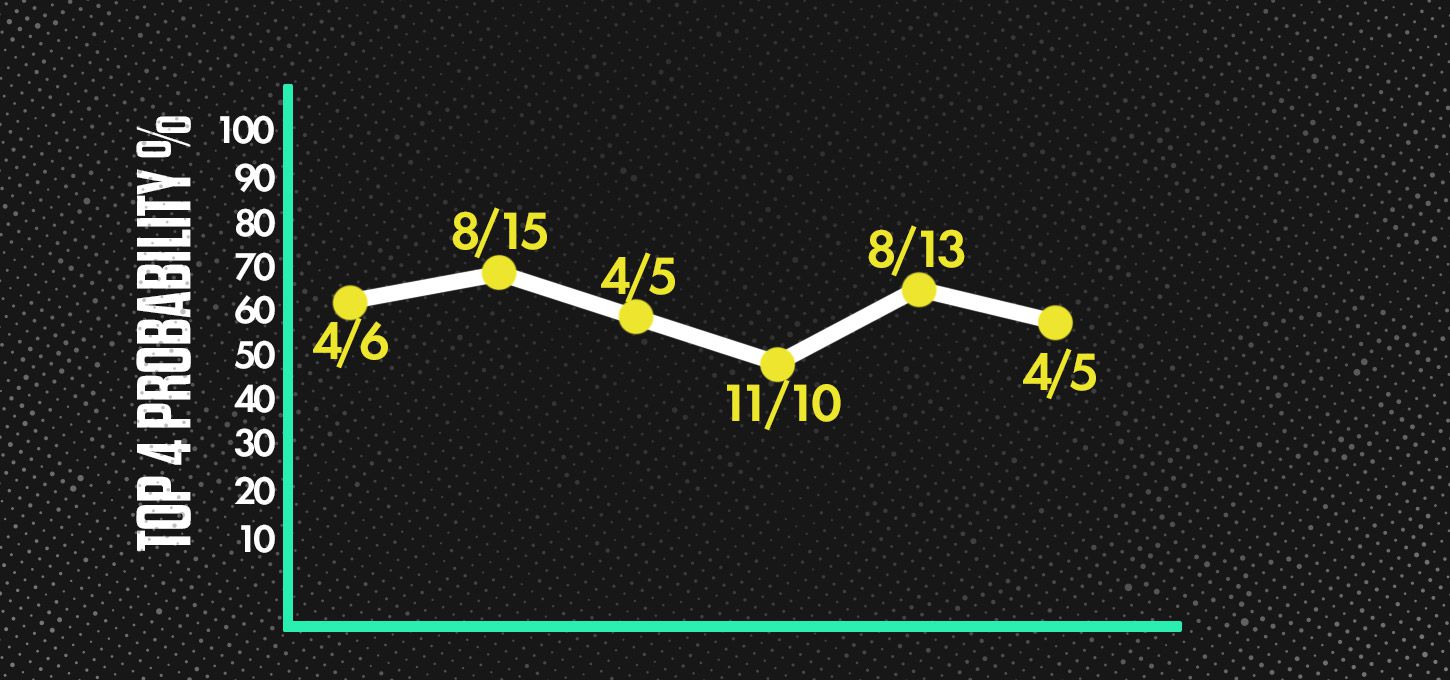 Opening at 4/6, Thomas Tuchel was hoping to start this season like he did the last, hoping the poor end to the season was behind them.
It wasn't.
Though the win at Frank Lampard's Everton on the opening day had them into 8/15, it was followed by a frustrating 2-2 draw with Tottenham, Harry Kane scoring at the death, and a real humbling at Elland Road. Having been totally outplayed by Jesse Marsch's Leeds, Chelsea were eased to 4/5 for the Top 4.
Two wins and a defeat in the next three – followed by the embarrassing defeat to Dinamo Zagreb – cost Tuchel his job with the Blues odds-against at 11/10 for the Top 4.
Three straight Premier League wins to kick off Graham Potter's tenure had Chelsea back into 8/13, but back-to-back draws to Brentford and Manchester United – missing the opportunity to put some distance between themselves and a Top 4 rival – has them back out to 4/5.
Tottenham - 6/5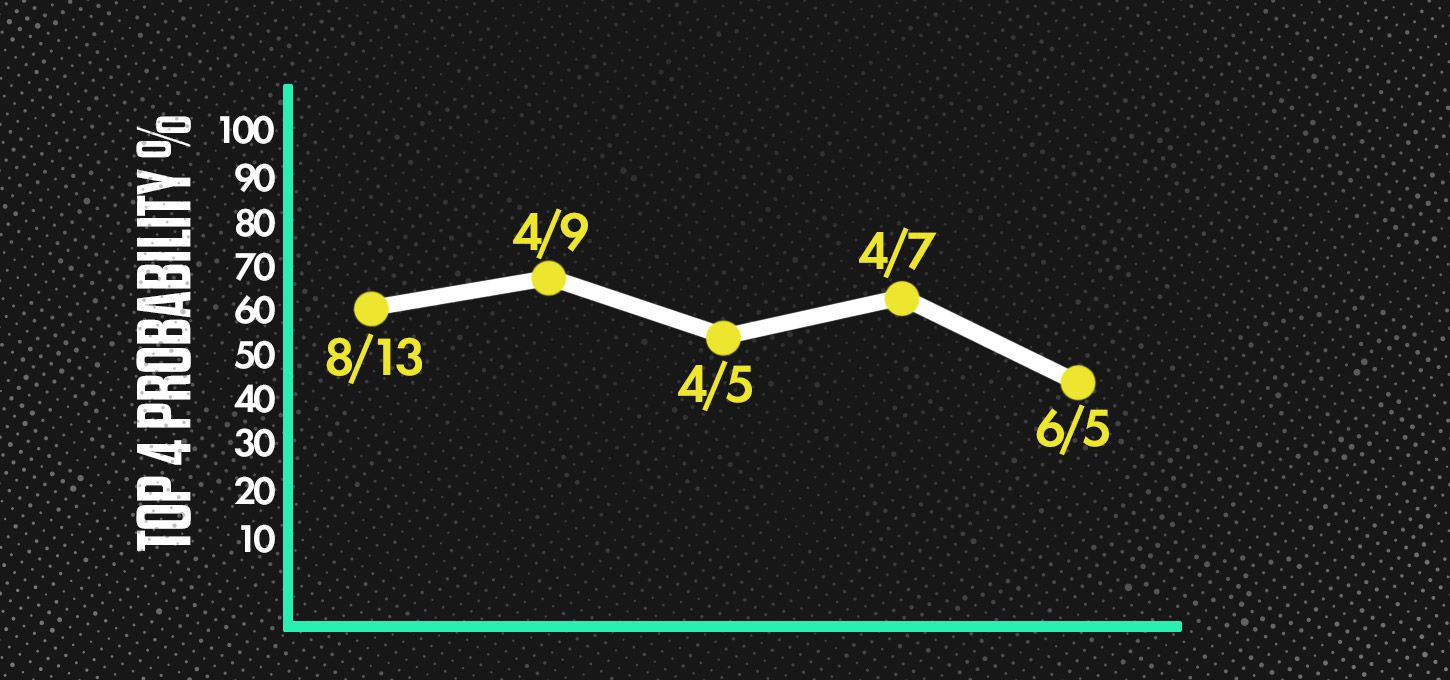 Antonio Conte's Spurs remain perhaps the hardest side to figure out of all the big six. Widely fancied to pick up where they left off, Tottenham had a full season under the Italian and were installed at 8/13 for the Top 4, shortening to 4/9 after the win over Southampton and draw at Stamford Bridge.
But despite 13 points from a possible 15 in their next five, Spurs just hadn't been that convincing and hadn't faced any more of their big six rivals. The defeat at the Emirates then saw them back out to 4/5.
Back-to-back wins and clean sheets over Brighton and Everton saw them cut to 4/7, but a real humbling at Old Trafford, followed by a deeply underwhelming defeat to Newcastle had them odds-odds-against at 6/5.
All doesn't seem quite right at the Tottenham Hotspur Stadium at the moment, and you sense that Conte needs improvement in both performances and results, or the pressure may start to really ramp up…
Manchester United - 6/5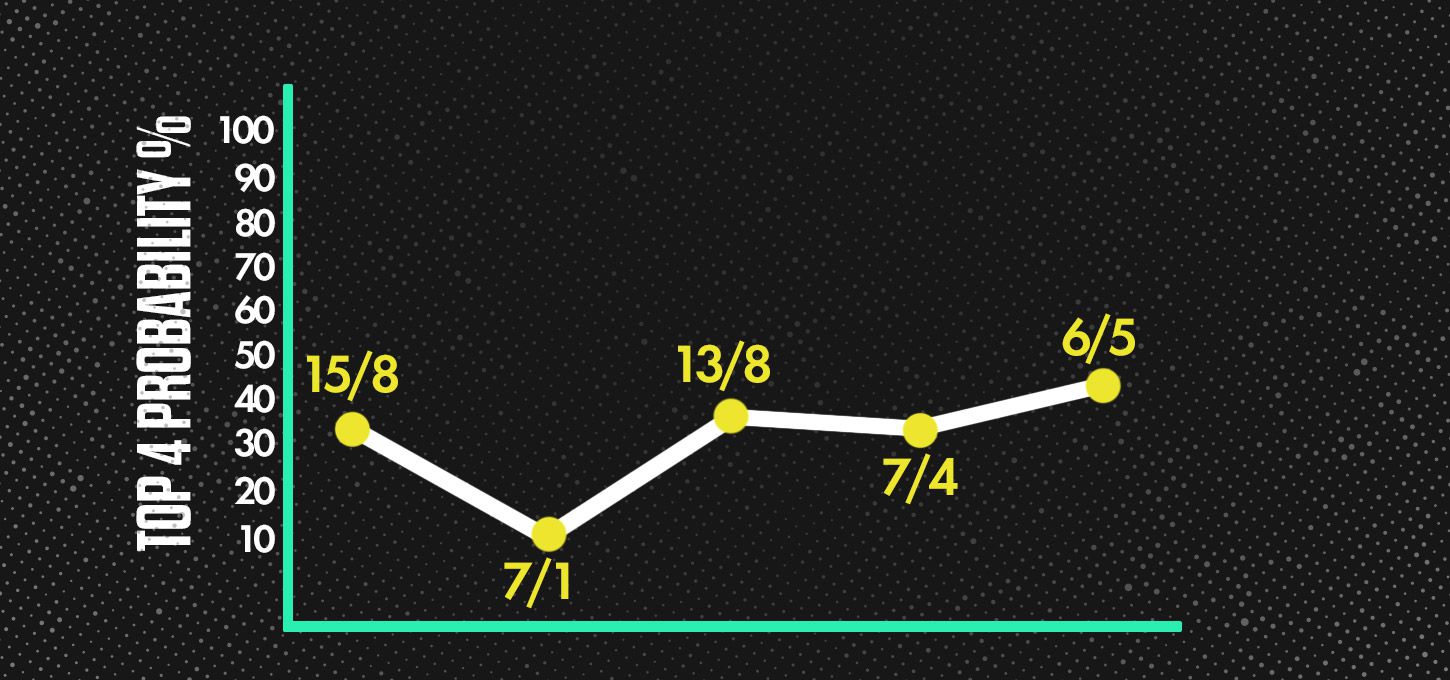 While the Top 4 remains a tough ask, Manchester United fans must be delighted with what they're seeing at the moment. Since those opening defeats when relegation (25/1) was shorter than a Top 2 finish (33/1), the side have recovered superbly.
They've faced all of the other big six sides and picked up 20 points in their last nine games.
With strong sides looking better placed for the Top 4, United were priced up at 15/8 in pre-season, and out to 7/1 after the nightmare start.
But the win over Liverpool stopped the rot and got the ball rolling. After three more wins, including the 3-1 victory against Arsenal, United were shorter than their pre-season price at 13/8 for the Top 4, but the hammering at Manchester City saw them eased out to 7/4.
The 0-0 draw with Newcastle was frustrating, but four points from games with Tottenham and Chelsea is a solid return, and Ten Hag's side are now 6/5 for the Top 4.
Newcastle - 4/1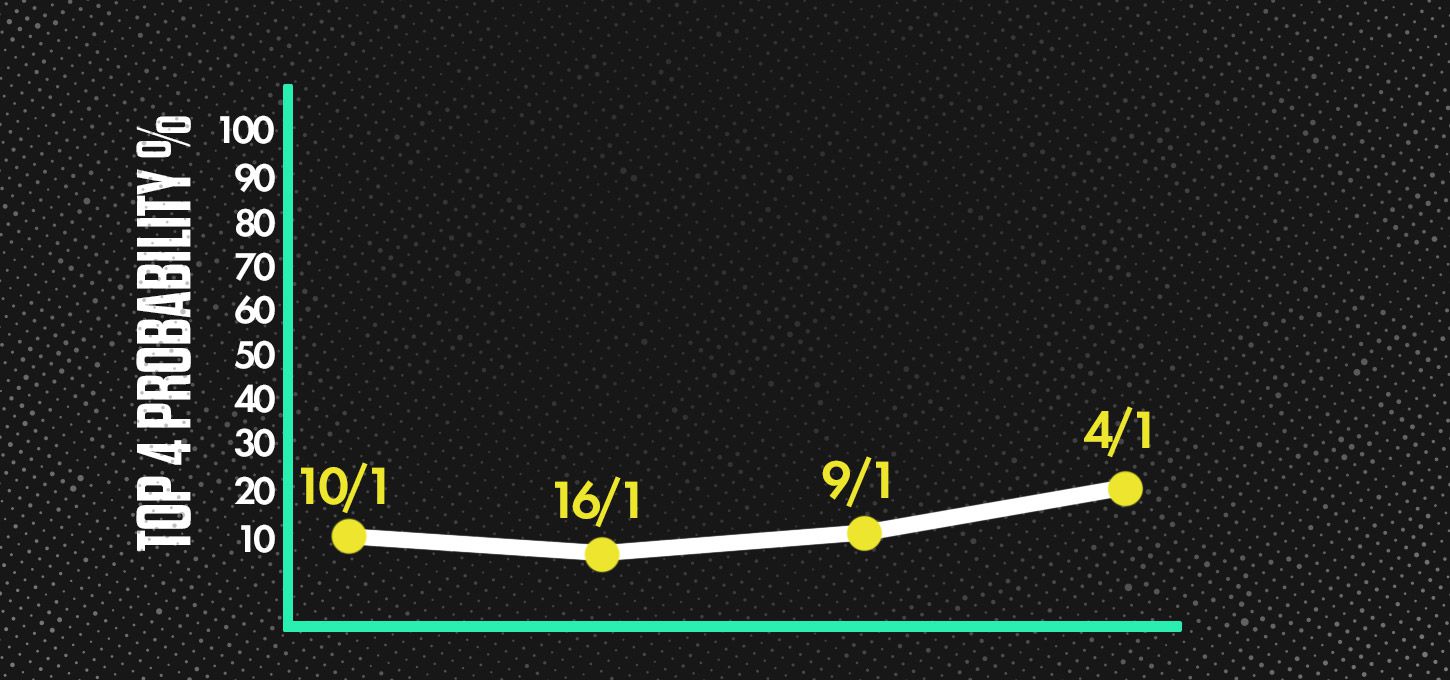 Backed to the tune of more than £200m in 2022, how Newcastle would fare this season was one of the most interesting questions heading into the new campaign.
It was well documented how well Eddie Howe's men fared from the turn of the year to hoist themselves from the relegation zone to mid-table, and credit to Howe and his side, they've picked up where they left off.
Chalked up at 10/1 in pre-season, Newcastle would win their opening game with Nottingham Forest, but the draw with Bournemouth in mid-September made it one win – and one loss – in their opening seven and were out to 16/1 for the Top 4.
Two comprehensive wins over Fulham and Brentford before the Magpies' 0-0 draw with Manchester United had them into 9/1, before the excellent win in North London at the weekend has them 4/1.
There's a long way to go, and strong sides ahead of them, but Newcastle are in the Champions League places on merit, and if they're not already, it won't long before the Toon Army start dreaming big…