Mark Mothershaw
Updated: 24 Sep 23 09:51
Published: 22 Sep 23 10:46
Re-live all of the action from London's Wembley Arena as Zhilei Zhang repeats his April success with an even more emphatic stoppage of Joe Joyce.
Zhilei Zhang v Joe Joyce 2: Fight Night Live - Blog
Zhilei Zhang v Joe Joyce 2: Bet Boosts >>
Zhilei Zhang v Joe Joyce 2 - Rob Tebbutt's Tips
Zhilei Zhang v Joe Joyce 2 - Industry Predictions
Zhilei Zhang v Joe Joyce 2 - All You Need To Know
Zhilei Zhang v Joe Joyce 2 - Tale of the Tape

Who won the boxing last night?
Zhilei Zhang beat Joe Joyce (KO)
Anthony Yarde beat Jorge Silva (KO)
Moses Itauma beat Amine Boucetta (TKO)
Pierce O'Leary beat Kane Gardner (UD)
Zach Parker beat Khalid Graidia (TKO)
Royston Barney-Smith beat Engel Gomez (UD)

View the latest markets, odds and Bet Boosts for this weekend's boxing

All odds displayed on this page were correct at the time of writing and are subject to withdrawal or change at any time.

Zhilei Zhang v Joe Joyce 2
Live Blog
23:15
Thank you for joining us
Three minutes and seven seconds into the third round, Zhang is officially declared as the winner.

Joyce had never previously been down as a professional prior to meeting Zhang, but deary me, nobody on the planet was staying upright on the back of that absolute sledgehammer of a right from the 40-year-old Chinese.

What next for Zhang?

Well he wants a shot at Tyson Fury, and who can deny him of that after this sensational victory.

'Big Bang' lives up to his name, in the most brutal fashion.

Thank you for joining us, but don't forget there is plenty more action overnight, with fights taking place in the United States.

Check out all of the latest boxing odds

23:02
Zhang stops Joyce in the third
My oh my, what a brutal shot from Zhilei Zhang who absolutely sends Joe Joyce into a heap on the canvas!

He just about makes the count, but he is gone - the referee rightly waves the fight off.

That was a monster of a right hand from Zhang.

Absolutely incredible - Joyce was never in that - he looked shy of power, speed and confidence from the first bell.

Huge things await for Zhang, but for Joyce, his professional career is in tatters. What a shame.

22:58
Joyce rattled by monster left shot in the second
Joyce troubled and hurt in round two as a straight strike from Zhang rattles the jaw of the British fighter.

Not at all what Joyce will have wanted having started so tentatively in an attempt to avoid that monster left.

He may need to fight fire with fire here, because Zhang is already well on top here.

Bet In-Play on Zhang v Joyce 2

22:53
A tentative opening round
Joe Joyce sticking to the left hand side far better here - trying to avoid that big left of Zhilei Zhang's.

These two look like real heavyweights! I hope that ring is reinforced.

Not a lot to report on in the first three minutes with the pair a little tentative; understandably.

View the latest In-Play odds

22:39
Latest Odds...
We're just a few minutes away from the ring-walks and here are the latest odds...

Zhilei Zhang - 8/11
Joe Joyce - 11/10

Make no mistake about it, this is going to be a hard-hitting, pulsating and brutal affair.

I'd be astounded if this went the distance - we're 6/4 that it does!

22:28
Zhang v Joyce 2 - Tebbutt's Tip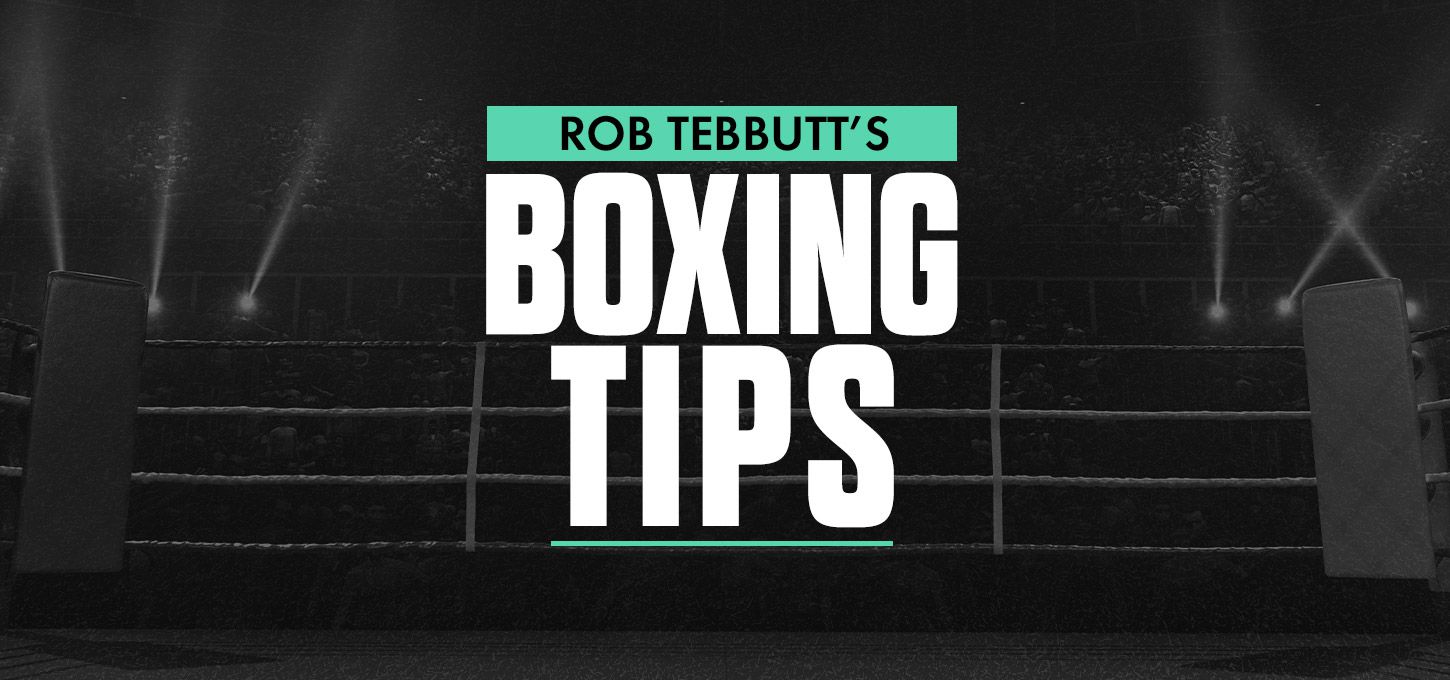 So, in the main event at Wembley Arena on Saturday night, will it be a case of repeat or revenge as Joe Joyce and Zhilei Zhang lock horns for the second time this year?

We're just a couple of months on from their pulsating first bout in which Zhilei Zhang really flipped the script and stopped Joe Joyce in the sixth round, causing really significant damage to the eye of the 'Juggernaut' before the referee intervened and waved off the fight.

This time around though, who is going to emerge victorious with the win?

I think this is very much a 50/50 fight, and I thought that Zhang was very live in the first fight and I expected Joyce to have to walk through the fire early on if he was to get the win, but he wasn't able to do so.

This time, Zhilei Zhang is much, much shorter with the bookmakers unable to split the pair!

For me, it is between one or two things - can Zhang get the job done early doors again or can Joyce weather that storm and put the pressure on during the second half of the fight?

We have seen 'Big Bang' struggle during the second half of fights with his stamina in the past, and we know that Joe Joyce can last the pace across 12 full three-minute rounds.

But the question is can his eye ands can his chin stand-up to Zhang and that southpaw left-hand, if it can't then you can get a massive 11/2 on Zhang to win the fight in the same manner as last time, within the first six rounds!

If Joe Joyce can get through those first six rounds and take it into the second half of the fight then you can get 9/2 on him winning the bout between Rounds 7 - 12.

We did see Zhang just start to slow down back in April, but that was on the back of landing a series of hellacious shots on Joe Joyce which had already done the damage.

If you are looking for a shorter odds play then I think there is plenty of value to be found in the 8/13 price for the fight to not last the full distance.

Bet on Zhang v Joyce 2

Odds displayed were correct at the time of writing and are subject to fluctuation.

22:22
Up Next...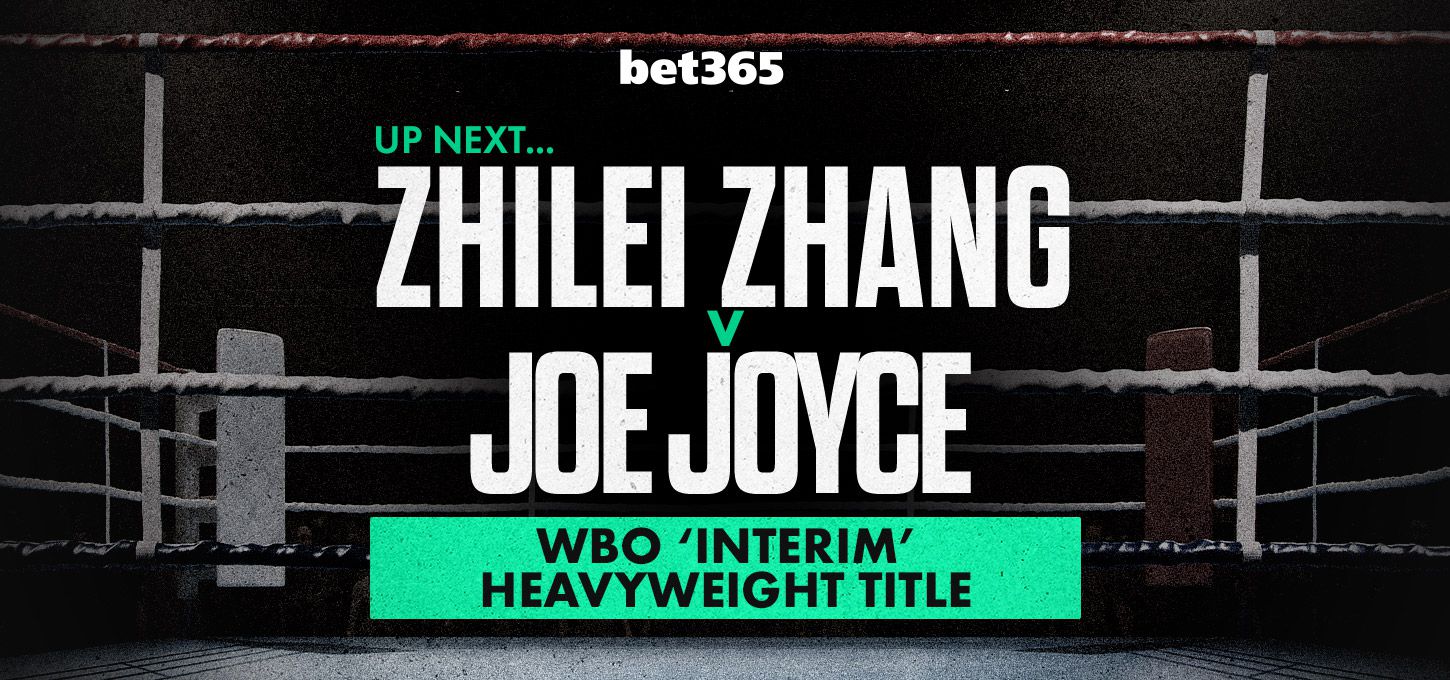 It's time for the main event; the bill-topping bout we have all been waiting for.

Will it be a case of repeat or revenge?

The pair can barely be split in the betting, with Zhang the ever so slight favourite at 8/11 with Joyce, coming in at a career-high weight, 11/10.

View the latest odds, markets and Bet Boosts

22:20
It's over in two!
Goodness me, Yarde lands a couple of howitzers to the body of poor Jorge Silva, before sending his down with a clean shot to the head.

The referee had seen enough despite Silva getting up off the canvas.

A performance and a result that was expected.

Ricky Summers next up, potentially, and then a possible cracker against either Dan Azeez or Joshua Buatsi.

22:17
A solid start for Yarde
Nothing too OTT, but a decent enough start for Yarde who looks like he could stop this fight at any moment.

How many rounds does he want to go, that is the question...

I don't envisage it being too many.

22:11
Yarde v Silva In-Play
Bet on Anthony Yarde v Jorge Silva In-Play

21:59
Up Next...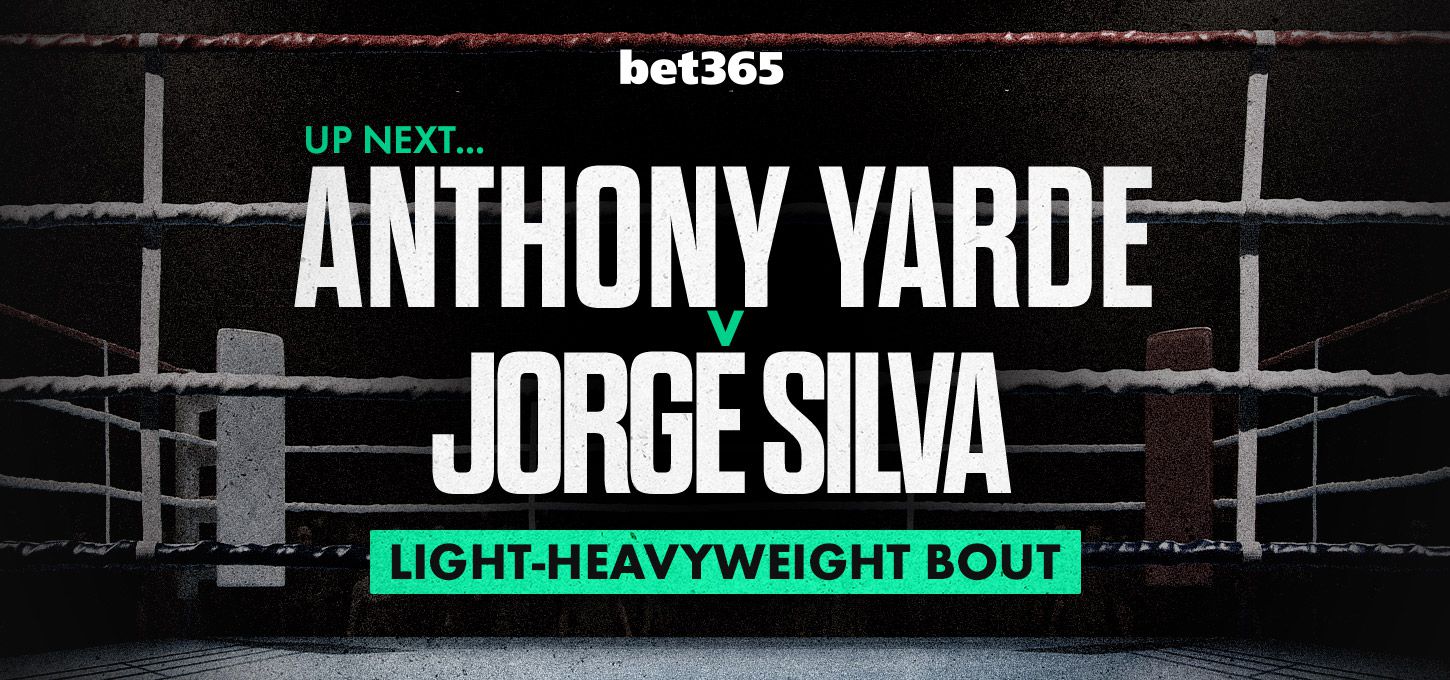 So, next up is the return of the light-heavyweight star Anthony Yarde!

He will be looking to deliver something equally as electric as Moses Itauma after giving pound-for-pound star Artur Beterbiev a real test last time out.

The Londoner is 1/50 to get the win, and if you fancy him to dish up another first round stoppage, then you can get BOOSTED odds of 13/10 for him to win in Rounds 1 or 2.

21:56
Itauma stops Boucetta in the first
My word, what a shot that was!

Itauma lands a mammoth uppercut to send Boucetta to the canvas, and whilst he was able to get back up, the English fighter put his foot on the gas to pummel him opponent in the corner, and force the referee into waving the bout off.

What a supreme talent.

21:47
Up Next...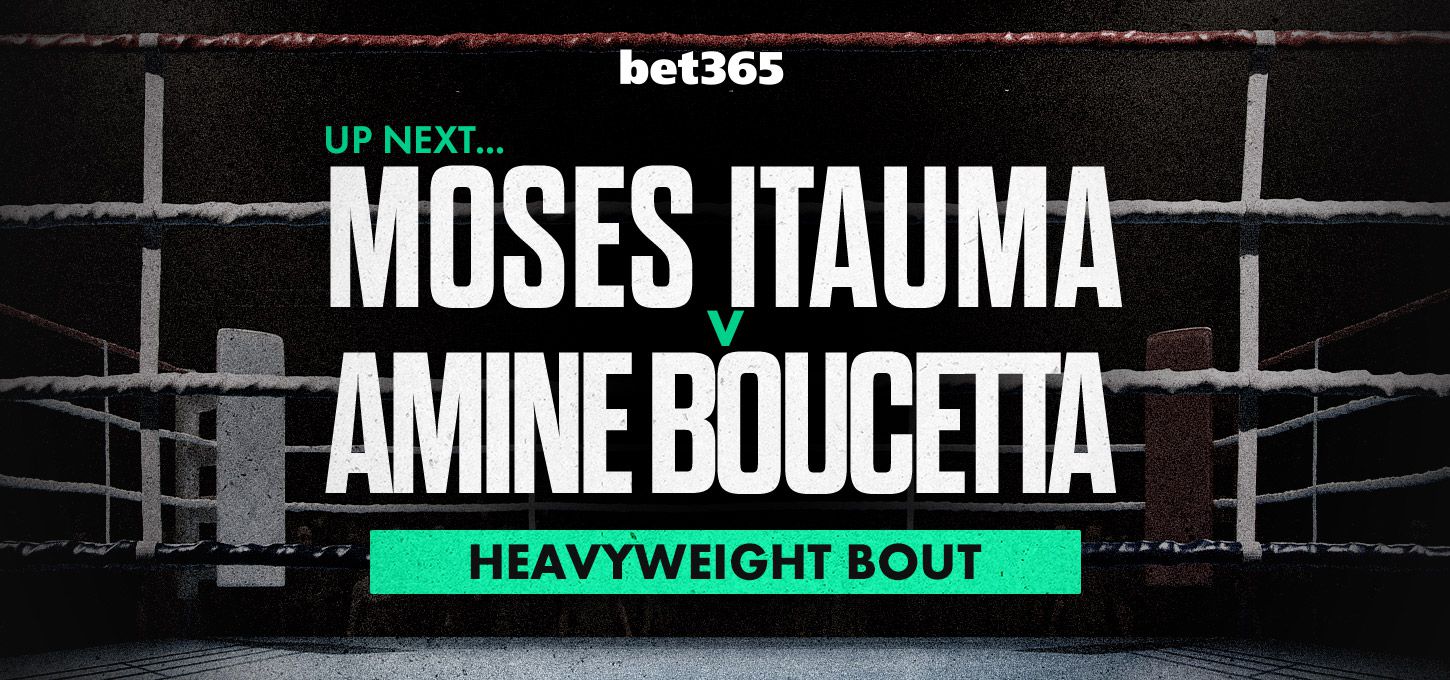 The exciting 18-year-old Moses Itauma is almost set for his ringwalk...

This guy is special, and he always promises KOs.

We've BOOSTED a stoppage between Rounds 1 - 3 from 5/4 to 6/4.

View the latest odds

21:46
O'Leary comfortably wins on points
There we have it then, and Pierce O'Leary is still the WBC international super-lightweight champion.

The judges scored the bout:

100-90
99-92
99-92

... all in favour of O'Leary.

21:43
Superb round to end a gripping contest
Facial damage to both men, but we go to the judges cards, and surely there is only one winner here...

O'Leary should have done more than enough to secure the victory, but it wasn't straightforward for the Irishman by any stretch of the imagination.

Gardner huffed and puffed, and ended well in the 10th, but it was too little too late to cause any real trouble to the defending champion.

We await the official result, but it should just be a formality.

21:39
So we head into the 10th and final round
We're going into the final of the 10 scheduled rounds, and will we see a late bit of drama?

There's no doubt that O'Leary is ahead, but Gardner is a live contender for sure.

The Irish fighter has been good for long parts, but Gardner knows he has nothing to lose in the final round, and should be looking to land that one big shot.

O'Leary is 12/1 to find the KO and Garnder is 28/1.

Who are you backing?

21:35
Gardner needs 28/1 shot to derail controlling O'Leary
Another solid round for O'Leary, but Gardner had one or two moments of his own.

I would imagine the Irishman holds a sizeable lead on the judges scorecards, so Gardner is going to have to go all out over the final couple of rounds.

He needs the stoppage, you'd think, and he is now a huge 28/1 to land that one shot he needs.

21:31
O'Leary 10/3 to stop Gardner in the eighth
Another good round for O'Leary, who looks supremely confident in getting the victory tonight.

He had that wobble in the fifth, but he has responded incredibly well and is now 10/3 to win by KO, TJO or Disqualification in the eighth round.

Bet In-Play on the fight

21:27
Gardner wobbles as O'Leary lands on the temple
Far better from O'Leary as he catches Gardner with a big shot and chases him around the ring as he looks to get the stoppage in the final minute of the sixth.

Gardner does just enough to evade the Irishman, and he is going to need to recover from that before the start of the seventh.

That shot was huge, and came just as Gardner was really finding his way back into the fight. That scrambled the senses of the Englishman.

21:23
Gardner strong in the fifth as O'Leary is cut open
A change of tactic in the fifth from Gardner, who is trying to block the shots and counter-attacking a lot more.

He snapped the neck of O'Leary back on a couple of occasions there, and he will be enthused by that round. He needed that. There's a speckle of blood flowing from the eye of O'Leary too. Interesting.

The English fighter is now 10/1 in our 3-Way market.

21:19
O'Leary well on top after four
Lovely combinations from O'Leary through the fourth - every shot though bouncing off the face and body of Gardner.

The Irishman is boxing well though, although Gardner finally had one or two moments of his own. He is on the back foot far too often, and it looks a huge ask for him to turn this one around.

Those power shots from O'Leary are having an effect. He is now 4/6 to win this by KO or TKO.

21:14
Another round in favour of O'Leary
Kane Gardner really needs to do more here - everything is going in the direction of O'Leary.

Another round drifts away, and the Englishman has got to start offering far more if he is to pull himself back into this fight.

I make that 30-27 on my card.

Bet In-Play on this fight

21:10
O'Leary 1/20 following strong start
A far better round from O'Leary who applies all the pressure in the second round.

He is the huge 1/20 favourite to win the bout now, with Gardner out to 10/1.

21:06
An edgy opening round
A real fact-finding mission in the first as the two fighters take some time to fathom each other out.

That said, Gardner is sent packing into the ropes after O'Leary lands a heavy shot to the body.

The Irishman has been the aggressor, but other than that one heavy shot, there wasn't much in that first three minutes of action.

View the latest odds

20:52
Up Next...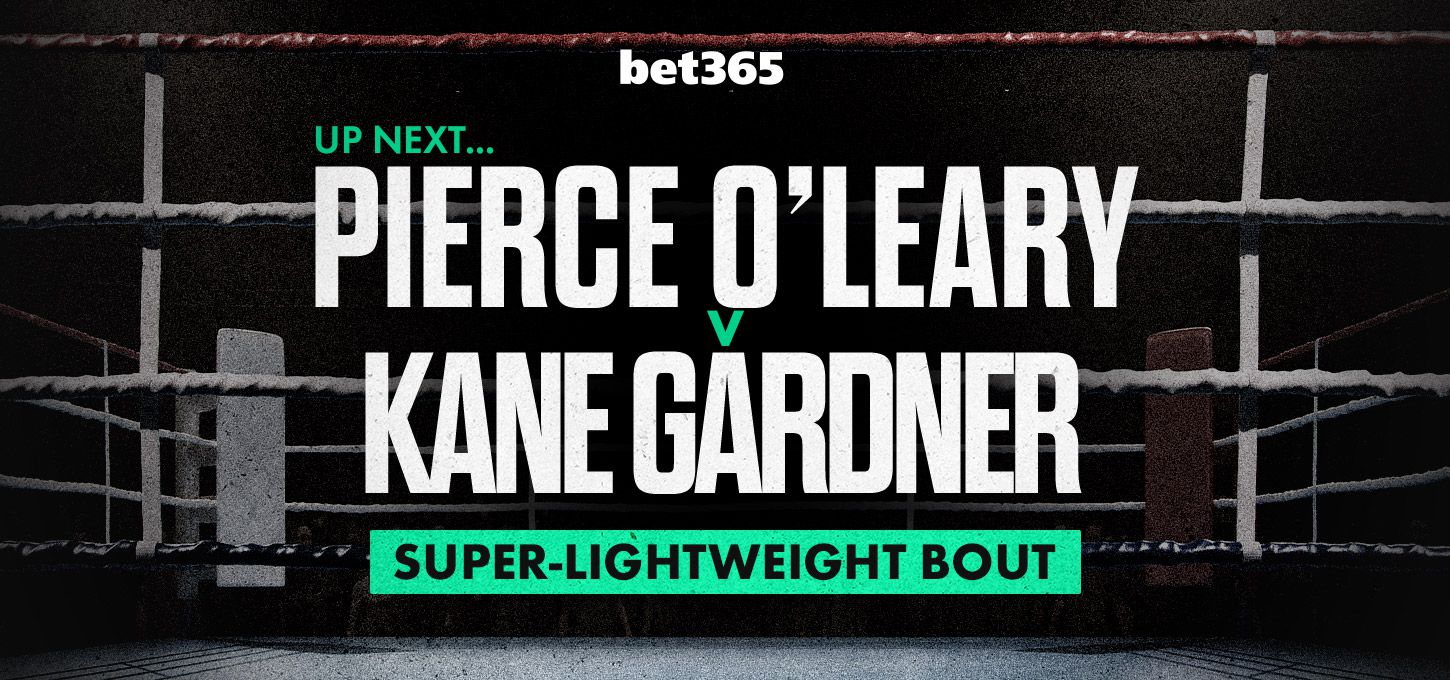 Ring-walks due in the next 10 minutes, and this should be a cracker in the 140lbs division.

Pierce O'Leary - 7/1
Kane Gardner - 4/1

View the latest odds

20:49
It's over - Graidia is pulled out
Parker, indeed, gets the stoppage victory as Graidia's corner pull him out just before the start of the eighth.

A superb outcome for Parker who becomes only the second man to stop Graidia. A superb showing from the Derby man, who was punch-perfect tonight.

Graidia has taken a lot of shots to the head and he looks as though his nose is broken. A good call from his corner.

20:48
Parker now 6/5 to stop Graidia
Just three rounds left for Parker to become only the second man to stop Graidia inside the distance.

He was odds on to do that a few rounds ago, but he is now 6/5 to land a KO blow over the next nine minutes.

20:44
Parker well in control as we reach the seventh round
Graidia is a tough operator and has had to bite down on that gumshield of his during the sixth round.

Parker landed a succession of heavy body shots, all of which caused problems - but still, Graidia remains in the fight, although it is looking increasing unlikely that he is going to be able to stem the tide of this fight.

20:40
Parker 4/1 to stop Graidia in the sixth
Another strong round for the Derby man, who is 4/1 to get the job done in the sixth round.

Take a look at our In-Play markets, including round betting.

20:36
Parker easing ahead
Another superb round for Zach Parker, who is really stepping things up now and putting Graidia under pressure.

He's using the jab incredibly well and working the body perfectly too. It's been a masterful showing from the 29-year-old thus far.

20:32
Parker dominates the third
Blood trickles down the face of Graidia as Parker steps it up in the third.

The Derby fighter is now 1/3 to get his opponent out of there inside the distance, and 5/2 to win on points.

20:28
One way traffic in the second round
Very little coming from Khalid Graidia, and Parker is in the comfort zone.

He has packed a few punches, and moved well around the ring - he has landed that hard body shot of his a couple of times too, making his opponent wince on more than one occasion.

20:24
Parker pacing himself in the first round
Zach Parker has been out of the ring for a long time since his defeat to John Ryder, so he is understandably pacing himself a little in there.

Still, he landed by far the better shots during the first three-minutes and will be enthused by his start to the bout.

View the latest In-Play odds

20:20
Parker v Graidia is underway
View live In-Play markets on this fight

20:15
We're LIVE with a 7/4 Super Boost >>>
How about this for a BOOST...

SUPER BOOST >>>
Bet Builder:
Fight Result: Joe Joyce
Over 5.5 Rounds
Was 5/4 >> Now 7/4

A lot of people are backing Joe Joyce to get the stoppage in the second half of the fight - our very own Rob Tebbutt mentions it in his tipping piece too, and we are now 7/4 on the Olympian reclaiming the WBO interim title with victory after the fifth round.

20:10
Up Next - Zach Parker v Khalid Graidia
Zach Parker is targeting a statement victory as he makes his return to the ring tonight.

He's 1/50 to win the fight, so the result shouldn't be in doubt - but how will that success come?

He is 2/5 to win by KO, TKO or Disqualification and 15/8 to prevail on points.

Check out all of our markets for this fight

20:06
Barney-Smith extends record to 7-0
Royston Barney-Smith goes the full six round distance for a second successive fight, but that was a dominant victory.

Huge gaps between the two fighters, and whilst RBS doesn't get the stoppage he set out for, it's another positive step forward for the 19-year-old.

He was patient, accurate and showed really good variation in his punches. I really like the look of Frank Warren's young star.

The referee scored the contest 60-52, for those of you who are interested.

20:01
4/1 on a Barney-Smith stoppage in the sixth
So, somewhat surprisingly, following that ferocious start from Barney-Smith, we are heading into the final round.

Can he get the stoppage he craves?

We are 4/1 on him landing the KO in the sixth.

19:57
More dominance for RBS in the fourth
No knockdowns in the fourth of six scheduled rounds, but more superb work from the teenage Brit.

He is landing at will, capitalising on a far too open approach from Gomez, who, in truth, is nowhere near the level of Barney-Smith.

Ben Davison urging his man to continue doing the same things in the fifth at the end of the round.

19:53
Barney-Smith sends Gomez packing once again
Another knockdown in round three for Barney-Smith, who lands a cracking uppercut inside the first minute.

He is catching his opponent left, right and centre, but doing it with so much style and patience too - he really is a prospect.

His counter-punching has been top, top level.

View the latest In-Play odds

19:49
Gomez down on the deck in round 2
More lovely work from Barney-Smith, maintaining that gap and brining his opponent in close - he lands a cracking low show to the body, and Gomez drops to his knees, but gets up before the 10 count.

A 10-8 round for the British fighter, who is well on top.

19:45
Royston Barney-Smith in control
Well, the 19-year-old is certainly a talent - he has far from exerted himself in the opening round, but looks head and shoulders above his vastly more experienced opponent.

Barney-Smith said pre-fight that he doesn't intend on sticking around for too long tonight, and if you fancy him to stick to his word, then why not check out our In-Play prices.

19:30
A must win fight for Joe Joyce
Make no mistake about it, this is a must win fight for Joe Joyce!

He can leave absolutely no stone unturned in his bid for success tonight. A defeat will surely, given he is now 38, all but end his world title aspirations.

Victory on the other hand would see him reclaim the WBO 'interim' world title and edge him closer to a colossal showdown with Oleksandr Usyk.

Joyce has come in heavier than ever let's not forget, and you sense he is going to stand toe-to-toe with 'Big Bang' Zhilei Zhang and let all hell break loose at around 22:30 tonight.

I personally don't see this one lasting the distance, and we've got a Bet Boost available on site which really tickles my fancy...

Joyce to avenge his April defeat by flooring Zhang twice has been BOOSTED from 12/1 to 14/1 - and I really do like the look of that.

Check out all of our available Bet Boosts >>

19:15
Coming up first...
So, the live televised card gets underway in 15 minutes time with Royston Barney-Smith making his return to the ring against Engel Gomez in the super-featherweight division.

Barney-Smith is the HUGE 1/50 favourite, with Gomez a mammoth outsider, priced at 18/1.

We have a selection of pre-fight markets on site if you fancy a dabble on this one - but it should be a blowout victory for the British fighter.

We've priced him up at 4/11 to get the job done inside the distance and you can get 2/1 if you feel he will be taken the distance, before prevailing on points.

View all the latest markets and odds on this fight

19:00
Welcome to Fight Night LIVE
Hello and welcome to the bet365 Sports & Betting News site for live coverage of this evening's boxing in London.

Will it be a case of repeat or revenge as two of the hardest hitters on the planet share the ring for a second time, with the WBO 'interim' world title on the line.

Joe Joyce will need absolutely no reminding of the monster standing in front of him, with Zhilei Zhang inflicting a first professional career defeat upon the Olympic bronze medallist earlier this year.

It was a torrid night for the Englishman, who was left battered and bruised after failing to contain Zhang's ferociousness during those early exchanges.

It was a monumental upset on the night, but this time around, the two fighters can barely be split - in betting terms anyway!

Zhang is the ever so slight 4/5 favourite to follow-up his previous success, whilst Joyce is EVEN MONEY to avenge what was by far his worst night in office since moving up from the amateur ranks.

We've got Bet Boosts >> and a plethora of markets available on the big fight, which is expected to get underway at around 22:30, dependant, of course, on the duration of the undercard bouts.

The likes of Anthony Yarde, Zach Parker and Moses Itouma are all pencilled in to feature on the undercard, and we've priced up all of their fights on the sportsbook, so why not check them out.

Zhilei Zhang & Joe Joyce tip the scales at a combined 568lbs
Joe Joyce has stuck to his promise of coming in at a career-high weight - posting 281lbs at the pre-fight weigh-in on Friday.

That's a remarkable 10lbs heavier than his previous career-high, and almost two stone heavier than his first bout with Zhilei Zhang earlier this year.

Still, Zhang will enter the ring as the heavier fighter - tipping the scales at 287lbs, a total of 9lbs heavier than he was when he demolished his British opponent back in April.

The general consensus was that Joyce was unnecessarily light for the Easter bout, but with that additional weight, he will be hoping it benefits his punch resistance and enables him to push back even harder with his own shots.

It will be intriguing as to how this fight pans out on Saturday...

Zhilei Zhang v Joe Joyce 2
Bet Boosts >>
Zhilei Zhang v Joe Joyce:

SUPER BOOST >>>

Bet Builder:
Fight Result: Joe Joyce
Over 5.5 Rounds
Was 5/4 >> Now 7/4

BET BOOSTS >>

Bet Builder:
Fight Result - Joe Joyce
Joe Joyce to Score 2 or More Knockdowns
Was 12/1 >> Now 14/1

Bet Builder:
Fight Result - Zhilei Zhang
Over 6.5 Rounds
Was 6/4 >> Now 13/8

Fight Outcome (5 Way):
Joe Joyce by Decision or Technical Decision
Was 11/4 >> Now 3/1

Bet Builder:
Fight Result: Joe Joyce
To Score a Knockdown (Yes) - Joe Joyce
Was 15/4 >> Now 9/2

Bet Builder:
Fight Result - Zhilei Zhang
To Score a Knockdown (Yes) - Zhilei Zhang
Was 12/5 >> Now 13/5

View all boxing Bet Boosts >>

Zhilei Zhang v Joe Joyce 2
Rob Tebbutt's Tips
This is a little bit of a cop-out this week, because I really can't split them, but I am going to have to go with Zhilei Zhang to get the job done again between 'Rounds 1 - 6' at 11/2, but I will also be having a little bit of money on the fight not lasting the distance at that short-odds price of 8/13.

Zhilei Zhang to win between 'Rounds 1 - 6' @ 11/2
Fight to Go the Distance - No @ 8/13

Zhilei Zhang v Joe Joyce 2
Industry Predictions
We gauge the pre-fight opinions of some of the most high-profile boxers, trainers and pundits on the planet as hard-hitting heavyweights Zhilei Zhang and Joe Joyce get set for their rematch later this evening.

Zhilei Zhang v Joe Joyce 2
All You Need To Know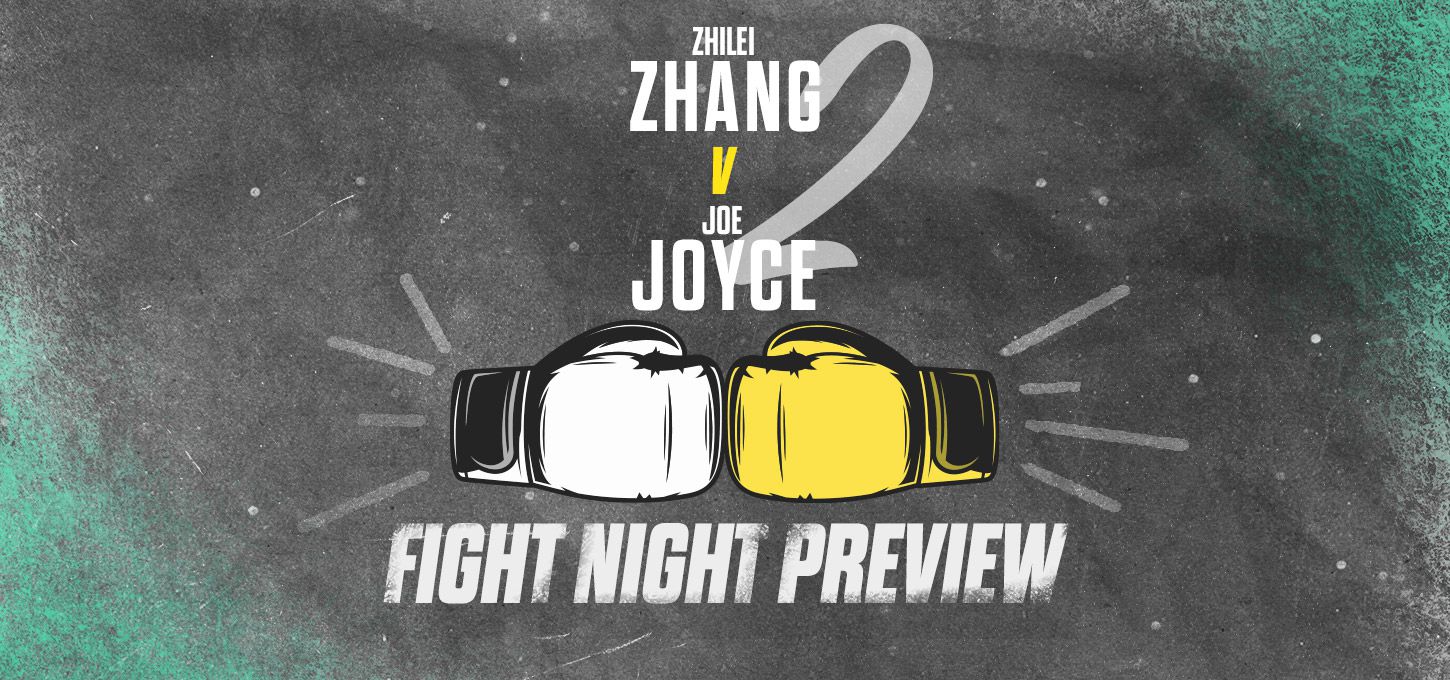 'All You Need To Know' as Zhilei Zhang v Joe Joyce 2 headlines a fantastic night of fighting action in London.

Zhilei Zhang v Joe Joyce 2
Tale of the Tape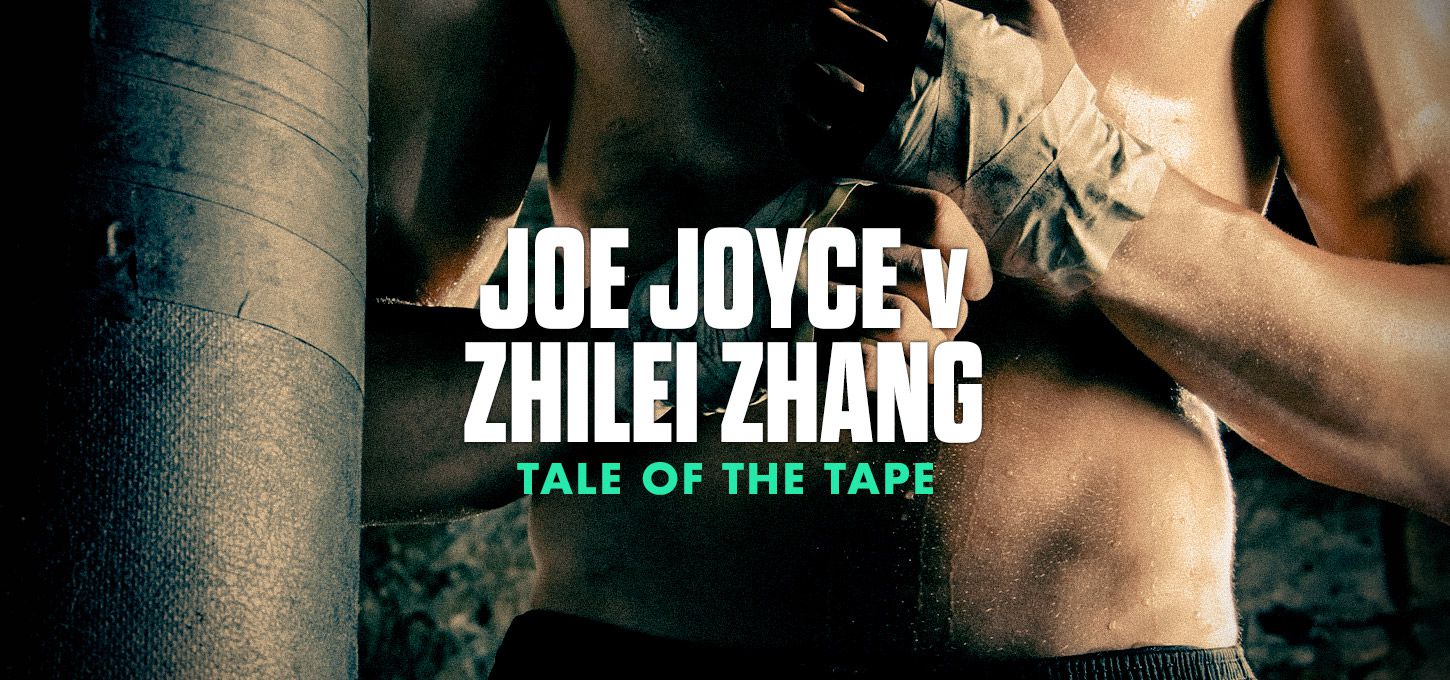 Boxing writer Shaun Brown analyses both Zhilei Zhang and Joe Joyce as the pair get set for their hotly-anticipated rematch.