Mark Mothershaw
Updated: 09 Oct 23 08:17
Published: 03 Oct 23 09:12
Luke Humphries produced the performance of his career to claim World Grand Prix glory in Leicester on Sunday, overcoming Gerwyn Price 5-2 in a thrilling final.
World Grand Prix - Night Seven Review
World Grand Prix - Night Six Review
World Grand Prix - Night Five Review
World Grand Prix - Night Four Review
World Grand Prix - Night Three Review
World Grand Prix - Night Two Review
World Grand Prix - Night One Review

World Grand Prix - Night Seven Review
Luke Humphries is now 9/1 to become world champion in 2024 after claiming his first televised ranking title as well as pocketing £120,000 with the triumph, whilst also leapfrogging 4/1 World Championship hopeful Gerwyn Price to a career-high fourth on the PDC Order of Merit.

The Iceman had been bidding to win his second World Grand Prix title as he competed in a third final in four years - and made a brilliant start to win the first set without reply.

Humphries, though, took nine of the next 11 legs in a three-set burst which turned the game on its head and moved him 3-1 up at Leicester's Morningside Arena.

Price defied a 170 from Humphries to hit back by winning the fifth set in a decider, but the next two went to the Englishman as he went on to seal a memorable triumph with a sensational 138 - Keith Deller like - checkout.

"I've imagined this moment for my whole career - it's very emotional," admitted Humphries, who averaged 93.30 in the double-start format in the final. "Regardless of anything else I've done in my career, that was the greatest game I've ever played in my life.

"That 138 is probably one of the best shots I've ever seen in my career, let alone [to win] the title. If I didn't hit that, we go off to the break and Gezzy feels that he's back in the game.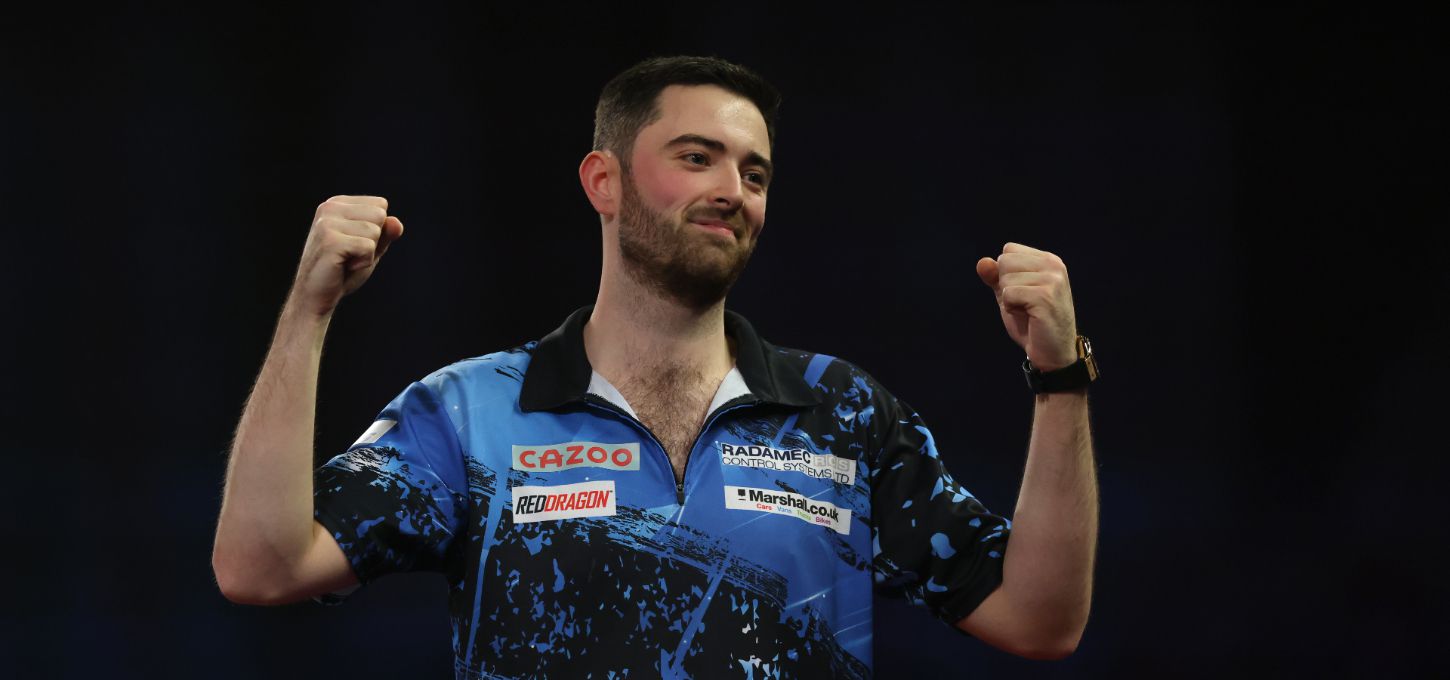 "I couldn't have picked a better ending for my first major title. I think a lot of people wrote me off tonight, they thought Gezzy would steamroll me, but I've got a bit of bottle about me, I have got the ability to play well.

"As much as I played well, that was a great final and I think Gezzy played his part there. He was a massive part of such a great game and credit goes to him."

Price punished some nervy starting doubles from Humphries in set one, taking the set without reply, before a sparkling 12-darter - which featured just ten scoring darts - saw the Englishman get off the mark in set two.

Humphries took the set 3-1 and matched that score in set three, despite an 11-darter from Price, before taking the fourth without reply to move 3-1 up in the match, and then opened the fifth with a rousing 170 checkout, but Price responded with a 117 checkout and punished misses from his rival to claim the set in a decider to hit back.

The sixth set also went to a deciding leg, with the pair trading 180s before Humphries pinned double eight to move 4-2 up and close in on glory.

Price led 1-0 and 2-1 in the seventh set, but Humphries levelled and then took out an unforgettable 138 checkout to seal the title.

Humphries had lost in the 2021 UK Open final, but has made sustained progress up the rankings since - producing a string of successes on the European Tour to consolidate his stage experience.

"I said [after the semi-finals] that we will see what Luke Humphries is made of tomorrow; whether I've got or I ain't - and I think I proved now to myself that I have got it," he added.

"Sometimes in my career, my Achilles heel has been my doubles and it's quite funny that the major championship I pick up is the double start! I think this is the first in a lot [of titles] that will come over the years, but we're in an era where there's so many great players and these are hard to come by.

"I dedicate this to my dad, because without him I wouldn't be here right now. It's been 13, 14 years since I first picked up a dart and now I'm a major champion. I've worked extremely hard in the last few years, lost a lot of weight, battled many things in my head to get to this point and it makes it all worth it having this trophy."

View the latest 2024 Darts World Championship odds

World Grand Prix - Night Six Review
Gerwyn Price – the only former champion remaining in the field - recovered from a mid-game slump to topple World Champion Michael Smith 4-2 in Saturday's opening semi-final at the Morningside Arena.

Luke Humphries then punished a profligate display from Cullen to race through to his second televised ranking final, closing out a straight-sets success against the former Premier League runner-up Joe Cullen.

However, Price is just one win away from securing a second double-start crown, after winning nine of the last ten legs to dispatch Smith and progress to a third World Grand Prix final in four years.

The 2020 champion made an ominous start to the contest, firing in back-to-back 180s on his way to a 12-dart break, and he eventually struck the first blow in an error-strewn conclusion to set one.

The opening stanza saw all five legs won against throw, with Smith squandering three darts to draw first blood, after Price had spurned opportunities of his own earlier on in the piece.
The roles were reversed in set two as Price was punished for missing a dart at double 12 for 2-0, and Smith capitalised on this reprieve to seize control of the semi-final.

The St Helens star wrapped up set three with a monstrous 110 average, conjuring up a ten-dart leg during this blistering spell to pile the pressure on Price.

The Welshman responded with an equally dominant fourth set to level at two apiece, converting a 109 checkout to stop the rot, before punishing Smith's woes on the starting doubles.

Price suddenly began to find his range on the outer ring and this coincided with Smith's slump in form, and it all unravelled for the World Champion in the closing stages, as the Iceman powered to victory.

"Michael Smith is the World Champion and world number one, so I knew it was going to be difficult," reflected Price, who had not dropped a set in reaching the semi-finals.

"I felt I probably should have been 2-0 up, and then I found myself 2-1 down. It was a bit of a rollercoaster, but I fought back and put him under pressure from then on.

"It was a difficult game but one that I'm glad I came through. Luke is a great player, he's had a bit of lady-luck on his side in this tournament, but it will be tough tomorrow."

Humphries battled back from the brink to stun 2018 runner-up Peter Wright in Friday's quarter-finals, and he made it seven successive sets without reply to sweep aside Cullen.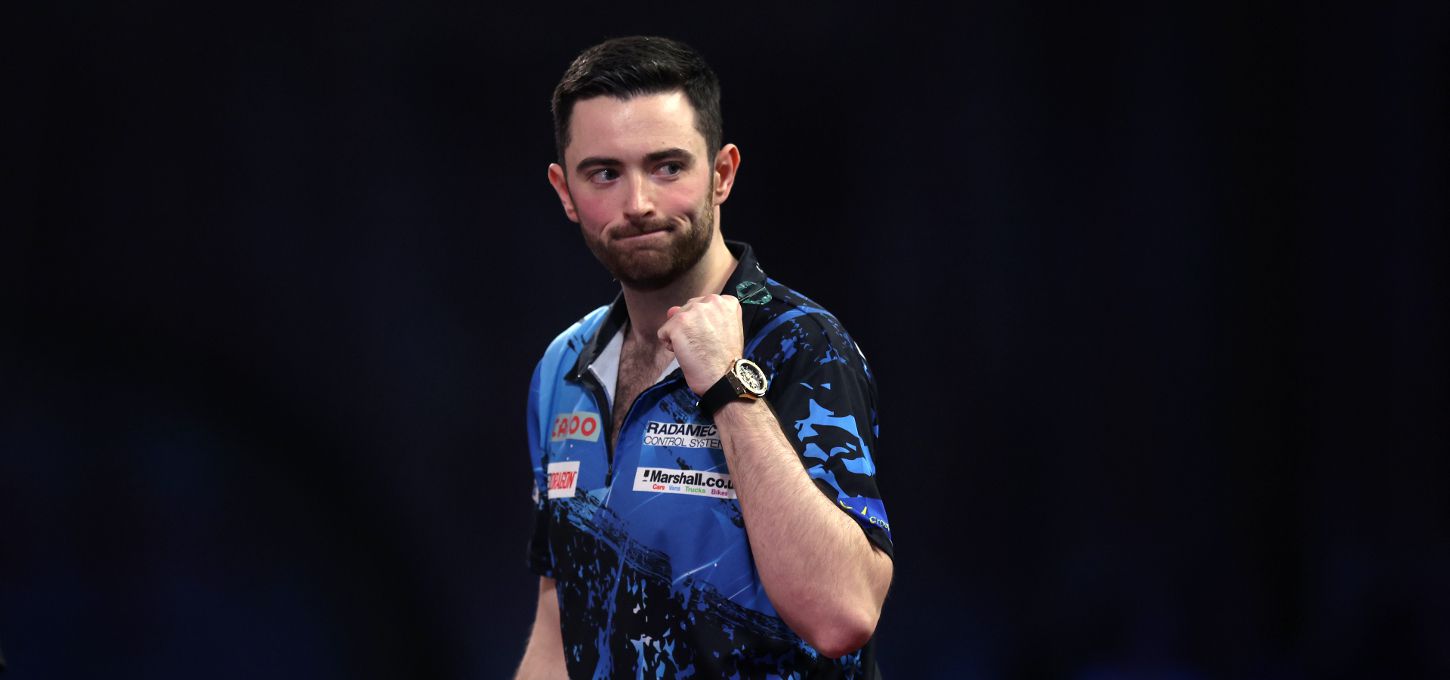 The Yorkshireman endured a nightmare on the outer ring in the opening exchanges, missing 19 of his first 21 darts at double, and Humphries duly capitalised to establish a two-set buffer.

Humphries raised his game in set three to tighten his grip on proceedings, before converting an effortless 138 combination midway through the fourth to move a leg away from Sunday's showpiece.

Cullen threatened to turn the tide with a sublime 150 skin-saver moments later, but Humphries quashed any hopes of a fightback to reach his first televised final since March 2021.

"I'm really happy. The last major final I made was behind-closed-doors, and now I finally get to enjoy that major final in front of a crowd," said Humphries, a UK Open runner-up two years ago.

"We dedicate everything for these moments, and I'm going to give it my all tomorrow. I will put everything on the line, and it will come down to who can hold their nerve.

"I've got a good record against Gezzy this year which does give me confidence, but this is a different ball game. I'm going to enjoy it, because these opportunities don't come around every day."

Price is a 2/5 favourite with title sponsor to triumph in Sunday's showpiece, with Humphries a 2/1 outsider to clinch his first senior televised crown.

View Sunday night's Darts World Grand Prix schedule

View the latest World Grand Prix odds and Bet Boosts

Odds displayed were correct at the time of writing and are subject to fluctuation.

World Grand Prix - Night 5 Review
Luke Humphries is now 5/2 to claim his maiden major televised title after battling back from the brink to stun Peter Wright and progress to the World Grand Prix semi-finals in Leicester on Friday.

Former finalist Wright started superbly to establish a commanding two-set lead, but he was left shell-shocked as a tenacious Humphries clawed himself off the canvas to complete a sensational fightback.

Wright averaged 99 to clinch a high-quality opening set, and the colourful Scot soon doubled his tally, following up a clinical 100 kill with a 16-dart hold to leave Humphries staring down the barrel.

However, the 28-year-old halved the deficit, before converting 133 and 92 finishes en route to restoring parity at two apiece, after surviving three match darts in a dramatic conclusion to set four.

Humphries continued his charge with a 109 checkout to move a leg away from glory, and despite Wright's best efforts, the sixth seed held his nerve to prevail in a thrilling last-leg shoot-out.

"That could be one of the greatest wins of my career," declared Humphries, who will now feature in a second successive TV ranking semi-final. "I can't really put that into words.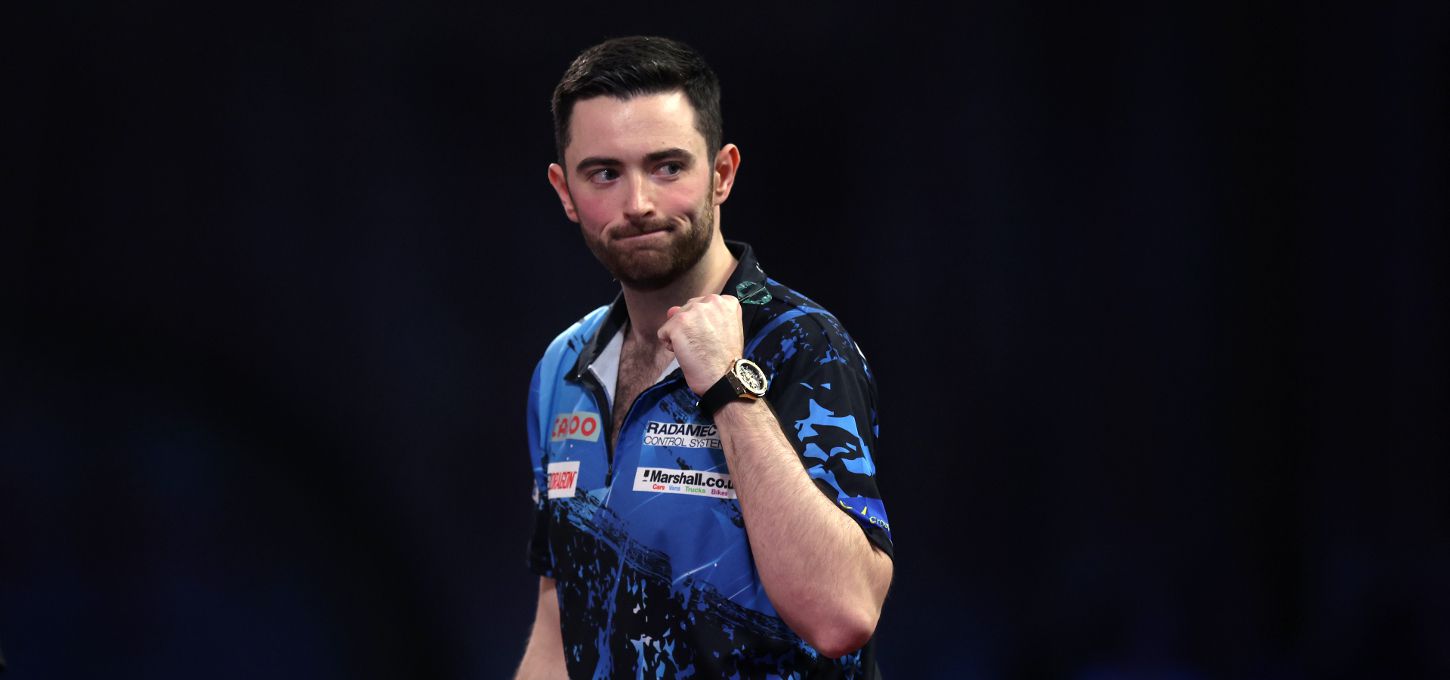 "That was prime Peter – that was Peter Wright at his best. I put everything into that game, and I'm so proud of myself. That is a massive win for me. I never make it easy for myself, but you don't expect it to be easy. We have so many great players here, and I'm probably going to have to play as well as that in the semi-finals."

Friday's quarter-final action also saw Gerwyn Price (11/8) and Michael Smith (13/5) celebrate straight-sets wins, which sets up a mouth-watering semi-final showdown between the pair on Saturday.

Price – the only former champion left in the field – raced through to the last four with a thumping win over Martin Schindler, who endured a night to forget at the Morningside Arena.

"Martin was way off the pace, so I just had to concentrate on my own game," said Price, who is yet to drop a set in this year's tournament.

"I'm nowhere near the heights I can reach, but I'm still here and I think the extended format is a little more favourable for me, so hopefully I can lift this title for a second time."

The 2020 champion will now take on world number one Smith, with Price the 4/6 favourite, after the top seed swept aside UK Open champion Andrew Gilding to reach his first double-start semi-final.

Gilding fired in a maximum on his way to an early hold of throw, before Smith seized control with a run of six consecutive legs – aided by a 104 checkout – to move to the cusp of the last four.

The St Helens star then defied back-to-back 14-darters from Gilding to complete a straight-sets success, producing a 13-dart break in a third-set decider to maintain his serene progress.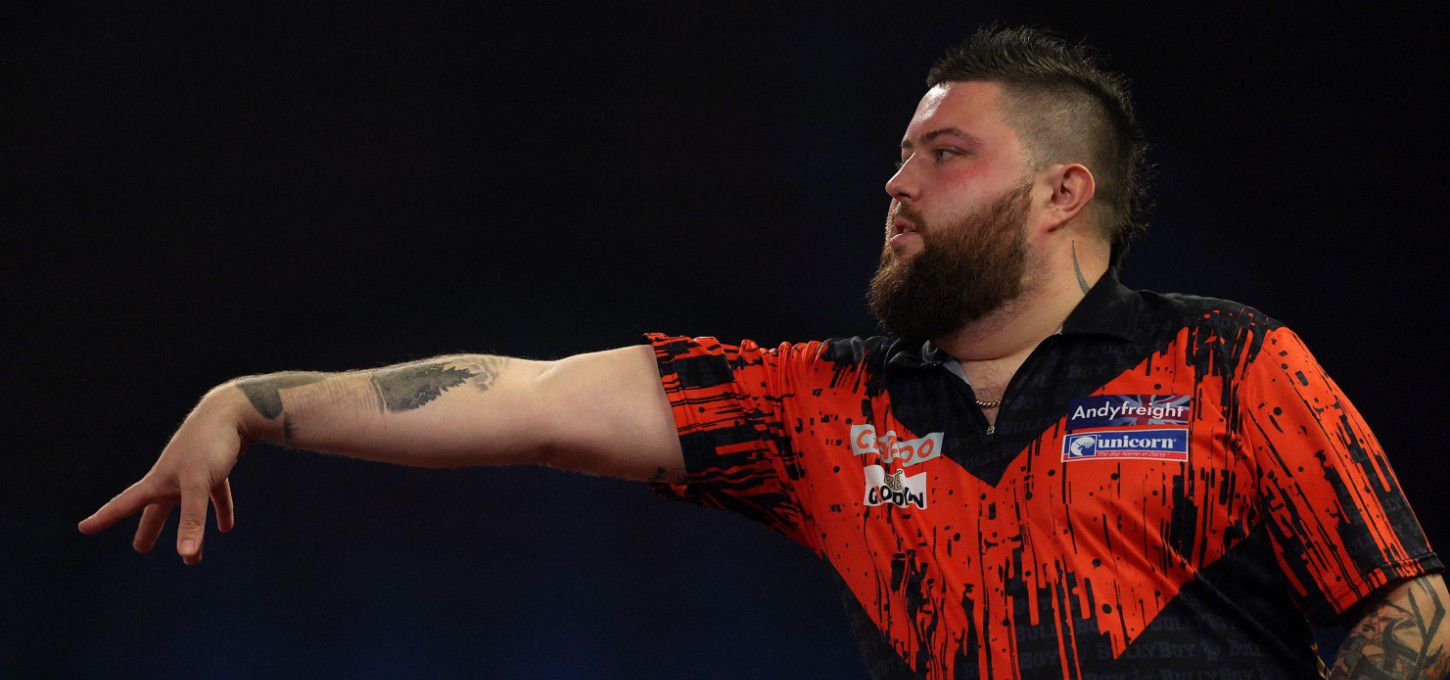 "My scoring was non-existent, but I think my finishing to end legs was superb tonight," reflected Smith, who has relinquished just six legs in his run to the semi-finals.

"Me and Gezzy always have great games. It will be played in a good spirit, and it will be nice to have a really fast-paced game and put on a great show for this crowd."

In the evening's finale, Joe Cullen, the 13/2 tournament outsider, conjured up a majestic 121 checkout to overcome Chris Dobey in a gruelling five-set affair, recovering from 2-1 down to reach a sixth televised semi-final.

Cullen flew out of the blocks, winning the opening four legs to seize the initiative, only for Dobey to respond with three straight legs of his own – culminating in a 12-darter – to level the tie.

Dobey, who dumped out reigning champion Michael van Gerwen in the last 16, continued his defiance to win a scrappy third set, but Cullen hit back in some style to wrap up the fourth.

The former Premier League runner-up fired in legs of 13 and 10 darts to force a fifth set, where he punished Dobey's doubling woes to triumph in a battle of the Masters champions.

"If I'm completely honest, if that 121 finish didn't go in, I would have probably lost the game," conceded Cullen, who has now broken into the world's top ten for the first time.

"I felt so focused, and I want to give myself the best possible chance. I think this [fightback] will stand me in good stead, and I will take that confidence into tomorrow. Luke is a great lad. He dug in tonight and showed his fighting qualities, so I will have to perform tomorrow, but this double-start [format] is a massive leveller."

Price and Smith's titanic tussle will kick off Saturday's semi-final action, before Humphries and Cullen collide for a place in Sunday's showpiece at the Morningside Arena.

View Saturday night's Darts World Grand Prix schedule

View the latest World Grand Prix odds and Bet Boosts

Odds displayed were correct at the time of writing and are subject to fluctuation.

World Grand Prix - Night 4 Review
Day Four of the unique double-start event saw the second round action conclude in Leicester, and Dobey, now 10/1 to lift the trophy on Sunday, stole the show with a remarkable comeback victory over the six-time champion.

Van Gerwen was imperious in the opening exchanges, missing the bull for a double-start nine-darter twice in the space of three legs, as he aimed to land the first perfect leg at this event since 2014.

Dobey defied the Dutchman's blistering barrage to draw first blood, only for the Dutchman to reel off back-to-back sets and move to the cusp of a place in the last eight.

Despite missing three set darts for a 2-1 lead, the Masters champion regained his poise to force a deciding set, surviving a match dart at bull from van Gerwen in a dramatic conclusion to set four.

Dobey then seized control of the deciding set with consecutive legs of 14 and 15 darts, before conjuring up a spectacular 156 checkout to complete one of the finest wins of his career.

This caps off a memorable 24 hours for Dobey, who was at St James' Park on Wednesday to watch his beloved Newcastle United dispatch Paris Saint Germain 4-1 in the UEFA Champions League.

"What a game! We [Newcastle] are on a good run of form, and so am I!" quipped Dobey, who crashed in six 180s and pinned 61% of his darts at a starting double to stun the Green Machine.

"I've owed Michael a couple from the last few times I've played him here, but after I beat him for the first time [last year], I'm not afraid of him anymore.

"I have played him so many times now, and it's something special playing him on the big stage. I loved every minute of that, and I'm so glad to get another win."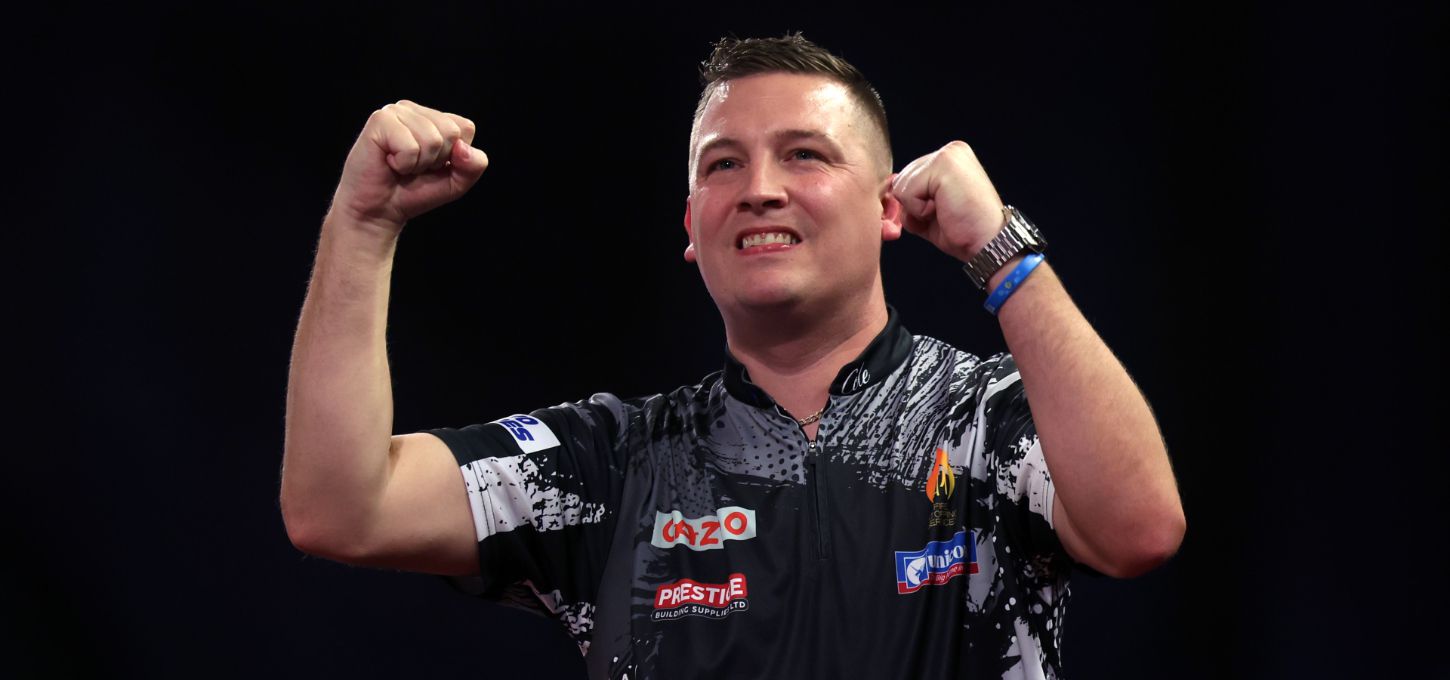 Dobey – through to his third World Grand Prix quarter-final in four attempts – now meets 11/1 hopeful Joe Cullen, who stormed to a 3-1 success against European Champion Ross Smith in a high-quality encounter.

The pair crashed in 17 maximums between them, but it was former Masters champion Cullen who turned on the style in the closing stages to continue his bid for a second televised crown.

Cullen – aided by a 160 checkout – won the opening four legs to strike the first blow, before Smith punished rare misses from the Yorkshireman to level proceedings at one set apiece.

However, Cullen recovered to close out a tightly contested third set, before rallying from 2-0 down in the fourth, reeling off consecutive legs of 13, 15 and 11 darts to triumph with a set average of almost 109.

"It was a good performance," reflected Cullen, who averaged 94 and registered eight 180s to reach back-to-back televised ranking quarter-finals. "I knew that I had to be on my game, because Ross has turned me over a couple of times on TV now, so I was bang up for it tonight.

"Ross is a great guy and a quality player. I know how well he can play, and I knew I had to capitalise on any mistakes he made tonight, and I think I did it well."

Earlier in the night, Peter Wright (10/1) produced a trio of sensational ton-plus checkouts to topple Ryan Searle and avenge his defeat to the Somerset star at the same stage of July's World Matchplay.

Searle started strongly to clinch the opening set, but Wright responded magnificently, following up a sensational 167 leveller with finishes of 158 and 121 to seize the initiative in set three.

Searle fought back to force a third-set decider, although after squandering six darts to regain the lead, he saw Wright rattle off the last four legs without reply to cap off an impressive display.

"I struggled with my throw throughout the whole match," revealed Wright, a runner-up at the World Grand Prix in 2018. "I'm happy with the result, not the performance, but if I can get through a scrappy game like that against a world-class player like Ryan Searle, I will take it!"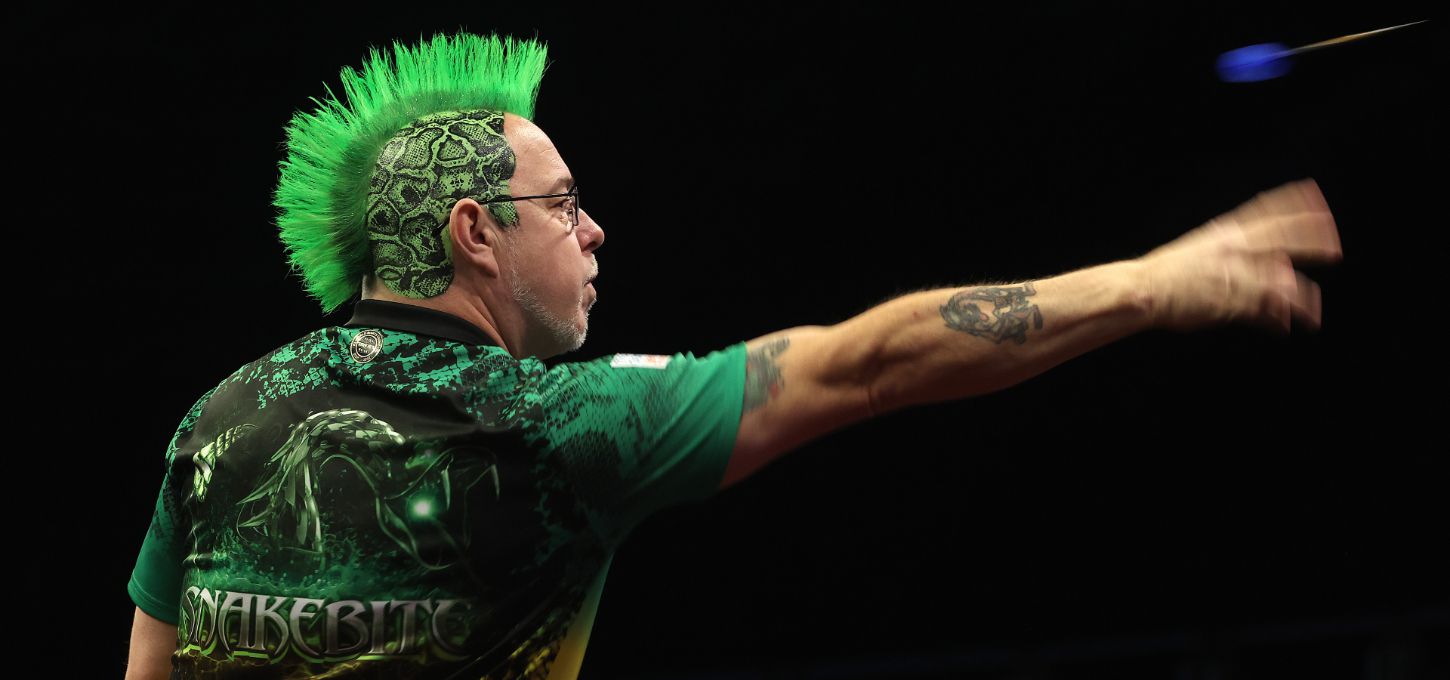 Wright's reward is a quarter-final showdown against sixth seed and 10/3 third favourite Luke Humphries, who recorded a straight-sets victory over Luke Woodhouse in the evening's opener.

Humphries won each set in a fifth and decisive leg to progress to a maiden World Grand Prix quarter-final, as debutant Woodhouse paid the price for spurning darts to win two of the three sets.

"It was a flattering scoreline because it could easily have been 3-0 to Luke [Woodhouse]," admitted Humphries, assessing a contest which saw 11 of the 15 legs won against throw.

"My scoring performance wasn't up to scratch, but if I can keep doubling-in like I have been and I find my scoring power, I am definitely going to be tough to beat."

The World Grand Prix quarter-finals will take place on Friday evening, as MvG's conqueror Dobey (4/5) faces Cullen (1/1), while Wright (7/4) and Humphries (4/9) also lock horns.

Elsewhere, world number one Michael Smith, 3/1 to win the tournament, plays UK Open champion Andrew Gilding for a place in the last four, while 2020 champion and 15/8 World Grand Prix favourite Gerwyn Price meets German star Martin Schindler.

World Grand Prix - Night 3 Review
Day Three of the unique double-start event saw the second round begin in Leicester, and it was World Champion Smith who took centre stage at the Morningside Arena.

The top seed, and 10/3 tournament hopeful, underlined his credentials with a dominant display against 2011 runner-up Brendan Dolan, running out an emphatic 3-0 winner to break new ground at the World Grand Prix.

The world number one had never reached the quarter-finals in 10 previous appearances, but he produced a clinical display on the outer ring to set up a last eight showdown against Andrew Gilding.

Smith converted 96, 91 and 64 checkouts to open his account, and the St Helens star continued his fine finishing to extend his lead against the struggling Northern Irishman.

Dolan was unable to muster the form that saw him dispose of Dirk van Duijvenbode in round one, and Smith continued the procession, converting back-to-back 105 finishes to cap off a classy performance.

"I've waited so long to get past the second round at the World Grand Prix, so I'm over the moon," revealed Smith, who has conceded just three legs in reaching the quarter-finals.

"I'm a little bit disappointed with the way I played. I had three legs after breaking Brendan where I didn't start with a double, and that sticks in your head.

"It was a matter of trying to overcome that [frustration], but those two 105 checkouts in the last two legs were pretty good, and now I just want to see what happens from here."

11/5 favourite Price also moved through to the last eight with a straight-sets success, overcoming Krzysztof Ratajski in a contest which saw all three sets go the distance.
The Welshman landed 120 and 116 finishes to clinch a high-quality opening stanza, and he withstood a spirited rally from Poland's premier player to double his tally in set two.

Despite landing a 130 outshot midway through set three, Ratajski then squandered three set darts to halve the deficit, and he was suitably punished by Price, who pinned tops to seal his progress.

"I started off really strongly in the first set," reflected 2020 champion Price, who landed five 180s and pinned 45 percent of his darts at a finishing double.

"I found the pace of the game really difficult, but I'm just happy to get through and I'm into the quarter-finals, so I will put that one behind me."

In the evening's opener, UK Open champion Gilding, in to 25/1 to lift the title on Sunday, produced a terrific fightback to dump out 2016 finalist Anderson and move through to his maiden World Grand Prix quarter-final.

Anderson won two of the opening three sets without reply to lead 2-1, although Gilding was unfazed, winning six of the last seven legs to celebrate a landmark big-stage win over the Scot.

"In all my games lately, I've just been capitalising on my opponents' mistakes," admitted Gilding, who also fought back from a set down to dump out eighth seed Rob Cross in round one.

"I did the same in the UK Open to be honest. I didn't play that well through the tournament, I was just there when I needed to be.

"I never thought I would win a major tournament, and now I'm dreaming of winning another, but Michael is playing well. He is so natural and it will be hard to beat him."

Elsewhere, Martin Schindler became the first German player to progress to the quarter-finals of the World Grand Prix, converting three ton-plus finishes to deny Stephen Bunting in a five-set thriller.

Bunting's rip-roaring start to the contest saw him follow up a 138 checkout with an opening set average of 104, and he continued his rampant run to draw first blood in set two with an 11-darter.

But 25/1 tournament hopeful Schindler turned the tide in supreme style, restoring parity with a clinical 112 kill, before following up a majestic 160 checkout with a two-dart 87 combination to hit the front.

Bunting responded by nailing a 70 skin-saver to force a deciding set, although a spirited Schindler held his nerve, producing a 103 checkout to seal a spot in his second televised quarter-final.

The second round action continues on Thursday night, as reigning champion Michael van Gerwen (5/2 to win the World Grand Prix) continues his title defence against Masters champion Chris Dobey.

Former finalist Peter Wright takes on Ryan Searle, European Champion Ross Smith meets Joe Cullen, while sixth seed Luke Humphries kicks off Thursday's action against debutant Luke Woodhouse.

View Thursday night's Darts World Grand Prix schedule

View the latest World Grand Prix odds and Bet Boosts

Odds displayed were correct at the time of writing and are subject to fluctuation.

World Grand Prix - Night 2 Review
5/2 tournament favourite Michael van Gerwen made the perfect start in the defence of his World Grand Prix title with a convincing victory over Josh Rock in Leicester on Tuesday.

Billed as one of the pick of the first round ties, van Gerwen was quick to lay down a marker as he dominated Rock, losing just one leg in a straight sets victory.

The Dutchman, who lifted the World Grand Prix title for a sixth time in 2022, started in imperious form - winning legs in 14 and 12 darts on his way to the opening set with Rock picking up his solitary leg in response.

That dominance persisted in the second set as Rock languished, and MvG powered his way to the next three legs to secure victory with an average of 95.74 and a 75 percent success rate on the finishing doubles.

"To start off with a performance like this against a player of that calibre - it gives you confidence," said the Dutchman. "The first round in this tournament is always tricky - whoever you draw. Look how many good players already lost in this tournament.

"My doubles were top class - it may not have done my average justice, but winning the game was the most important thing in the World Grand Prix."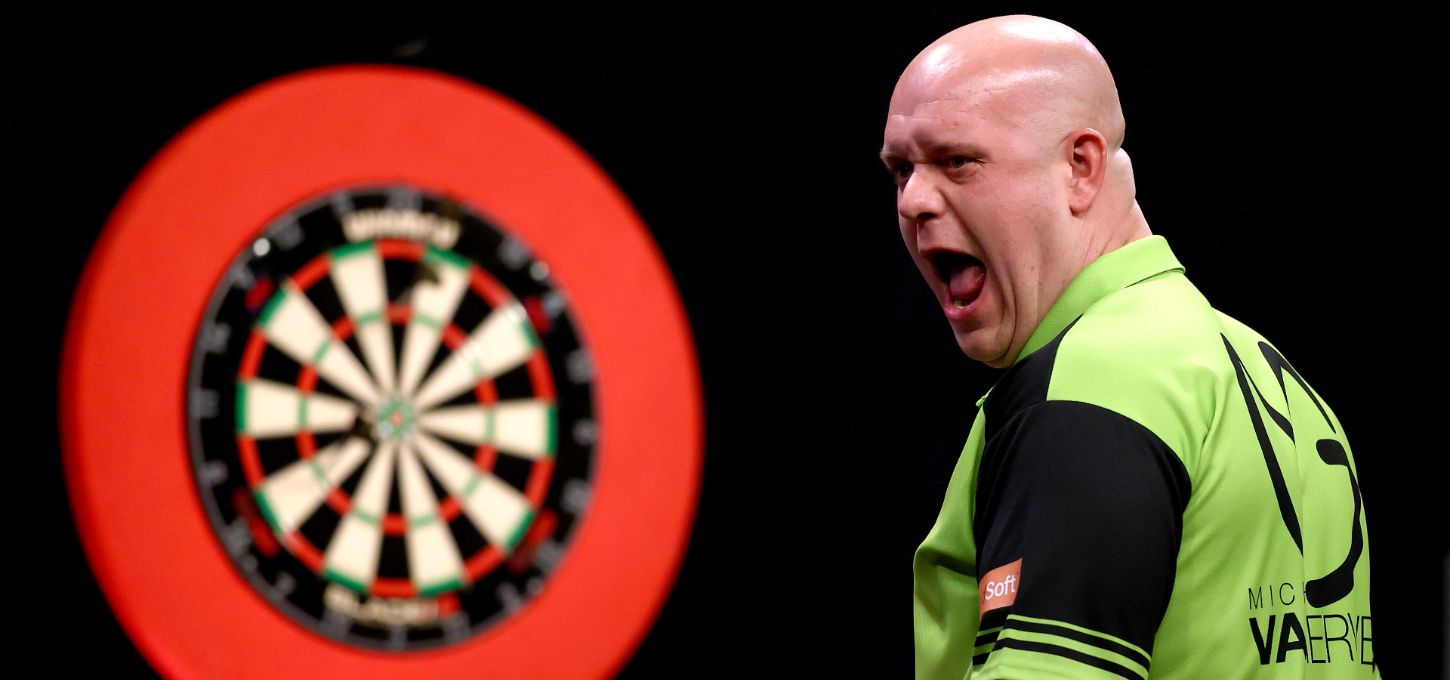 Van Gerwen faces Chris Dobey - who defeated Dimitri Van den Bergh in straight sets earlier in the evening - in round two, with the defending champion the big 3/10 favourite.

The pair met in the Quarter-Final stage of 2022 event, with van Gerwen recording a 3-1 success (5/2 to repeat that same scoreline) and he is feeling confident that he cannot be stopped as he hunts a record seventh World Grand Prix title

"It's not going to happen," joked van Gerwen. "The format gets longer and longer after tonight and that won't do [my opponent] any favours.

"You are going to have a tough opponent in the next game, but I just need to believe in my ability which is what I am doing at the moment and that is maybe why I am playing so well."

The double-start event continued with a further eight first round ties at the Morningside Arena, with world number three and 16/1 shot Peter Wright seeing off Gabriel Clemens in a comfortable 2-0 victory.

The 2018 runner-up will now face 33/1 tournament hope Ryan Searle, who got the better of Australian number one Damon Heta in a hard-fought 2-1 win.

Luke Humphries kept up his impressive form, defeating 2017 champion Daryl Gurney in straight sets.

"I'm just happy to be through to the next round, it's a high-pressure tournament with the format," Humphries reflected. "I didn't think it was my best performance today, my doubling-in was good but my scoring wasn't there.

"But I'm through the first round, and now I'm looking to make a mark on this tournament for the first time."

Humphries is 1/4 to overcome his second round opponent Luke Woodhouse (3/1), who dispatched of highly-fancied Dave Chisnall 2-0 in a dream World Grand Prix debut on Tuesday.

2021 champion Jonny Clayton also fell at the first hurdle, going down 2-0 to Ross Smith, with the European Champion to face Joe Cullen in round two, with Cullen easing to a 2-0 win over Belgian debutant Mike De Decker.

The second round gets underway on Wednesday night, as 2020 champion Gerwyn Price (2/9) takes on Krzysztof Ratajski, who is 10/3 to dump out the Iceman.

Gary Anderson will look to continue his resurgence against Andrew Gilding, while world number one Michael Smith takes on Brendan Dolan, and two-time semi-finalist Stephen Bunting faces Germany's Martin Schindler.

View Wednesday night's Darts World Grand Prix schedule

View the latest World Grand Prix odds and Bet Boosts

Odds displayed were correct at the time of writing and are subject to fluctuation.

World Grand Prix - Night 1 Review
2022 finalist Nathan Aspinall and number eight seed Rob Cross crashed out of this year's World Grand Prix in Leicester on an enthralling opening night on Monday.

Last year's runner-up Aspinall and eighth Cross were both beaten in dramatic last-leg deciders at the hands of 33/1 outsider Stephen Bunting and 50/1 shot Andrew Gilding respectively, as the double-start event got underway with eight first round clashes at the Morningside Arena.

Bunting, a two-time World Grand Prix semi-finalist, produced a strong deciding leg against Aspinall to continue his impressive record in the event.

"Neither of us were at our best but when you get through like that you don't really look at the performance," Bunting reflected. "It was a very nervous game all the way through. I started really well but in the second set I lost a bit of composure.

"I was praying that I hit my starting double first dart in the decider; thankfully I did and now I'm looking forward to the next round. I think I'm playing the darts of my life at the moment so I'm full of confidence."

Bunting's second round assignment will see him take on Martin Schindler, with The Bullet installed as the 8/11 favourite in that match, after the German number two enjoyed a first World Grand Prix win over two-time runner-up Raymond van Barneveld.

UK Open champion Gilding overcame a slow start to claim a first World Grand Prix victory in nine years and make it a fifth first round exit in seven outings for Cross.

Gilding's victory sees him set up a round two meeting with Gary Anderson, as the resurgent Scot impressed in a 2-1 victory over Jose de Sousa - a performance that our resident Darts tipster Keith Deller, the 1983 World Champion, correctly predicted.

"It was a hard one, that's the best I've seen Jose play for a while," said Anderson. "I've got a lot of time for Jose, we spent a lot of time practicing together the last time we were both in the Premier League and I know how good he can be.

"I don't put any pressure on myself anymore, I'm just enjoying playing darts right now and I'll see where it takes me."

Gerwyn Price, the new 11/4 tournament favourite, defeated world number nine Danny Noppert in straight sets, and the 2020 champion will now face Krzysztof Ratajski, who came from behind to knock out two-time winner James Wade.

5/1 tournament hopeful Michael Smith produced the performance of the night, averaging 96.14 in a 2-0 defeat of Callan Rydz, and the top seed will now face 2011 runner-up Brendan Dolan, who took the scalp of the talented and dangerous Dutchman, Dirk van Duijvenbode.

The first round continues on Tuesday night, as Michael van Gerwen (10/3 to defend his crown) begins his bid for a seventh World Grand Prix title against debutant, and 28/1 hope, Josh Rock.

Former champions Jonny Clayton and Daryl Gurney are in action, along with world number three Peter Wright, two-time runner-up Dave Chisnall and fifth seed Luke Humphries.

View Tuesday night's Darts World Grand Prix schedule

View the latest World Grand Prix odds and Bet Boosts

Odds displayed were correct at the time of writing and are subject to fluctuation.