Mark Mothershaw
Updated: 17 Apr 23 11:50
Published: 10 Nov 22 11:47
Optimism is at fever-pitch ahead of the World Cup with Three Lions supporters now backing Gareth Southgate and the boys to go all the way, according to bet365's Fan Nation Survey.
For an England side that has made tangible inroads towards a first major triumph since 1966, optimism in the build-up to this winter's showpiece World Cup has been in remarkably short supply.
A six-game winless run, culminating in Nations League relegation, had seemingly left many followers of the national team with a palpable feeling that the 'golden' Gareth Southgate era had started to simmer after reaching its boiling point at Euro 2020.
However, for all of that previous concern, there appears to be a newfound confidence, with almost 50 percent of England supporters quizzed as part of bet365's Fan Nation Survey, believing the Three Lions (8/1) will follow the recently trodden path of the Lionesses, and go all the way out in Qatar.
It represents a truly remarkable turnaround in public optimism, with Southgate's tenure appearing to be severely under threat after England succumbed to a thumping 4-0 home defeat against Hungary and a 1-0 reverse in Italy just a couple of months ago.
There was even further unrest and disgruntlement when the Three Lions were brought to their knees in their final showdown ahead of the World Cup against Germany in September, before somehow turning the game on its head in the most remarkable fashion.
That transformative upturn in fortunes not only offered Southgate, who six out of seven fans polled are now backing to lead England at the World Cup, a huge reprieve, but such an unlikely 20-minute salvo, which featured goals from Luke Shaw, Mason Mount and the talismanic Harry Kane (7/1 to be Top Goalscorer), helped restore the hopes of a nation.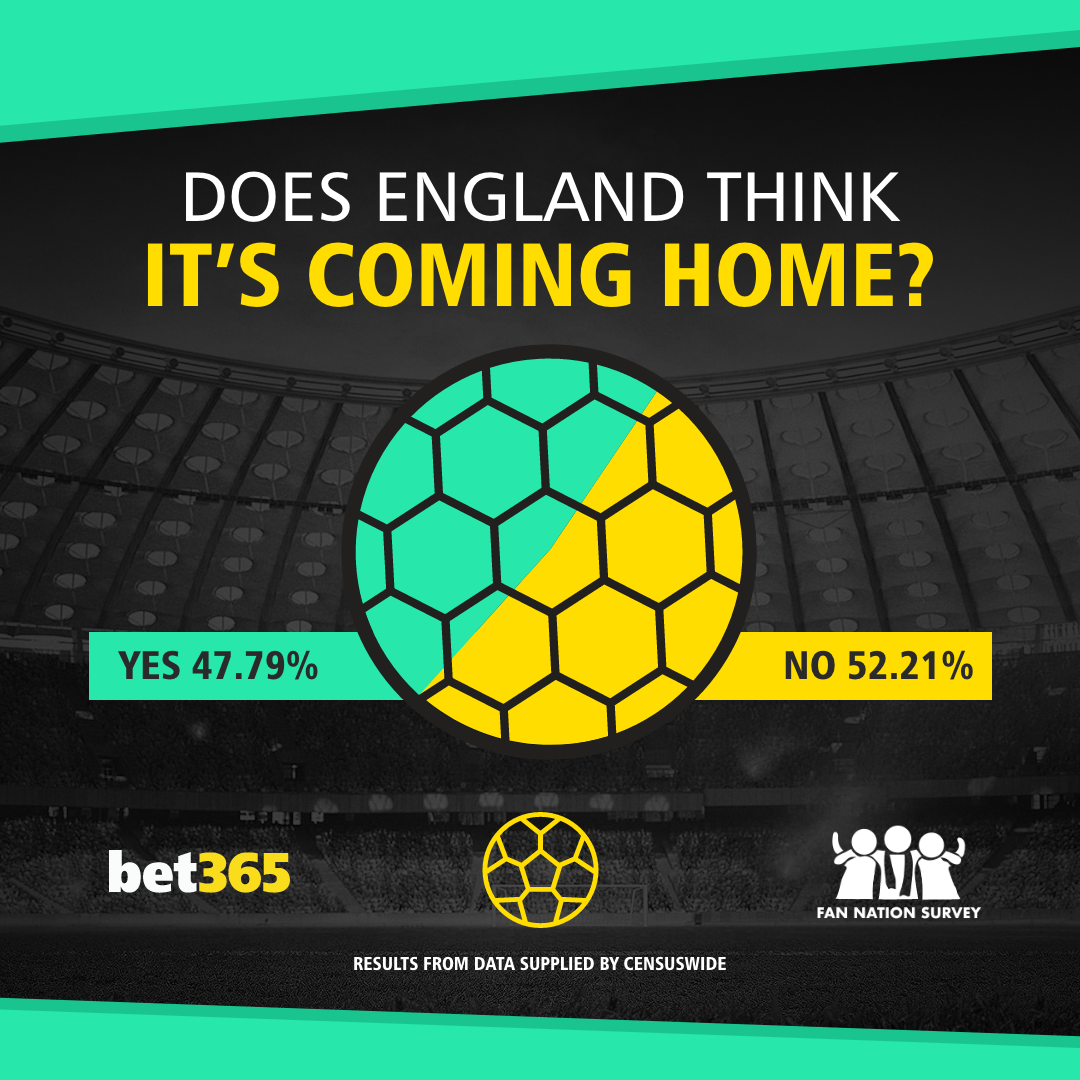 Frustratingly, England couldn't quite see the job through to completion at Wembley Stadium, as a late Nick Pope error gifted the German's a last-minute lifeline… but somehow, it didn't really seem to matter!
The fact that the seemingly crestfallen side displayed such grit, determination and composure, to drag themselves back into an encounter of such magnitude, against all the odds, served us all a timely reminder of just why many in the football world still feel they are substantially equipped to make a significant impression in the Middle East.
There is no doubt that the last six months or so has been the most challenging period for Southgate and his talented England squad, with his blossoming young group struggling to replicate the same levels of performance that took them to the periphery of European Championship success just 16 months ago.
On that occasion, they fell heartbreakingly short on penalties (let's not talk about that)… but having gone through their most ardent and testing period since, maybe 2022 is the year that this generational group fully come of age and bring football back to its spiritual home.
Let's hope that Southgate and his class of '22 have rediscovered their swag and take inspiration from Sir Alf Ramsey's group of '66 and Sarina Wiegman's history-making women, and prove the 47.79 percent of supremely confident England supporters' right!

There will be plenty more to come from bet365's Fan Nation Survey, delivering the best fan insight throughout the World Cup.

Stay tuned to the bet365 World Cup news pages for updates. The bet365 Fan Nation Survey has been powered by survey data collected from Censuswide.