bet365 News Team
Updated: 29 Oct 23 09:12
Published: 27 Oct 23 08:47
Live betting updates from Riyadh, Saudi Arabia as WBC heavyweight champion Tyson Fury takes on former UFC champion Francis Ngannou in the 'Battle of the Baddest'.
Tyson Fury v Francis Ngannou: Fight Night LIVE
Tyson Fury v Francis Ngannou: Bet Boosts >>
Tyson Fury v Francis Ngannou: Rob Tebbutt's tips
Tyson Fury v Francis Ngannou: Industry predictions
Tyson Fury v Francis Ngannou: Tale of the Tape
Tyson Fury v Francis Ngannou: All You Need to Know

All odds displayed on this page were correct at the time of writing and are subject to withdrawal or change at any time.
Last Night's Boxing Results
Tyson Fury beat Francis Ngannou (SD)
Fabio Wardley beat David Adeleye (TKO - R7)
Joseph Parker beat Simon Kean (KO - R3)
Arslanbek Makhmudov beat Junior Anthony Wright (TKO - R1)
Moses Itauma beat Istvan Bernath (TKO - R1)
Martin Bakole beat Carlos Takam (TKO - R4)
Tyson Fury v Francis Ngannou
Live Blog

00:45
Attention turns to Fury v Usyk
Cue the inevitable face-to-face with Oleksandr Usyk!

The pair both want to fight for all the belts, will 23rd December be too soon? Possibly.

We will look forward to that one in due course, but tonight could have been so different for the Gypsy King.

Hopefully we see more of Francis Ngannou in the ring, he would have beaten many, many heavyweights this evening.


0:30
Tyson Fury beats Francis Ngannou
Wow. Just wow.

The judges have scored it 95-94 Ngannou, 96-93 Fury, 95-94 Fury.

Tyson Fury has beaten Francis Ngannou by split decision.

Ngannou was impressive throughout, landed the bigger shots and knocked the Gypsy King down with a sensational left hook.

The judges declare Fury the winner, but that's a controversial call.


0:25
We go to the judges
We wait for the decision but surely Tyson Fury hasn't done enough there.

Ngannou is lifted in the air, his corner think he's won it, so do we...


0:23
Fury v Ngannou Round 10
The final round begins slowly and Fury just isn't busy enough.

Ngannou surely needs to stay up to win and he's been so unbelievably impressive this evening.

We were waiting for one final flourish and it just never arrived from Fury. The final bell goes and surely Francis Ngannou has beaten Tyson Fury?!


0:19
Fury v Ngannou Round 9
We're into the penultimate round and the great and good of Boxing are ringside for what could be an incredible moment in sporting history.

Fury is struggling to put much together and Ngannou continues to look calm in there.

It's a quiet round which Fury arguably edges, but he goes into the final round behind in the fight in our opinion.

One last effort needed from a man who has made his name in a different sport...


0:15
Fury v Ngannou Round 8
Two big left hands from Ngannou in the eighth, but Fury took them well.

But another combination from Ngannou hurts Fury and he looks out on his feet here!

We're on the verge of the biggest upset in the history of Boxing, what are we watching?!

Fury surely needs at least a knockdown in the final two rounds in an attempt to salvage this.


0:11
Fury v Ngannou Round 7
Ngannou picks up the pace early on after a relatively quiet sixth round.

Fury lands a couple of left/right combinations but then loses his footing as he attempts to build more momentum.

Its a tight round and you get the sense Fury may need all three of the final rounds to come out on top on the scorecards.

Imagine if the belt was on the line here!


00:07
Fury v Ngannou Round 6
Fury starts to find some rhythm at the start of Round 6 as he moves back to his orthodox stance.

He lands well later in the round with a good left hook followed by an uppercut, and its definitely the Gypsy King's round.

It's been a stunning performance from Ngannou, but is he starting to slow down?


00:03
Fury v Ngannou Round 5
We are talking about the unbeaten WBC heavyweight champion of the world here. A man who is arguably the best heavyweight of the modern era.

Yet here we have an MMA fighter in his first Boxing bout not just competing, but making Fury look quite ordinary.

Ngannou is again compact in his approach in the fifth, Fury landed well late on in the round but he has a lot more to do here.


23:59
Fury v Ngannou Round 4
Ngannou is full of confidence at the start of the fourth and Fury looks rattled early on.

Fury continues to switch to southpaw in an attempt to establish a footing in this simply astounding fight.

An even round but Ngannou surely ahead at this point even without that 10-8 round.


23:55
Fury v Ngannou Round 3
Ngannou is really growing into this and lands a nice left hook early on in the third, before Fury looks to settle down.

But then we have incredible scenes as Ngannou drops Fury with 40 seconds left of the round! An incredible punch from Ngannou but Fury is up.

What is going on here in Saudi Arabia?!


23:50
Fury v Ngannou Round 2
The Gypsy King gets his jab going early on in the round, but Ngannou is giving a good account of himself here.

Ngannou still doesn't over commit going forward, which has possibly surprised Fury, who does have some blood on his forehead at this early stage.

Two rounds in and we're yet to see Ngannou in much trouble.


23:46
Fury v Ngannou Round 1
Many people thought Fury would have a look in this opening round, well the Gypsy King went for a big right hand on the first bell!

Fury landed a good couple of shots late on, but Ngannou was composed and didn't go for the ultra aggressive start that many thought he would

A solid start from the MMA fighter, will Fury go through the gears in the second?


23:25
Fury and Ngannou make their way to the ring
Here we go, its time for the professional Boxing debut of UFC superstar Francis Ngannou, as he takes on the world's best heavyweight, Tyson Fury.

We're all set for one of the most surreal events to ever happen in the ring.


22:50
Fury v Ngannou Opening Ceremony and Ring Walks
The opening ceremony in Riyadh will be followed by the ring-walks of the two fighters.

We've had the likes of Afroman, Patsy Cline, Eminem, Kings of Leon, ACDC and even a tribute to Apollo Creed over the years, what does the Gypsy King have lined up for us this evening?

Latest fight odds:

Tyson Fury - 1/14
Francis Ngannou - 8/1

More Fury v Ngannou betting markets


22:30
Expert views on Fury v Ngannou
We've heard from Rob Tebbutt, now we have the thoughts of some more familiar faces from the world of boxing...

Latest Fury v Ngannou odds


22:15
Rob Tebbutt on Fury v Ngannou
Is this merely a formality for Tyson Fury?

This is what our resident Boxing expert Rob Tebbutt had to say about tonight's headline event.

Bet on Tyson Fury v Francis Ngannou


22:00
The Battle of the Baddest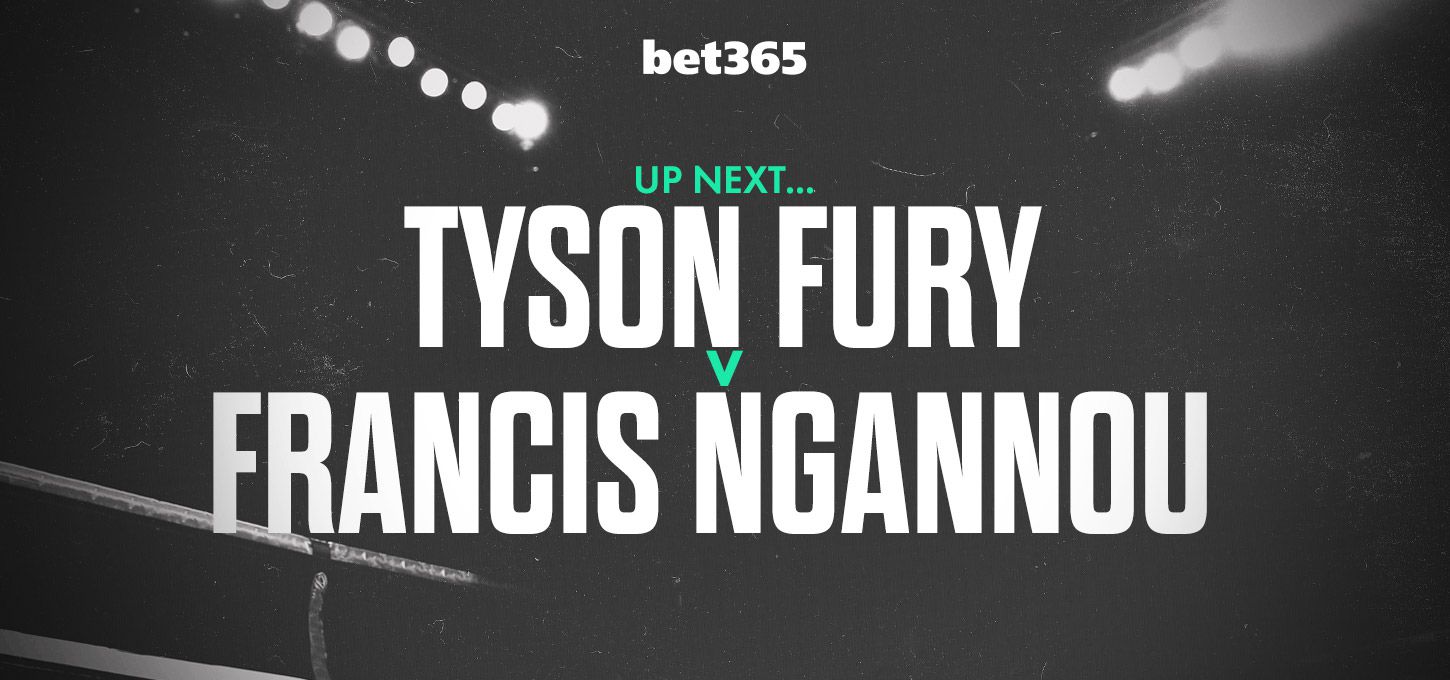 It's the big one up next, the WBC heavyweight champion Tyson Fury takes on UFC champion Francis Ngannou in a fascinating crossover clash.

Bet on Tyson Fury v Francis Ngannou


21:50
Wardley v Adeleye Round 7
Wardley lands a huge left hand in the seventh and Adeleye is down!

He bravely gets up but after a flurry of punches, the referee steps in and its a fantastic victory for Fabio Wardley.

Adeleye performed admirably but the extra class of Wardley was too much in the end. Its Adeleye's first loss, while Wardley remains unbeaten and the British champion.


21:45
Wardley v Adeleye Round 6
Great left hand from Adeleye at the start of the sixth round, before he's warned for the use of a forearm by the referee.

But Wardley regains control from then on, and enjoys arguably his best round. Blood starting to fall from the mouth of Adelete/

Neither man has been into a seventh round before...


21:41
Wardley v Adeleye Round 5
These two like to end fights early, and the longer it goes on, the more intriguing the fight becomes.

A long-range right-hand tests Adeleye early on, but he grows into the round and hurts Wardley late in the round.

Wardley is in control but every now and then, his opponent serves a timely reminder of the danger he possesses.


21:38
Wardley v Adeleye Round 4
A more cautious approach from both fighters in the fourth, but its Wardley who is again the more eye-catching.

His jab is working well and Adeleye looks a little laboured. Two rounds in a row for Wardley after two close rounds beforehand.


21.34
Wardley v Adeleye Round 3
Great work from Wardley at the start of round 3, with a stunning left/right combination having Adeleye on the ropes.

Wardley looks to build the momentum gained but is caught by a couple of counter punches from the ever-dangerous Adeleye.

Big right hands follow from Wardley who takes this round. Adeleye needs to get back behind his jab.


21:31
Wardley v Adeleye Round 2
Adeleye's energetic start continues at the start of the round, again landing big with a left hand.

He's impressed so far but Wardley responds with some handy shots of his own towards the end of the round, and he finishes the stronger.


21:28
Wardley v Adeleye Round 1
A big left hook from Adeleye at the start of the round signals his attentions early on.

A fairly even couple of minutes follows with both men looking to land big, before Adeleye lands with a flush left hand on late in the round.

Its a lively start to this one.


21:05
Fabio Wardley v David Adeleye Bet Boosts

Bet Builder:
Fabio Wardley to win
Over 7.5 rounds
Was 13/8 >> Now 7/4

Round Betting:
Fabio Wardley to win in Round 11
Was 25/1 >> Now 28/1

Round Group Betting:
David Adeleye to win in Rounds 7-12
Was 9/1 >> Now 10/1

Bet on Fabio Wardley v David Adeleye


20:55
Tyson Fury v Francis Ngannou Super Boost
Of course, the countdown to the big one is continuing, and we have a Super Boost available!

Bet Builder:
Tyson Fury to win
Under 6.5 rounds
Was 3/4 >> Now 6/5

Tyson Fury v Francis Ngannou Super Boost


20:45
Fabio Wardley v David Adeleye Tale of the Tape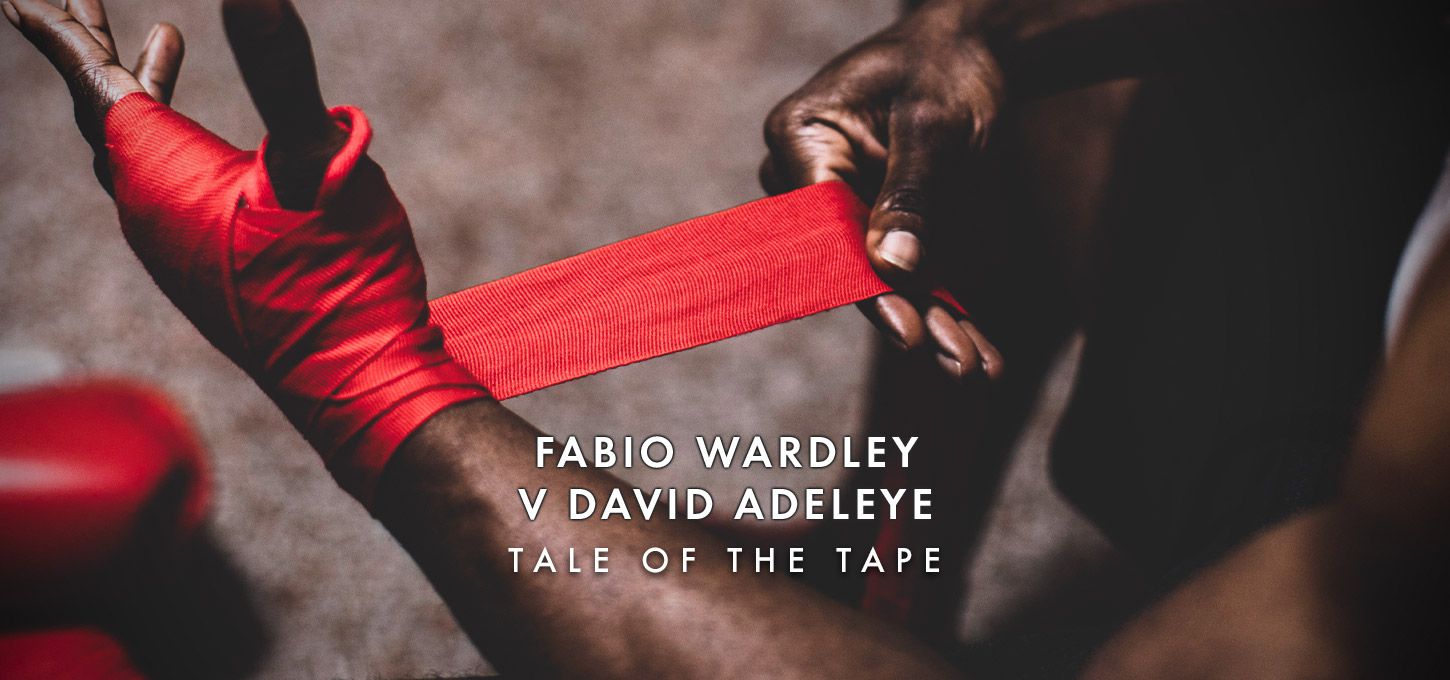 John Macdonald assesses the credentials of Fabio Wardley and David Adeleye ahead of their grudge match this evening.
| | | |
| --- | --- | --- |
| | Fabio Wardley | David Adeleye |
| Odds | 3/10 | 5/2 |
| Age | 28 | 26 |
| Nickname | None | 'Big D' |
| Height | 6ft 5ins | 6ft 4.5ins |
| Reach | 78ins | 76ins |
| Weight | Heavyweight | Heavyweight |
| Trainer | Robert Hodgins | Frank Greaves |
| Record | 16-0 (15 KO's) | 12-0 (11 KO's) |
| Last Fight | Won (TKO) v Michael Coffie (April 2023) | Won (RTD) v Emir Ahmatovic (June 2023) |
More on Fabio Wardley v David Adeleye


20:40
Fabio Wardley v David Adeleye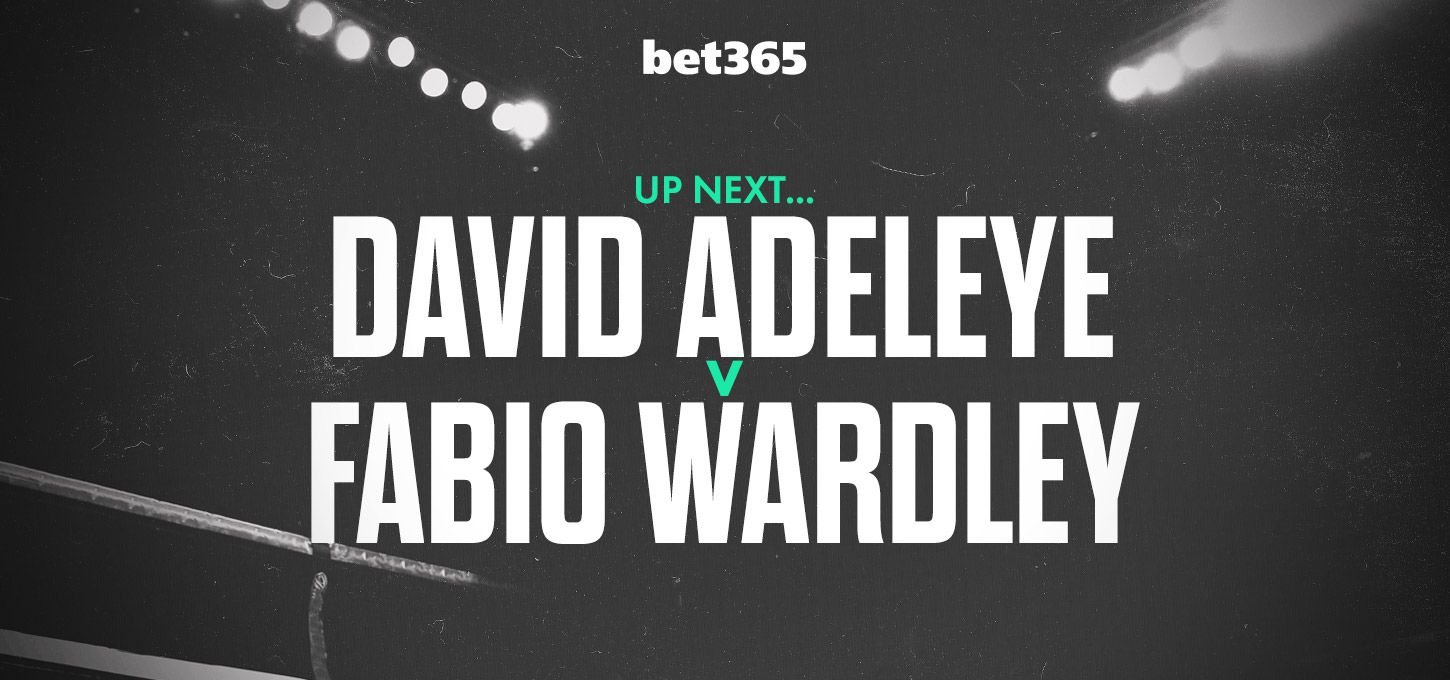 The British heavyweight title is on the line next, as rivals Fabio Wardley and David Adeleye go head-to-head.

Their dislike for each other is pretty clear, who will still be unbeaten after this one?

Fabio Wardley v David Adeleye Odds


20:31
Parker v Kean Round 3
Parker lands with a couple of heavy shots before unleashing a devastating uppercut to put Kean on the floor.

The referee started the count but he waves the fight off before getting to seven and its a routine victory for the New Zealander.

Kean produced a laboured performance but Parker was clearly a class above the Canadian.


20:27
Parker v Kean Round 2
Better from Kean at the start of the second as he catches Parker a couple of times when the Kiwi comes forward.

Parker, back behind the jab, took control of the second half of the round, and a couple of overhand rights caused some discomfort for Kean.

Both rounds to the former World Champion so far.


20:22
Parker v Kean Round 1
Its a typically classy start to the fight by Parker, who controls the early stages by establishing his trademark jab.

The former World Champion also lands a couple of handy body shots on the Canadian, who also has some swelling on his nose after the first three minutes.


19:55
Former World Champion up next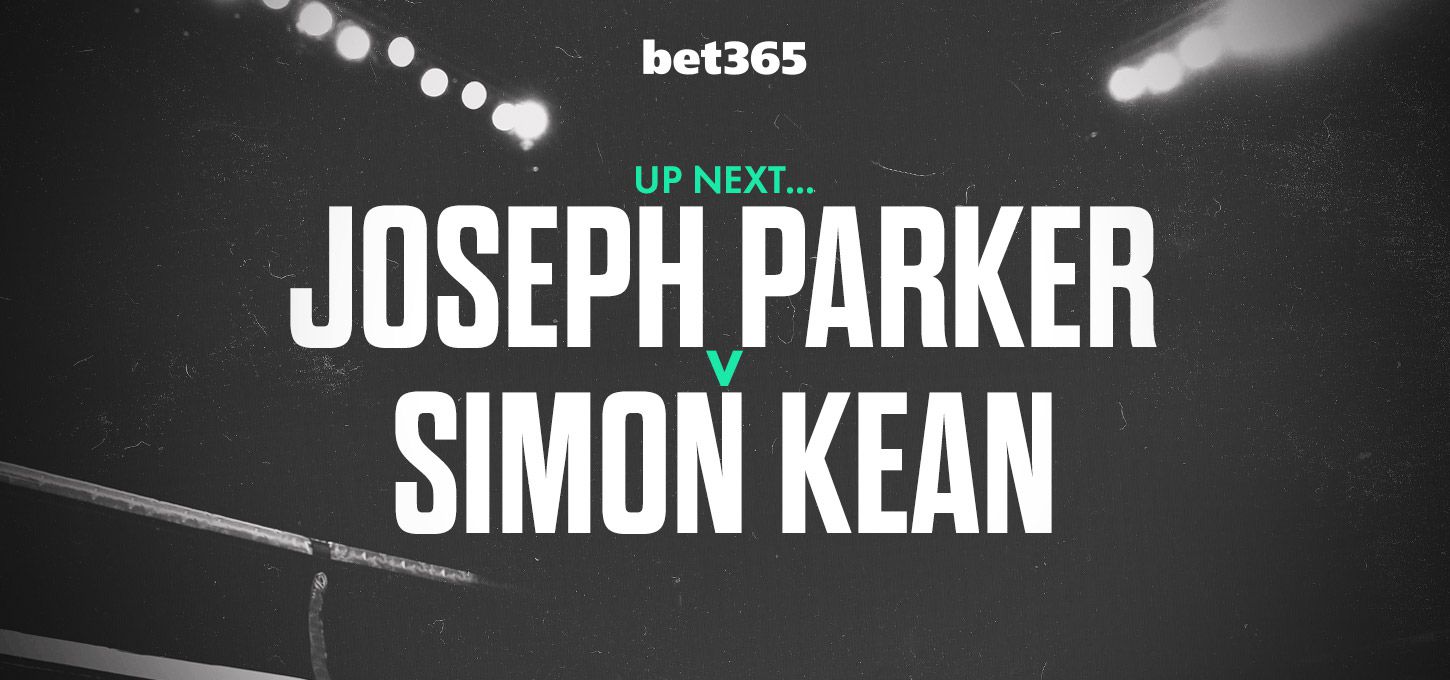 We've seen victories for three men who will surely be moving on to bigger challenges over the next few months.

But next up is a man who has already been and done it, the former WBO heavyweight champion, Joseph Parker.

He's 1/10 to see off the heavy-hitting Simon Kean next.

Joseph Parker v Simon Kean All You Need to Know


19:42
Makhmudov v Wright Round 1
Well, if some people weren't too familiar with Arslanblek Makhmudov before tonight, they certainly are now.

It's another first round stoppage on this feast of a heavyweight boxing card this evening.

Wright goes down in the first minute and is up at the count of nine, but another onslaught shortly after results in the referee calling an early end to this one.

Extremely impressive from the Russian.


19:30
Arslanblek Makhmudov v Junior Anthony Wright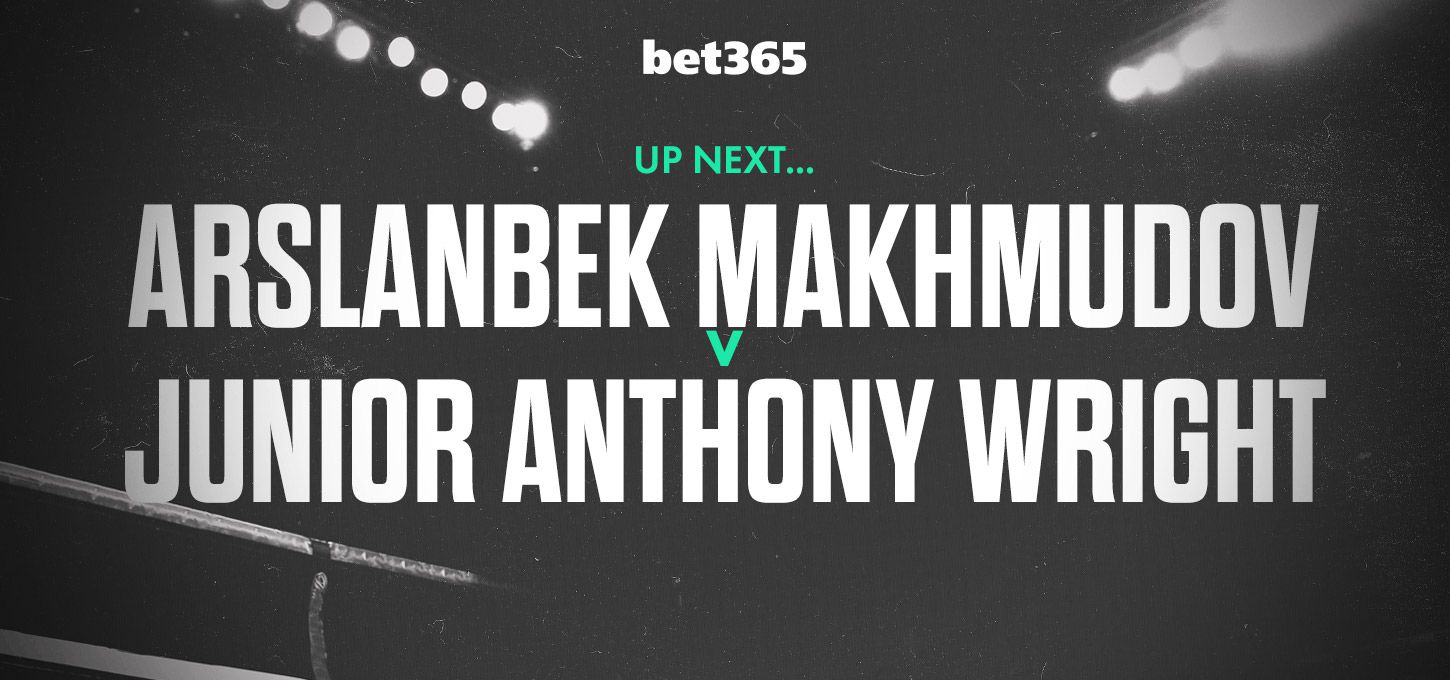 We've seen two fantastic performances from Martin Bakole and Moses Itauma so far on this momentous night in Saudi Arabia.

Russian giant Arslanblek Makhmudov will enter the ring next against American Junior Anthony Wright.

As ever, we have a couple of Bet Boosts available...

Round Group Betting:
Arslanblek Makhmudov to win in rounds 5-6
Was 7/1 >> Now 8/1

Round Betting:
Arslanblek Makhmudov to win in round 1
Was 7/4 >> Now 15/8

Latest Boxing Odds


19:18
Itauma v Bernath Round 1
The TV coverage is back just in time for the next bout and 18-year-old Itauma has already stopped Istvan Bernath in a stunning first-round performance.

Bernath was down after just one minute and 20 seconds, before the referee stepped in 40 seconds later. So much for the fight being a step up from Itauma's previous fights.

It's 6-0 for Itauma who looks destined for big things in the sport.

18:40
Moses Itauma v Istvan Bernath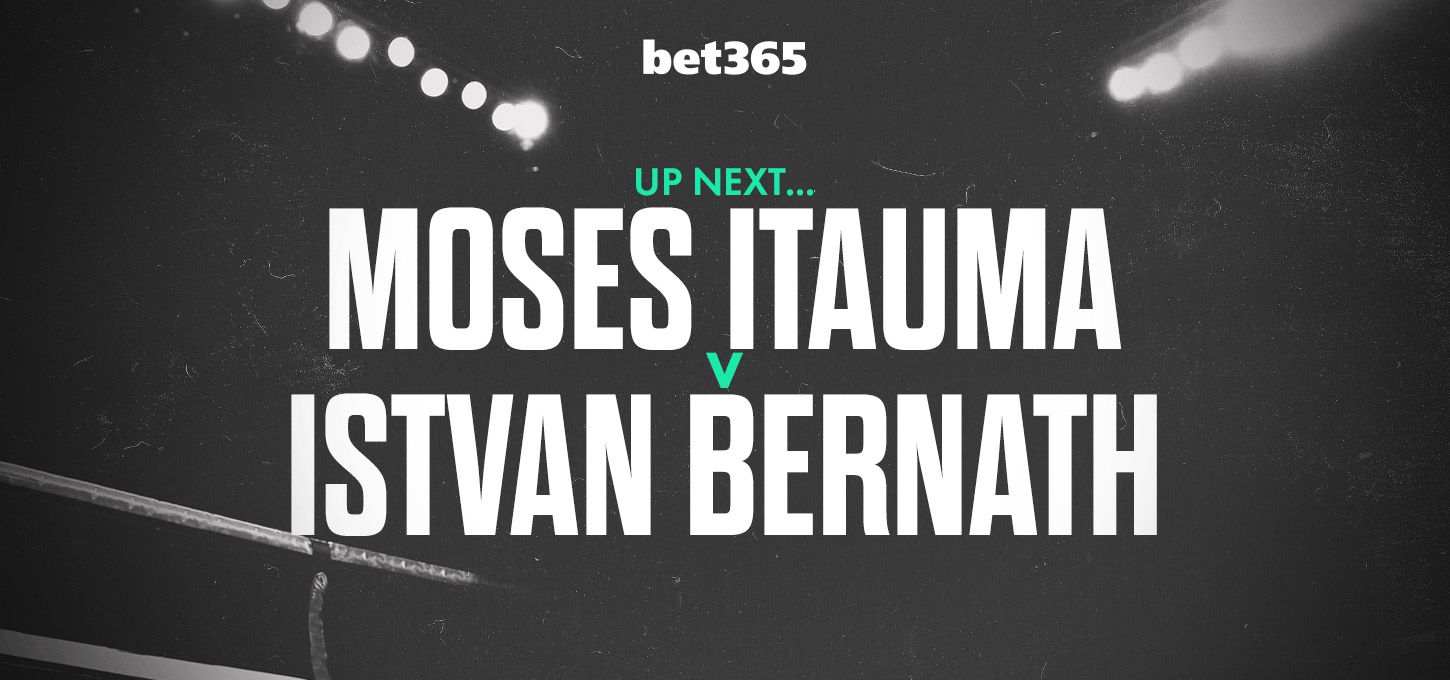 Up next, we have unbeaten southpaw Moses Itauma taking on Hungarian Istvan Bernath.

The TV coverage is currently down but we will have updates of the fight when we are up and running again.

Moses Itauma v Istvan Bernath odds


18:28
Bakole v Takam Round 4
It's all over in the 4th round as the referee stops the fight after a flurry of blows from Bakole.

He walked Takam down from the beginning of the round and a superb body shot half-way through the round was the start of the end.

Further blows were landed and, after a tentative start, the referee stops it just as Takam's corner looked as though they were ready to throw in the towel.

A great display from Bakole after a cautious first couple of rounds.


18:25
Bakole v Takam Round 3
A great start to the round from Bakole with some excellent combination shots.

The change in pace leads Takam to go on the counter but its Bakole who finishes the round strongly with a series of excellent hooks.

Takam very much up against it there.


18:21
Bakole v Takam Round 2
Another close round as Takam lands a couple of right-hands, while Bakole connects with a short left-hook late in the round.

Takam is staying out of range, but Bakole's corner want him to force the issue more.


18:18
Bakole v Takam Round 1
Not a great deal in the first round, but Bakole edges it with his stand and deliver approach.

Takam will need to be the busier fighter here if he is to upset the odds.

Bakole has won 10 fights in the first two rounds, but he's still very much in first gear so far.


18:00
Martin Bakole v Carlos Takam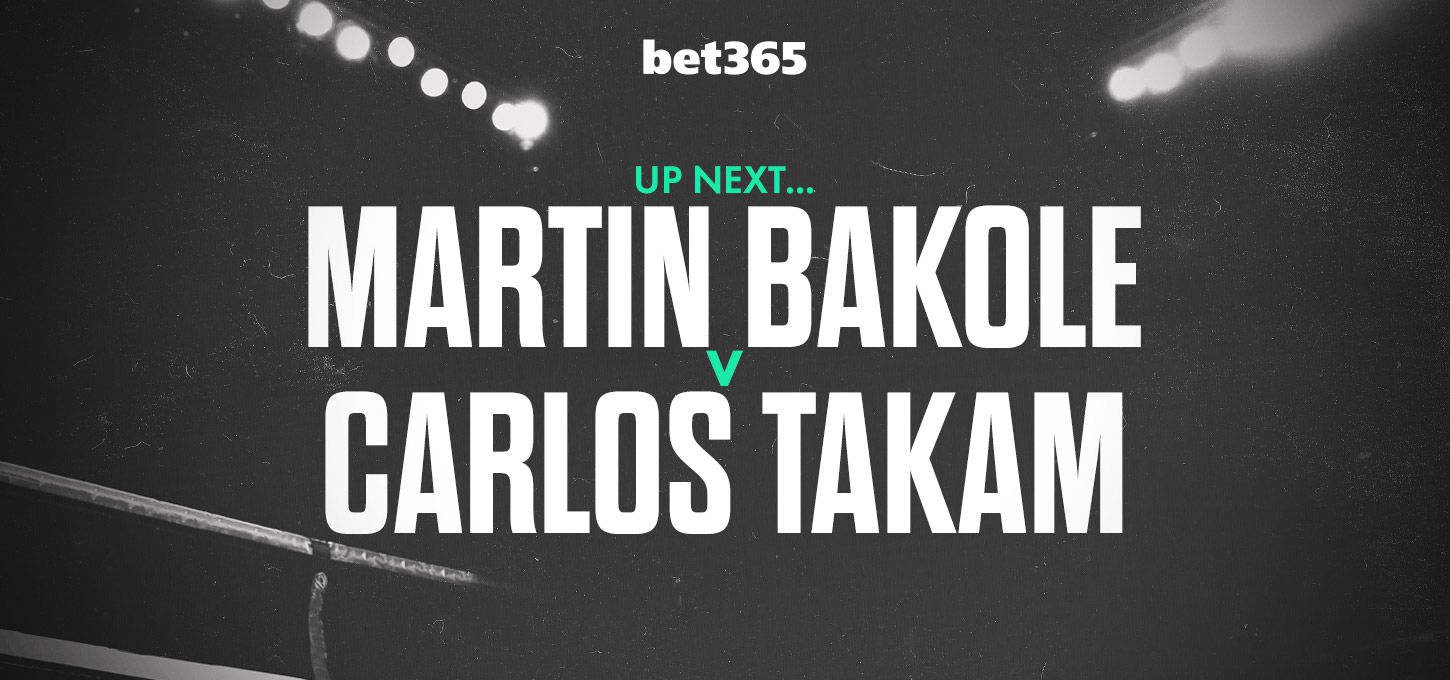 The first televised bout of the evening will see Martin Bakole take on the experience of Carlos Takam.

Bakole is the 1/6 favourite but Takam, who has shared the ring with a host of big names in recent years, should not be underestimated.

Martin Bakole v Carlos Takam Bet Boosts

Fight Outcome:
Carlos Takam to win by Decision or Technical Decision
Was 17/2 >> Now 10/1

Bet Builder:
Martin Bakole to Win
Under 8.5 Rounds
Was 6/4 >> Now 13/8

Bet on Martin Bakole v Carlos Takam


17:50
Tyson Fury v Francis Ngannou odds
'This fight ends when Tyson Fury wants it to end'...

Is it really that simple?

While Fury will want to put on a show in Riyadh, will he want the fight to go on longer than necessary with the Ukrainian shadow of Oleksandr Usyk looming large?

We're 7/1 for Fury to win inside the first two rounds...

Latest Round Betting Odds

17:30
Tyson Fury v Francis Ngannou Build-up
Good evening and a very warm welcome to our live coverage of the 'Battle of the Baddest', as the WBC heavyweight champion Tyson Fury takes on UFC superstar Francis Ngannou in Saudi Arabia.

There is no belt on the line this evening, but the reputation of both Fury and the sport itself is undoubtedly in the spotlight as Ngannou makes his first foray into the world of boxing.

We're covering all the action on what should be an intriguing night of heavyweight boxing, with Joseph Parker, Carlos Takam and Fabio Wardley all entering the ring before Fury and Ngannou take centre stage.

View the latest Boxing odds

Tyson Fury v Francis Ngannou
Bet Boosts >>

Bet Builder:
Fight Result: Tyson Fury
Tyson Fury to score two or more knockdowns
Over 5.5 Rounds
Was 19/10 >> Now 21/10

Round Betting:
Tyson Fury to win in Round 2
Was 14/1 >> Now 16/1

Bet Builder:
Fight Result: Francis Ngannou
Under 4.5 Rounds
Was 16/1 >> Now 18/1

Round Group Betting:
Tyson Fury to win in Rounds 3-4
Was 9/2 >> Now 5/1

Bet Builder:
Fight Result: Francis Ngannou
Francis Ngannou to score one or more knockdown
Under 5.5 Rounds
Was 12/1 >> Now 14/1

Tyson Fury v Francis Ngannou
Rob Tebbutt's Tips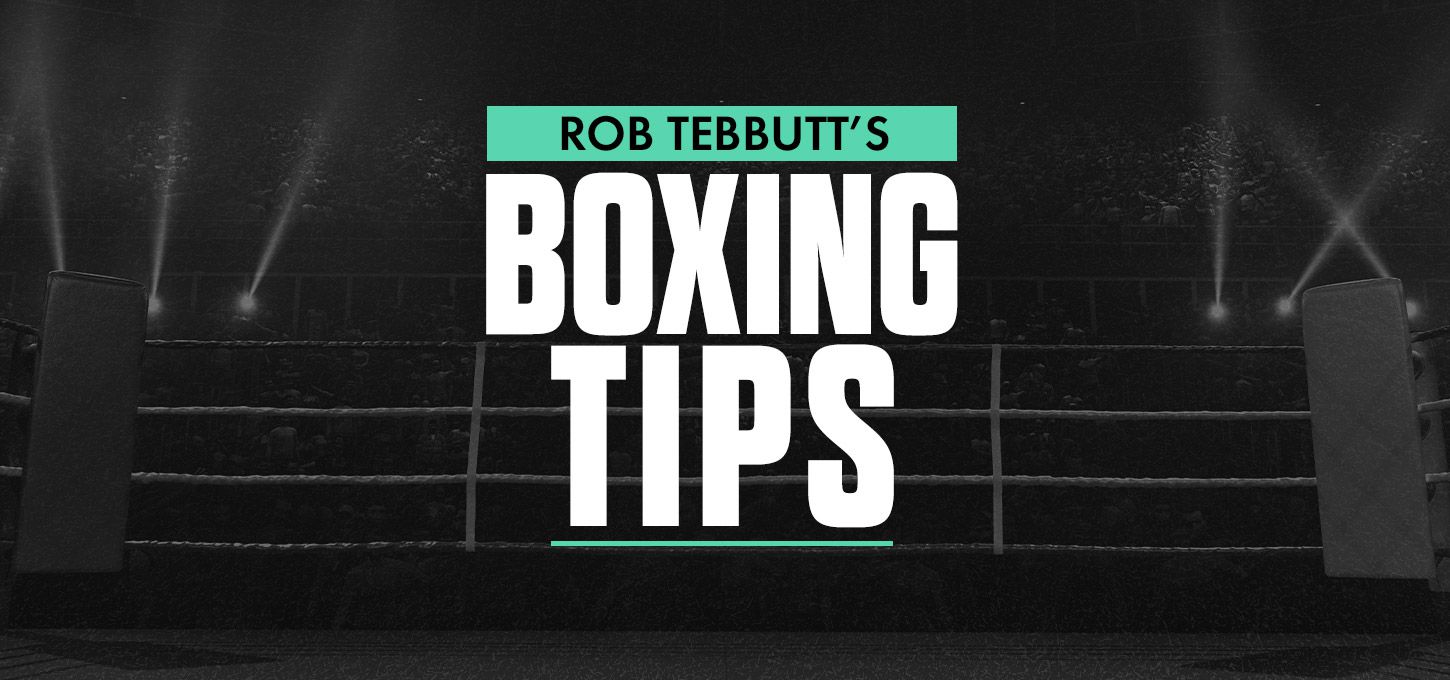 Tyson Fury by KO, TKO or Disqualification - 1/5
Tyson Fury to win by Technical Decision - 4/7
Tyson Fury to win between Rounds 1-2 - 9/2

Read Rob Tebbutt's views on Tyson Fury v Francis Ngannou

Tyson Fury v Francis Ngannou
Industry Predictions
We get the thoughts of some of the sport's biggest names as the world of boxing gets ready for the mega fight between Tyson Fury and Francis Ngannou.

Hear the thoughts of Bob Arum, Fabio Wardley, Matthew Macklin and more in the video below.

Tyson Fury v Francis Ngannou
Tale of the Tape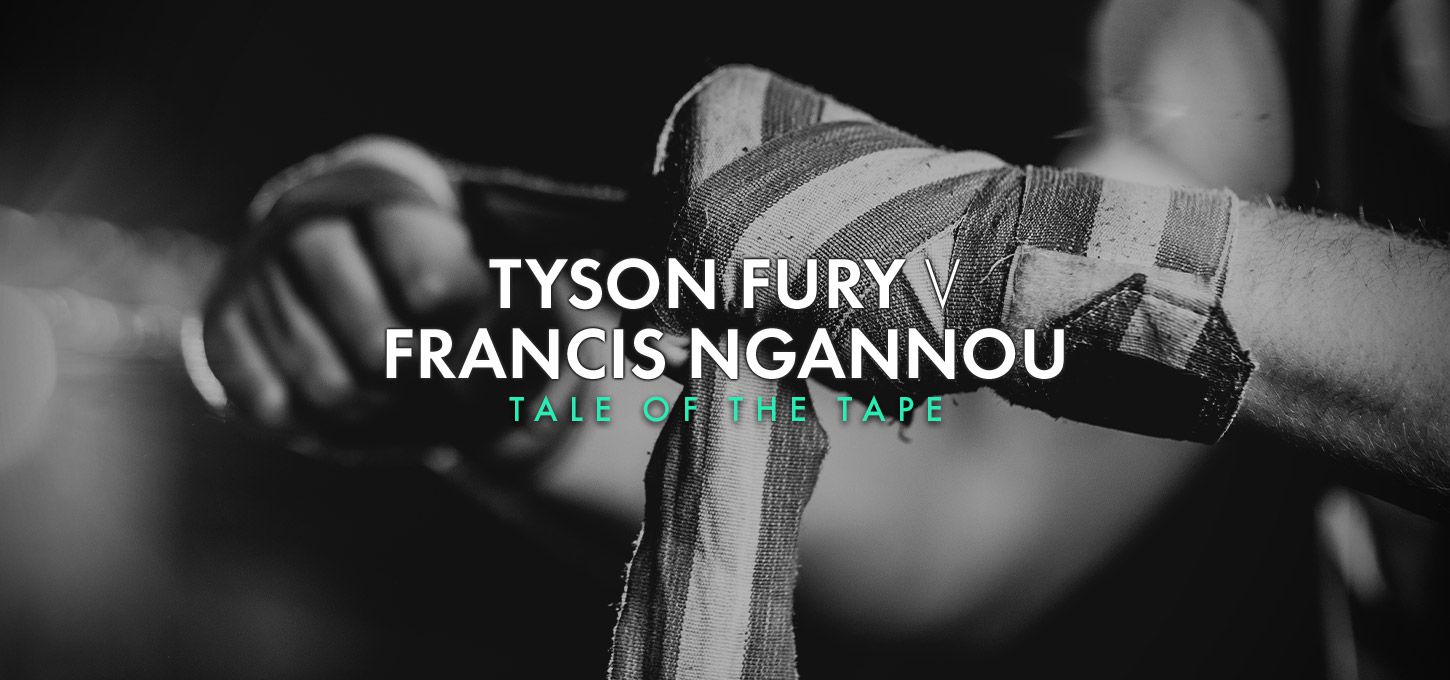 Shaun Brown analyses the credentials of WBC heavyweight world champion Tyson Fury and MMA star Francis Ngannou, with the pair set to collide in a mammoth cross-over showdown in Saudi Arabia.
| | | |
| --- | --- | --- |
| | Tyson Fury | Francis Ngannou |
| Odds: | 1/10 | 6/1 |
| Age | 34 | 36 |
| Nickname: | 'The Gypsy King' | 'The Predator' |
| Height: | 6ft 9ins | 6ft 4ins |
| Reach: | 85ins | 83ins |
| Weight: | Heavyweight | Heavyweight |
| Trainer: | SugarHill Steward | Dewey Cooper |
| Record: | 33-0-1 (24 KOs) | 0-0 |
| Last Fight: | Won (UD) v Dereck Chisora (Oct 22) | Won (UD) v Ciryl Gane - UFC 270 (Jan 22) |
Tyson Fury v Francis Ngannou Tale of the Tape

Tyson Fury v Francis Ngannou
All You Need To Know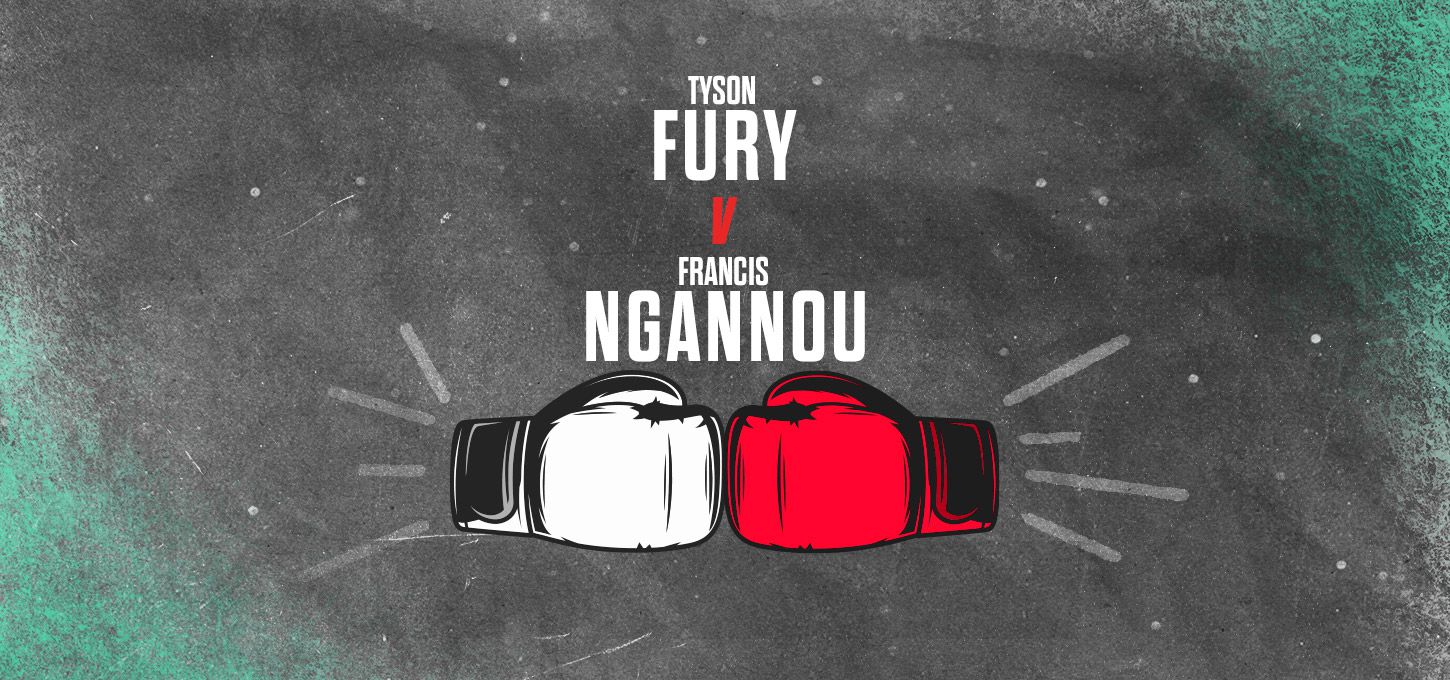 Everything you need to know ahead of Saturday evening's headline bout including ring walk times, fighter profiles, undercard details and television listings.

Tyson Fury v Francis Ngannou All You Need to Know