Mark Mothershaw
Updated: 18 Jan 23 13:13
Published: 14 Oct 22 10:23
Claressa Shields cemented her boxing legacy with a sensational win over Savannah Marshall.
MAIN CARD:
Claressa Shields beat Savannah Marshall via UD
Alycia Baumgardner beat Mikaela Mayer via SD
Lauren Price beat Timea Belik via TKO (R4)
Caroline Dubois beat Milena Koleva via TKO (R5)
Karriss Artingstall beat Marina Sakharov via Decision

All odds displayed on this page were correct at the time of writing and are subject to change.

View the latest markets and odds for all boxing events here.

23:24
THANKS FOR JOINING US

Shields takes to the microphone to address the crowd, and lavishes praise upon Marshall, as well as paying tribute to the British fans.

Whilst that brings an end to our coverage from the O2 Arena, don't forget there is a plethora of other fighting action going on across the globe this weekend, including Deontay Wilder vs Robert Helenius and Devin Haney vs George Kambosos Jr.

You can find markets and odds for those fights, and many more, by clicking here.

23:20
SHIELDS GETS THE WIN BY UD

The judges score the fight 96-94, 97-93, 97-93 all in favour of Claressa Shields, and the multiple three weight world champion further cements her legacy.

What a performance - she was simply outstanding.

Marshall deserves huge credit too, because she had huge moments in there, but the class of Shields was ultimately too much - and the American finally banishes that memory of 2012.

23:17
ROUND 10 - SHIELDS VS MARSHALL

Shields taking needless risks in trading with Marshall, but she sees the round out and you can't help but feel the marbles are heading across the pond to the United States.

That was a humdinger of a round - they both went at that hammer and tongues!

We have already seen a controversial decision tonight, but I don't envisage another one.

Shields has shown her class tonight. WOW.

That was some dust-up, and the fans are all on their feet.

23:14
ROUND 9 - SHIELDS VS MARSHALL

You sense Marshall needs the KO here to win this and she is throwing everything at it - pinning Shields against the ropes with a barrage of shots.

They just aren't having the required damage though, and Shields is taking anything Marshall throws her way.

Two minutes to go... how does this end!?

23:11
ROUND 8 - SHIELDS VS MARSHALL

Wow, Marshall lands a hook and Shields responds by smiling and sticking her tongue out.

Marshall is still in this but Shields is the sharper shooter up to now - she is throwing with more panache and penetration.

Marshall is taking some shots, proving she has a real chin!

23:08
ROUND 7 - SHIELDS VS MARSHALL

Undisputed on the line and all the glory, these women are leaving it all out there.

Precision from Shields with the straight right, piercing Marshall's guard and landing clean.

A clubbing left hook from Marshall with Shields trapped on the ropes - some shot!

A better round for Marshall, and that has got the fans inside the arena up and on to their feet.

23:05
ROUND 6 - SHIELDS VS MARSHALL

Marshall still trying to lead with that jab but Shields is finding angles left, right and centre - and is shaking the British fighter to the core.

This is going to take a herculean effort to turn this fight around I feel.

23:02
ROUND 5 - SHIELDS VS MARSHALL

Shields again takes that round, and is looking a phenomenon in there.

She talks the talk, but she is walking the walk too - she looks a class act, and she is carrying so much aggression and power tonight.

Shields is hanging on for dear life.

22:59
ROUND 4 - SHIELDS VS MARSHALL

Shields upped the ante there, and almost had Marshall out in the final few seconds of the round.

The British fighter was rocked on her feet after Shields connected with a monstrous left hook.

She needs to compose herself and get back into this because that was a dominant two minute spell for Shields.

22:56
ROUND 3 - SHIELDS VS MARSHALL

The quietest round of the three so far, but again it is Marshall who is rolling that shoulder and producing the more telling shots.

Shields is throwing at a remarkable rate, but few are connecting.

22:53
ROUND 2 - SHIELDS VS MARSHALL

This is sensational - both fighters are throwing everything at the KO!

A tough one to call given they both enjoyed big moments, but I just feel Marshall conducted the more accurate work.

One round each after two.

22:50
ROUND 1 - SHIELDS VS MARSHALL

Wow, what an opening round.

Shields has come out all guns blazing and had Marshall rocked in her own corner.

She took a barrage of heavy blows with little resistance - on another day the referee may even have stopped in there.

22:43
THE GWOAT IS IN THE BUILDING...

Claressa Shields makes her ring walk in true box office fashion!

She really is the real deal, but the crowd are having none of it as they boo the full duration of her dramatic entrance to the ring.

This is going to be a cracker - both fighters cannot take their eyes off each other!

Click here for all of the available markets and odds on the main event of the evening.

22:36
MARSHALL RECEIVES A HEROES WELCOME

The O2 is deafening as Marshall makes her ring walk.

Looking as calm, relaxed and composed as ever before, she almost raises a smile as she takes in the sensational surroundings.

Hughie Fury is in there with Peter Fury as part of her team, and they all fancy their woman to get this job done against a formidable opponent in Claressa Shields.

22:26
SHIELDS VS MARSHALL - TALE OF THE TAPE...

What an intriguing main event we have ahead of us.

Britain's Savannah Marshall bids to become the undisputed middleweight queen, and inflict a first ever professional defeat upon Claressa Shields.

How do the two fighters match-up?

Well Shields has the height advantage, standing almost four inches taller than her American opponent, whilst she also boasts a four inch reach advantage too.

Marshall will be the aggressor, but many are fancying the multiple three-weight world champion to carry out the more polished work inside the ring.

Many of the experts and pundits here this evening fancy this one to go the distance, and if you agree with them then we are pricing up the two fighters to win the bout by decision, as follows:

Claressa Shields - by Decision or Technical Decision: 6/5

Savannah Marshall - by Decision or Technical Decision: 3/1

Odds displayed were correct at the time of writing and are subject to change.

22:20
THE BIG ONE IS NEXT...

The moment we have all been waiting for - Shields vs Marshall... we are moments away from a fight of the ages!

Marshall is the narrow 1/1 underdog - Shields is available at 4/5.

Here is a reminder of some of the Bet Boosts >> we have available on the headliner...

Fight Outcome:
Savannah Marshall by KO, TKO or Disqualification
Was 3/1 >> Now 7/2

Fight Outcome:
Claressa Shields by Decision or Technical Decision
Was 6/5 >> Now 6/4

Click here for latest markets and odds.

Odds displayed were correct at the time of writing and are subject to change.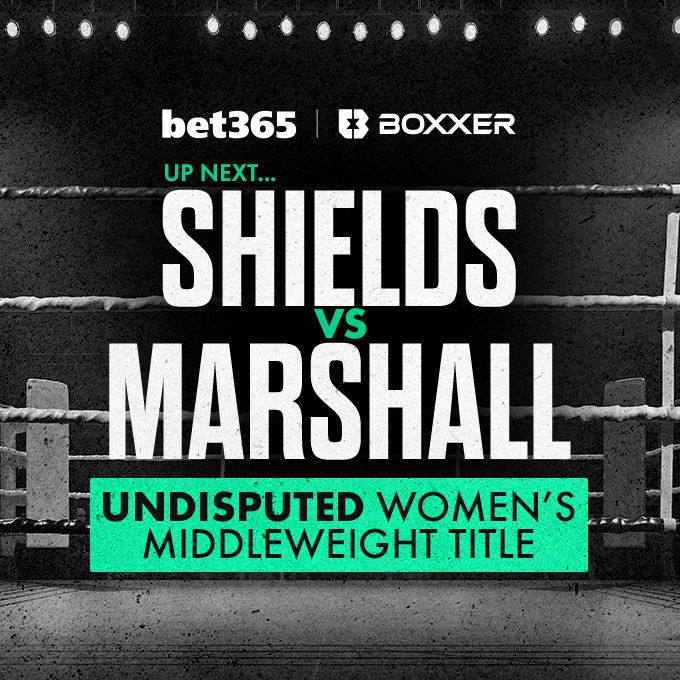 22:14
BAUMGARDNER UNIFIES IN CONTROVERSIAL FASHION

Baumgardner unifies at super welterweight level courtesy of a hugely controversial split-decision victory...

97-93, 95-96, 96-95 - WOW!!

The fans are furious, and so is Mayer - unbelievable! I cannot see how Baumgardner has won that!

The general consensus was that Mayer had won that by two or three rounds. We are all in disbelief.

22:12
ROUND 10 - MAYER VS BAUMGARDNER

We go to the scorecards, and for me, Mayer has done enough to unify the division.

A cracking affair with both fighters showing heart, courage and determination, but there was definitely a turn in the tide from round four onwards - following a strong Baumgardner start.

We await the official result...

22:08
ROUND 9 - MAYER VS BAUMGARDNER

Mayer's round as she takes authority in the centre of the ring.

Baumgardner starting to look really tired and loose in there - the sweat is absolutely pouring out of her.

Mayer looks in charge of her emotions and is utilising her jab to control the round.

22:05
ROUND 8 - MAYER VS BAUMGARDNER

This is tight! Both enjoy success with Mayer's stiff jab momentarily rocking Baumgardner, but Baumgardner responds with a lovely left that pegs Mayer back.

It will be interesting to see how the judges are scoring this one...

22:02
ROUND 7 - MAYER VS BAUMGARDNER

Mayer appears to have been cut above the eye - the flow of blood doesn't appear to be too serious, but it's something to keep an eye on.

Not a huge deal in the round, but Baumgardner looked more like the fighter from the earlier rounds, so I will edge in her favour with that one.

21:59
ROUND 6 - MAYER VS BAUMGARDNER

Baumgardner has definitely slowed here - has she burned herself out with that high-octane start?

Mayer still the big favourite and has shortened to 1/5 after that round!

I now make it all square heading into Round 7.

21:56
ROUND 5 - MAYER VS BAUMGARDNER

Mayer with more success on the front foot and her jab - that shot appears to be the key punch to this fight.

She's really starting to find her rhythm now.

21:53
ROUND 4 - MAYER VS BAUMGARDNER

Mayer responds with her best round by far - landing a couple of lovely strikes to the chin of Baumgardner as she pinned her opponent into the corner.

There was a huge left hook in there which caught Baumgardner flush on the temple, but she took it well.

21:50
ROUND 3 - MAYER VS BAUMGARDNER

Dip, uppercut, dip, uppercut - two quality moments from Baumgardner as she continues to dominate the opening exchanges.

Mayer looks a little perplexed in there - she is trying to be the aggressor but Baumgardner is so nifty with her movement and speed.

View the latest In-Play markets for this fight here.

21:47
ROUND 2 - MAYER VS BAUMGARDNER

Definitely Baumgardner's round as she uses her feet to find space to launch a handful of big shots to the jaw of Mayer.

She has acclimatised to this fight really well, and will be hugely enthused by the way the first couple of rounds have gone.

21:44
ROUND 1 - MAYER VS BAUMGARDNER

A timid opening round as the pair suss each other out.

Mayer looks to get behind that jab of hers whilst Baumgardner is looking for opportunities to launch that heavy shot of hers.

21:40
MAYER SPICES UP OUR LIVES

Quite a ring walk from the popular Mayer who struts to the ring to the tune of 'Spice Up Your Life' by her beloved Spice Girls.

A light-hearted moment, with a number of backing dancers, but this is about to get real serious!

'Big Mo' introduces the two fighters in his unique fashion, and the crowd cannot wait for this one to get underway.

For the latest odds on this fight and the main event, click here.

21:30
'SWEET CAROLINE' ECHOES AROUND THE O2

We must be approaching the two big ones... 'Sweet Caroline' pumps around the arena and everybody is up on their feet.

What a couple of fights we have in front of us.

Baumgardner may be the underdog here, but she is a world champion and word on the street is that she is coming here solely intent on knocking Mikaela Mayer out!

If you fancy her to do that, then you can get on her at a BOOSTED price of 20/1.

21:24
ATTENTIONS TURN TO MAYER VS BAUMGARDNER

Now, there is real needle to this one!

Mikaela Mayer and Alycia Baumgardner do not like each other, and this promises to be a pulsating 10 round bout.

Mayer is the bet365 favourite to unify the junior lightweight division at 4/11, with Baumgardner at a pre-fight 11/5.

Again though, we have BOOSTED prices on several selections, including the following:

BET BOOST 1 >>
Mikaela Mayer by Unanimous Decision
Method of Victory - Exact
Was 20/21 >> Now 6/5

BET BOOST 2 >>
Alycia Baumgardner by Knockout
Method of Victory - Exact
Was 16/1 >> Now 20/1

View Bet Boosts for this fight and other markets and odds here.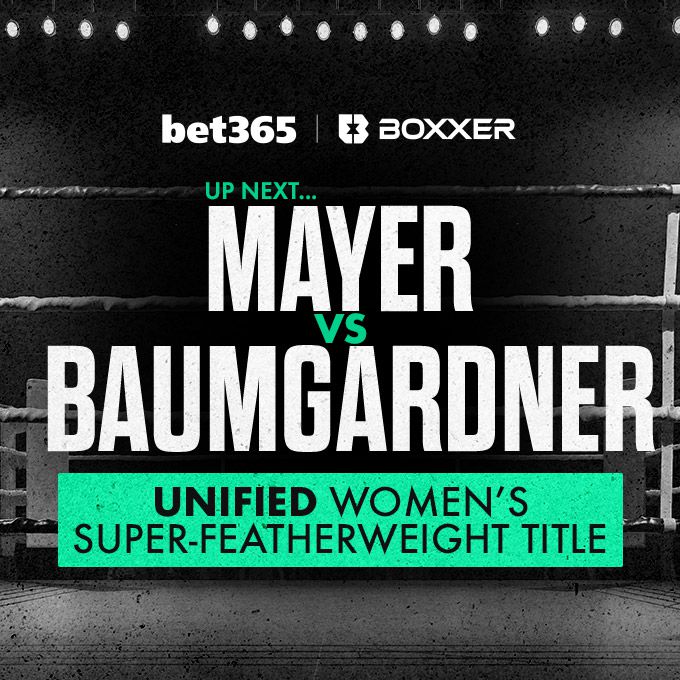 21:13
PRICE IS VICTORIOUS BY STOPPAGE

The referee has seen enough and ends the bout inside the fourth.

Slightly controversial given Belik didn't appear to be in any impending danger, but there was no way she was winning that fight - so probably the best call.

The Hungarian and her team don't look best pleased, but for Price, it is job done!

21:10
ROUND 3 - PRICE VS BELIK

Price rocks Belik in the final 20 seconds of the third with a mammoth left hook, and you feel that had she had another 30 seconds in the round, she would have got the job done there and then.

The Hungarian is being comprehensively beaten here, and her corner are doing their best to lift her spirits.

21:07
ROUND 2 - PRICE VS BELIK

Price's quality is starting to come to the fore as she takes the second round with ease.

Her hand and foot speed looks too much for Belik to handle, and whilst she has enjoyed moments of success, it is hard to see anything other than a Price win here.

21:04
ROUND 1 - PRICE VS BELIK

Belik walks into a couple of big right hooks from Price as the 2020 gold medallist takes command of the fight.

There wasn't much in the first round until the Hungarian made the mistake of stepping forward at the wrong time.

View In-Play markets for this fight and the rest of tonight's action here.

20:58
LAUREN PRICE ENTERS THE RING

Now, this promises to be a belter.

Aptly, Price enters to 'Superstar' by Love Inc - and many in the game are genuinely tipping this girl to clean up at her weight class.

She receives a rapturous reception as she dances her way, confidently, into the ring.

20:54
THE O2 IS OFFICIALLY A SELL-OUT

BOXXER have confirmed that tonight's historic event is a complete sell-out.

Over 15,000 boxing fans have packed into the O2 to witness history, and hopefully the crowning of Savannah Marshall as the middleweight queen.

The British fighter is still the narrow 1/1 underdog against Claressa Shields (4/5), but for now, it is all eyes on Lauren Price...

20:48
BET BOOSTS AVAILABLE ON PRICE VS BELIK

Coming up next, we have 2020 Olympic gold medallist Lauren Price in action against Timea Belik.

Price is the huge 1/100 favourite, but we have BOOSTED a couple of pre-fight selections for you...

BET BOOST 1 >>
Lauren Price to win in rounds 1 - 3
Round Group Betting (1)
Was 7/2 >> Now 9/2

BET BOOST 2 >>
Lauren Price to win in round 4
Round Betting
Was 9/1 >> Now 12/1

View Bet Boosts for this fight and other markets and odds here.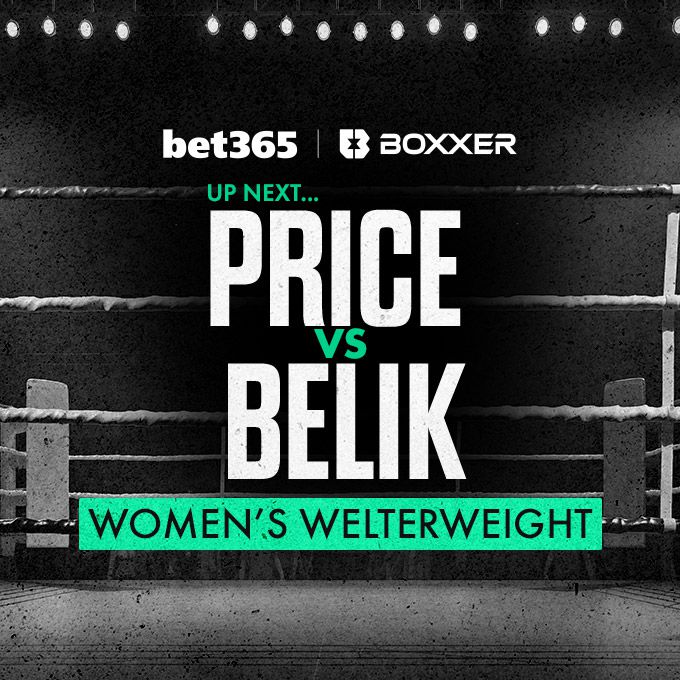 20:41
IT'S 'SWEET CAROLINE' TIME

For the first, and certainly not the last, time tonight 'Sweet Caroline' belts out of the PA system inside the O2 Arena as 'Sweet' Caroline Dubois celebrates her latest victory.

This girl is a star in the making, and the fans show their appreciation for her in-ring entertainment.

20:39
DUBOIS STOPS KOLEVA IN THE FIFTH!

Koleva's corner are incredibly animated as they urge their fighter on to the front foot.

She adheres to their calls, but is caught by a splendid left hook from Dubois - before the Brit launches a barrage of shots to the temple of Koleva, forcing the referee to call a halt to the bout.

A third stoppage victory in four, and for me, her best performance to date.

20:36
ROUND 4 - DUBOIS VS KOLEVA

Dubois lands a couple of huge lefts to the body, before slipping wide and launching a hook to Koleva's jaw.

She follows that up with a beautiful combination before flooring Koleva with a cracking right, but again, she beats the 10 count and survives to fight another round.

20:33
ROUND 3 - DUBOIS VS KOLEVA

This is a fire-fight! Both fighters are going hell for leather in the ring, but it is Dubois who is executing her work with far greater composure and quality.

Koleva can take a shot, but Dubois is sensing blood you feel. Could Round 4 bring the KO victory the home fans crave?

Click here to bet on the fight and view markets and odds for the rest of tonight's action.

20:30
ROUND 2 - DUBOIS VS KOLEVA

Dubois scores the first knockdown of the night midway through the second, just a few seconds after Koleva slips to the canvas.

Dubois is taking control here and will be looking to get the job done in the next couple of minutes. She really does pack a punch!

20:24
ROUND 1 - DUBOIS VS KOLEVA

A high-octane opening two minutes with both fighters trading heavily.

Dubois undoubtedly more slick and carries greater power, but both will feel they enjoyed success in Round 1.

20:20
IT'S TIME FOR CAROLINE DUBOIS...

Caroline Dubois has already notched up two KO victories from her three fights... are we about to see that tally improved further?

She is taking on Milena Koleva, and is priced up at 3/10 to end it within the distance and 8/1 to get the job done in Round 1 and 6/1 to finish off her opponent in Round 2.

View all markets and odds for this fight by clicking here.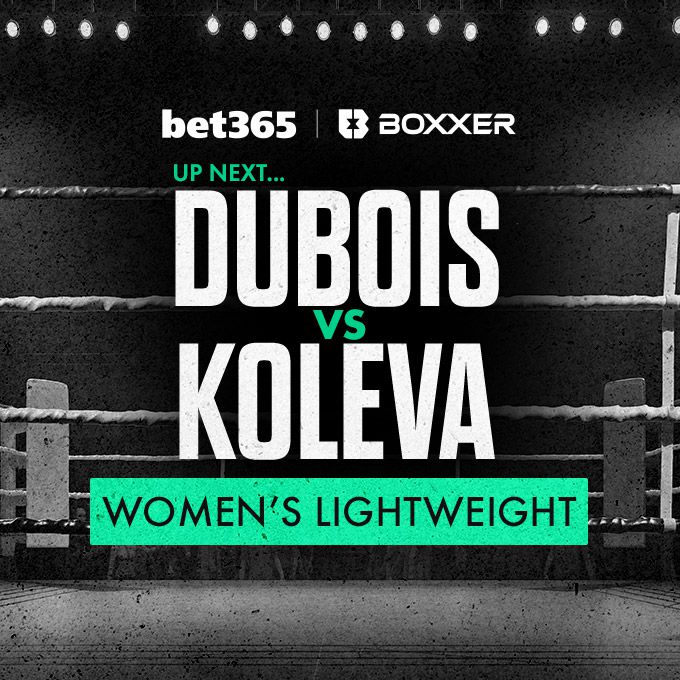 20:08
ARTINGSTALL GETS THE WIN ON POINTS

60-54 - and still undefeated, Karriss Artingstall.

An easy night's work for the Brit against a tough and dogged opponent.

She landed a number of heavy shots throughout the encounter, but the French fighter showed real hard and determination to hang in there.

20:03
ROUND 5 - ARTINGSTALL VS SAKHAROV

Sakharov takes a couple of thumping left uppercuts to remain in the fight, but she has offered very little in terms of attack.

She can take a shot, I will give her that though.

50-45 as we head into the sixth and final round.

20:00
ROUND 4 - ARTINGSTALL VS SAKHAROV

Artingstall takes her foot off the gas a little, maybe conserving energy for an explosive finale.

She still comfortably takes the round though, without causing Sakharov too many problems.

19:57
ROUND 3 - ARTINGSTALL VS SAKHAROV

A barrage of heavy blows has Sakharov up against the ropes but the French fighter somehow survives to see the fourth round.

She is taking a real battering inside the ropes, and we still have three rounds to go.

Click here to bet on the fight and view markets and odds for the rest of tonight's action.

19:54
ROUND 2 - ARTINGSTALL VS SAKHAROV

Artingstall follows up her first round dominance with an equally as commanding second.

She looks levels beyond her opponent, and was making a push for a stoppage towards the latter stages of the round.

The Team GB Olympian definitely looks like she wants to find a stoppage here.

19:51
ROUND 1 - ARTINGSTALL VS SAKHAROV

A clear 10-9 round for Artingstall!

The British fighter displaying all of the ring craft and power to pressurise her opponent.

Click here to bet on the fight and the rest of the evening's action.

19:45
ARTINGSTALL VS SAKHAROV

Here we go then, with the main card of the evening.

Marina Sakharov enters the ring, quickly followed by Karriss Artingstall, who receives a rapturous welcome from her home crowd.

She is the big favourite here and is 9/4 to end this one inside the distance and 1/3 to claim a points victory.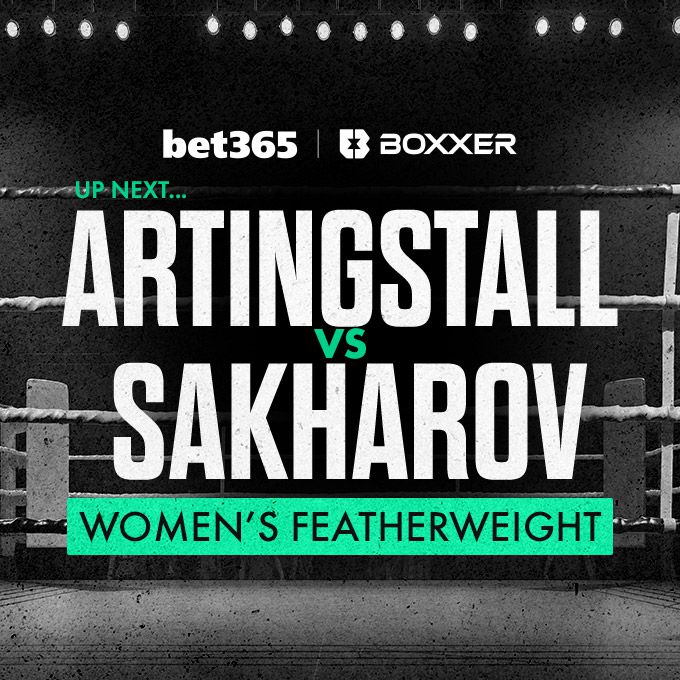 19:28
APRIL HUNTER ROUNDS OFF PRELIMS WITH EASY WIN

April Hunter rounds off the prelim action with a landslide victory over Erica Alvarez, taking a dominant 60-54 points win.

Hunter is a close friend of Savannah Marshall, who watched on from her dressing room - as she finetunes her preparations ahead of her headline showdown in a couple of hours time.

We have the main card coming up next as Karriss Artingstall gets the live televised section underway against Marina Sakharov.

The former British Olympian is the huge favourite to move to 2-0, priced at 1/100, but there could be some value found within our Round Betting markets.

19:19
OUR BOXING COMPILER GIVES HIS REASONING FOR AN 11/1 SHOT...

There hasn't been too many predictions of the headline fight ending in stalemate tonight, but bet365 boxing compiler Ian Vickers isn't ruling it out.

There is little between the two fighters ahead of their dust-up, both unbeaten, both top-level operators and both at almost even money on the betting front.

At 11/1, it isn't a bad shout... find his reasons for tipping the bout to end in draw by clicking HERE.

19:12
SAVANNAH IS IN THE BUILDING...

Huge cheers from inside the stadium as home favourite Savannah Marshall is displayed on screen arriving at the O2 Arena.

Make no mistake about it, the vast majority of the near 15,000 strong crowd will be willing her on to victory against her old foe Claressa Shields.

Let's not forget the pair have history... with Marshall inflicting the one and only defeat of her amateur career upon her back in 2012.

Will she follow that up with success within the professional ranks too?

Right now she is the ever so slight underdog, priced at 1/1, with the self-proclaimed 'GWOAT' the 4/5 favourite.

I've been speaking to a few pundits and experts within the press area here and the majority fancy the headline bout to go the distance, with Shields 6/5 to score a points success and Marshall 3/1.

19:00
A PULSATING WEEKEND OF FIGHTING ACTION...

It's not just here in London that the boxing spotlight falls upon this weekend, as Melbourne, Australia and New York City also play host to two huge fight cards.

Deontay Wilder makes his in-ring return following his back-to-back defeats at the hands of Tyson Fury in the early hours of Sunday when he takes on the dangerous Robert Helenius.

The Bronze Bomber is the big favourite, priced at 1/8 to reign supreme whilst Helenius is a more generous 5/1.

Meanwhile, Devin Haney (1/10) is back in Australia looking to retain the lightweight titles he clawed away from George Kambosos Jr (6/1) back in June, in a hugely anticipated rematch.

We have a plethora of markets available on both fights, as well as lots more, so why not check them out here.

18:47
LIVE STREAMING CARD:

Tonight's main fight card gets underway from 19:30, live on Sky Sports, but before then we have the live streaming card taking place.

Shannon Ryan has just put on a boxing masterclass to secure a points victory over Buchra El Quaissi on the back of three equally as entertaining fights.

Here is a round-up of the results so far:

Shannon Ryan beat Buchra El Quaissi via Decision
Georgia O'Connor beat Joyce van Ee via Decision
Sarah Liegmann beat Bec Connolly via Decision
Ginny Fuchs beat Gemma Ruegg via Decision

18:35
SHIELDS VS MARSHALL BET BOOSTS >>

Right, first thing first... here is a reminder that we have boosted the odds on a number of selections ahead of tonight's main event...

Fight Outcome:
Savannah Marshall by KO, TKO or Disqualification
Was 3/1 >> Now 7/2

Fight Outcome:
Claressa Shields by Decision or Technical Decision
Was 6/5 >> Now 6/4

Click here for latest markets and odds.

Odds displayed were correct at the time of writing and are subject to change.

18:30
THE NIGHT WE HAVE ALL BEEN WAITING FOR...

Good evening and a warm welcome to live coverage of this evening's historic night of boxing at London's O2 Arena.

The wait is finally over... Claressa Shields and Savannah Marshall will end their decade-long feud, with all of the marbles up for grabs in the middleweight division.

The pair top the bill of what promises to be an electric fight card, with Mikaela Mayer and fellow American Alycia Baumgardner colliding in what promises to be an equally as intriguing chief-support bout.

Before then, we have Team GB Olympians Katie Artingstall, Caroline Dubois and gold medallist Lauren Price all in action, so stay tuned for live updates from the event, including all of the latest betting odds, markets and Bet Boosts.