Shaun Brown
Updated: 25 Jan 23 11:54
Published: 25 Jan 23 10:56
Liam Smith has told bet365 that he would 'jump at the opportunity' to step inside the ring with all-time boxing great Gennadiy Golovkin after stunning Chris Eubank Jr at the weekend.
The 34-year-old showed he is still at the top of his game by wrecking the world title aspirations of Eubank Jr at Manchester's AO Arena.

Smith, who has spent his career campaigning at super welterweight, jumped up one division to meet Eubank head on and stop him in the fourth round with a blitz of punches.
Notching up such a victory in explosive style now sees Smith linked with a variety of top fighters between 154lbs and 160lbs - one of whom is Golovkin.

Despite the points defeat to bitter rival Canelo Alvarez (at super middleweight) in their trilogy bout last year, 'GGG' is still a unified middleweight champion and the main man to beat in the division.
Speaking to bet365, Smith was asked how confident he would be of defeating the future hall-of-famer, who turns 41 in April.
"Timing is everything," said Smith.
"People have questioned timing against myself, people thought they were going to get me at the perfect time.

"A lot of things got mentioned in this [Eubank] fight about timing. I think it could be a [good] time to get Golovkin.

"I'm not ever going to disrespect that man. He's been a legend; I'm not going to downplay him. Someone I've been a massive fan of over the years.
"If I come up against him, I hope and think it'd be perfect timing for me.
"It's no secret he has slowed down massively. I'm not downgrading his achievements saying that but he's not the fighter he was. As a fight I'd jump at it in a heartbeat."

View the latest boxing odds at bet365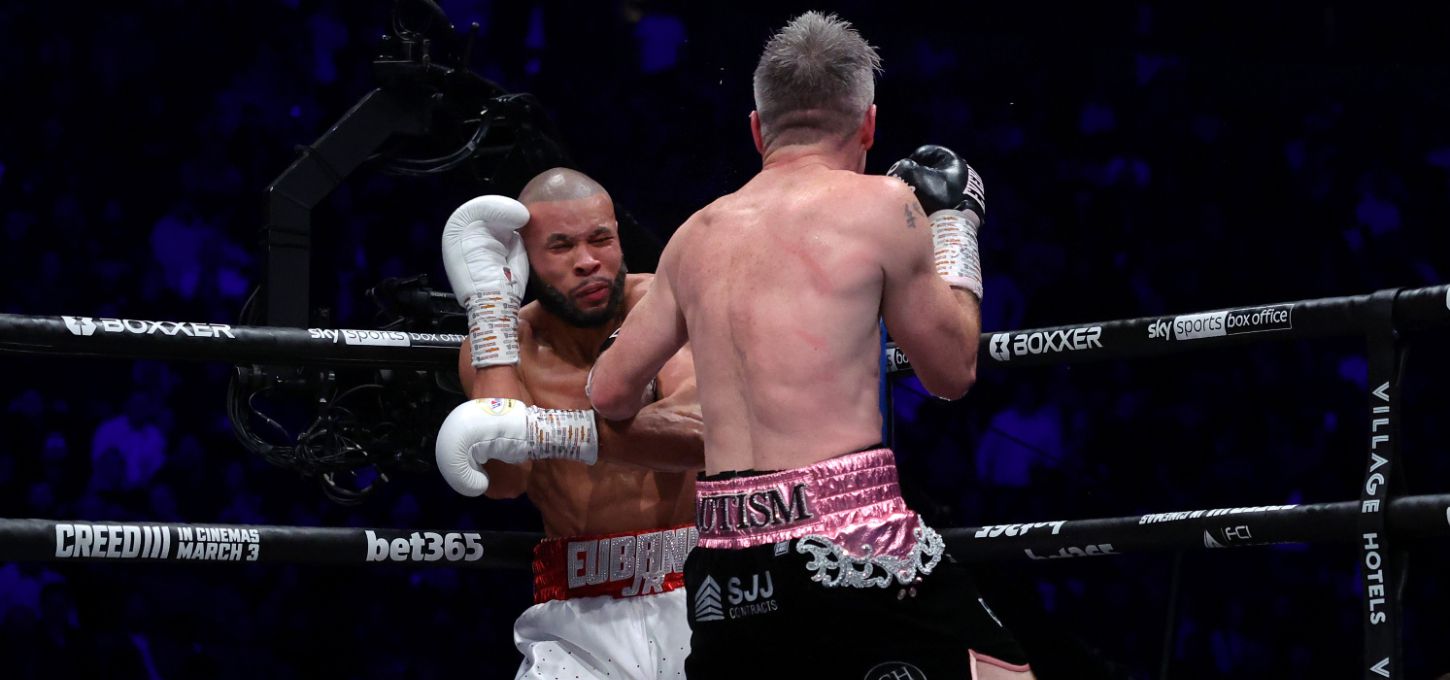 Liam Smith finishes Chris Eubank Jr in style at Manchester's AO Arena

A possible fight against Golovkin would need a suitable venue, one which could cater for the audience that it might deliver.
Smith, a lifelong Liverpool fan, has long dreamt of fighting at Anfield and taking on the Kazakh in front of potentially 50,000 Scousers is the stuff that dreams are made of.
However, could we see Smith v Eubank 2 at the iconic football ground first? Just a few hours after the loss, Eubank Jr tweeted, 'We'll get it on again soon'.
"His tweet was still the cause of being a bit concussed," Smith responded.
"I think that could be a damaging defeat to Chris, the way he lost. He's going to watch himself stumbling around the ring and not knowing where he is.

"I think it could be a damaging defeat but he's a fighter, he's got grit and his pride will want the rematch also. We'll see."
Over the next couple of weeks Smith will enjoy his 33rd career victory and decide whether he will stay at middleweight or move back down to super welterweight.

'Beefy' is in an enviable position and knows that there are more big fights to come but how long can he continue?
"For as long as I keep producing nights like this, performances like this, results like this and doing the stuff in the gym I'm meant to be doing, then I'll continue.

"I've got three brothers who are like my shoulders and elbows. They'll tell me, 'Have a think about it now Beef''.
"They're not saying that just yet and they can't when I'm producing things like that. I'll keep going!"

View the latest boxing odds at bet365