Published: 23 Aug 22 09:58
Updated: 04 Aug 23 08:19
bet365's resident boxing expert Johnny Nelson looks at the shape of the heavyweight division after Oleksandr Usyk reigned supreme over Anthony Joshua in Jeddah at the weekend.
Tyson Fury vs Oleksandr Usyk HAS to happen!
Tyson Fury is like a guy who's packed it in with a girl but keeps calling her every day seeing what she's doing.
If you're packed in then pack in and go away, and leave the rest of the division to it, but he clearly hasn't packed it in so let's ignore the boy crying wolf and take it that he is fighting – not that anyone believed it in the first place.
Tyson has until Friday to decide whether he is vacating his WBC belt, so the picture should become clearer by the end of the week.
The thing with him is, he is in the unique position of actually being bigger than the belts, and there's not many fighters who that is the case for. But, Tyson is without doubt, one of them.
If he gave up his belts and went to fight in Mandalay Bay and another fight took place for the belts between two others, then most people would still prefer to go and see Tyson Fury fight Joe Bloggs. He's bigger than the belts and he's in a great position.
I think he 'comes back', fights Oleksander Usyk and beats him – nobody else has a better chance than Tyson does against Usyk.
The easiest fights for unorthodox fighters are orthodox fighters, but Usyk fighting Fury; you'd have two unorthodox fighters, because Tyson is very unorthodox, but he has the size and the speed with it as well.
You'd expect that Fury with his size and skill would be able to get the better of Usyk, at least in my book.
Usyk is outstanding and on Saturday, as I have said, he did an outstanding job. Against people like Anthony Joshua, I just think he is always going to be able to get the better of them.
But when you come across someone whose style is very similar to your own, but he's got the weight, he's got the reach and he's got the height on you, then it's a different story.
If Tyson is to fight again, which I believe he will do against Usyk, I would have to side with him to come out on top and clean up the division.
AJ has it all to do to put himself back in title contention if he does opt to continue to chase his dream.
But what next for Anthony Joshua?
That's the million dollar question, I wouldn't say 100% yes, but I wouldn't say no because he put on a good performance at the weekend.
But then again it's the motivation or the reasoning behind it, you've got to see what his reasons are to carry on boxing, knowing he's not going to be the best in the world.
But, say Fury and Usyk get it on for undisputed and Usyk wins it, then hangs up his gloves - all of a sudden AJ can fall back in love with the dream and think: 'Maybe, just maybe, I go and beat all these guys who are now fighting. I can beat Tyson Fury, I can beat Deontay Wilder and I can become a three-time world champion.'
There are big fights out there for AJ, and there are still questions that he will want to answer…
Empathy for AJ…
It's a shame really, and I feel sorry for Anthony, because what he did in the ring on Saturday night was severely overshadowed by what happened after the fight.
A few people said he must have been concussed – he says he can't remember a lot of the things he said. He got lost in the moment, he was angry, angry at himself and about a lot of things that have piled up.
He's only human, he's getting criticised by the general public over things he's done, or things he doesn't do.
When he tried to give a speech afterwards, to make sense of it, he's basically saying: "Look I started boxing at 18, I was going to go to prison, I have no pedigree. I'm a big guy and I've done my best, look what I've achieved in that time, so give me some credit.
"Look at what I've done with this guy here (Usyk) he's been fighting since he was five years old, he's steeped in history and experience and pedigree. I held my own with him, but he's just too good."
I think that frustration alone, he's tried to get it out, but he was rambling and shouting and bawling like a child who's just lost a game of monopoly, throwing the belts and storming out the ring and then coming back again.
That was the time that his management team should've stepped in and done what they get paid to do, because I'm quite sure he regretted that.
But its human emotion, I bet there's not one person in the world who hasn't done something crazy when they get upset or angry. Unfortunately for AJ he's done it in front of millions of people, so he's going to be judged for that, but he's just being judged for being human.
Deontay Wilder return great for the blue-ribbon division…
Deontay Wilder is that pantomime villain and he's back!
He can say the king is back, the king is back! Because officially Tyson Fury isn't fighting.
He will be thinking he can be like Mike Tyson and go and rule the world again, but Tyson Fury is still hovering around saying 'I might, I might not' – like I have mentioned before.
Listen, Wilder coming back is good, it's colourful and exciting for the sport.
He's another that I thought we won't see again, because like AJ, I think he will struggle being a back-up dancer.
He still comes up with a million excuses as to why he didn't beat Fury the last three times, but I am glad he is back because he adds something a little bit different to the heavyweight division – and opens up the possibility of some great fights.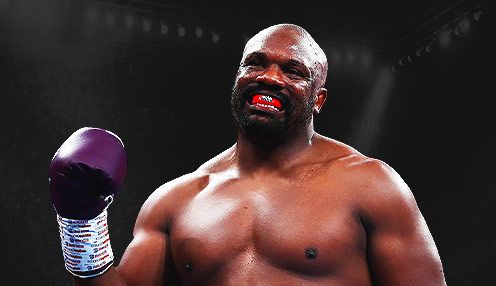 Derek Chisora is showing no signs of easing off despite his friend, Nelson's warning.
Derek Chisora to continue to chase the paydays…
Look, I love Derek Chisora, and he is going to chase the money – he is going after the big paydays.
There was an incident that people will have seen or read about recently where he was talking about fighting Wilder and I told him 'you don't want to be fighting Wilder, you'll get hit too much, too often'.
To many, he took offence to that, but he wasn't being disrespectful, and neither was I for that matter. Look, it's hard for fighters to accept that maybe their better days are behind them and they are putting themselves at risk.
I have a lot of love and respect for Derek and, as a friend, was telling him that I don't want to see him unable to tie his own shoelaces in 10 years' time, all for the sake of an extra payday.
I'm not going to blow smoke up his backside and say: 'Yeah go and fight Wilder', because I don't want to see Wilder taking his head off – which could happen in there.
But Derek is Derek, and there will be fights out there for him, and the paydays he craves – maybe against Zhilei Zhang, who was unfortunate to have been beaten by Filip Hrgovic in a real heavyweight blockbuster in Jeddah.
Date likely to be set for Dillan Whyte vs Daniel Dubois…
Dillan Whyte might be fighting Daniel Dubois on BT, that's a good fight, I like that one.
A lot of people are favouring Dubois over Whyte, but Whyte is not the kind of guy you ignore, regardless of him getting knocked out by Fury and Pulev.
If you don't knock him out he's knocking you out – end of!
Discover more from the world's favourite online betting brand
Latest sports betting and odds
Head to the bet365 YouTube channel for exclusive boxing content