Liam Williams
Updated: 09 Apr 23 23:33
Published: 30 Mar 23 08:41
Welcome to our LIVE coverage of the 87th Masters Tournament, where we'll have all the latest news, odds, updates and more.
Hole-by-hole guide to Augusta National

Where is Augusta National, can I play there and how much does it cost?

Latest odds


US Masters leaderboard
Stay up to date with the leaderboard from the US Masters, save your favourite players and track your favourite groups throughout the week here.

And we see a fist pump from Rahm who holes a six-foot par putt, knowing his rival was about to make bogey. Rahm is one swing away from the greatest walk in golf, and two swings away from a Green Jacket.
00:30 - Final leaderboard
1 - Rahm -12
T2 - Mickelson, Koepka -8
T4 - Spieth, Reed, Henley -7
T7 - Young, Hovland -6
00:25 - Jon Rahm wins the US Masters!
Koepka shaves the hole with his birdie putt, meaning he'll finish in a tie for second with - incredibly - Phil Mickelson. Nobody saw that coming at the start of the week.

Rahm meanwhile makes the most satisfying par of his life. A round of 69 sees Rahm win the US Masters by four shots. A phenomenal performance, especially considering he started the week with a double bogey.
00:05 - Rahm leads by three again
23:50 - Birdie for Koepka
A good putt from Koepka to overtake Phil Mickelson and claim second place for his own, and Rahm leaves his birdie putt short. Still, the Spaniard leads by three with two to play. Par golf will almost certainly see him claim the Green Jacket.
23:40 - Easy par for Rahm, birdie for Koepka
Forced into laying up with his second, Rahm pitches safely onto the green for a guaranteed two-putt.

Koepka's got a fairly straightforward two-putt for his birdie, but Rahm can par his way home, especially with Koepka leaving his eagle putt criminally short. After two really good rounds with the putter, it's been stone cold on him today.
23:20 - What a shot from Jon Rahm!
Both Koepka and Rahm found trouble right off the tee. Koepka managed to find the green, albeit a long way from the hole. Rahm goes one better with one of the shots of the tournament.

Hitting a low cut, he finds the green and the ball feeds back to about four feet of the hole. Sure enough, he (just about) makes the birdie putt, and Koepka three-putts for bogey.
23:05 - Birdies on 13
Koepka finally ends his birdie-free streak with a hard-fought 4 on 13. After his approach finished left of the green, he seemed to catch his chip a little thin and watched it race down towards Rae's Creek. It stopped short and he holes an impressive birdie putt.
Rahm follows him in, and leads Mickelson and Koepka by three.
22:45 - Another bogey for Brooks...
Rahm is now three clear of Koepka and two clear of Mickelson as the 12th claims another victim on Sunday. It wasn't the water this time however. Koepka went long off the tee and was too conservative trying to find the green with his second, sticking to the collar. It's a three-putt bogey and the tournament is quickly getting away from him.
22:30 - Back-to-back pars for Rahm and Koepka
The 10th was an impressive par for Koepka, who was right off the tee, right on approach, and gets up and down well, finally holing a putt. Rahm's mid-range birdie putt misses, with both making smart pars on 11.

To the 12th we go...
22:15 - Phil Mickelson the clubhouse leader
Something that felt impossible to write at the start of the day let alone the start of the tournament.

Phil Mickelson takes the clubhouse lead after Jordan Spieth makes a closing bogey and falls behind Mickelson, who makes birdie.

-8 surely can't be enough (can it?!), but Mickelson is currently 20/1 to win a fourth Masters.
22:05 - The leaders make bogey
Koepka barely touches his first putt and it runs a good eight feet by. He misses the par putt on the way past, and Rahm fails to capitalise, following in with a bogey of his own.

Spieth is now two back, Phil Mickelson is just three back, and what a final couple of hours we have in store.
22:00 - Spieth within three!
This is an incredible round from Jordan Spieth - he's -7 for the day - and having made a huge sand save on 16, he follows up with a birdie on 17. It's unlikely to be enough, but with Rahm battling to save par on 9, who knows...
21:45 - It's Rahm by two
Koepka's tee shot effectively cost him a full stroke, and Rahm's pitch from the front of the green to tap-in range sees his price fall from 2/5 to 3/10. It's Jon Rahm's to lose.
21:30 - Spieth solo third
Jordan Spieth, who's been as big as 2000/1, is just three shots back, having started the day 10 back of Koepka with eight birdies thru 15 today.

Koepka finds trouble off the tee once again, pulling his drive well left and having to punch out. Another chance for Rahm to extend his lead...
21:20 - Still Rahm by one
Koepka needs to find something. He's only given himself one look at birdie all day and is leaving himself lengthy par putts. This one's a more straightforward par, but it's a really poor putt from Rahm that stops him pulling two clear.

Koepka's last 17 holes: Par, par, par, bogey, par, par, par, par, bogey, par, par, par, par, bogey, par, bogey, par.
21:10 - Rahm outright leader
It's a bogey for Koepka, who raced his chip past the hole, but how it stayed on the top level is an absolute mystery. It looked to be flying down the slope and that could've been much worse than a 4.

Two good putts from Rahm for his par and suddenly he leads on his own.
21:00 - Double bogey for Hovland
With solid pars on 5, the leaders move to 6, which is proving particularly difficult today with the hole cut on the back right, meaning if players fall shy of the plateau they're rolling down the green, and that's what's happened to Rahm, who's got work to do for his par.

Koepka doesn't fall into that trap and goes long.

Meanwhile Hovland's chances may have gone after a double bogey on 6.

Further ahead, Phil Mickelson makes birdie on 13 and remarkably moves into a tie for 6th. For 52-year-old Mickelson, whose form has been dismal since his PGA Championship win, to potentially finish in the top 10 really would be some achievement.
20:40 - Rahm shares the lead!
Well, in the space of two holes we have a two-shot swing and two co-leaders. Koepka finds the bunker on the tough par-3 4th and fails to get up and down for par.
It also means Viktor Hovland - who was 250/1 earlier in the day - is within two of the lead.
20:25 - Birdie for Rahm!
And Rahm is now just one behind! Koepka had a birdie putt of his own, but it was lightning fast and somehow stopped a good foot short of the hole.
20:20 - Two-horse race?
It appears so. Viktor Hovland hasn't been able to continue his momentum from this afternoon and still trails by three, though we do have a Without Koepka & Rahm market - Hovland is currently the 6/4 favourite there.
20:15 - Two more pars
Rahm wasn't able to round the dogleg off the tee, missing long and right, finding the bunker with his approach and was unable to convert his birdie putt from there. Koepka found the right-hand bunker, splashing out to around six feet, but sees his birdie putt lip out.

Opportunities missed for both.
19:45 - Par-par start for Koepka and Rahm
But that doesn't begin to cover it. Rahm misses the green and leaves himself a nine-footer for par - which he makes. Koepka's drive was so far left he played his approach from the 9th fairway and had a shot to the green. He safely finds the green and two-putts to maintain his two-shot lead.

It's going to be a long night, folks...
19:35 - The leaders are out!
And there's an immediate opening for Rahm. Koepka's teed off left to the trees and Rahm will have a short iron into an access first green.
19:00 - Birdies galore on 1
Normally one of the tougher holes on the course, there have been six birdies from the 20 players to have got their rounds underway.

It's setting up for some low scoring before the par-5 second.
18:00 - Theegala and Spieth off to hot starts
Barring the odd wind gust, the course should be quite playable through the rest of the day. Though the fairways will be soft, greens should be a little more generous than players might be used to.

Jordan Spieth has made birdie on the tricky opening hole, while Sahith Theegala has birdied the first two and joins Spieth at T15 - remember, the top 12 players from this year's tournament will be automatically invited back to Augusta next year.
17:30 - Final round underway
The early starters have got their final rounds underway and are playing from two tees, albeit in groups of two rather than three.

The final pairing of Rahm and Koepka will start at 19:33 BST, with all of their shots broadcast live, though we'll be following them here throughout the evening.
16:45 - Round three concludes
And Brooks Koepka leads by two and is Evs favourite.

Jon Rahm will be hugely disappointed to have reached the 13th and played the final six holes +2. But he's only two back, and Viktor Hovland might just have made it a three-horse race at 5/1 with a remarkable back nine of 31.
16:15 - Bogey for Rahm
A poor tee shot for Rahm on 16 leaves him short sided. He finds the green with his second, but bogey was inevitable from there, and the lead is three again.
14:40 - Patrick Cantlay making moves
Despite a second bogey of the day on 17, six birdies have moved Patrick Cantlay up to a tie for third on -6, and looks set for a big improvement on his recent major finishes.
13:30 - Round three back underway
And there's a big swing at the top of the leaderboard. Brooks Koepka's drive on seven was right into trees. He misses his par putt, while Jon Rahm holes his birdie putt. The lead is cut to two.
13:15 - Tiger Woods withdraws
It won't be a surprise to anyone who saw him painfully limping around Augusta on Saturday. He was set to finish dead last, and playing 27 holes on Sunday looked impossible at the time. Tiger Woods withdraws through injury
10:00 - Play to resume at 13:30 BST
The good news is there is little rain scheduled for Sunday's play, so there should be no further delays.
The third round will be broadcast in full, though a statement last night said the final round was scheduled for 17:30 BST, with television coverage resuming at 19:00 BST, meaning you'll be able to watch the earlier featured groups, but full coverage won't start until around the final groups going out.
21:00 - Overnight leaderbord
With no more play scheduled today, here's a look at the overnight leaderboard:

1 - Koepka (-13 thru 6)
2 - Rahm (-9 thru 6)
3 - Bennett (-6 thru 6)
T4 - Cantlay (-5 thru 13)
T4 - Fitzpatrick (-5 thru 11)
T4 - Morikawa (-5 thru 7)
T4 - Hovland (-5 thru 7)

Rose, Henley, Mickelson, Niemann, Young and Day are at T8 on -4.
20:15 - Play suspended for the day
The rain looks torrential at Augusta and it's a miracle they've lasted so long. The course is now being evacuated due to potential lightning on the way.

The 7th and 12th greens are practically underwater and are totally unplayable.

Play has been suspended for the day meaning the leaders will have 12 holes to play Sunday morning before coming back out for the final round.
20:00 - Fitzpatrick making a move
The low round of the day currently belongs to Matt Fitzpatrick who's bogey-free and -3 thru 10.

He's currently T4, but that's only good enough to get you within eight of the leader...
19:30 - Koepka leads by FOUR
After taking three shots to find the green on the par-3 4th, Rahm three-putts on five for back-to-back bogeys.

Koepka is playing error-free golf at the moment and is odds-on at 4/5 to claim the Green Jacket.
19:15 - Koepka leads by three again
A bogey for Rahm on the fourth and Koepka leads by three again. Sam Bennett is +2 for the day, while Collin Morikawa gets to -7 and within three of Rahm.
19:00 - TV coverage
If you're wondering why the leaders are out on Saturday at the US Masters and we can't watch it, Augusta National has always had strict rules regarding television coverage for the sake of the patrons on site watching it in person.

The US host broadcasters don't actually pay for coverage of the tournament; Augusta National provides it for free, but with that, broadcasters must follow their rules, which involves limited live coverage, though we will be seeing Rahm and Koepka in full shortly.
18:50 - Birdies for Koepka and Rahm
That will feel good for Koepka, and Rahm will feel an opportunity has been missed. His eagle putt was just short, while Koepka left himself around six feet for birdie.

He's putted so well this week, with only five players in the field picking up more strokes on the green than Koepka, and he hardly looks like missing.
18:40 - Eagle chance for Rahm
The rain is really coming down at Augusta now. It looks more like an Open Championship than a Masters.

Brooks Koepka's approach on the second falls just short of the green into the bunker, and he'll have a tricky up and down to set up a birdie chance. Jon Rahm's approach however clears the left bunker and has an eagle putt of around 25 feet.
18:10 - Leaders on course
As is Tiger Woods who's playing from the 10th tee with Thomas Pieters and Sungjae Im and you can bet on that group here.

Jon Rahm's pulled his tee shot dead left but gets a reasonably fortunate break, and should have a decent angle into the green.
17:40 - Final groups going out
Only a handful of groups are left to start their final round, and despite the weather, it appears there's some scoring out there to be had.

Xander Schauffele is -2 thru 4 and Patrick Cantlay is -3 thru 4, but 2021 champion Hideki Matsuyama who was on the periphery of the top 10 an hour ago has got off to a bogey-double start to drop back to even par.
16:30 - Koepka, Rahm and Bennett out at 17:06
It's a tight turnaround for Rahm, but what a prospect we have in store.

One of LIV's biggest critics goes head to head with one of its biggest stars. Meanwhile, there's an amateur in the final group on Saturday in Sam Bennett who gets a front seat to it all.
16:15 - Three balls and two-tee start
In a bid to get rounds completed on schedule, players will go out from the 1st and 10th tees and in groups of three with continued rain forecast throughout the afternoon.
16:10 - Super Boost lands!
It might have been a nervy wait, but Tiger Woods makes the cut on the number and the Super Boost lands.
15:50 - Round two complete
And the rain is really coming down at Augusta. The 12th green actually looks unplayable at the moment.

But slightly later than scheduled, round two is complete and the big headline is that pre-tournament favourite Rory McIlroy has missed the cut, and the wait for the Grand Slam goes on another year. Justin Thomas also missed the cut - by one shot - after making bogeys on 15, 17 and 18.

At the other end of the leaderboard, Brooks Koepka and Jon Rahm are racing away from the chasing pack on -12 and -10, though Rahm will be kicking himself after a closing bogey.

Amateur Sam Bennett is on -8 and has the Silver Cup wrapped up as the only amateur to make the cut.

Phil Mickelson has made a move with a round of 69 leaving him on -4 for the tournament.

Special mention also goes to 1992 winner Fred Couples, who's been on the Champions Tour since 2010. At the age of 63(!) he becomes the oldest player in Masters history to make the cut.
14:45 - McIlroy to miss cut
The cut line is set to be either +2 or +3, with Tiger Woods at +2, along with Justin Thomas and Sungjae Im. Rory McIlroy however won't be playing the weekend after a hugely disappointing round of 77 featuring seven bogeys leaving him at +5.
14:35 - Rahm within one
An impressive birdie on 12 is followed by another on 15 and Rahm moves to -11, one shot behind leader Koepka.

Is anyone going to be able to make a charge on moving day? The odds suggests it's one of these two, with Rahm 11/10 favourite and Koepka 7/4.
13:30 - Koepka three clear
Play is back underway after Friday's rain delay, and a couple of birdies for Jon Rahm on 8 and 9 move him to within three of the lead, and it's beginning to look like a two-horse race.

Amateur Sam Bennett carded another remarkable round of -4 to get to -8 for the tournament with Collin Morikawa and Cameron Young two back on -6.
23:14 - A testing Saturday for the chasing pack
So, that's it for day two then, Brooks Koepka holds a three-shot overnight lead with play halted until Saturday morning.

It certainly doesn't bode well for the group of players who still have their second round to complete - especially given the temperature, rain, and, more importantly, the wind they are going to be forced to contend with.

The conditions were nigh on perfect for long parts of Friday - ideal for the likes of Koepka who took advantage to come home at -12.

But the chasing pack, including Jon Rahm, who had just gone birdie-birdie prior to the stoppage in play, are going to have to deal with strong northernly winds, which could wreck havoc across the course.

It's certainly going to make things difficult out there on Saturday morning, and it could play into the hands of Koepka, who is home and dry, looking mightily fine with that three-shot lead.

Latest US Masters Outright Winner Odds:

Brooks Koepka (-12) - 5/4
Jon Rahm (-9) - 2/1
Sam Bennett (-8) - 35/1
Collin Morikawa (-6) - 16/1
Viktor Hovland (-6) - 18/1
Jason Day (-5) - 25/1
Jordan Spieth (-5) - 22/1
Sam Burns (-5) - 35/1
Cameron Young (-5) - 20/1

View all US Masters odds and markets


Jon Rahm -
Sam Bennett -
Collin Morikawa -
Viktor Hovland -
Jason Day -
Jordan Spieth (-5) -
Sam Burns (-5) -
Cameron Young (-5) -
23:00 - Play officially suspended
There's the confirmation we've been awaiting... play suspended on day two.

22:14 - Brooks Koepka set for the Green Jacket?

21:52 - Storm takes two trees down on 17
Wow, scary stuff on 17 as two huge pine trees come crashing down just in front of the tee.

Thankfully, it's been confirmed that nobody has sustained any injuries - but that looked very frightening! It just goes to show the dangers of these storms.

The chainsaw crew are on site now doing their work - clearing the area up. Not quite sure how long this will take, but play is not scheduled to get back underway any time soon with the storm still hitting pretty hard.

21:20 - The klaxon sounds for a second time
The players are hauled off the course for a second time as the rain and wind sweeps across Augusta National.

Hopefully, it's just another brief delay to proceedings, although the signs are a tad more ominous this time.

The temperature apparently dropped a full 10 degrees in 25 seconds, which is absolutely incredible.

21:10 - Rahm's at it again - he's three off the leader
The Spaniard goes birdie-birdie to go into the turn in buoyant mood!

He sinks a brilliant left to righter from 10-foot to really put himself in the ascendency.

He's now just three shots behind the outright leader Brooks Koepka, and we've made him 7/4 to go the distance and win the US Masters.

20:57 - Rahm cards his first birdie of the day to go -8
Jon Rahm cashes in on a fantastic approach on the eighth to card his first birdie of the day and tie Sam Bennett in second place on -8.

It's been steady going for the Spaniard on day two of the US Masters after scoring a superb 65 on Thursday, but he makes his first move just before the turn to tee-up what he hopes will be a more profitable final 10 holes.

He's now 5/2 to land the Green Jacket on Sunday.

20:49 - Local boy doing good!
Russell Henley, from nearby Macon, Georgia, is on course to match Brooks Koepka and KH Lee's best-of-day 67.

He's birdied 2, 3, 8, 9 and now 15 to whisk him right up the leaderboard to -4.

View the latest US Masters odds

20:33 - Woods starts with a bang to move to +2
A perfect resumption for Tiger Woods as he rolls home his birdie attempt on 8 to put himself right on the cut line.

An idyllic tonic after shooting bogey on 7 just before the klaxon sounded out 30 minutes ago.

Will that kick the five-time winner into life?

View the latest US Masters odds

20:28 - We're back underway!
I take credit for that short delay in play as I kept everything crossed that it passed over quickly...

And so it did.

20 minutes after the klaxon sounded to halt play, the hooter sounds loudly to re-start the action.

Cue the cheers from the crowd at Augusta.

20:09 - The klaxon sounds as play is halted
Well, it's been coming, but finally the klaxon sounds and play is halted at Augusta National.

Those pesky storms!!

I suppose it gives us an opportunity to take a look at the state of play on day two of the US Masters.

Brooks Koepka (11/10) holds the clubhouse lead on -12 after following his 65 yesterday with a 67 earlier today.

It's amateur Sam Bennett - still available at 33/1 - in second, after his score of -4 moved him to -8 on the leaderboard, one shot clear of Jon Rahm (7/2) who is level-par across his first six holes of the second round.

12/1 shot Collin Morikawa and Viktor Hovland (16/1) are on -6 with a cluster of players a shot further behind including Jordan Spieth and Shane Lowry.

Green Jacket holder Phil Mickelson has made a 69 to move himself into T11, but it's not been as quite a profitable day for fellow golfing great Tiger Woods, who, at +3, could miss the projected +2 cut.

Rory McIlroy, the pre-tournament favourite, is already heading home after shooting a hugely disappointing 77, finishing at +5 - meaning his way for Augusta glory is extended for at least another 12 months.

Fingers crossed that the hold up in play isn't going to be too long - the forecast is looking more positive than it was a few hours ago anyway, so let's hope we are back underway relatively shortly.

In the meantime, why not check out all of our In-Play markets on the US Masters.

20:03 - McIlroy's hopes extinguished on the 18th
The pre-tournament favourite Rory McIlroy is heading home after a disastrous second round at Augusta.

A card of 77 to go with yesterday's 72, a level-par score that, in all honesty, flattered him.

He ends his week at +5 and will be missing the cut after bogeys at 16 and 18.

He threatened to pull himself over the line with birdies on 13 and 15, but he was loose at the finish, and it's another year of frustration for a player who was backed by many to go the distance this time around.

19:56 - A day to remember for 33/1 shot Sam Bennett

19:44 - Rahm and Hovland not making their move just yet
3/1 shot Jon Rahm and 11/1 hopeful Viktor Hovland haven't quite made the moves they may have hoped to over the first six holes.

Rahm has gone for par on all six holes, whilst Hovland is +1 for the day - Koepka's lead at the summit of the leaderboard remains well in tact.

Meanwhile, Rory McIlroy has bogeyed the 16th after birdies at 13 and 15... his US Masters is hanging in the balance.

He needs to finish birdie-birdie to guarantee himself a crack at Augusta on Saturday and Sunday.

19:18 - Projected Cut +2
The projected cut is currently +2, meaning Rory McIlroy has serious work to do to extend his stay at the US Masters.

He's currently +4, but has an opportunity on the par 5 15th to claw a shot back.

Just to revisit this one, he did indeed birdie the 15th, and is within one shot of making the projected cut...

19:15 - The latest Outright Winner odds
Brooks Koepka - 6/4
Jon Rahm - 11/4
Viktor Hovland - 10/1
Colin Morikawa - 14/1
Jordan Spieth - 14/1
Cameron Young - 18/1
Shane Lowry - 18/1
Jason Day - 22/1
Justin Thomas - 33/1

View all the latest odds

19:02 - McIlroy moving in the right direct?
Finally, some redemption for Rory McIlroy, who cards his first birdie of a torturous day to move back to +4.

He's got five holes left to build upon that and make something happen.

He's on the edge of the cut line at the minute - a couple of birdies will secure him a place in the field across Saturday and Sunday.

18:57 - Here comes the rain!
The rain has started to come down, reasonably heavily by the looks of it too.

Doesn't seem to be reason to halt play just yet, but with severe storms forecast for the remainder of the day, the likelihood of play continuing for much longer appears unlikely.

Let's hope that klaxon remains muted for a little while longer.

18:49 - Wow, Bennett birdies 14 and moves to -8
Are we witnessing history here?

Sam Bennett is showing no signs of slowing up whatsoever as he follows his birdie at 13 up with another on 14.

What a monster putt that was, from right to left - around 24/25 foot.

He's in second place outright now, and is within four shots of the leader, Brooks Koepka.

View the latest US Masters odds

18:32 - Sam Bennett birdies 13 and is T2 on -7
I mentioned that the 13th could throw an opportunity Sam Bennett's way, and so it proved, as the amateur sinks his birdie attempt to move into T2.

This is some effort indeed for a player, who was 1000/1 in the outright market ahead of the first tee-off on Thursday.

He's now 70/1!

18:27 - Jason Day's back nine anguish continues
Yet more pain for Jason Day who, after dropping two shots on the 15th, surrenders another on the par 3 16th.

He left himself a long birdie putt down the slope, but misjudged his effort - leaving a tricky par putt, which skipped by the hole.

The last 30 minutes or so has undone so much of the good work he had produced over the couple of hours previous.

What a shame.

18:23 - Amateur Sam Bennett catching the eye
I get the feeling that we will be hearing plenty more of Sam Bennett in the months and years to come as the amateur continues his sensational showing at Augusta.

After carding a superb 68 on Thursday, he's currently -2 for there day and -6 on the leaderboard - T4 with Jason Day.

He's currently taking on the par 5 13th - a hole that could well present him an opportunity of moving yet further up the leaderboard.

View the latest US Masters odds

18:11 - Jason Day cards a 7 on the par 5, 15th
Wow, how big a moment could that be in the context of the 2023 US Masters?

Brooks Koepka, safely in the clubhouse at -12, sees his lead extend to five shots as Jason Day cards a double-bogey 7 on 15.

As a consequence of that, Koepka is now as short as 6/4 to reign supreme this weekend with Day moving out to 12/1.

These par-5s are certainly there to be attacked, but if you get them wrong, then my word you leave yourself open to danger.

17:59 - Koepka takes the clubhouse lead at -12
Brooks Koepka successfully navigates holes 17 and 18 to retain his three-shot lead and comes home at -12.

It caps off another wonderful round for the American, who will be dreaming of capturing that iconic Green Jacket on Sunday.

Birdies at 2, 13 and 15, coupled with that sublime eagle at 8, have moved him into 7/4 to win the tournament.

17:53 - Woods is on the first tee
A huge ovation as 1000/1 outsider Tiger Woods takes to the first tee and leathers his ball some 300-yards down the fairway, because it jumps right and positions itself in the short rough.

He is joined in his three-ball group by Xander Schauffele and Viktor Hovland, who shot a superb 65 toy take the joint clubhouse lead overnight.

You can bet on this group here

17:40 - Rahm and Hovland readying for round two
Now, it's all been about Brooks Koepka on day two of the US Masters - but does his biggest threat come from Jon Rahm (7/2) and Viktor Hovland (11/1) who enjoyed superb opening rounds on Thursday?

The pair are due on the tee in the next 15 minutes or so, and will both be eager to get off to a quick start and begin to close the gap on Koepka, who has just saved par on 17 with a perfectly weighted six-footer.

View the latest US Masters odds

17:23 - Koepka marches on with more birdies...
Brooks Koepka is now the big 7/4 favourite to claim the US Masters title on the back of another fine round which has propelled him three shots clear.

Birdies on the two final par 5s - at 13 and 15 - have moved him clear of the pack, and he is on course for another superb score in the mid 60s.

He looks the man to beat this weekend.

16:35 - Struggles on 6
The back-right pin position on 6 so often makes fools out of the world's best players. If they don't find the plateau at the top of the green, they'll trickle anywhere between 60 and 100 feet back, often off the green with bogey awaiting.

Thursday saw 11 birdies and seven bogeys with a scoring average of 2.95; Friday has seen three birdies, six bogeys and four doubles and a scoring average of 3.32.

16:25 - McIlroy OUTSIDE the cut line
The projected cut of the top 50 players and ties is +1, and after following his bogey on 2 up with another on 3, McIlroy is currently a shot outside of it. There's a chance it moves out to +2, but it's not where McIlroy wants to be.

16:15 - Two birdies for Spieth and Morikawa
And both move to -5, five back of Koepka. It's remarkable Spieth's still in the tournament considering he found water on 11, getting up and down for bogey, doing so again on 13, carding a 7. But seven birdies yesterday and two more today keep his Masters hopes alive.

There's a long way to go, but the field will be hoping Koepka doesn't pull too far away...

15:55 - Bogey on 2 for McIlroy
You have to take advantage of the par-5s if you're going to win around Augusta, and a bogey on the second will feel like two shots dropped for McIlroy. He's now 40/1, and his race may be run before we even reach the weekend.

15:35 - Eagle for Koepka!
And he moves three clear at -10. A long drive up the eighth fairway and an approach inside 20 feet sets up eagle for Koepka, who's now 5/2 favourite for the US Masters.

Elsewhere Scottie Scheffler made bogey at the first and wasn't able to get it back at the second. He's seven back and out to 12/1.

15:10 - Jason Day within one of the lead
The Australian had a stellar record around Augusta, T2 on debut back in 2011, three more top-10s in his next eight finishes, but after two missed cuts in 2020 and 2021, Day wasn't even invited in 2022,.

He's shown a real resurgence in form in recent months, however, and may well contend at the US Masters once again.

He's made birdies on 2 and 3 to get to -7, one behind Koepka, and 7/1 to win.

14:40 - Disaster for DeChambeau
You can't help but wonder if Bryson DeChambeau still thinks Augusta National can be played as a par-67. At the time, his comments did make sense, in that he would be able to reach all the par 5s in two shots. But in the 2020 Masters, he finished -2, 18 shots behind winner Dustin Johnson. His opening round the following year was 76, eventually finishing +5. The year after was worse still, not even making the cut after posting +12.

He may well miss the cut again this year. Despite a birdie on 2, he's +4 for the day thanks to bogeys one 1, 3 and 5 and a double on 6.

14:05 - Koepka takes solo lead
A terrific up and down out of the sand on the second moved Koepka to -8, one clear of Hovland and Rahm, and it will play much tougher than yesterday with the pin tucked on the left side of the green. There were five eagles there on Thursday; there won't be today.

Koepka's done well to save his par on the third. After pitching past the green with his second, he's run his third a good 10 feet past the hole, but managed to save his par with another good putt. We have a newly solo leader at the US Masters.

13:00 - Round two is underway
A reminder that tee times have been brought forward by 30 minutes today due to weather, and here are some groups to watch:

13:18 Brooks Koepka, Danny Willett, Gary Woodland
14:06 Jason Day, Zach Johnson, Gordon Sargent*
14:48 Matthew Fitzpatrick, Collin Morikawa
15:00 Max Homa, Sam Bennett*, Scottie Scheffler
15:12 Sam Burns, Tom Kim, Rory McIlroy
15:24 Tony Finau, Tommy Fleetwood, Jordan Spieth
17:54 Viktor Hovland, Xander Schauffele, Tiger Woods
18:06 Patrick Cantlay, Kurt Kitayama, Adam Scott
18:18 Jon Rahm, Justin Thomas, Cameron Young

12:15 - To make/miss the cut odds
Our cut market has been updated after the first day's play, and while there's no doubt we'll be seeing the likes of Jon Rahm over the weekend, Tiger Woods' place on Saturday is still very much in the balance.

Anything under par should be good enough to make the cut, with +1 and maybe even +2 good enough depending on scoring today. The top 50 players and ties will see the weekend, and Woods is 11/10 to make the cut.

11:00 - Koepka rules controversy
It's no secret that the rules of golf may be the most complicated and confusing of any sport, and there was much debate on Thursday evening as to whether two players were in breach of them.

On the par-5 15th, Brooks Koepka's caddy was seen to be mouthing 'five' to Gary Woodland's caddy, seemingly indicating which club Koepka hit. As per rule 10.2a, a player must not give or ask for advice from anyone but their own caddy and is punishable by a two-stroke penalty.

Koepka told Golf Channel after his round that neither Woodland nor his caddie knew what Koepka hit as Woodland asked Koepka after they'd both played.

Augusta National released a statement, saying: "Following the completion of Brooks Koepka's round, the Committee questioned his caddie and others in the group about a possible incident on No. 15. All involved were adamant that no advice was given or requested. Consequently, the Committee determined that there was no breach of the Rules."
09:45 - Revised tee times
There were so many stories on day one - Rahm's recovery from a double bogey start to post -7, LIV's Brooks Koepka joining the leaders, Rory McIlroy's battle, Sam Bennett outplaying most of the pros, but one of the biggest stories of the week may yet be the weather.

Thunderstorms are forecast for later in the day, and while they can play in rain, any electrical activity in the area will bring the action to a screeching halt.

As such, tee times have all been brought forward half an hour to try and avoid the worst of it...
09:00 - Welcome to day two!
Welcome to Friday of the US Masters after an encapsulating opening round on Thursday.

Jon Rahm started with a shocking four-double bogey before hooking his tee shot on two. He'd birdie 2, 3 and 7 with an eagle at 8 propelling him up the leaderboard.

Viktor Hovland went on an early charge going out in 31, with Brooks Koepka steadily climbling the leaderboard, eventually joining the leaders on -7.

Rory McIlroy had to battle to get back to even par after quite a disappointing day with iron in hand.

Scottie Scheffler on the other hand was absolutely incredible tee-to-green but was unusually let down by a stone-cold putter, with only amateur Gordon Sargent losing more strokes on the green. The fact he still posted -4 despite failing to hole a putt longer than seven feet - and giving himself plenty of chances - tells you how well he played.

Read our full recap of day one here.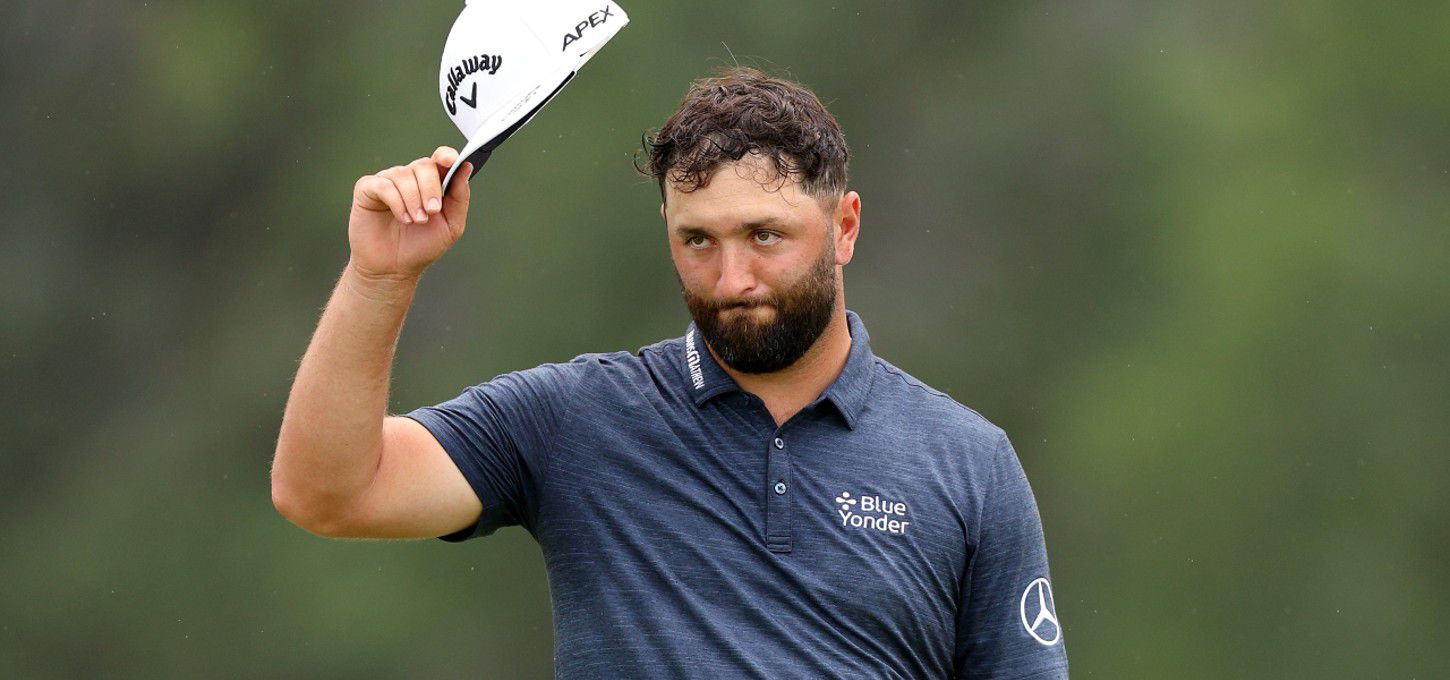 00:05 - The top of the leaderboard
-7: Hovland (F), Rahm (F), Koepka (F)
-5: Young (F), Day (F)
-4: Lowry (F), Schauffele (F), Scott (F), Woodland (F), Scheffler (F), Bennett (F), Burns (F)

There we have it then, the first round of the US Masters is complete, and three players - Viktor Hovland, Jon Rahm and Brooks Koepka - share the clubhouse lead at -7.

British favourite Rory McIlroy just about having in there thanks to a -2 back nine - which brings him home level-par and seven adrift of the three leaders.

Friday promises yet more drama, so stick with us for live betting updates as all of the action unfolds at the iconic Augusta National.

View the latest US Masters odds

23:54 - McIlroy saves par at 18 to break even
Rory McIlroy comes home level-par after saving par with a timely 12-footer on the last.

It's been a day of contrasting fortunes for McIlroy who shot five birdies throughout the round, but a scattering of bogeys and a double-bogey severely hampered him.

He will have to eradicate those errors on Saturday to put himself in contention, otherwise if not, he may even miss the cut.

Still, a positive way to end his opening round - coming in at -2 thru holes 10-18.

Fancy the Northern Irishman to turn the tide and claim the title on Sunday, then you can back him at 20/1 to do so.

23:41 Amateur Sam Bennett home and dry bogey-free!
Sam Bennett - take a bow!

He takes a handsome seven-shot lead as the leading amateur, shooting an outstanding 68 - a round that was void of any bogeys.

He found himself at -4 after a birdie and eagle on 2 and 3, and fired home pars on every hole thereafter.

He can be proud of that opening round return.

You can back him at 250/1 if you think he can produce the unimaginable...

23:22 - Talk about a contrasting couple of par-5s...
Tied with a large group at -4 and just three shots off the lead, Tom Kim goes and makes a double-bogey 7 at 15 just a matter of minutes after shooting an eagle on 13.

The youngster was looking superb at -4 thru 13, but those two lost shots have significantly set him back. It will be interesting to see how he responds to that disappointment.

Rory McIlroy, in the same group, has gone birdie-birdie to dip under par for the first time this afternoon and maintain his late charge.

He was +2 heading on top the 10th, but birdies at 10, 15 and now 16 have propelled him up the leaderboard and shortened his outright odds ever so slightly from 16/1 to 14/1.

23:18 - Scottie Scheffler bounces back like a champion
Like him or loathe him, Scottie Scheffler is made of stern stuff!

The defending US Masters champion and current PLAYERS champion shot a bogey on 11 to fall back to -2, but has wasted no time in steadying the ship with birdies at 13 and 15 to move back within three of the lead.

He's a warrior, and you have to think he will be involved in this year's competition right to the very end.

He's 5/1 to defend his title at Augusta.

23:09 - McIlroy back at level-par
Finally, Rory McIlroy gets himself out of the red.

He's cut a slightly frustrated figure around Augusta National on day one, but he's back on an upward trajectory as he moves from +2 to E thanks to a birdie at 15.

He was +2 at the turn so will be pleased with his back nine response - and with opportunities likely top present themselves thru the next three, there's every chance the now 16/1 shot comes back into the clubhouse under par.

23:06 - Bryson's Augusta frustrations continue...

22:57 - Jason Day moves into T2 as he cards a 67
Jason Day comes in to 10/1 to win the US Masters as he becomes the latest player from the field to complete a bogey-free opening round.

A score of 67 leaves him at -5, and two adrift of clubhouse leaders Viktor Hovland, Jon Rahm and Brooks Koepka, who all came in at -7.

Day will be delighted with his afternoon's work - finishing with birdies on 16 and 17, having earlier sunk sub-par putts on holes 4, 9 and 13.

He finished T2 back in 2011 - could 2023 be the year he lands the big one?

22:48 - Jordan Spieth on the wobble
While plenty of players are really picking up the pace, Jordan Spieth is plummeting down the leaderboard in spectacular fashion!

He has fallen to T27 at -1 after dropping shots at 11 (bogey) and 13 (double bogey). He needs to re-compose himself, he is all over the place at the minute.

Spieth had done so well to move top -4 after making 5 birdies and a bogey between holes 2 and 8, but he's found the going incredibly tough since the turn.

View latest US Masters odds

22:18 - Cluster of players tied at -4
We have quite a battle for fifth place right now, with seven players tied at -4.

Of that group, Shane Lowry, Xander Schauffele, Adam Scott and Gary Woodland have completed their rounds, while Jason Day is thru 16.

Sam Burns and amateur Sam Bennett are at 13.

22:00 - Koepka in three-way tie for clubhouse lead
Koepka finishes in style - birdie-birdie thru 17 and 18, and we have a three-way tie for first.

The American joins Viktor Hovland and Jon Rahm in the clubhouse on -7, with the trio oozing class and composure in attacking some very appealing pin positions on day one.

Latest Outright Winner Odds:

Jon Rahm - 10/3
Brooks Koepka - 11/2
Scottie Scheffler - 6/1
Viktor Hovland - 9/1
Jordan Spieth - 11/1
Rory McIlroy - 14/1

View the latest US Masters odds

21:49 - Koepka moves to -6 and closes in on the lead
Brooks Koepka is just one stroke off the lead at -6 after a birdie on 17.

The four-time major winner's best finish at the US Masters was second place four years ago... but could this be the year he captures the coveted Green Jacket?

We're 17/2 that he secures the title come `Sunday evening.

21:36 - Scheffler misses birdie chance
Scottie Scheffler sends his second at 10 over the flag, setting up a glorious birdie chance. But it's downhill, and he tickles the eight-footer right, and remains at -3.

Just behind, Rory McIlroy lands his approach to 12 feet, and will have his own look at birdie - which he will expect to roll in.

Elsewhere, in the very last group, Jordan Spieth pars 9 and hits the turn in 32 - sitting very pretty at -4 thru 9.

21:24 - Koepka and Burns sit two off the lead
Brooks Koepka and Sam Burns have joined Cameron Young at -5 - just two shots off the clubhouse lead.

Koepka has three holes left after birdieing the 15th, which made up for a bogey at 13. Meanwhile, the red-hot Burns notches his third birdie of the day at 8 after scoring an eagle three at the second.

View the latest US Masters odds

21:17 - McIlroy with work to do on the back nine
British hope Rory McIlroy remains at +1 as he falls just short of a 20-foot putt for birdie on 9.

Probably another wasted opportunity for the Northern Irishman who didn't quite run the ball forward enough with his approach shot.

McIlroy was 8/1 pre-tournament, but he's now out to 16/1.

We know he has the quality to get himself right back in this.

20:45 - Rahm home at -7 as he makes history
Jon Rahm birdies the 18th to tie Viktor Hovland for the lead at -7.

The Spaniard also cards the lowest score in US Masters history for a player who opened their round with a double bogey.

He's looking exceptional out there, and is priced at 11/4 to go the distance and claim a first Green Jacket.


20:39 - Trio moving into early contention
Teenager Joaquin Niemann, Sam Burns and amateur Sam Bennett have all enjoyed superb starts to their 2023 US Masters campaign - shooting -4 thru 9, 7 and 7.

The trio are all moving their way nicely up the leaderboard.

20:25 - Hovland cards a 65 to take clubhouse lead
8/1 shot Viktor Hovland's bogey-free round very nearly ended on 18.

The bunkers of the par-4 twice swallowed his ball, but he responded well - escaping the jaws of danger to save par and post a sensational 65.

It represents his best round in 13 trips to Augusta, and his first ever opening round score in the 60s at the US Masters.

Meanwhile, Tiger Woods bogeys the 18th to finish at +2. It's been an up and down day for Tiger, who hasn't quite been able to get going.

20:12 - Shane Lowry shoots his joint-best round of 68

20:07 - Rahm to within one of Hovland
Another birdie for the Spaniard, who is now the outright favourite at 7/2 and within touching distance of leader Viktor Hovland.

He's turned his afternoon around in the most remarkable fashion having shot a double bogey six on the first.

Since then, he's carded a score of -8 across 15 holes - what a response!

20:02 - Sam Burns makes US Masters history
Sam Burns started his 2023 US Masters with a birdie, eagle, birdie - becoming the only player over the last 40 years to move -4 thru three holes.

The par 5 second is really there to be attacked today - it's a missed opportunity for any player who isn't able to take advantage of it.

He's now in to 14/1 on the back of his remarkable start.

19:54 - The pack are closing on Hovland
Here we are then, approaching 20:00 and the big dogs are really starting to make moves!

Viktor Hovland was protecting a four shot lead an hour or so ago, but Xander Schauffele has birdied four of his last six to move to within two of the leader at -5, whilst Adam Scott has gone birdie-eagle across 14 and 15 to move to -5 too.

Shane Lowry also ended his first round with a birdie - moving to -4, giving him a real platform to build on tomorrow.

Latest Outright Winner Odds:

Jon Rahm - 4/1
Scottie Scheffler - 9/2
Rory McIlroy - 8/1
Viktor Hovland - 9/1
Brooks Koepka - 12/1
Xander Schauffele - 14/1
Shane Lowry - 28/1

19:43 - Perfect speed, perfect read for Tiger Woods
Tiger Woods has carded his second birdie of the day on 15 - sinking a scrumptious 30-footer.

He's now +2 for the day, but doing bits on the par 5s. He's -2 on the par 5 holes, but across the 3s and 4s, he's +4.

Still, a nice moment for him on 15 that should put a spring in his step as he moves down the final three holes.

19:38 - Win a signed PLAYERS Championship flag

19:22 - Amateur Sam Bennett off to a flyer
Sam Bennett has made a sublime birdie-eagle start after chipping in from just off the green at the par-5 second.

Defending champion Scottie Scheffler, the 9/2 outright favourite, who is also in the same group as Bennett, also eagled the second - which appears to be playing as the easiest hole on the course on day one.

View the latest US Masters odds

19:11 - Koepka solid thru eight
Four-time major champion Brooks Koepka is looking strong early doors - he's now -4 after narrowly missing an eagle putt on the par five 8th.

The LIV Golf representative has missed the cut in consecutive years at Augusta National as he's battled injuries, but looks in pristine condition during his early holes.

We've priced him up at 17/2 to hold a clubhouse lead come the end of the first round.

19:03 - Hovland on the march as he moves to -7
Another birdie for Viktor Hovland who moves FOUR shots clear!

He couldn't have dreamt of a better start to his first round as he scores a fourth birdie in six holes to establish a clear lead at the summit of the leaderboard.

Still, he remains behind Scottie Scheffler (4/1) and Jon Rahm (11/2) in the outright betting, priced up at 6s.

18:55 - The big hitters come calling...
Rory McIlroy has teed off on the first, while The PLAYERS champion Scottie Scheffler has also got his US Masters underway.

The pair will both be hoping to make positive starts in their quest for glory out in Georgia.

Scheffler is 6/1 to land the coveted trophy whilst Northern Irishman McIlroy is available at 13/2.

18:49 - Couples rolling back the years at Augusta

18:33 - Will Zalatoris out of the US Masters
Heartbreak for Will Zalatoris who has withdrawn from the US Masters because of an injury.

His 2022 campaign was cut short because of a back problem, and he will be devastated to be missing out at Augusta having secured two sixth place finishes in his two appearances at the showpiece to date.

18:30 - Leader Hovland at it again...
He's birdied 11 and has set up another on 12 - he has shown a real touch of class out there today.

If he sinks it he moves to -7 - and let's not forget, -10 was enough to secure victory in the US Masters for Scottie Scheffler last year and Hideki Matsuyama 12 months earlier.

He's currently 4/7 to secure the lowest first round score and 13/2 to win outright.

18:25 - End of Round Leader Market
We've got plenty of markets available throughout the US Masters, including an 'End of Round Leader'.

Selected 'Round 1' odds:

Viktor Hovland - 4/6
Jon Rahm - 9/1
Cameron Young - 11/1
Brooks Koepka - 12/1
Cameron Smith - 25/1
Rory McIlroy - 28/1

View the latest US Masters odds

18:14 - Rahm to complete a US Masters first?
No US Masters winner over the past 40 years has started with a double bogey - could Jon Rahm (11/2) put an end to that come Sunday evening?

He's shot birdies at 2, 3 and 8 before landing a stunning eagle on 9 to move two shots clear.

A strong back nine and his many backers will be feeling mightily fine on Thursday. He looks as though he should be kicking his back nine off with a par, having landed a nice approach shot second on the dance floor.

18:04 - Scott Stallings takes the clubhouse lead
Much of the attention has been focussed on the marquee pairings over the past hour or two, but Scott Stallings has gone quietly about his business, and takes his spot in the clubhouse at -2.

Birdies down the stretch, at 15 and 18, ensure a more than satisfactory start for the American, whose best Augusta finish was T27 11 years ago.

17:51 - Eagle for Rahm moves him to -3
A huge eagle for Jon Rahm - the outright favourite - as he continues to recover from his nightmare double bogey on 1.

The Spaniard has totally transformed his fortunes from his horror story start.

He's -5 across the last seven holes, and inexplicably is somehow into second place - he's also now in to 5/1 to win the tournament.

Sensational stuff!

17:43 - Hovland into 8s as he moves two shots clear
Viktor Hovland - take a bow. A sensational approach shot on the par 4 ninth sets up a three foot birdie putt which he, of course, sinks with ease.

He has started so well today - he is right up for this.

Hovland is in to 8/1 to win the US Masters.

17:24 - Hovland leads at -4
So, round one is well underway - let's have a look at the current state of play.

Viktor Hovland holds the early on-course lead, -4 thru 8 holes, with Shane Lowry, just about saving par on 10, to stay a shot behind on -3.

Some of the usual suspects are making early moves too - Patrick Reed, Adam Scott and Cameron Young all -2.

View the latest odds

16:36 - Woods drops back to +2
The five-time champion hasn't got things going at all today. Finding the bunker off the tee at 2, a poor approach killed any chance of a birdie, and he's made bogey at 3 and now 5.

16:33 - Cam Young at -3, five players at -2
Viktor Hovland and Xander Schauffele have been joined by a number of the game's big hitters on -2. A dropped shot from Meronk sees him fall out of a share of the lead, with Thomas and Adam Scott getting to -2, with LIV Golf's Sergio Garcia joining them.

Meanwhile, Cam Young has birdied all three of the opening holes to go one ahead. He's into 12/1 to win.

16:17 - Birdies for Rahm, Young and Thomas
Two good shots from Justin Thomas gives him a tap-in birdie on two, while Jon Rahm, who looked distraught at his hooked tee shot, actually had a great angle into the green. He ran his eagle putt a few feet by but knocks the birdie putt in on the way back and gets back to +1.

Cameron Young was brave enough to take on the back pin on the first and was rewarded with a birdie. He follows that up at the second to join the leaders on -2.

Hovland meanwhile stays at -2 with a lengthy par putt on the 4th.

16:01 - Rahm double bogeys the first
Not the most infamous moment on the first green, which will forever go to Ernie Els's nightmareish six-putt from two feet which has to be seen to be believed, but Rahm has just four-putted the first.

He ran his first a good six feet past, ran his second past again, and missed the third. An awful double bogey start for the Spaniard.

15:51 - Eagle for Hovland!
The second pair of crystal goblets to be handed out at the second hole after Viktor Hovland's massive drive around the corner led to an iron to about 25 feet. He holes the putt and joins Adrian Meronk on top of the leaderboard at -2.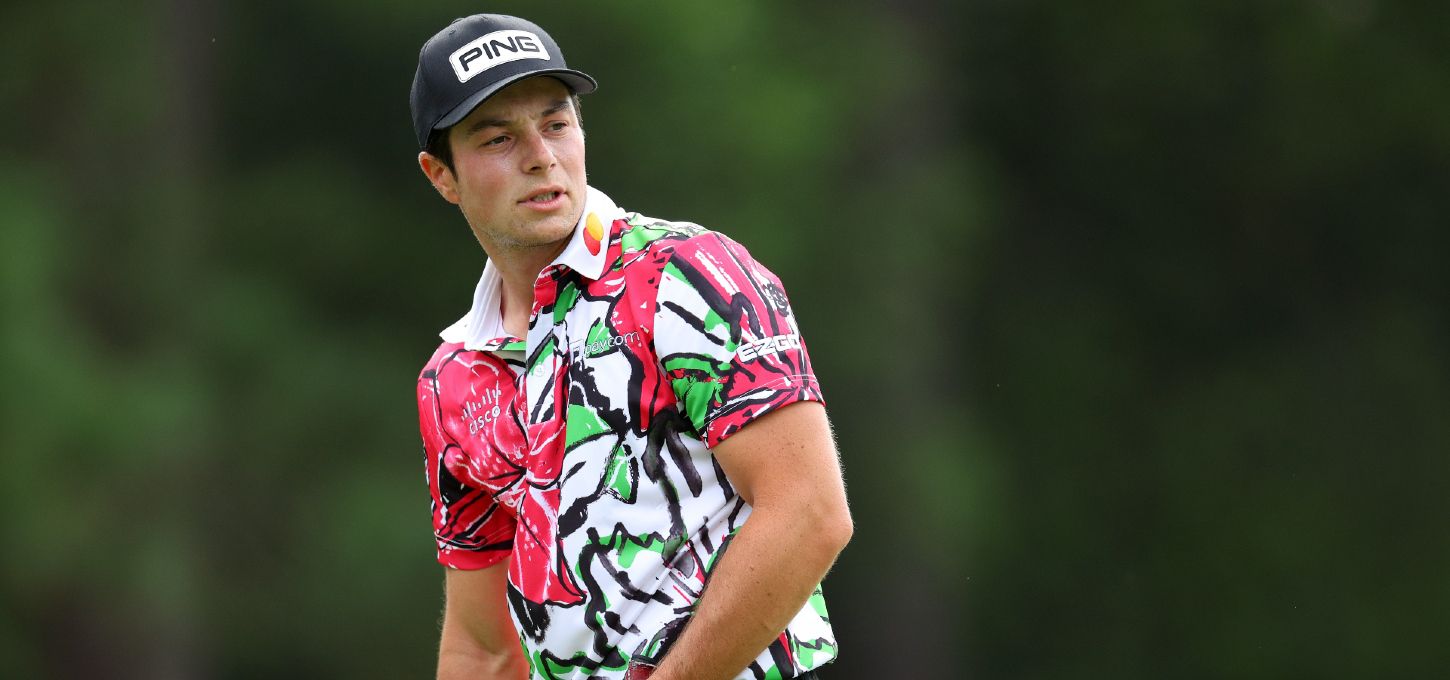 15:18 - Tiger Woods is out
The first featured group of the day of Tiger Woods, Xander Schauffele and Viktor Hovland are underway. The five-time Masters champ drives straight down the middle.

You can bet on a number of markets across the three's opening round here.

14:19 - Matthew McClean moves to -2
The Northern Irish amateur is off to a terrific start with birdies at 1 and 4 to move to -2 - currently the only player under par.

Kevin Na meanwhile props up the leaderboard on +4 after bogeys at 3, 5 and 6 and a double on the first.

Thursday tee times
With the early starters going out, here's a reminder of some of today's marquee groups:

15:18 Viktor Hovland, Xander Schauffele, Tiger Woods
15:42 Jon Rahm, Justin Thomas, Cameron Young
18:24 Matthew Fitzpatrick, Collin Morikawa, Will Zalatoris
18:36 Max Homa, Sam Bennett*, Scottie Scheffler
18:48 Sam Burns, Tom Kim, Rory McIlroy
19:00 Tony Finau, Tommy Fleetwood, Jordan Spieth

* Denotes amateur

Full tee times can be found here.

The 87th Masters Tournament is underway
Player, Nicklaus and Watson send their drives down the first fairway, and the 87th Masters Tournament officially begins.

Follow the outright odds for the tournament here.

Weather forecast
The honorary starters of Jack Nicklaus, Gary Player and Tom Watson will get us underway shortly on a dry morning at Augusta, but the forecast looks increasingly ominous as the week progresses.

The early starters should enjoy benign conditions before a spot of rain - and potential thunderstorm - affects the afternoon starters.

More rain is forecast with another thunderstorm on Friday likely to postpone play, and heavy rain is forecast on Saturday, and it's very unlikely we'll see a full day's play, before things look to dry out on Sunday.

And what does that mean for the tournament?

Well, wet conditions typically favour longer players. The ball doesn't roll out as much, which makes rough harder to find, and the short game becomes easier with greens running much slower.

Despite the weather forecast, we shouldn't see a Monday finish. As we saw in 2019 for Tiger Woods' Masters triumph, play was started earlier on Sunday and in three-balls to ensure an earlier finish to avoid the bad weather that was forecast for later in the day.

Rory McIlroy Super Boost
The 87th Masters Tournament gets underway in just a few hours and we have one more Super Boost to whet your appetite.

Every year, there's as much attention on Rory McIlroy as anyone else and whether or not he'll finally complete golf's Grand Slam. So often he's been undone by one poor round, but he'll be desperate to get off to a good start on Thursday, and we've super boosted the Northern Irishman to finish in the top 20 after the first round.

Tiger Feat
Steve Freeth said: "While it would be some achievement, even by Tiger Woods' ridiculous standards, if he were to put on the Green Jacket for a sixth time on Sunday, we're comfortable with him sitting at the top of our liabilities by some considerable way at this stage – that could change of course come the final day!
"Whether the LIV circuit is competitive enough has been a hot topic in the lead up to the first major of the year, but Brooks Koepka, who has become the first player to win twice on the controversial circuit, has been the subject of solid support to land his fifth major and sits above Corey Conners and Rory McIlroy in our outright book."
Current Top 4 Masters Liabilities
Tiger Woods
Brooks Koepka
Corey Conners
Rory McIllroy

Major plunge on Sargent to be Top Amateur
The current number one-ranked amateur in the world, Gordon Sargent has been well backed in a number of markets having received the ultra-rare special exemption to play at Augusta, and has attracted plenty of attention this week...

Steve Freeth said: "According to reports, Sargent has apparently had to convince members of staff when turning up to Augusta that he's actually playing in the US Masters this week and while his identity is not yet known across all of Augusta's workforce, he's definitely known to the punting community with the odds on him finishing Top Amateur being cut from 7/2 into 5/4 over the last few days.
"Not only that but we've also seen several hundred wagers on him at 750/1 and 400/1 to be the first ever amateur to win the Masters."

Meanwhile, 2015 and 2017 runner-up Justin Rose, who only secured his invitation thanks to his surprise win at Pebble Beach earlier in the year, is fancied to get off to a hot start.

"Rose has been supported to be a thorn in the side of bookmakers once again in the First Round Leader market having been just that four times previously. He has shortened from 50/1 into 40/1 to make it number five on Thursday and tops our First Round Leader liabilities – Corey Conners and Dustin Johnson beware!" said Freeth

Steve Palmer's US Masters tips
Steve Palmer has provided his tips for the year's first major - you can read them here.

Green Jacket 'matter of time' for McIlroy - Tiger Woods
It certainly felt a matter of time a decade ago. Rory McIlroy was the best golfer in the world and at the age of 25 had four majors and three legs of the Grand Slam under his belt. Since then, he's recorded six top-10 finishes at Augusta, but has so often been let down by one poor round.

In his pre-tournament press conference, Tiger Woods said: "He will [complete the career Grand Slam], it's just a matter of time. Rory has the talent. He has the game. He has all the tools to win here. I think Rory has shown over the years that he's learned how to play this golf course."

There's little to dispute there, but Green Jackets aren't given out in press conferences. There's no denying McIlroy's talent or suitability for the course and there'd be no more popular winner this week - but it remains elusive for the Northern Irishman.

Scottie Scheffler Super Boost
The best player in the world and the defending champion, we have a Super Boost on Scottie Scheffler finishing in the top 10 this week.

Tee times released
Tee times for the first two rounds have been released, and Tiger Woods will play in the marquee group with Viktor Hovland and Xander Schauffele on Thursday morning and Friday afternoon.

See a full list of pairings and tee times on Thursday and Friday.

Tiger Woods Super Boost
Tiger Woods merely appearing at last year's Masters Tournament was a huge achievement in itself. Expectations were tempered considering the injuries he was still recovering from, but the five-time Masters champion found himself in a tie for 10th after the first round, and made the cut easily, sitting inside the top 20 coming into the weekend.

Naturally, the final two days were more of a struggle around the physically-demanding Augusta, but a year on, Woods returns to the site of some of his most memorable moments.

Steve Freeth said: "We've already got Tiger for plenty in the outright book, so it's no surprise to see punters coming for him to make the cut at Evens!

"Recent LIV and PGA TOUR winners Brooks Koepka (66/1 into 40/1) and Corey Conners have also been nibbled at in what so far has been a really good spread of business."

Rory being backed
We'll have more from the trading floor throughout the week, but here's an early look from Steve Freeth as we approach the first major of the year:

"It was a case of Scottie Too Hottie at last year's Masters with Scheffler landing some nice bets for customers who had punted him from 40/1 into 16/1 at the time of his first tee off. He also figures prominently in our liabilities this time around at the head of the betting, although he'd join the likes of Jack Nicklaus, Nick Faldo and Tiger Woods in becoming just the fourth golfer to record back-to-back victories at Augusta – a big obstacle to overcome.
"We all know that Rory McIlroy needs the Green Jacket to complete the set and while he may have been slightly flattered by his second place finish last year, we've already seen some lumpy bets on the Northern Irishman to finally complete the Grand Slam.
"At bigger prices, we'll be keeping an eye on Min Woo Lee who finished T6 at THE PLAYERS Championship recently. He was available at 175/1 last autumn but has been supported into 60/1 to land his first major and at half of that price, Max Homa is a name that is noticeably turning up on a regular basis in our liabilities."

One week to go!
As always you'll be able to follow the build-up and action via our social channels:

Scheffler favourite
The top three in golf have been playing hot potato with the world number one spot for more than a year now, but it's hard to escape the conclusion that right now, Scheffler is slightly ahead of Rahm and McIlroy.

In his last 13 events he's finished in the top 10 a remarkable 10 times, and on two of the three occasions he didn't, he finished 11th and 12th. He's also won THE PLAYERS and the newly-elevated Phoenix Open in that time.

It shows how fickle the very top of golf is right now, though. At the start of the month, Jon Rahm was the best player in the world having won a ridiculous five of his last nine events, and had stormed to the top of the leaderboard at the Arnold Palmer Invitational before finishing 39th, and he's not quite found the golden touch since.

McIlroy hasn't quite had the spotlight on him to the same extent in that time, despite winning last year's TOUR Championship, the CJ Cup and the Dubai Desert Classic since last August. He's also got perhaps the best record of anyone at Augusta to have never slipped on the Green Jacket, and will be well backed again this year.

You can read our breakdown of the leading contenders here.

Full field
The smallest field of the four majors, Augusta National is the toughest venue for players to reach. There is one remaining place open in the US Masters field, for the winner of this week's Valero Texas Open unless they've already received an invite.

You can read the full invite list here.