Liam Williams
Updated: 23 Jul 23 18:25
Published: 17 Jul 23 09:26
Hello and welcome to our live coverage of the 151st Open Championship!
Played at Royal Liverpool for the 12th time, who will follow in the footsteps of Tiger Woods (2006) and Rory McIlroy (2014) in winning at Hoylake?

We'll have the leaderboard as well as tips, odds and updates throughout the week right here.

After his win in 2014 as well as his victory at the Scottish Open last week, McIlroy is favourite at 7/1, with the most in-form player of the year, Scottie Scheffler, second favourite at 15/2.

The Open odds and leaderboard
The Open: All you need to know

Hole-by-hole guide to Royal Liverpool

A-Z of golf's oldest major

Most memorable Sundays

What makes links golf so special?

Storylines to follow at The Open

The Open: Five biggest shocks

The Open: Odds to win
18:25 - Brian Harman is the Champion Golfer of the Year!
It was a result known for some time, but so much credit has to go to Brian Harman's performance, winning by six strokes.

In his position, it was easy to see him dropping a shot or two in his final round, where he'd have still won by three or four, but he kept his foot on the gas and played his final 13 holes three-under-par.

He spent most of Friday at -8, a score no one else was able to reach all week until Sepp Straka got there on the 70th hole of the tournament, and he still gave one back two holes later. Harman got to -10, -11, -12 and -13. Nobody was anywhere near his level, and it felt like they could've played another four rounds at Royal Liverpool without anyone getting near him.

The eagle on 18 capped a remarkable round on Friday and he hasn't really looked like losing since.

He had a nervy start on Saturday with two early bogeys before making four unanswered birdies over the rest of his round. He did the same on Sunday, then making four more birdies with one bogey.

Brian Harman, the Champion Golfer of the Year for 2023.
18:00 - Bogey at the last for Straka
And it sees him finish in a three-way tie for second with Jason Day and Tom Kim, so long as Jon Rahm doesn't make an unlikely birdie at the last.

An excellent week from the Austrian after his recent PGA TOUR win at the John Deere Classic.
17:40 - Back-to-back birdies for Harman
And the engraver can crack on. He's five clear with three to play and even a disaster on 17 and 18 should still see him win.

It's been a terrific performance all week. To be -10 after the first two rounds was a level of dominance over the field that compared with Tiger Woods' historic 2000 US Open win at Pebble Beach.

He had nervy moments on both Saturday and Sunday but recovered superbly and it's a matter of time until he's a major winner.
17:40 - Birdie at the last for Matthew Jordan
A member at Royal Liverpool from the age of seven, plenty of eyes were on Matthew Jordan as he got the 151st Open underway on Thursday.

But far from a sideshow, the local lad has played his part, making a massive birdie on the last. He currently sits T10, and remember, the top 12 players will automatically qualify for next year's Open.
17:35 - Disaster for Fleetwood
Little Eye strikes again as Fleetwood airmails the green and takes two shots to get back onto the course, though he can't get up and down from there.

We've seen it all on 17 today, from birdies to triple bogeys. Sadly, Fleetwood cards the latter and falls out of the top 10.
17:25 - McIlroy major wait continues
It's been a long time since McIlroy was in the winner's circle at a major, but for some context, here are some things to have happened since Rory McIlroy won the PGA Championship in the dark at Valhalla aged 24:
Leicester City won the Premier League
The New England Patriots came from 28-3 down to win Super Bowl LI
Michael van Gerwen won the first of three World Darts Championships
Brooks Koepka won the first of five majors
Andy Murray won his second Wimbledon title
Tyson Fury won his first world title
Anthony Joshua won his first world title
Conor McGregor won his first UFC title
17:15 - Straka favourite without Harman
Straka makes a 5 on the 15th, McIlroy and Grillo make 5s to close, Rahm makes bogey on the 14th, and the Austrian is now 21/20 favourite in the without market.

For McIlroy, it's another top-10 in a major without a win.

It's seven top-10s in his last eight majors but for love nor money he just cannot close one out.

He'll surely win another before his career is over, but when that will be is anyone's guess.

Once again all the talk before the next major will be whether he can finally close out the Grand Slam that he's threatened since 2015.
16:55 - Tom Kim up to T2
After starting bogey-bogey, Tom Kim went birdie-eagle on 4-5 and has carded three more birdies since. He's now -7 for the tournament, T2 with Sepp Straka, and 9/2 in the without Harman market.
16:30 - McIlroy up to T2
Harman may have one hand and four fingers on the Claret Jug at 1/14, but back-to-back birdies from Rory McIlroy have him in a tie for second.

McIlroy is 10/1 in the without Harman market.
16:10 - Bogey for Rahm
But Sepp Straka makes another birdie, so the lead remains five.

Still, to be going down the back nine of a major on Sunday with a five-shot lead... the stuff of dreams for Harman.
15:50 - Another birdie for Harman!
He started a little nervily yesterday and pulled it around well and he's done the same here. Two solid approaches and two excellent putts, this one from the best part of 25 feet.

Sepp Straka, Tom Kim, Jason Day, Max Homa and Emiliano Grillo have all made birdies, but Harman leads by five again and it's very hard to see him throw it away now.
15:35 - And a birdie for Harman!
Having started 4-5-4-4-6, that's a massive 2 from Harman. Sticks his tee shots inside 15 feet and makes a huge birdie putt to re-establish his four-shot lead.
15:30 - Bogeys. Bogeys everywhere
After McIlroy made bogey on 10, Harman made bogey on 5, as did Cam Young, while Viktor Hovland has made back-to-back bogeys, with Jason Day also carding a 5 on the par-4 seventh.
15:25 - Another bogey for Harman
Harman found the gorse bush off the tee on the par-5 and took a penalty drop. An excellent third left him just off the green, but a subpar pitch meant he needed to hole a 12-footer for par.

The putt misses, it's a very disappointing six, and that brings a lot of players into the mix.

Ladies and gentlemen, we have a tournament on our hands.
15:20 - Birdie for Rahm, bogey for McIlroy
On the par-5, Rahm leaves himself a long two-putt, but he converts his birdie chance. He's now solo second with Harman in a spot of bother on the same par-5.

Meanwhile McIlroy misses left after an excellent driver on the 10th, and his 17-footer for par misses. That's likely his race run for another year.
14:55 - Big par save for Harman
He was so close to the out of bounds on his second, Harman will have been relieved to see his ball still in play. His chip out of the thick rough gets him to about eight feet - an impressive effort really.

A gentle putt down the slope and Harman saves par. Massive putt.
14:50 - Another mistake from Harman
It's not that Harman's taking pins on, but that the missed are that big, and that one from 192 is about 20 yards right of where he wanted.

The goal for Harman at the start of the day must surely have been to find as many greens as possible and avoid the mistakes, but that's two mistakes and what looks like a nasty up and down to avoid a second straight bogey.
14:45 - Bogey for Harman
An unforced error from Harman, with all the damage done on the approach. It's a big miss and he leaves himself a 20-footer for par which comes up short.

The lead is five.
14:35 - Early bogeys for the challengers
Cameron Young and Viktor Hovland both bogey the first, and a lengthy par save prevents Hovland doubling the error on 2.

Harman made light work of the first but is starting at a bogey of his own on 2.
14:15 - Another birdie for McIlroy
It's not often you see a 234-yard tee shot from Rory McIlroy on a par-5, but he avoids the trouble down the right, lays up short of the green, pitches to four feet, and walks off with a third straight birdie.

McIlroy is now T3 on -6 and is 9/1 to win.
14:05 - Challenging conditions
There isn't loads of wind but it is WET at Hoylake, which presents its own challenges.

This should give you an idea: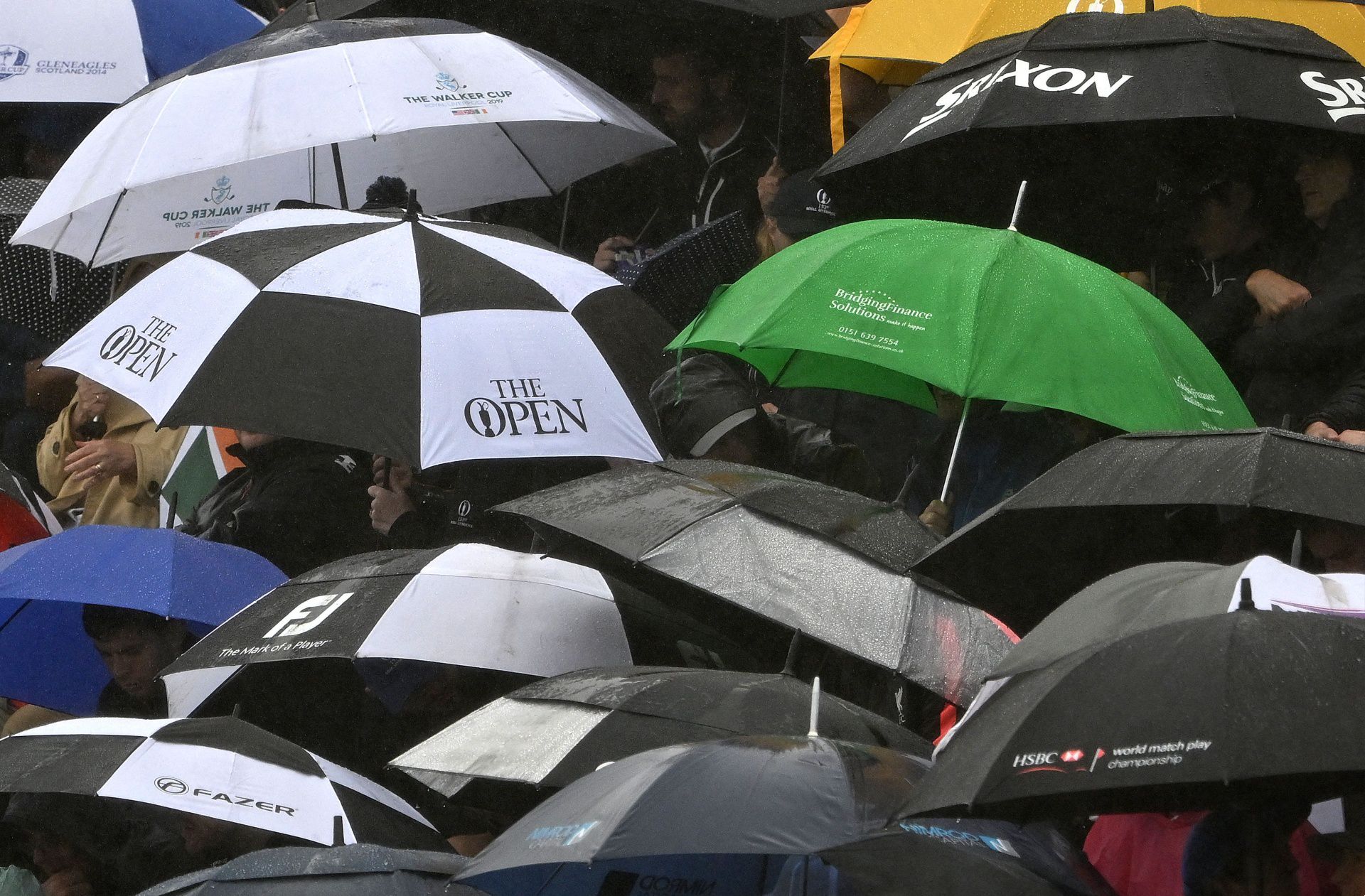 14:00 - Back-to-back birdies for McIlroy!
This one from a mere 15 feet, but McIlroy has put two in a row together and has a par-5 up next.

He's into 11/1 to win.
13:45 - McIlroy from 50 feet!
What a putt from Rory McIlroy! He had more than 200 yards on approach and left himself a 50-footer, where it's more likely he'd three-putt than make birdie, but he races one towards the hole and in.

After all the missed putts yesterday, is he about to find something on the green?
13:35 - Good par save from McIlroy
He can't afford to be giving shots back so soon, and gets up and down impressively after a wayward drive.
13:30 - Schauffele -2 thru 6
He bogeyed the first and parred the par-5 fifth, but three birdies on 2, 4 and 6 have Schauffele -2 for the day and on the brink of the top 10.
13:25 - McIlroy a long way left on 2
The fairway bunkers on the right were in play for McIlroy but his tee shot is hooked some way left of them. McIlroy takes a provisional and does the same thing, but he's found his first and appears to have a decent lie.

His approach is right over the flag but over the back of the green, and he'll have to get up and down to save par.
13:00 - McIlroy is underway
His tee shot misses left; though, like on the first day, it will be a fairly popular spot considering the pin position on 1.

He made three birdies in his first five holes yesterday and he'll need to do similar today.
11:50 - The rain has arrived
Finally some proper Open Championship weather!

Probably not what Brian Harman wanted to see. Rain will make the tricky pins more accessible and if there's enough of it, the course will start playing longer, which again suits the longer and less accurate hitters, as opposed to the shorter but more accurate hitters like Harman.
11:40 - Rounds of the day
There are plenty of scores over par so far today, though Poland's Adrian Meronk is bogey-free with three birdies in his first 14 holes.

And it probably won't surprise you to find out that, three rounds too late, Scottie Scheffler's putter has finally warmed up. He ranks sixth today in SG: Putting, though is still 154th in the field for the tournament.

He made four birdies in his first 11 holes, though he's just given one back on 14.
11:15 - Most memorable Sundays
We've seen some incredible Sundays at all majors, but especially The Open, and if Brian Harman is to blow his five-shot lead, today will certainly be another.

With 2016 winner Henrik Stenson getting his final round underway, why not have a read of the most memorable final days in Open Championship history?

The Open: Most memorable Sundays
10:00 - Ryder Cup implications
The majors really have thrown a spanner in the works regarding the Ryder Cup for the United States. At the start of the year it looked like their all-star team of 2021 would be even better in 2023.

But the likes of Justin Thomas, Collin Morikawa, Max Homa, Sam Burns and Tony Finau have all struggled for form in recent months while Will Zalatoris is injured for the season.

On top of that, while his form has been good this season, Wyndham Clark was nowhere near the conversation six months ago when he wasn't ranked in the world's top 100 and didn't even qualify for the Masters.

Similarly, Brian Harman wasn't in contention, but a major win today propels him up the standings and likely sends him to Rome.

Ryder Cup: Teams, standings, dates, format and odds
09:35 - Without Brian Harman
In another universe, we're looking at a potential all-timer of a Sunday, with 21 players within five shots of leader Cameron Young, including Jordan Spieth, Rory McIlroy, Viktor Hovland, Jason Day, Tommy Fleetwood and Jon Rahm.

As it happens, Brian Harman leads by half a track and has one hand on the Jug already.

But we do have a betting market without Harman, where Rahm is 5/2 favourite with Young 3/1.
09:25 - History with Harman
Twelve players in the last 40 years have held a lead of five strokes or better going into the final round of a major.

Five of them were at The Open, and all of them went on to win. Except one...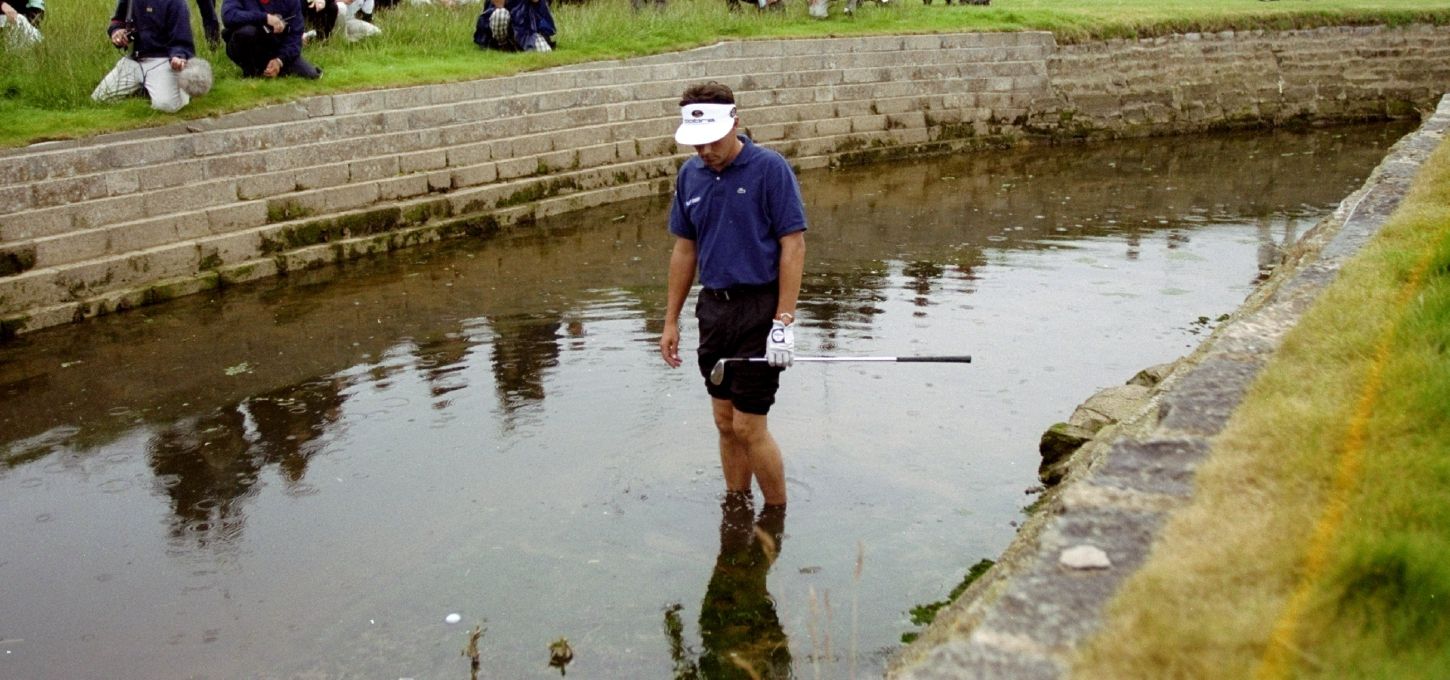 09:05 - Eagle for DeChambeau!
That might not be the last eagle we see at the fourth today if the wind can play its part.

Playing 366 yards, DeChambeau has driven the green - that had the group ahead still on it, so he might not have thought he could reach - and holed his 25-foot putt for eagle.
09:00 - Sunday tee times
Everyone's out a little earlier with the leaders starting at 14:15 as opposed to yesterday's 15:30.

Here are some selected tee times from today's final round:
| | |
| --- | --- |
| 11:45 | Tyrrell Hatton, Corey Conners |
| 12:00 | Patrick Reed, Cameron Smith |
| 12:10 | Xander Schauffele, Patrick Cantlay |
| 12:20 | Min Woo Lee, Rickie Fowler |
| 12:30 | Jordan Spieth, Max Homa |
| 12:50 | Matt Fitzpatrick, Sungjae Im |
| 13:00 | Rory McIlroy, Emiliano Grillo, |
| 13:10 | Nicolai Hojgaard, Matthew Jordan |
| 13:25 | Thomas Detry, Tom Kim |
| 13:35 | Alex Fitzpatrick, Shubhankar Sharma |
| 13:45 | Sepp Straka, Tommy Fleetwood |
| 13:55 | Jason Day, Antoine Rozner |
| 14:05 | Jon Rahm, Viktor Hovland |
| 14:15 | Brian Harman, Cameron Young |
08:45 - Welcome to the final round!
The early starters have got their final rounds underway and no one's under par so far, with eight of the 12 golfers on course at the moment over par in the opening few holes.

Pin positions look challenging, which probably plays into Brian Harman's hands, even if the expected rain throughout the day doesn't.

The likes of Cam Young, Jon Rahm and Viktor Hovland may need to fire at them, while Harman can look to find the middle of all these greens and par his way around.

No guarantees he'll be able to do that of course...
19:45 - Day three recap
He led by five at the start of the day and he leads by five at the end of it.
But it's not Tommy Fleetwood looking to hunt Brian Harman down. The local favourite shot a disappointing even par (no player in the top 40 shot over par on Saturday) and at -5 might have too much to do.
Cameron Young's -5 saw him overtake Jon Rahm to occupy solo second meaning he'll go out in the final group on Sunday, while Jon Rahm's outrageious 63 saw him leap up the leaderboard and just about work his way into contention.
A strong round from Viktor Hovland of 66 left him at -5 for the tournament, but unless Harman comes back to the field, he's one of a number playing for second.
It was a very scoreable day at Royal Liverpool, with plenty of scores in the 60s posted, and while Rory McIlroy was one, his 69 was much worse than it should've been. He had countless looks at birdie and made just three all day – all coming in the first five holes.
Finishing on -3, it looks like another good major finish for McIlroy, but another major escaping his grasp.
Will Sunday be a procession or do we have some drama in store? Join us tomorrow to find out!
19:40 - Fifth straight par to finish for Harman
Harman got to -12 and slammed the brakes on playing routine golf on the way home. And if he does the same tomorrow he's sure to be named Champion Golfer of the Year.

After a wayward drive it takes three more shots to find the green, but an excellent up and down maintains his five-shot overnight cushion and he's 1/2 to win.
19:25 - Long par-5 to finish
Considering the conditions, it's been a shame to see an extra 15 yards tacked onto the final par-5, especially considering all the internal OOB to navigate.

Even Rory McIlroy, whose drive wasn't the best in fairness, had 311 yards coming into the green and it's meant there have been no eagles on the last today. With more rain coming tomorrow, here's hoping the tee gets pushed right up to give players a chance of getting there in two.
19:10 - Another routine par for Harman
Find the fairway, find the middle of the green, two-putt for par.

It's an enviable position for Harman to be in, just parring your way around in calm conditions at an Open.

We're approaching historic territory for Harman, although he's some way to go to match Henry Cotton's 10-shot 54-hole lead set in 1934.

But for those asking if it's a foregone conclusion, remember Greg Norman had a six-shot lead at the Masters in 1996 overturned, and Jean van de Velde had a five-shot lead (and eventual winner Paul Lawrie was 10 back going into Sunday). The Frenchman was three clear going up the last before losing in a play-off.

And Harman is still 1/2, so still plenty of golf to be played.
19:00 - Easy par for Harman
It takes three blows, but Harman finds the middle of the green on 15 and two-putts for par.

And easier said than done, but if Harman can play to hit the middle of the final 21 greens, he'll be named Champion Golfer of the Year in around 24 hours.
18:35 - Cam Young solo second in the clubhouse
He's developing quite the reputation for bringing his A-game to majors. Prior to this year's PGA, Cameron Young's last four major finishes were T3 at the PGA, MC at the US Open and second at The Open before T7 at this year's Masters.

His driving and ball striking have been terrific this week; he leads the field in SG: Approach and is second for SG: Off the tee. Had he holed a few putts this week, we could be looking at a challenge to Harman.

He gets up and down excellently at the last to card a sixth birdie of the day to post a 66 and overtake Jon Rahm in solo second.
18:25 - Disappointing day for McIlroy
It's -2 for the day and -3 for the week, but that's a big chance gone begging once again for McIlroy. Over the first five holes he didn't face a birdie putt longer than 11 feet, and it looked like it might be his day.

Brian Harman may well run away with The Open from here, but McIlroy will be ruing his putting today.

Here are McIlroy's birdie chances:

10ft
10ft
5ft
11ft
1ft
23ft
13ft
17ft
23ft
8ft
11ft
11ft

He converted just three.
18:20 - And another birdie for Harman!
He's now 8/15 to win The Open with a six-shot lead and there's nothing anyone can do about it. Really solid golf from the American.

The early jitters are long behind him as he rolls a 20-footer in for back-to-back birdies.
18:10 - Another birdie for Harman
And he may well have a hand on the Claret Jug.

Just about finding the fairway off the tee, he sticks his approach inside six feet and it's another birdie.

Harman is now odds-on at 10/13.
18:00 - Frustrations for McIlroy, Fleetwood and Spieth
There's still time for Fleetwood to turn things around, but seeing scores of -4, -5, not to mention Jon Rahm's -8, the combined +1 from the trio of McIlroy, Fleetwood and Spieth is hugely disappointing.

McIlroy started with three birdies in five holes, Spieth was -1 thru 4 going onto a par 5, and Fleetwood is +1 thru his last nine. A low score was needed - and available - today to put real pressure on Harman and it's passed them all by.
17:45 - Bogey for Fleetwood
Well, that's the run of pars broken for Fleetwood. A poor second shot sees him in the greenside bunker and he can't get up and down.

Just like that, Harman's lead is four and Fleetwood is five back.

Credit to Harman, after a shaky start, he's not made any mistakes in the last six holes and has copped two birdies as a result. If he can keep out of trouble for the rest of the round - with some generous pins and no wind - he can hold a handsome 54-hole lead.
17:30 - Birdie for Harman
Big moment for the leader who sticks a terrific tee shot to four feet for birdie. That's the shot of the day so far from Harman, meanwhile Fleetwood has made seven consecutive pars and may need to put his foot on the gas sooner rather than later.
17:10 - Viktor Hovland in the clubhouse on -5
All in all, a solid round of golf from the Norwegian who holes a lengthy birdie putt on 18 to shoot -5 for the day to get to -5 for the week.

At 14/1, Hovland's not out of it just yet.
17:00 - Bogey for McIlroy
And that early momentum from three birdies in his first five holes has quickly stalled. Six straight pars - where he's never really looked like making a birdie - have been followed by an untidy bogey on 12.

No one yet knows for certain what they'll need to finish on today to have a chance on Sunday, but anything worse than -5 may be too much to ask.
16:40 - Harman restores three-shot lead
Again, not the best approach to the par-5 green, but a fantastic lag putt presents a tap-in birdie, while Fleetwood is unable to convert his birdie chance.

The lead is three again, but there's a host of top players on the charge...
16:25 - Tommy Fleetwood favourite
How about that? Two bogeys in four holes for Harman and his lead is reduced to two and Tommy Fleetwood is favourite without having to do a whole lot.

There haven't been bad breaks for Harman, just a handful of poor shots and the lead is eroding.
16:20 - Harman struggles continue
He's not found himself in any challenging spots off the tee, but his approach shots are all over the place. Two missed long now, with one missed short and right, Harman's average proximity to the hole is 54 feet. You won't be making many birdies from there.

A misjudgement on the fourth - when he just needed to find the middle of the green - sees him fly over the back again with a tough up and down.
16:00 - New leaderboard
-9 Harman
-6 Rahm, Fleetwood
-4 McIlroy, Young, Day, Straka
-3 A Fitzpatrick, Hovland, N Hojgaard, Spieth, Sharma

It's heating up out there...
15:55 - Birdie for Fleetwood
He'd have snapped your hand off for a two-shot swing in the first two holes and that's what's happened. Harman leaves his birdie putt short, Fleetwood rolls his in.

He joins Rahm on -6, and Harman's lead looks much less unassailable already.

5/2 - Harman
10/3 - Fleetwood
5/1 - McIlroy
15:45 - Bogey start for Harman
First test of the day for the leader. After a perfect tee shot, Harman's flown off the back on approach. It's not the toughest up and down he's left himself, but not what you want on your first hole with a five-shot lead that's been cut to four before you've even gone out.

He's a little heavy-handed with the pitch and leaves a 12-footer coming back for par and his 26-hole bogey-free streak comes to an end.

Who'd have thought four hours ago we'd be saying that Jon Rahm was just three shots back?
15:30 - Rory's coming...
That's now three birdies in his first five holes, with a look at eagle going by on the par-5 fifth. It's a tap-in birdie for McIlroy, and he's up to -4.
15:30 - The leader is underway
No signs of nerves in that drive, splitting the fairway.

The first day we saw countless drives left of the fairway, giving themselves better angles into the green, but with the left pin, no one's making that mistake today. Harman and Fleetwood right down the middle.
15:30 - Another birdie for Rahm!
What a round from Jon Rahm. Leaving himself a 10-footer for an eighth birdie of the day - and a seventh in his final 10 holes - Rahm duly obliges.

He's now four off the lead and currently occupies solo second. If there was anything that might make Harman a little twitchy as he gets his third round underway, seeing Rahm charging up the leaderboard might be it.

Rahm's now 13/2 to win.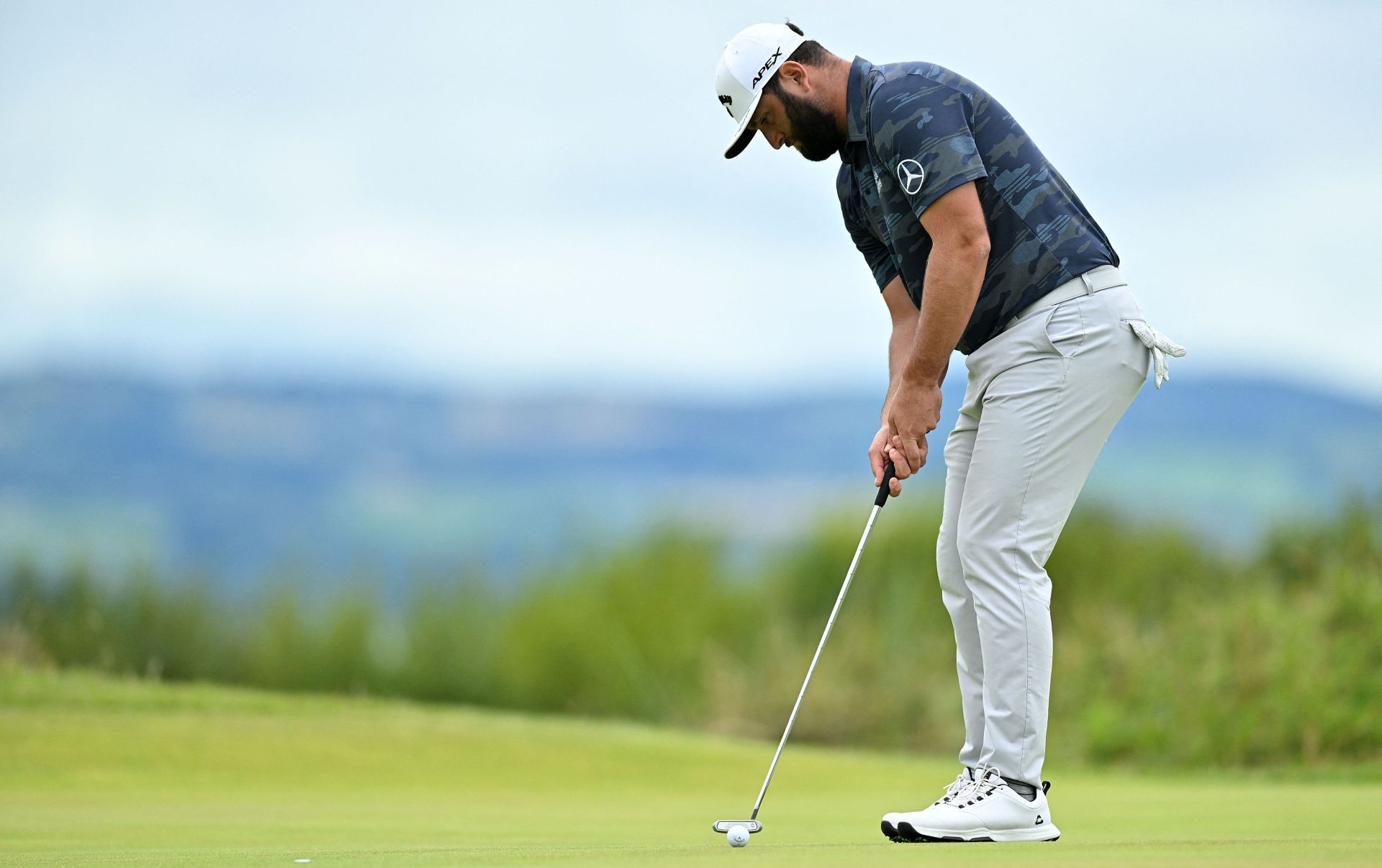 15:15 - Nicolai Hojgaard -4 thru 7
The young Norwegian is doing his Ryder Cup chances no harm here.

He's up to T2 at -5, and while he's in better nick than twin Rasmus, he's also got a win at Marco Simone Golf Club to his name...
15:00 - Another birdie for McIlroy
If the last couple of hours are anything to go back, we could be in for a fantastic afternoon of golf.

From 187 yards, McIlroy's stuck his approach on the third to inside five feet. That's two birdies for the day - not to mention a missed chance from inside 10 feet on the second.

He's now 5/1 second favourite for The Open.
14:55 - Seven birdies for Rahm!
This has been an incredible round of golf from the Spaniard, who looked dead and buried throughout all of Thursday and Friday.

His birdies today have been from:

10ft
22ft
14ft
4ft
3ft
8ft
33ft

He's -7 for the day and -5 for the tournament, T2 and 8/1.
14:40 - Rory McIlroy birdies the first
Perfect start for McIlroy, and having seen some of the scores out there, he's got to be aiming for something around the mid-60s. Not just to try and catch Harman, but based on what we've seen so far today, there'll be plenty of players under par this evening.

Matt Fitzpatrick closes strongly to card a 67 with four birdies and a bogey in his final five holes.

But the round of the day currently belongs to Jon Rahm. He's now -6 and he might not be finished yet.
14:05 - Rahm -5 for the day!
It's four straight birdies for Rahm. The birdies are out there. Yes, he's still seven back of Harman, but he's now up to a tie for fourth and 16/1 to win.

Also a word for Alex Fitzpatrick, currently beating brother Matt - US Open champion; US Amateur champion; Ryder Cup player - by a shot thanks to his -3 front nine.
13:50 - Rahm -4 for the day
And suddenly he's on the fringes of contention, now T7 at -2 for the week.

Birdies from 10 feet, 20 feet, 15 feet and now four feet have propelled him up the leaderboard, and conditions are looking increasingly benign out there.

We don't know what the winning score will be, but if Harman does blow up, anything under par will start looking pretty good.

Rahm's now 22/1 to win The Open.
13:20 - Cameron Smith -3 for the day
Remember Smith needed a birdie on the 18th yesterday to make the cut, and stiffed his approach to one foot to make eagle.

He's now -3 for the day and gets himself under par for the tournament.
12:55 - Round of the day from Fowler
Rickie Fowler reached the clubhouse in 67 to get to -1 for the week. A terrific bogey-free round.

There are other scores out there, though. Xander Schauffele is -4 thru 11 to get to -2 and inside the top 10 and Patrick Cantlay is -4 thru 17.
12:40 - Latest odds
With a five-shot lead from Tommy Fleetwood, a six-shot lead from Sepp Straka and a seven-shot lead from the rest, it's very much Brian Harman's to lose.

Par golf for the next two days will certainly see him close to a first major, but that's easier said than done, and he's still odds-against at 6/4.
12:20 - Schauffele -3 at the turn
Scores are there to be had at the moment, though Xander Schauffele is holing out brilliantly at the moment. A birdie from 40 feet on the first has been followed up by two more from 60 and 45 feet to reach the turn -3.

He's -1 for the tournament.
12:15 - Another birdie for Fowler
This has been a really smart round of golf from Rickie Fowler.

Much was expected of the in-form American, having performed so well at Royal Liverpool in 2014, and while his first two rounds were underwhelming, he's -4 for the day to get under par for the tournament and on the fringes of the top 10.
11:40 - Cantlay and Fowler -3
Good starts from the Americans, with Patrick Cantlay curently bogey-free thru 12 with Rickie Fowler the same thru 13. Both men have jumped up to the top 30.

Meanwhile things are going from bad to worst for Scottie Scheffler, who's carded five bogeys and two birdies and is currently dead last. A week to forget for the world number one.
09:50 - Two early birdies for Fowler
And he's jumped 32 places up the leaderboard. After a lengthy par save on the first, Rickie Fowler has birdied 2 and 4 with the par-5 fifth next with a chance to get back to even par for the tournament.
09:30 - Early bogey for Scheffler
He won't be lifting the Claret Jug come Sunday evening, but you wonder how much his ridiculous streak of top-12 finishes means to him. Apart from his seven consecutive top-fives, he's not finished worse than 12th in 19 consecutive events. And while that streak included wins at THE PLAYERS and the Phoenix Open, he's set to finish the year without a major.

His bogey came at the par-4 second, which has had the tee pushed back to its Thursday position, and while the longer hitters could carry the fairway bunkers yesterday (Rory McIlroy's approach was 93 yards; Brian Harman's was 180 yards), they'll all be leaving themselves irons in.
09:10 - Saturday conditions
There's rain at Hoylake this morning with a bit of a breeze, so not ideal for the early starters looking to make a charge up the leaderboard.

The wind looks to die down in the afternoon which further benefits the late starters, though a wet course will better suit longer hitters like Rory McIlroy as opposed to Brian Harman, whose 100th in the field for driving distance this week.
08:50 - Welcome to round three!
There are a number of big names going out early having sneaked inside the cut line last night with the leaders going out at 15:30.

Selected pairings for the third round are below.
| | |
| --- | --- |
| 9:05 | Adam Scott, Scottie Scheffler |
| 9:15 | Brooks Koepka, Patrick Cantlay |
| 10:20 | Bryson DeChambeau, Xander Schauffele |
| 10:30 | Cameron Smith, Matt Fitzpatrick |
| 11:15 | Brandon Robinson Thompson, Tyrrell Hatton |
| 11:25 | Jon Rahm, Sungjae Im |
| 13:10 | Hideki Matsuyama, Viktor Hovland |
| 14:25 | Max Homa, Rory McIlroy |
| 14:45 | Cam Young, Jordan Spieth |
| 15:30 | Tommy Fleetwood, Brian Harman |
20:30 - Day two recap
It's been another gripping day at Royal Liverpool, but it belongs exclusively to one man: Brian Harman.
He's been in good form in recent weeks and had a top-10 at last year's Open, but what we've seen today has been sublime.
With four birdies, no bogeys and an eagle on the last he's lapped the field and leads by six after 36 holes – matching Tiger Woods's effort from 2000 at Pebble Beach when he won the US Open by 15.
It's been a hugely disappointing day for Scottie Scheffler, who ended up making the cut on the number after getting up and down out of a bunker to make birdie on 18, but six bogeys isn't how he saw his day panning out.
So too Viktor Hovland who got himself to -3 early before making five bogeys in his closing 12 holes saw him fall back to even par.

Jordan Spieth got to -3 thru 6 on his round today but gave all three shots back on his inward nine to card a round of 71 that leaves him eight back.
Rory McIlroy carded a one-under-par round of 70, despite making a 6, and though he's hoping for a collapse from Harman, he's not out of the championship just yet.
Jon Rahm spent most of the afternoon with the face of a man who'd received some very bad news, and despite seeing a number of short putts lip out, he went round -1 to make the weekend.
Somehow he's going into the weekend on the same score as Tyrrell Hatton, who was T10 on -2 going up the 18th. But taking five off the tee, Hatton carded a 9 to drop right back to +2.
20:25 - Eagle for Smith!
All credit to the reigning Champion Golfer of the Year; he needed a birdie on the 18th to make the weekend and went one better.

From 232 yards in the fairway he's stiffed his approach to 18 inches for a tap-in eagle.
20:15 - Leaderboard
It's a strange leaderboard at the moment. Shubhankar Sharma (276th in the OWGR) and Adrian Otaegui (95th) are T7, while Matthew Southgate (285th), Thriston Lawrence (80th), Guido Migliozzi (224th), Matthew Jordan (329th) and Michael Stewart (868th) are one shot further back.

Tommy Fleetwood is best placed five back of the leader (4/1) with Rory McIlroy nine back (10/1), and both will need some help from Harman (11/8) if they're to lift the Claret Jug on Sunday.
20:10 - Scheffler makes the cut!
By the skin of his teeth!

Finding a greenside bunker, Scheffler smashes his shot into the face on the way up, the ball carries out and runs off the slope towards the hole. He was actually close to an eagle, but he'll be delighted with his birdie that will see him play the weekend, and he's only five shots off the top 10.

Fleetwood took the aerial route over the greenside bunkers on 18 but just caught a downslope and saw his ball race off the green behind another bunker.

A nightmarish up and down from there but Fleetwood plays it well and saves par to remain within five of Brian Harman.
19:45 - Big names missing the cut
Dustin Johnson, Justin Thomas, Russell Henley, Sam Burns, Justin Rose, Tony Finau, Shane Lowry, Collin Morikawa, Scottie Scheffler and last year's champion Cameron Smith are all outside the cut line at the moment.

Patrick Cantlay sneaked back in with a birdie on 17, while Fowler can't afford any mistakes on his final three holes.
19:40 - Chance for Scheffler goes begging
Scheffler burned a lot of edges on Thursday. The issue is he was doing it from 40 feet and four feet. He's just stuck one inside eight feet on 17 and it got nowhere near the hole.

Not what you need when one outside the cut line.

Scheffler needs birdie on the last to play the weekend.
19:30 - Scheffler is outside the cut line!
This has been a remarkable round of golf from Scottie Scheffler and for all the wrong reasons.

For his second round, he's ranked 137th in putting and 92nd in SG: Approach. Since the third hole he's found just two fairways and he's missed eight out of 16 greens.

He's +5 for the day and +4 for the tournament. Remember, you'll need to be +3 to be playing the weekend.

It's been a dismal day for the world number one.
19:10 - Back-to-back birdies for Fleetwood!
Just what the leaderboard needed. A 20-footer at the 14th with a tap-in birdie on the par-5 15th and Fleetwood's within four. Still a way back but that'll give Harman something to think about.

Sepp Straka after four straight birdies gave one back immediately but closed with two more birdies. An incredible run of six birdies in his final seven holes to get to -4.
18:55 - Little Eye strikes
It's a total disaster for Matt Fitzpatrick who was bogey-free today.

Overshooting the 17th green, Fitzpatrick takes an excursion to Hoylake beach. It takes him three shots to get out of the rubbish, only to find himself in one of the pot bunkers, but a brilliant recovery shot means it's 'only' a triple for Fitzpatrick, who's gone from T12 to one inside the cut line.

A cruel game.
18:40 - Clark makes double
They're dropping like flies at the moment. If Brian Harman's watching this he must be rubbing his hands with glee.

Scheffler makes another bogey and he's now on the cut line. One more and he's not playing the weekend.

Spieth, Straka, Scheffler, Koepka, Fleetwood and now Clark all dropping shots, and with no disrespect to those on the leaderboard, in Adrian Otaegui, Emiliano Grillo, Shubhankar Sharma and Laurie Canter, there isn't all that much to fear for Harman.
18:35 - Scheffler back to +2
Well who saw this coming? Well placed at -1 coming into today, Scheffler opened with a bogey, missing from five feet, and has since missed from six and seven feet. He's given himself next to no birdie opportunities, and the outstanding ball-striking we've seen all year has deserted him.

He's now scrambling to save par at 14 and there's no guarantee he even makes the cut...
18:30 - Straka and Young get to -3
It's been tough at Hoylake today but Cameron Young's enjoying himself, now -4 for the day thru 11 with no bogeys on the card. He's now -3 for the week and up to T3.

Meanwhile Sepp Straka's just carded four consecutive birdies. On the back of his John Deere Classic win a couple of weeks ago, the Austrian is also T3 on -3.
18:25 - Bogey for Spieth
Not a good time for the challengers at the moment. Jordan Spieth's 365-yard drive trickled into a bunker, then he fails to get up and down from off the green. What should probably have been a birdie turns into a bogey.

He's starting to leak having been -5 at the turn, dropping back to -2 now.

Spieth's out to 18/1, with Rory McIlroy - nine shots back - third favourite at 12/1.
18:15 - Bogey for Fleetwood
A disappointing three-putt for Fleetwood, and despite still being solo second, the lead of Harman is six once again.

Harman's the only man in the clubhouse not to card a bogey today, but one of the rounds of the day belongs to 2016 champion Henrik Stenson, who's -3 and bogey-free as he heads up the last. He's -1 for the tournament.
17:50 - Another bogey for Scheffler
That putter, not for the first time this season, is stone cold. He's losing 1.29 strokes to the field on the greens and ranks 116th this week in putting.

Unless he can quickly find something on the putting surface, his major wait will continue into 2024.
17:30 - Birdie from Fleetwood!
From a different postcode!

Just 11 birdies at 10 today, and from 60 feet, Fleetwood rolls one in and he's at -5 and solo second.
17:25 - Current top 10
Again, ignoring Brian Harman who may well ruin The Open for everyone, the top 10 is shaping up quite nicely.

Tommy Fleetwood, Jordan Spieth, Jason Day, Brooks Koepka, Hideki Matsuyama and Wyndham Clark all in there, with Rory McIlroy, Max Homa and Max Fitzpatrick a shot back.

If Harman does come back to the field, we're in for a fascinating weekend.
17:10 - Back-to-back bogeys for Spieth
And Brian Harman's lead is SIX. There's lots of golf to be played, but to give you an idea of how well he's played so far, Tiger Woods during his record-breaking US Open win at Pebble Beach in 2000 led by six after 36 holes, setting the 36-hole major record.

When Jordan Spieth broke Masters records back in 2015, he held a five-shot 36-hole lead.

Speaking of Spieth, he made bogey at 10, and while the 11th is playing very tough today, he was lucky to escape with bogey, holing a five-footer.

Harman is now 13/8 to win The Open.
16:45 - Fitzpatrick gets under par
For the first time in the tournament.

The Englishman told people not to back him this week, citing his lack of form and his mediocre record on the links, and having seen all four corners of Merseyside during his round yesterday, he managed to carve out a 72.

From +3 heading up the 15th, he's gone out in 33 today to get to -1 for the first time this week.
16:20 - Rounds of the day
75 golfers have finished theirs rounds today; only eight have shot sub-70 rounds to give you an idea of how good Brian Harman's 65 was earlier - three better than the next best.

It's looking like -2/-3 will be a good round today, and Harman's -6 has given him real separation from the field.
15:30 - Jordan Spieth making moves
Birdies on 2 and 5 get Jordan Spieth to -4 for the tournament - one back of Tommy Fleetwood (we'll ignore Brian Harman's -10 for now...).

He's now 9/1 third favourite.
15:20 - Meltdown for Hatton on 18
We really are seeing everything on 18 this week, and in news that will surprise no one, Tyrrell Hatton seems to be a little frustrated with himself. We've seen some ridiculous tantrums from Hatton over the years, but he could be forgiven for throwing his bag in the Irish Sea after that.

Having worked so hard to crack the top 10, his first tee shot was out of bounds right, as was his second. He then pulled his third tee shot (fifth overall) a mile left with his approach finding the thick rough left of the green. An impressive pitch finds the green, but he two-putts from there for a quadruple-bogey 9 that sees him slip to +2. Disaster.
15:10 - Birdie finish for McIlroy
Just three birdies for McIlroy, and he'll be frustrated to have made a 6 on 15, but Rory will go to the weekend even par, and ignoring Harman at the top of the leaderboard, he's only four back of second.

On the same hole, Rahm sees another short one lip out. He finishes -1 for the day which should be enough to see him play the weekend, but a hugely annoying day for the Spaniard.
15:05 - Bogey start for Scheffler
You simply can't afford to keep missing putts inside five feet if you want to win a major, and that's how Scheffler gets his third round underway.

Scheffler's strokes gained: tee to green for the Masters, PGA Championship and US Open have been 3rd, 1st and 2nd and unless he finds something on the greens, he's going to go the year without a major.

He's played ridiculously well all season, and despite winning THE PLAYERS, it will feel like at least two majors he should've won that have gone begging.

But as they say, drive for show...
14:55 - Late starters are out
Tommy Fleetwood and Scottie Scheffler - who's not out of it by the way - get their second rounds underway, with the likes of Wyndham Clark and Xander Schauffele following soon after.

It's hard to know what score anyone's chasing at the moment. If Brian Harman plays par golf he might have enough to lift the Claret Jug. If you assume he comes back to the field, then -5 could look a very good score by the end of the day.
14:45 - Hatton back to -2
He's really had to grind it out over the last couple of days. Going out in +1, Hatton's responded with three unanswered birdies with a couple of holes to play to get to -2 for the day and -2 for the tournament. There won't be too many disappointed to head into the weekend at -2.
14:30 - Wind picking up
If you're wondering if there are any other Harman-esque scores of 65 out there... he's 1/66 to finish as second round leader. It may be he's leading by three or four going into the weekend.

The wind's picking up a bit now, and if you want an example of how much, Jordan Spieth's tee shot on the first went 275 yards. His tee shot on the second, the exact opposite direction, went 355 yards.

He made birdie from there, and you sense there'll be a lot of birdies and bogeys being exchanged throughout the afternoon.
14:10 - Eagle for Harman!
What a round of golf from Brian Harman. The 18th looks to be playing easier than yesterday, straight downwind, but Harman has sent a 346-yard drive down the middle of the fairway and stuck his 244-yard approach to 15 feet.

Eagle for Harman to sign in for a 65. -10 for the tournament, and anyone will do well to be within two of that by the end of the day.
13:40 - Links golf: Not for everyone
Twelve majors - and two Claret Jugs between them - and there's no guarantee any will be playing the weekend...
13:00 - Back-to-back bogeys for Rahm
And once again Rahm is looking over his shoulder. The cut should still be +3 or +4 and with par-5s to come he shouldn't have too much to worry about, but he won't be lifting the Claret Jug this week.

The wheels have come off for Viktor Hovland somewhat, too. After a strong start, the Norwegian has bogeyed three holes in five, then making a lengthy par save at the 13th, and he's back to even par for the tournament.

Meanwhile it's 11 consecutive pars for Brian Harman who remains four-under for the day.

He's still got the par-5 18th to come, and while most players avoided trouble and some were able to make birdie, we saw every score from 6 up to 10 yesterday...
12:05 - Par for Harman!
If he does go on to win The Open, which he's now 7/2 to do, this will be the shot that did it.

Absolutely incredible from Harman who had to play backwards out of a fairway bunker and then came up a long way short of the green with his third. He was looking at bogey at least if not double, but instead holes out to incredibly save par.

Big moment for Brian Harman.
11:55 - Min Woo Lee gets to -3
Bogeys on 3 and 4 left Min Woo Lee looking over his shoulder at the cut line, but an eagle on 5 get him back on track, and birdies on 9, 12 and 16 jump him up the leaderboard to T6.

Meanwhile Brian Harman is starting at bogey at best after finding a fairway bunker on 12 and that's going to bring a whole host of players back into the mix.
11:40 - Back-to-back birdies for Rahm
Better from the Spaniard who follows his birdie on the par-5 fifth with another on the par-3 sixth to get back to +2.

He's now into 40/1 to win.
10:50 - Two straight bogeys for Morikawa
And the 2021 Champion Golfer of the Year is battling to make the cut.

He's now +4 for the tournament, and it's looking like the cut will either be +3 or +4, so work to do for Morikawa to avoid missing consecutive cuts at The Open.
10:20 - Four in a row for Harman
This is some front nine from the American. A reminder that he did finish sixth in last year's Open, but only had one major top-10 prior to that in his entire career.

McIlroy has teed off on the second, where we saw a lot of players lay up short of the bunkers yesterday. The tee has been moved up a bit today so Rory has flown over them.

His 355-yard drive leaves him a 93-yard wedge to the green. Meanwhile Harman, one of the shortest hitters on the PGA TOUR, drove 261 to leave 180 (where he'd make birdie).
10:15 - Birdie start for McIlroy and Hovland
Jon Rahm from miles away has raced his birdie putt to the hole, and a fraction left or right and it's a long par putt coming back; a touch less speed and it's an unlikely birdie. As it is, it bounces out of the hole and he taps in for par.

McIlroy started well to leave himself a putt from 10 feet. He converts his birdie putt to get to -1.

Viktor Hovland's also underway and birdied the first to get to -2.

Elsewhere Tom Kim's birdied four out of five holes on the front nine to get himself under par for the week.
10:00 - Harman moves two clear
What a start from Brian Harman! Three birdies in a row, two from 25 feet and another from 20 feet and he's two clear of Fleetwood and Lamprecht on -7 with a par-5 up next.

He's now favourite for The Open at 5/1.
09:30 - Brian Harman joins the leaders
A birdie at the second sees Brian Harman move to -5.

It's been a nightmare start for overnight co-leader Emiliano Grillo, however, having made double at the second and following that with another bogey at 3 to drop to -2.
08:30 - Round two tee times
Most of today's big hitters won't go out until the afternoon, though Rory McIlroy and Jon Rahm get their second rounds underway just before 10am.

Rahm has a job to do just to play the weekend. He'll start on +3, and if he's not under par today he'll be sweating.

McIlroy meanwhile made an enormous par save on the last after taking two blows to get out of a greenside bunker to remain at even par, and he'll be looking to make something of a charge today.
| | |
| --- | --- |
| 9:47 | Viktor Hovland, Tony Finau, Justin Thomas |
| 9:58 | Rory McIlroy, Jon Rahm, Justin Rose |
| 10:09 | Collin Morikawa, Max Homa, Tyrrell Hatton |
| 14:04 | Jordan Spieth, Matt Fitzpatrick, Jason Day |
| 14:37 | Patrick Cantlay, Brooks Koepka, Hideki Matsuyama |
| 14:48 | Scottie Scheffler, Tommy Fleetwood, Adam Scott |
| 14:59 | Cameron Smith, Xander Schauffele, Wyndham Clark |
| 15:10 | Shane Lowry, Rickie Fowler, Robert MacIntyre |
Welcome to round two!
Conditions looking tougher today - and for the the rest of the week. There's more rain in the air and a stiffening breeze throughout the day, though any rain should subside by the afternoon, softening greens and fairways up. A good day to be a long hitter in theory.
20:30 - Day one recap
It's been a terrific start to the 151st Open Championship.
Conditions have been benign, but some tricky pin positions looked to have kept scoring modest.
Tommy Fleetwood, however, didn't get the memo. E thru six, the home favourite carded five birdies across the rest of his round to move up the leaderboard to take a share of top spot overnight.
But the round of the day might belong to amateur Christo Lamprecht. The South African played some tremendous golf to make seven birdies and grab a share of the lead with Fleetwood and Emiliano Grillo.
Max Homa looked to put his recent form, especially in majors, behind him, going -3 thru 11 and it could've been even better.
Jordan Spieth also put together an excellent round but will have been deeply frustrated to have finished with a six after finding the fairway bunker on 18.
Scottie Scheffler's tee-to-green play remains top notch with his putter again letting him down. It's now a question of what will give first, his driver or his putter, because you can't keep playing well enough to be top five in every tournament and not winning. But despite his woes on the green, he posted -1 to keep himself in contention going into Friday.
Viktor Hovland showed tremendous battling qualities to finish under par, having grinded his way through the front nine, going out one-over-par, eventually finishing one-under.
You sense Rory McIlroy won't be delighted with his opening round, finishing even par; while it could've been worse, it should've been better, and he'll go to sleep tonight having visions of that missed two-footer for par, but he made up for it with a 40-foot bomb on 14, and a massive par save after taking two shots to get out of the bunker on 18.
Jon Rahm came into the week perhaps more under the radar than any of the world's top players and did look out of sorts. He was extremely fortunate to save par on 4, and didn't give himself anywhere near enough looks at birdie, all while carding four bogeys to finish +3

Thanks for joining us - we'll be back Friday morning with updates from round two.
20:20 - A day to forget for Jon Rahm
The 18th claims another victim as Jon Rahm finds the greenside bunker on 18, forcing him to play away from the hole, unable to then get up and down, finishing with a bogey, and an opening round of 74 will leave him battling just to play the weekend.

McIlroy found himself in a similar position, trying to play away only to leave himself in the bunker with his first attempt but a brilliant second found him with a makeable par putt to finish even par.

It's been a fascinating hole to watch today and will be all week. There has been every score made from eagle to quintuple bogey, with Justin Thomas making 9 to end a really disappointing day.
19:15 - Back-to-back birdies for McIlroy
And the first was an absolute bomb from more than 40 feet. He followed that up with a routine birdie at the par-5 15th to get back to level par and he's suddenly within five of the leaders.

Meanwhile Viktor Hovland has found something from somewhere with three birdies in six holes. His first seven holes saw him fighting just to save par before eventually dropping a shot at the eighth and doing the same at the 10th, but he's right back in the tournament at -1.
18:45 - Emiliano Grillo joins the leaders
Emiliano Grillo was +2 thru 3 but was -6 over his last 10 holes, including a 50-footer for a 4 on the last. A terrific round of golf sees the Argentine create a three-way tie at the top at the end of his round.
18:30 - Rahm +1, McIlroy +2,
Back-to-back birdies have got Viktor Hovland back to even par, but Jon Rahm's yet to find his best stuff, and McIlroy's in danger of playing his way out of the tournament.

The 2014 champion isn't really making much happen, with just one birdie look from inside 10 feet, and that was his three-footer on the second. He's yet to make amends for that sloppy bogey on 8, though he does still have a couple of par-5s to come.
17:15 - Big names struggling
We've seen the likes of Jordan Spieth and Tommy Fleetwood post good scores today, with Scottie Scheffler, Xander Schauffele, Patrick Cantlay, Brooks Koepka and Hideki Matsuyama also under par, but conditions have been tougher in the afternoon with the wind picking up.

It's not quite a gale, but certainly a stiffening breeze, and Justin Thomas (+3), Jon Rahm (+1), Viktor Hovland (+1) and Rory McIlroy (+1) are all grinding at the moment, with McIlroy inexplicably missing his par putt from around two feet.
17:00 - Tyrrell Hatton -2 thru 6
Like compatriot Tommy Fleetwood, Tyrrell Hatton is well fancied by many to go well this week. Not just a links specialist, having won the Alfred Dunhill Links Championship twice, but Hatton loves a course where you need to grind scores out, with his only PGA TOUR win coming at Bay Hill with a score of -4.

He birdies two of the first five to crack the top 10.
16:15 - Collin Morikawa +1 thru 4
And he's yet to make par.

The 2021 Champion Golfer of the Year made a mess of the first and made an even bigger mess of the third, but a birdie on 2 and a birdie from off the green on 4 have limited the damage.
16:10 - Bunker trouble for Finau
One of the hallmarks of any Open Championship is pot bunkers which can so often be an immediate one-shot penalty, as Tony Finau has just discovered.

Up against the face of a greenside bunker of the par-5 fifth, Finau got his putter out and jabbed the ball back into the middle of the bunker. To his credit, he splashed out well from there, but gives back his birdie from the first to card a frustrating 6.
15:30 - The 18th rears its head...
There was much talk about the 18th coming into this week, particularly the internal out of bounds up the right fairway. A contentious move for some as you can still be on the course and yet suffer what is effectively a two-stroke penalty.

But it encourages more accuracy off the tee - and on approach - and nullifies distance somewhat, despite already being the best part of 600 yards.

There have been a few birdies there, but no eagles, and lots of infuriating dropped shots. No one likes dropping shots on par-5s or on the final hole of the day and plenty have done both.

Jordan Spieth and Thomas Pieters were going well on -2 before carding 6s, while the likes of Adam Scott and Sam Burns have carded 7s, and Rickie Fowler and Ryan Fox made 8s.

It promises to make for an encapsulating close on Sunday...
15:20 - McIlroy, Rahm and Hovland on the course
It's a rather routine par for McIlroy to start, while playing partner Jon Rahm is made to work a little harder for his 4, and Norway's Viktor Hovland kicks off with a pair of 4s.

Conditions looked quite scoreable, but it's looking like anything under par will be a good opening round, with only Tommy Fleetwood and amateur Christo Lamprecht getting to -5.
14:50 - Fleetwood posts a 66
An interesting closing hole from Fleetwood, whose tee shot found trouble left. His recovery shot back across the fairway was about six feet from finding the internal out-of-bounds. He does well to find the green in three and two-putts for a par to head to the clubhouse as co-leader at -5.

Meanwhile, Scottie Scheffler, who's played with Fleetwood today, must wonder how he's finished four behind the Englishman. He saw long birdie putts and short par putts burn edges, and he cards a one-under 70.
14:10 - Fleetwood co-leader!
What's been a steady round of golf has turned into an exhibition from Tommy Fleetwood. That's now birdies at 14, 15 and 16, the most recent from nearly 30 feet, and he's still got the par-5 18th to come.

He's into 11/2 and is the new favourite for The Open.
14:10 - Afternoon groups
A reminder of some of the key groupings for Thursday afternoon, with Rory McIlroy and Jon Rahm going out at 14:59.
| | |
| --- | --- |
| 14:48 | Viktor Hovland, Tony Finau, Justin Thomas |
| 14:59 | Rory McIlroy, Jon Rahm, Justin Rose |
| 15:10 | Collin Morikawa, Max Homa, Tyrrell Hatton |
14:00 - Fleetwood make birdie; Spieth makes bogey
It's a nightmare end to a superb round from Jordan Spieth, who found the fairway bunker on the 18th and had to play out sideways. He played to carry the green on approach and take the bunkers out of play, but a slight misjudgement left a tricky up and down, and it's a bogey 6 to finish.

Meanwhile Tommy Fleetwood plays the textbook par-5 on 15 to move to -4 and within one of the lead and he's into 8/1.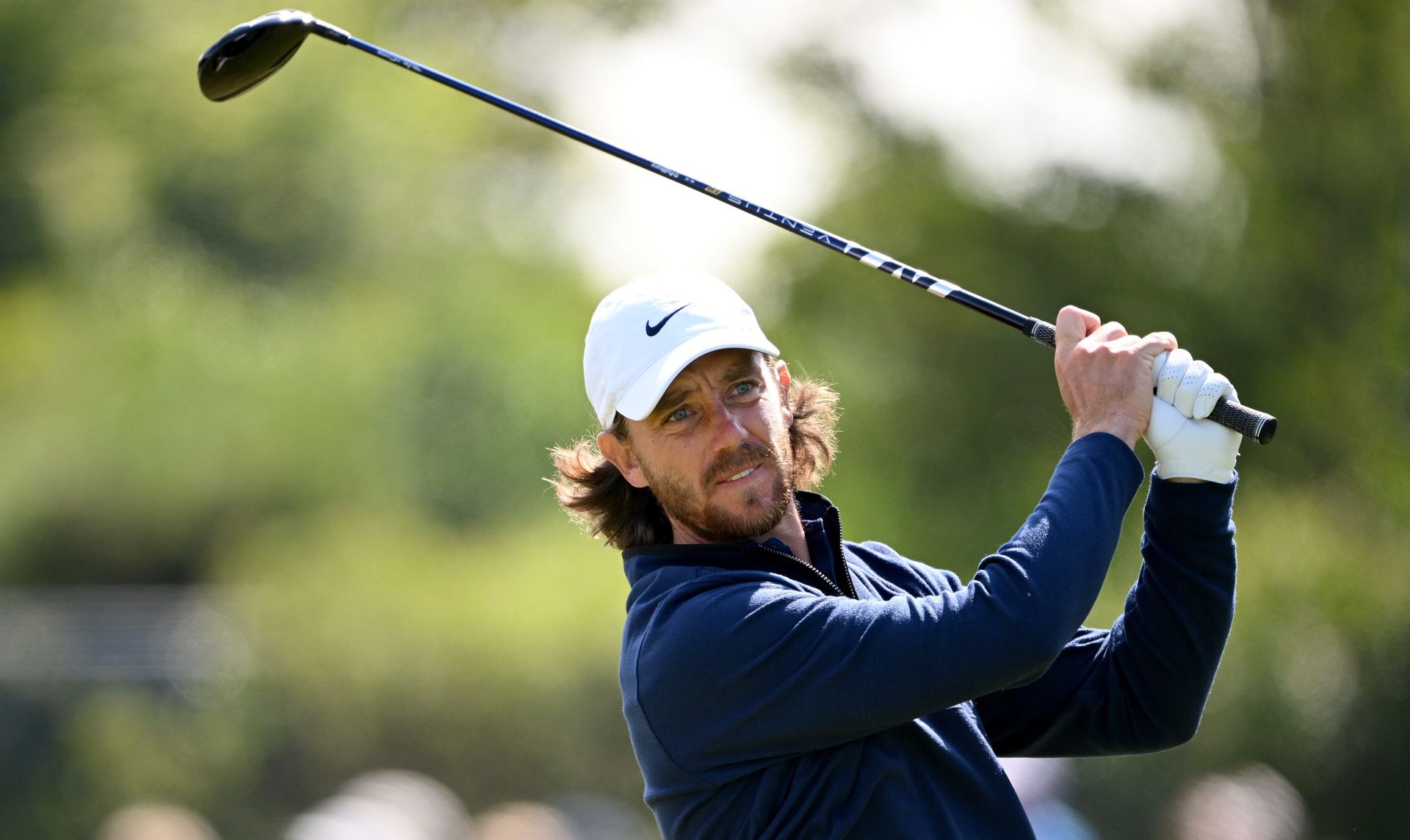 13:35 - Fleetwood joins Spieth
Fancied by many to have a good week here, Tommy Fleetwood will enjoy plenty of home support on England's north west coast, and he's had a solid opening round, keeping mistakes to a minimum, with just one bogey so far.

Steady golf, create birdie opportunities where you can, take them when they arrive. Four birdies so far and two par 5s to come.
13:20 - Spieth moves to T2
No one ever said following Jordan Spieth was easy... Just the five birdies and a double so far.

He had a couple of unlucky breaks early and still came close to making birdies, eventually getting himself to -2, only to drive right on the 8th tee, and then believed - no one's quite sure - to have shanked an approach that was lost, forcing a drop that resulted in a double bogey.

A lengthy par save on the next kept him at even par, but he's holed some superb putts today, he's driven the ball well and is finding good spots on greens.

A self-professed links lover who appears to be over his wrist injury, Spieth's into 12/1 and has every chance.
13:05 - Scheffler drops to even par
And he must be scratching his head. Scheffler has hit some terrific long putts that have burned edges, but with just two birdies, the last thing he needed were missed par putts from four feet and three feet on 8 and 12.
12:30 - Christo Lamprecht posts a 66
You may have seen a clip of South African amateur Christo Lamprecht's swing prior to the tournament starting; it's not the most orthadox swing, but then at 6ft 8in he's not the most orthodox height.

As you can imagine, he hits the ball a mile, and with seven birdies and two bogeys, he's in the clubhouse with a tremendous -5.
11:30 - Scheffler 7/2 favourite
He's not yet reached the turn but Scheffler's looked very impressive so far this morning.

Birdie looks at 1 and 3 and seeing a long one hit the hole on 6, and he's been close to birdieing every hole so far. Strangely enough, the exception is the par-5 where he found the greenside bunker and couldn't get up and down.

But currently T3 on -2, Scheffler will be pleased with his start.
10:35 - 16 players under par
And that number is set to increase. It's early days but it's a pretty strong leaderboard at the moment.

Jason Day, Patrick Cantlay and Scottie Scheffler are all under par, as are past champions Shane Lowry, Cameron Smith and Jordan Spieth, as well as Stewart Cink.

The Open leaderboard
10:15 - Birdie for Scheffler
And Scheffler joins the party. From 30 feet, the Texan just barely makes the hole, with the ball hanging over the hole, before eventually dropping for birdie.

There are a number of marquee groups on the course now with many of the world's best players in action, and with conditions as they are, don't be surprised if we see a few more birdies dropping...
10:10 - Birdie start for Cameron Smith
Cameron Smith admitting to being a bit choked up when he had to return the Claret Jug, but the way he's started he might not have lost it for very long.

Showing everyone how to play the first, Smith drives down the fairway, leaves himself a 12-foot putt and walks off with a birdie. Easy at that.
10:02 - Scheffler, Scott and Fleetwood are out
And, you guessed it, all three find the left rough. Fleetwood misses the green long and left, Scott finds the green, and Scheffler sticks one right past the pin to about 20 feet. A terrific shot considering he couldn't control the spin coming out of the rough.

A nice pitch from Fleetwood brings about his par, as does a very long putt from Scott, but a really disappointing attempt from Scheffler sees his first birdie chance of the week go begging.
09:50 - Koepka, Cantlay and Matsuyama on the course
And again, all three players tee off way left - a popular spot this morning.

Koepka leaves himself a tricky up and down and ends up walking off with bogey, while Cantlay holes a remarkable putt from off the green for birdie.
09:15 - First featured group underway
The first featured group of the day is underway, with Jordan Spieth, Matt Fitzpatrick and Jason Day all going left.

Spieth's impressive recovery left him with a 13ft putt for birdie which was pushed just right of the hole. Jason Day missed the green on approach but managed to get up and down for par.

Meanwhile Matt Fitzpatrick found himself in all kinds of trouble. Last year's US Open champion admitted his game isn't where it needs to be to contend this week, and after driving way left, his approach was right of the green, then finding a bunker with his third, you're inclined to believe him.

To his credit, an outstanding bunker shot prevented him dropping two shots on the first hole, and he saves his bogey.
Thursday conditions
The weather looks very benign at Hoylake this morning, with no strong winds forecast throughout the day. Greens look receptive and the temperature looks set to be the mid-teens.

All in all, perfect golfing conditions, so don't be surprised to see a -6 or -7 as the overnight lead.
The 151st Open Championship is underway!
A handful of players have made their starts at Royal Liverpool, with New Zealand's Ryan Fox currently leading on -2.

Hoylake's very own Matthew Jordan, who got play started this morning, got to -2 thru 5 but a bogey at 6 saw him drop out of the lead.

Charl Schwartzel is currently propping up the leaderboard, +3 thru 4.
Mike Glasscott's Open preview
What are the stats to look out for this week? How will the weather affect proceedings? Who are some outsiders to consider?

The PGA TOUR's Mike Glasscott has you covered.

Mike Glasscott's Open preview
Rory McIlroy Super Boost
2014 winner Rory McIlroy returns to the scene of one of his greatest triumphs - on the back of a Scottish Open win last week, no less.

The Northern Irishman has had too many near misses to count in recent years, and has five Open top-10s to his name.

We have a Super Boost on McIlroy making it six this week.
First-round three-balls
"The Texas native has been in fine form on the LIV Tour recently, finishing fifth at Valderrama and second at LIV Golf London before a week off which should have him spot-on for a tilt at an Open title.

"Syme is a solid DP World Tour player but he's not in the same class as Reed, while Ballester is a 19-year-old amateur who will be happy to make the weekend."

We've looked at five three-balls from the first round of The Open.

First-round three-balls
Steve Palmer's Open tips
The Open is almost upon us with Rory McIlroy and Scottie Scheffler vying for favouritism, but the Racing Post's Steve Palmer is looking a little further down the field.

He's also taken a look at the Top Open Debutant market at someone with a bit of course form...

Steve Palmer's Open tips
Scheffler to shine?
It's no exaggeration to say that in Scottie Scheffler, we're seeing a level of form and consistency not seen since Tiger Woods' heyday. Over the last three, six and 12 months, he leads the world in strokes gained, and is pretty much dead level with Rory McIlroy across the last 24 months.

He could make it 20 consecutive tournaments where he's finished in the top 12 this week (and all bar three of them have been in the top 10). It's hard to know what's more remarkable - his consistent finishes or the fact he's only won twice this season. He's not even finished outside the top five since April.

Though won of his wins was THE PLAYERS, Scheffler could do with a major win to really make it an all-time season.

And while many golfers struggle to adapt to links golf, Scheffler doesn't appear to be one. A strong finish at last week's Scottish Open backs up Open finishes of T8 and T21, and growing up in the Texas winds should stand him in good stead this week.

He's 15/2 to win, and you can back him at an enhanced price of 8/1.
The Open tips and predictions with Jason Sobel
Jason Sobel has looked at four golfers ahead of the fourth and final major of the year, including one who's carded three top-10s in his last four major starts as well as a couple of former champions at three-figure prices...

The Open tips and predictions with Jason Sobel
The Open tee times
Tee times have been released for the first two rounds of The Open.

Rory McIlroy will go out with Jon Rahm at 14:59 on Thursday, with Cameron Smith getting his Open defence underway at 9:58.

Selected tee times (all BST):

Round 1:
| | |
| --- | --- |
| 9:14 | Jordan Spieth, Matt Fitzpatrick, Jason Day |
| 9:36 | Patrick Cantlay, Brooks Koepka, Hideki Matsuyama |
| 9:47 | Scottie Scheffler, Tommy Fleetwood, Adam Scott |
| 9:58 | Cameron Smith, Xander Schauffele, Wyndham Clark |
| 10:09 | Shane Lowry, Rickie Fowler, Robert MacIntyre |
| 14:48 | Viktor Hovland, Tony Finau, Justin Thomas |
| 14:59 | Rory McIlroy, Jon Rahm, Justin Rose |
| 15:10 | Collin Morikawa, Max Homa, Tyrrell Hatton |
Round 2:
| | |
| --- | --- |
| 9:47 | Viktor Hovland, Tony Finau, Justin Thomas |
| 9:58 | Rory McIlroy, Jon Rahm, Justin Rose |
| 10:09 | Collin Morikawa, Max Homa, Tyrrell Hatton |
| 14:04 | Jordan Spieth, Matt Fitzpatrick, Jason Day |
| 14:37 | Patrick Cantlay, Brooks Koepka, Hideki Matsuyama |
| 14:48 | Scottie Scheffler, Tommy Fleetwood, Adam Scott |
| 14:59 | Cameron Smith, Xander Schauffele, Wyndham Clark |
| 15:10 | Shane Lowry, Rickie Fowler, Robert MacIntyre |