Liam Williams
Updated: 18 Sep 23 14:38
Published: 24 Jul 23 12:32
Sport, at no matter what level, is only interesting when it's competitive.
And by the late 1970s, the Ryder Cup was not competitive.
Prior to the Second World War, the United States held a 4-2 lead in the six editions. After the Second World War, the United States won 11 of the next 13, famously tying one in 1969 thanks to Jack Nicklaus's concession.
It had become an event people didn't really care about.
But in 1979, players from continental Europe joined. There was limited involvement initially, with Europe losing 17-11 in West Virginia, before Europe's star player, Severiano Ballesteros, was omitted from the 1981 team as a result of a falling out with the European Tour as Europe lost 18.5-9.5.
Ballesteros was back for 1983, and things began to change.
While some of the contests on this side of the Atlantic had been close, stateside Ryder Cups were typically washouts.
But in 1983, partly thanks to Ballesteros's 2.5 points in the first two days, Europe went into Sunday tied 8-8.
Tony Jacklin's men would come up agonisingly short with the matches going right down to the wire as the Americans won 14.5-13.5.
But Europe were coming.
In 1985, with four Spaniards and a German on the side, America's dominance of the Ryder Cup was in jeopardy.
Seve, partnering compatriot Manuel Pinero, won three of the four matches prior to Sunday's singles, where this time, Europe would hold a 9-7 lead.
The typically brilliant individuals on the US team were found wanting. Europe won seven of the 12 singles, and though Ballesteros wasn't one, halving his match with Tom Kite, Europe won the Ryder Cup for the first time, beating Team USA 16.5-11.5.
After finally winning the Ryder Cup, the challenge was for Europe to do it on American soil – and Ballesteros would have a new partner.
21-year-old Jose Maria Olazabal was a captain's pick, and would play all four matches with Ballesteros, winning the first three as Europe built a near-unassailable 10.5-5.5 lead going into Sunday.
The US fought back gamely, but it was Ballesteros himself who got Europe to 14.5 points.
Across the next six Ryder Cups, no team would get past 15 points. The teams had finally been balanced out and the Ryder Cup was competitive again – perhaps overly so.
In 1989, the trusty partnership of Ballesteros and Olazabal combined again for 3.5 points from four matches, but it was in Sunday's singles where Ballesteros was involved in controversy for the first – but by no means last – time.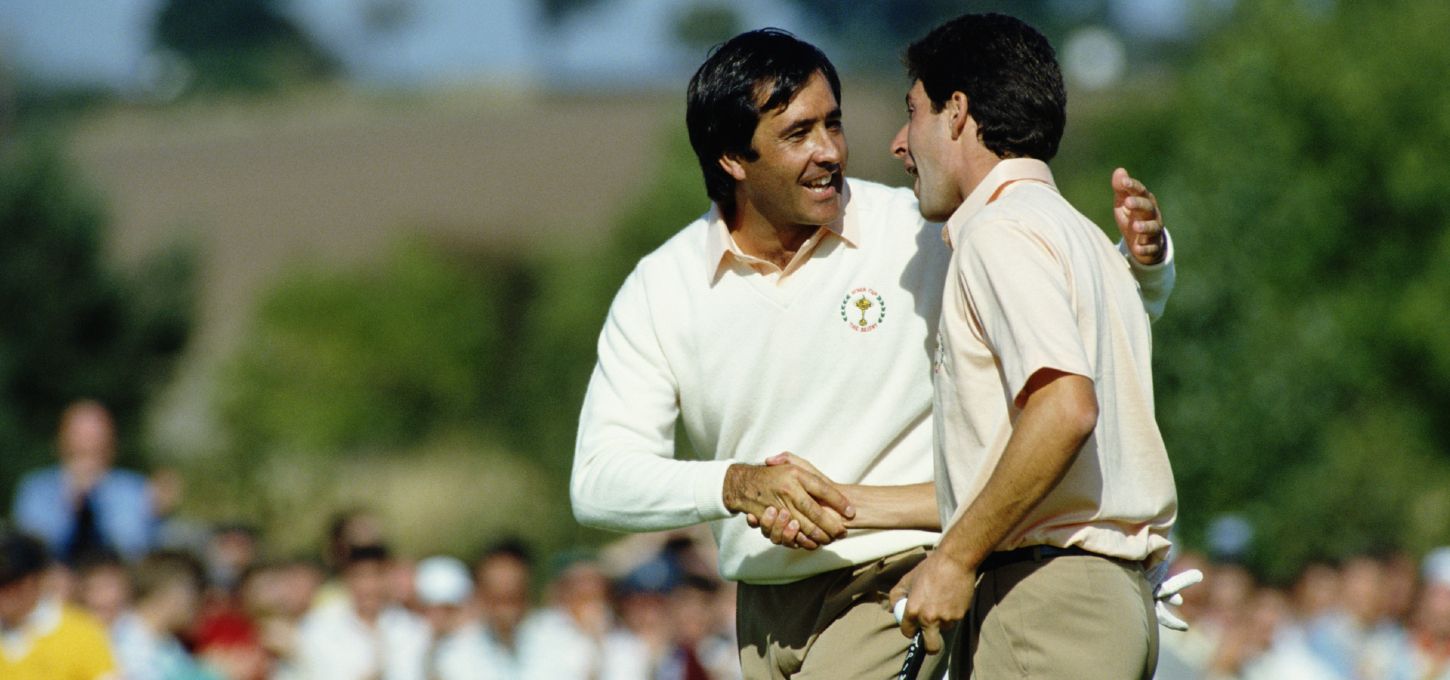 Going out first for Europe against USA's Paul Azinger, Ballesteros asked to change his ball on the second green, noticing a scuff. Azinger refused, with the match referee siding with the American. Ballesteros put it to his opponent: "Is this the way you want to play today?"
Seve would then contest what he perceived to be a favourable drop for Azinger on the 18th.
Azinger – and the USA – won on Sunday, but it was only good enough for a 14-14 tie, meaning Europe retained the cup.
But in 1991, things ramped up a notch further. After a rather unfriendly welcome and hostile tactics, Seve and Ollie would face off against Azinger and Chip Beck.
A local rule enforced for the competition stated that only one ball was allowed to be used per round, and after the Spaniards spotted the Americans changing their ball on more than one occasion, a referee was called in. Azinger denied any wrongdoing until it was pointed out it was too late for any punishment to be enforced, at which point, Azinger held his hands up, but insisted they weren't trying to cheat.
Ballesteros quickly shot back that they didn't say they were cheating, and that cheating and breaking the rules are two different things.
Azinger, sensing underhanded tactics on the part of the Europeans, muttered to Ballesteros's caddie Billy Foster 'nice try'. When Foster informed his boss of the remark, the red mist descended.
Ballesteros, with Olazabal, played incredible golf to win five of the last eight holes and win 2&1.
Seve and Ollie would take 3.5 points again, and while Ballesteros won his singles match, the Americans edging out the Europeans after Langer's missed par putt on the 18th.
By 1993, Ballesteros's powers were on the wane; he'd not won a major in five years and needed a captain's pick to make the team.
He'd be paired with his friend Jose Maria for the first three sessions, with them taking two more points, but once again on Sunday, Ballesteros came up short as the US won on European soil for the first time in 12 years.
It was the final time Seve would play with Ollie in the Ryder Cup, with his younger compatriot missing the 1995 edition through injury.
While Ballesteros only managed one point in 1995, it proved to be a crucial one with Europe regaining the Ryder Cup with a 14.5-13.5 win.
Naturally, Ballesteros would assume a non-playing captain's role for 1997 as the event headed to mainland Europe for the first time, fittingly at Valderrama.
After the dominance of the 1980s, Europe moved into a new era in 1997, with five rookies fielded.
Darren Clarke, Lee Westwood, Ignacio Garrido, Thomas Bjorn and Jesper Parnevik would all make their Ryder Cup debuts, but their captain would never be far from sight.
In fact, Ballesteros was near-omnipresent. It's never been officially confirmed that Ballesteros didn't have a body double in Sotogrande that week.
The European players didn't just have a captain, they each had a second caddie. Seve would race around Valderrama, breaking the land speed record in a golf cart to offer his advice – even where it wasn't wanted.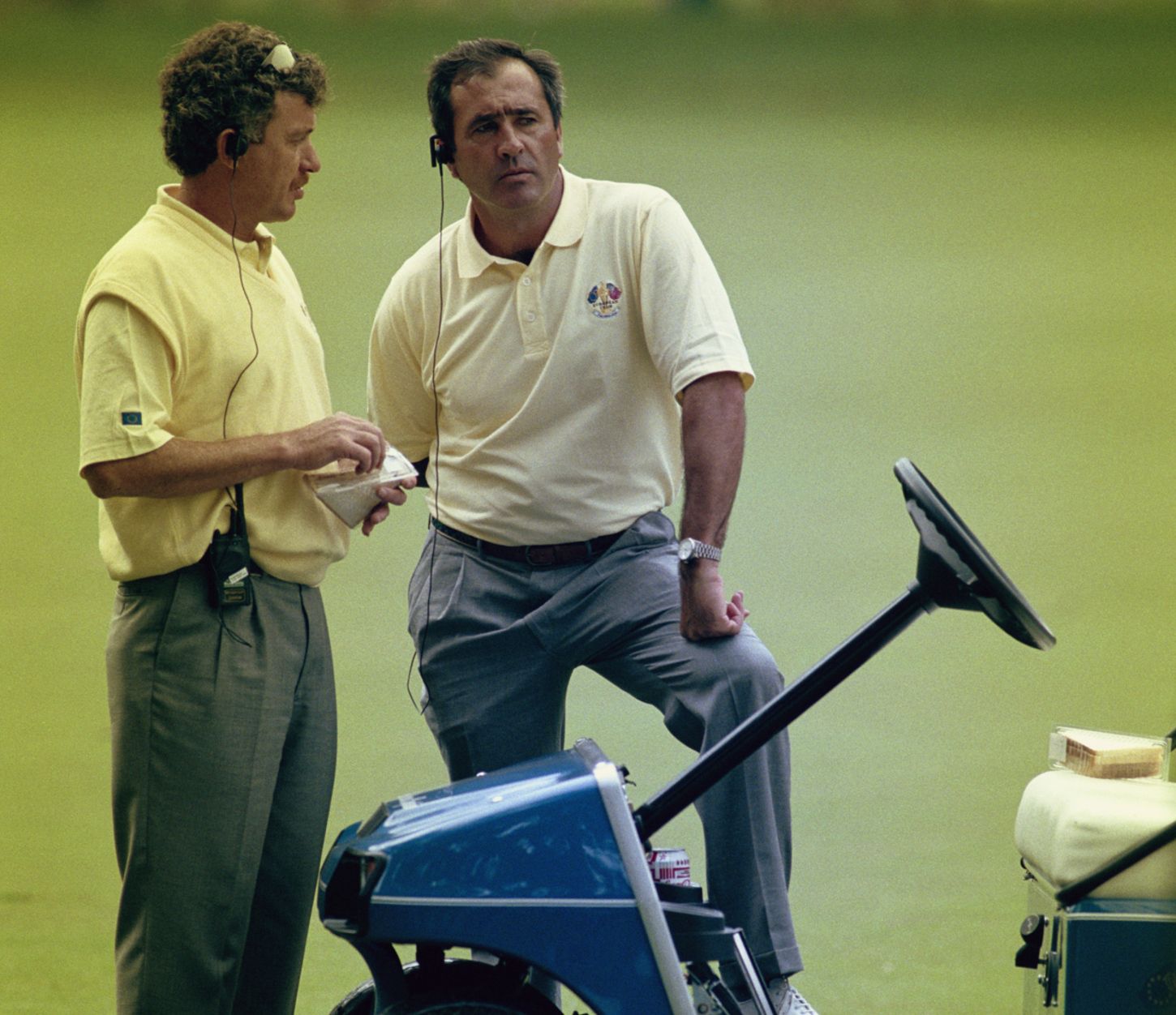 Seve was dictatorial, but his style worked.
One point of contention was the replacement of injured Miguel Angel Martin – who claimed he'd be fit in time for the Ryder Cup – with Ballesteros getting to call up old partner Olazabal. Martin was understandably furious, and while Ballesteros claimed it wasn't his decision, the handling of the affair irked a number of Europeans.
He was also behind the move to open sessions with four-balls rather than foursomes. To this day, American captains start with foursomes, and European captains start with four-balls.
Ballesteros also negated the American's biggest weapon – their length – narrowing fairways and handicapping the likes of Woods, Phil Mickelson and Davis Love III.
He was an imposing, intimidating presence for the Americans – and occasionally the Europeans.
His intense style of captaincy had the potential to backfire. He didn't tell his benched players on day one until the announcement of the teams that they wouldn't be playing. He called vice-captain Miguel Angel Jimenez while it was still dark out to help decide on the first day's pairings.
He even stoked the flames by saying that he had 12 guys who could beat Tiger Woods, who months earlier had won his first Masters in record-breaking fashion.
Really? 12 guys? Even rookie Jesper Parnevik? Even world number 78 Ignacio Garrido? Even 40-year-old Constantino Rocca? Actually yes, all three would beat Woods over the course of the week, with Rocca beating Woods 4&2 in their singles match.
The Ryder Cup was finely poised after the first day, with Europe holding a slender 4.5-3.5 lead, but the Americans would win just one match on Saturday, taking two points from a possible eight.
Despite being substantial underdogs – as they often were – Europe had virtually won the Ryder Cup with a day to spare. Say what you will about Ballesteros's captaincy, it had worked.
Europe needed just 3.5 points to retain the cup on Sunday, and though the USA mounted a stirring challenge, which included Fred Couples winning 8&7, Mark O'Meara winning 5&4 and Tom Lehman winning 7&6, the hosts had done enough.
Ballesteros had won the Ryder Cup in 1985, 1987, 1989 and 1995 as a player, and now, in his native Spain, as a captain.
From being the first continental European to play on the Ryder Cup, Ballesteros won 22.5 points from 37 matches over 14 years, going on to captain Europe for the first Ryder Cup held outside of Britain, forever cementing his place as Ryder Cup royalty.
It was a fitting end to Seve's Ryder Cup career; not just the King of Spain, but the King of Europe.