Liam Williams
Updated: 28 Sep 23 08:18
Published: 27 Jul 23 11:09
Arguably the greatest-ever Ryder Cup player, Ian Poulter was given the nickname 'The Postman' for his uncanny ability to always deliver a point for his side.
While Colin Montgomerie and Jose Maria Olazabal picked up more points at a slightly higher percentage, nobody has embodied the spirit of the Ryder Cup quite like the chest-beating, fist-pumping, eye-bulging Poulter.
Poulter's love for the Ryder Cup long pre-dated his professional golfing career, sleeping in a tent at the Belfry in 1993 as a teenager, watching the likes of Nick Faldo, Bernhard Langer and Ian Woosnam square off against the USA's best.
After the War on the Shore two years previous, Europe narrowly went down once again, losing 15-13.
Despite the result, Poulter was hooked, and more determined than ever to return to the Ryder Cup, this time bringing his clubs with him and sleeping in a bed.
Eleven years later in 2004, Poulter would qualify for the European team, and while he'd sit out the first day completely, only playing in the losing four-ball with Darren Clarke on Saturday, going down 4&3 to Tiger Woods and Chris Riley, he'd notch the first of his six wins in singles play on Sunday against Riley, technically getting Europe over the line as Bernhard Langer's men ran out 18.5-9.5 winners at Oakland Hills.
Poulter was absent in 2006, with Clarke and Lee Westwood who were 4-2-0 in six matches together the obvious captain's picks, but would return in 2008 as a captain's pick himself.
Come 2008, Europe has established total dominance in the Ryder Cup, winning each of the last three editions by a combined score of 52.5-31.5, but that would all change at Valhalla.
Poulter would head into the Ryder Cup under pressure, getting the nod over Clarke with no real Ryder Cup form to call upon, whereas two years earlier, Clarke had played just weeks after the passing of his wife to take a maximum three points.
Poulter lost his second straight match in a pair with Justin Rose, but won 4&2 in the afternoon four-ball with the same partner.
As the only winning team in the first eight matches for Europe, Rose and Poulter were sent out together again on Saturday morning and won 4&3.
Rose was rested for the final session on Saturday with Poulter paired with Graeme McDowell, taking another European point with more clutch golf.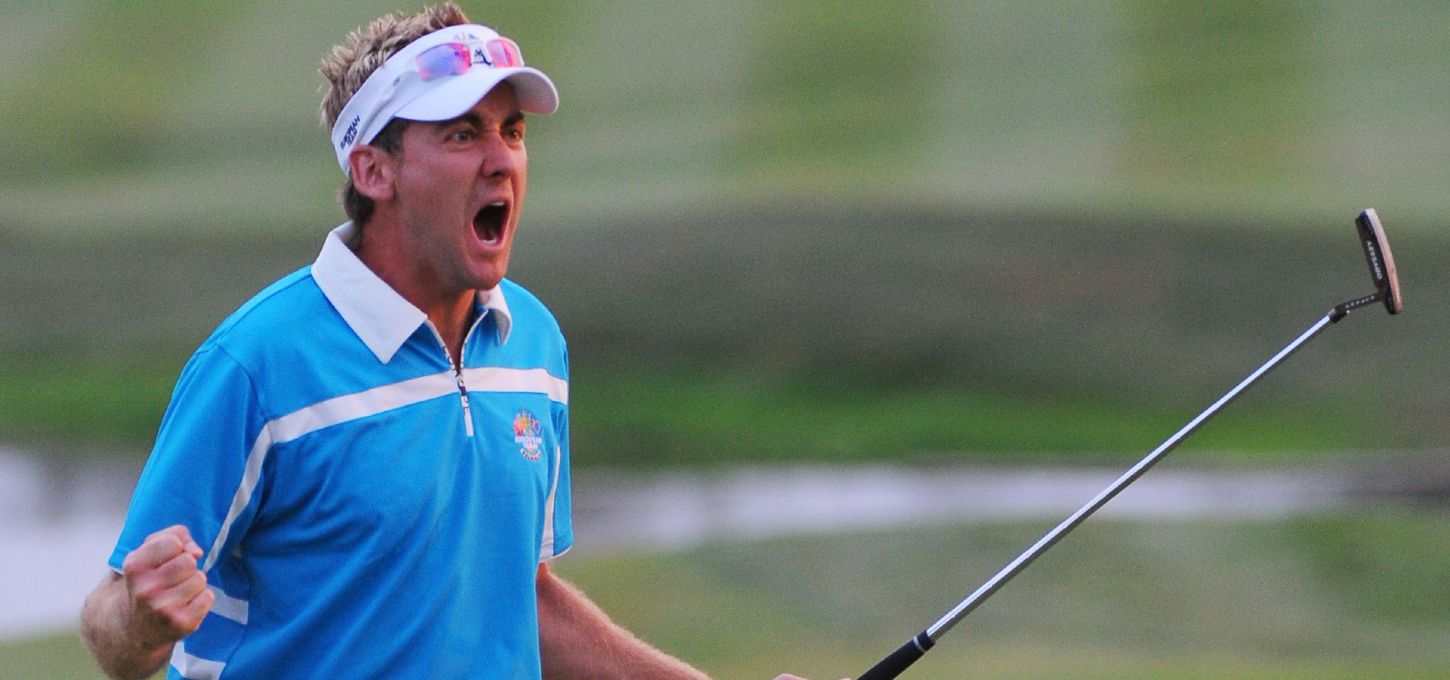 Europe had won just four of the first 16 matches across the first two days, and Poulter was involved in three of them.
In two days, Poulter had gone from the man who was fortunate to get a pick, to establishing himself as the lynchpin of the European team. Excluding players who played with Poulter, Henrik Stenson was Europe's best scorer on just 1.5 points.
Captain Faldo made the dubious decision of bottom-loading his team, knowing that if Europe were to win, it would go to the final matches; Poulter was sent out third last, and while the Ryder Cup had long been settled before his match could have any real influence, Poulter would score his fourth point of the week.
It was a resounding defeat for Europe, but it'd have been even worse without Poulter.
So to 2010. Europe's team contained major winners in McDowell, Martin Kaymer, Padraig Harrington as well as stalwart Lee Westwood.
But Poulter was now the team's talisman.
Paired with rookie Ross Fisher, Poulter lost 2 up to Steve Stricker and Tiger Woods, before winning 2&1 with Luke Donald and beating Phil Mickelson and Rickie Fowler 2&1 with Kaymer on Sunday's delayed four-ball session.
Ahead of Monday's singles, Poulter was quietly confident about Europe's chances of regaining the Ryder Cup. He wasn't, however, quietly confident about his match with the unbeaten-in-three Matt Kuchar.
Some might call it arrogance; Poulter would likely call it confidence, but prior to his match at a wet Celtic Manor, Poulter, with a brashness reminiscent of Muhammad Ali, made his prediction.
"I will deliver a point," claimed Poulter. As Sky Sports' Tim Barter was about to move on to his next question, it hit him what Poulter had just said. Interrupting himself, Barter put the prediction back to Poulter. With a steely gaze he repeated: "I will deliver a point."
This wasn't a slight against Kuchar on Poulter's part, who'd arguably been the USA's best player of the week and was ranked 11 in the world, but it was a complete, unwavering, unflinching belief in his match play and Ryder Cup ability for Poulter.
Tiger Woods, the greatest golfer of all time, was seen as cocky for saying 'a win would be nice' upon turning pro ahead of his debut event on the PGA TOUR (he'd have to wait four months for that). That was Woods merely stating he wanted to win; there were no guarantees issued.
Woods heard the prediction and stormed out to find Kuchar and told him what Poulter had said.
Not that it made a difference; Poulter made a big birdie at three prompting the first wild celebration of the day. More birdies followed, as well a chip-in eagle to go 4 up thru 11.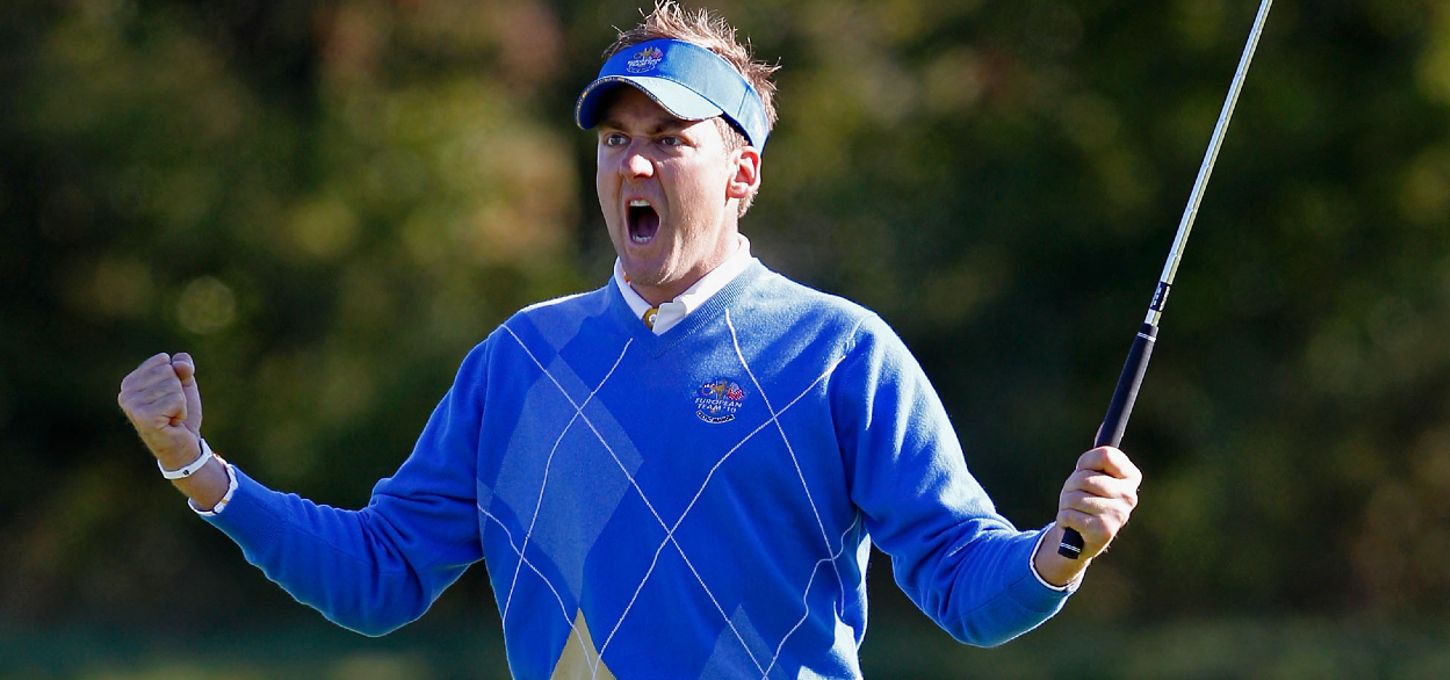 Poulter hadn't just delivered the point he promised, but despite going out fifth, delivered Europe's first point of the day and it never looked in doubt. Poulter won 5&4, and Europe would win 14.5-13.5.
Poulter would always be remembered for his efforts in 2008 and 2010, but in 2012 he etched his place as a Ryder Cup immortal. Three days that would forever see filed him alongside the likes of Seve Ballesteros, Sergio Garcia, Nick Faldo, Lee Westwood and Colin Montgomerie.
It was a rare Ryder Cup where, by and large, Europe could claim to have similarly talented golfers as their opponents. In Rory McIlroy, Justin Rose, Luke Donald and Lee Westwood they had four of the top five golfers in the world, with Tiger Woods – whose Ryder Cup record left much to be desired – second in the world rankings at the time.
Poulter – 36 years old and relying on a captain's pick again – was sent out first with old partner Rose and they'd take on the marquee US pairing of Stricker and Woods.
Upon seeing that he'd lead Europe out at the Ryder Cup, against Woods and one of the few players who'd had success playing with Woods, Poulter's face lit up.
Poulter won his ninth Ryder Cup point as he and Rose beat Stricker and Woods 2&1. Poulter didn't play the afternoon session, but returned for Saturday's foursomes, where he, in his own wonderful way, ramped things up a notch.
Having seen Bubba Watson make the unprecedented move of encouraging cheering on the tee on the Friday, Poulter wanted in.
The crowd cheered before descending to a polite quiet when Poulter addressed the ball, ready to play. Poulter backed off and demanded the noise continue.
Refusing to address the ball until the volume was where he wanted it, Poulter was now playing the role of conductor.
A cacophony of noise, simultaneous chants of 'USA, USA' and 'Ole, ole, ole' as Poulter teed off.
This was no longer golf as we knew it; this was the Ryder Cup; Ian Poulter's Ryder Cup.
Poulter with Rose recorded the only point of the session as Europe went down 3-1.
At 8-4 down, Europe lost the first two matches of the afternoon four-balls to go 10-4 down. Staring down the barrel, Poulter, now playing with McIlroy, was 1 down thru 13. Poulter's birdie on 14 kept them 1 down, with a birdie on 15 getting the match all square with three to play, in what was now a must-win match for Europe.
Then it really began. A 25-foot downhill left-to-right putt that found the bottom of the cup for birdie. Wild screams from Poulter as Europe led with two to play.
McIlroy, the best golfer in the world, was merely a spectator, trying to keep out of the way of Poulter, who was now a man possessed.
Having seen Zach Johnson knock one stiff on the par-3 17th, Poulter had a 10-foot putt to stay 1 up.
Poulter obliged.
Four birdies in a row, but Europe had taken just two of the four holes and still needed a half on the 18th to win the match.
Dufner knocked his approach to five feet, while Poulter's excellent approach still left another 10-footer for another birdie.
If you'd read the script, you knew where the putt was going. The four consecutive birdies weren't in vain as Poulter made a fifth on 18 as Europe brought the score from 10-4 to 10-6 and give Europe a glimmer of hope on Sunday.
The American pairing had played the last five holes three under par and somehow went from 1 up to 1 down.
Nevertheless, a four-point lead going into their preferred singles format, at home. There was only so much Poulter could do; he needed his team-mates to step up.
Impossibly, they did just that. Poulter went out second and made heavy weather of his match with Webb Simpson, later admitting tiredness, but a shank from Simpson off the tee opened the door and turned the tide. Poulter would win 2 up as Europe won the first five matches and three of the final four to miraculously retain the Ryder Cup.
No player to have played 10 Ryder Cup matches for Europe has ever had a points percentage above 70%; Poulter's in 2014 was 80%.
Top points scorer in 2008, joint-top points scorer in 2010 and top points scorer in 2012; Poulter had become a Ryder Cup invincible with 12 points from his last 14 matches.
With that in mind, Poulter was paired with rookie Stephen Gallacher with the pair falling to a surprise 5&4 defeat in a miserable showing against Jordan Spieth and Patrick Reed.
Poulter was back the following day to play with McIlroy, with the pair managing a half after Poulter's chip-in for birdie on the 15th.
It hadn't been the same magic we'd become accustomed to with Poulter, going on to halve his singles match with 2012 opponent Simpson – the first and only time he'd fail to win a singles match.
Poulter missed the 2016 edition through injury, but a return to fitness and form for 2018 saw him on the plane to Paris.
While Poulter won his first match with McIlroy, he ran into the potent duo of Spieth and Justin Thomas, losing 2&1 and 4&3 on Saturday.
He'd then face off against world number one Dustin Johnson on Sunday, but as he almost always did, Poulter delivered his point. Six singles matches, five wins.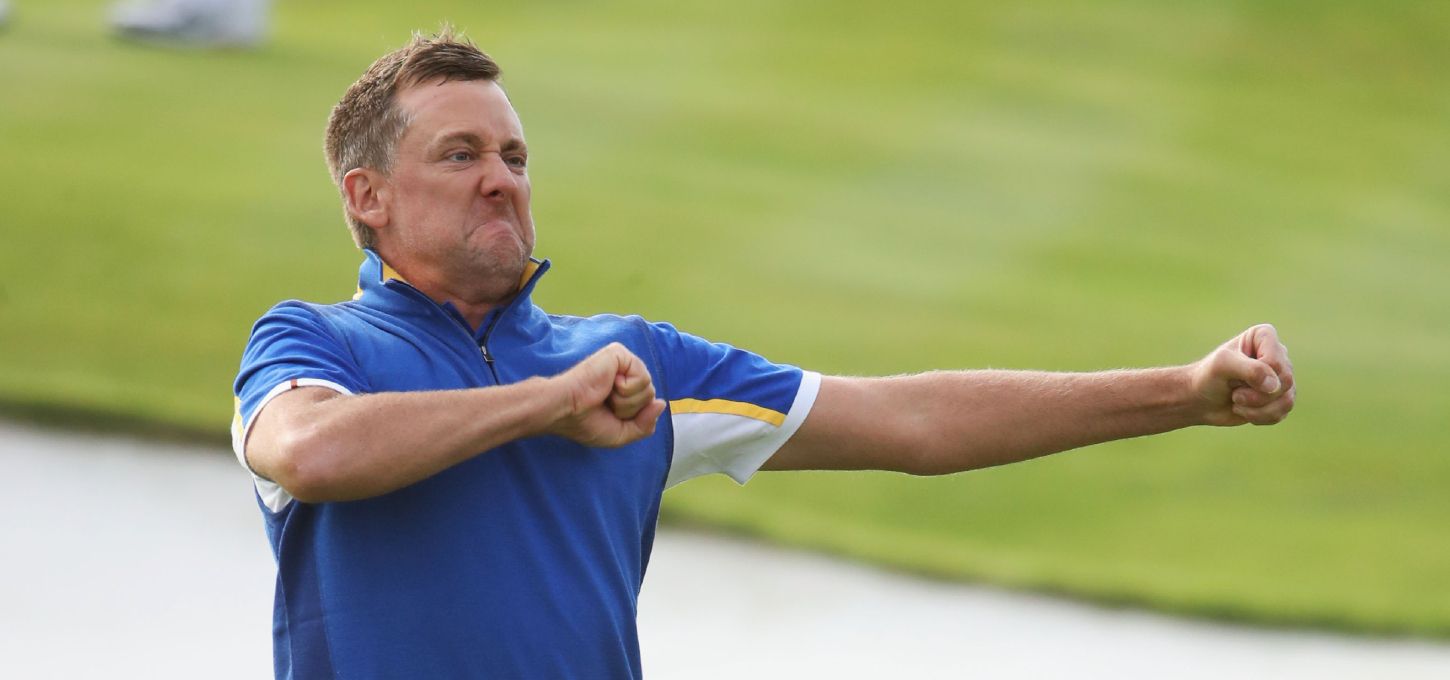 By the time 2021 rolled around, Poulter was long past his best as Europe were given the hammering of all hammerings at Whistling Straits.
Poulter played twice with McIlroy on Friday and Saturday and was resoundingly beaten 5&3 and 4&3.
But even with Europe staring at their worst ever defeat, Poulter still delivered his point.
Poulter finished his Ryder Cup career with a singles record of 6-0-1, taking 6.5 points from a possible 7.
Seventeen Europeans have played more Ryder Cup matches than Poulter, but none have more singles wins.
He took 16 points from 25 matches in all and has a better points-per-match percentage than European greats Sergio Garcia, Justin Rose and Seve Ballesteros.
He had the ability to take points from seemingly impossible situations; to make seemingly impossible putts.
He inspired those around him to perform to their absolute limits, with Europe securing a narrow win in 2010 and the comeback of all comebacks in 2012 thanks to Poulter's efforts.
He was nicknamed 'The Postman' for his ability to deliver a point, but he was so much more than that.

The chest-beating, fist-pumping, eye-bulging talisman of so many European teams.
He was Mr Ryder Cup.