bet365 News Team
Updated: 09 Jul 23 07:35
Published: 03 Jul 23 14:24
Britain is arguably the spiritual home of Formula 1 and the sport will be making its annual pilgrimage to Silverstone from 7th until 9th July for the 73rd British Grand Prix.
Northamptonshire's Silverstone has hosted the third-highest number of Grand Prix races (57) behind Monaco (69) and Monza (72) and has featured on the F1 calendar from the inaugural season.
The British Grand Prix hosting duties alternated between Silverstone and Aintree from 1955 to 1962, and Silverstone and Brands Hatch from 1963 to 1986.
Silverstone has been the setting of some amazing performances in recent years - including Lewis Hamilton winning in wet conditions in 2008, Nigel Mansell chasing down Nelson Piquet in 1987 and Carlos Sainz getting his first GP win in 2022.
With Silverstone playing such an integral part in the sport's history, we embarked on determining who is, quantitatively, the most successful ever driver at the track.
F1 Tracks: Silverstone - British Grand Prix
Points distribution methodology
To do this, we sourced the results of all 57 British Grands Prix held at Silverstone from the official F1 site and assigned the points to drivers as per the system used today. We created a leaderboard that, quantitatively, adjusts and compares the performances of all 383 drivers to have raced at Silverstone.
For example. David Coulthard won the 2000 race and as per the scoring system used that year, he put 10 points on the board. If he won the race today, he would get 25.
Points in that year were awarded only to drivers who finished in the first six positions, with the division being, 10, 6, 4, 3, 2 and 1.
We therefore assigned points to drivers who finished in the top 10 in the 2000 British GP and they were assigned as per today's system - 25, 18, 15, 12, 10, 8, 6, 4, 2, 1, 1. This was repeated for all races which used a different scoring system to the one being currently used.
Three British drivers in the top 10
From our analysis, Hamilton tops the list thanks to his record eight wins at his home race. He's joined in the top 10 by two other British drivers - Nigel Mansell and David Coulthard.
Brits in F1: Lewis Hamilton, George Russell and Lando Norris
Hamilton is head and shoulders above everyone else, with 312 points from 17 races and the closest to him in our analysis are Kimi Raikkonen and Michael Schumacher with 186 points each, followed by Fernando Alonso who has 158 points.
Mansell and Coulthard are eighth and ninth with 123 and 117 points respectively.
The only other country to feature more than one driver in the top 10 list is Germany with Schumacher and Sebastian Vettel (seventh place with 126 points) as its representatives.
Points-per-race leaders
Hamilton isn't the leader when it comes to points per race at Silverstone. That honour goes to Peter Revson who won at his only start in Silverstone in 1973, taking his points per race tally at Silverstone to 25.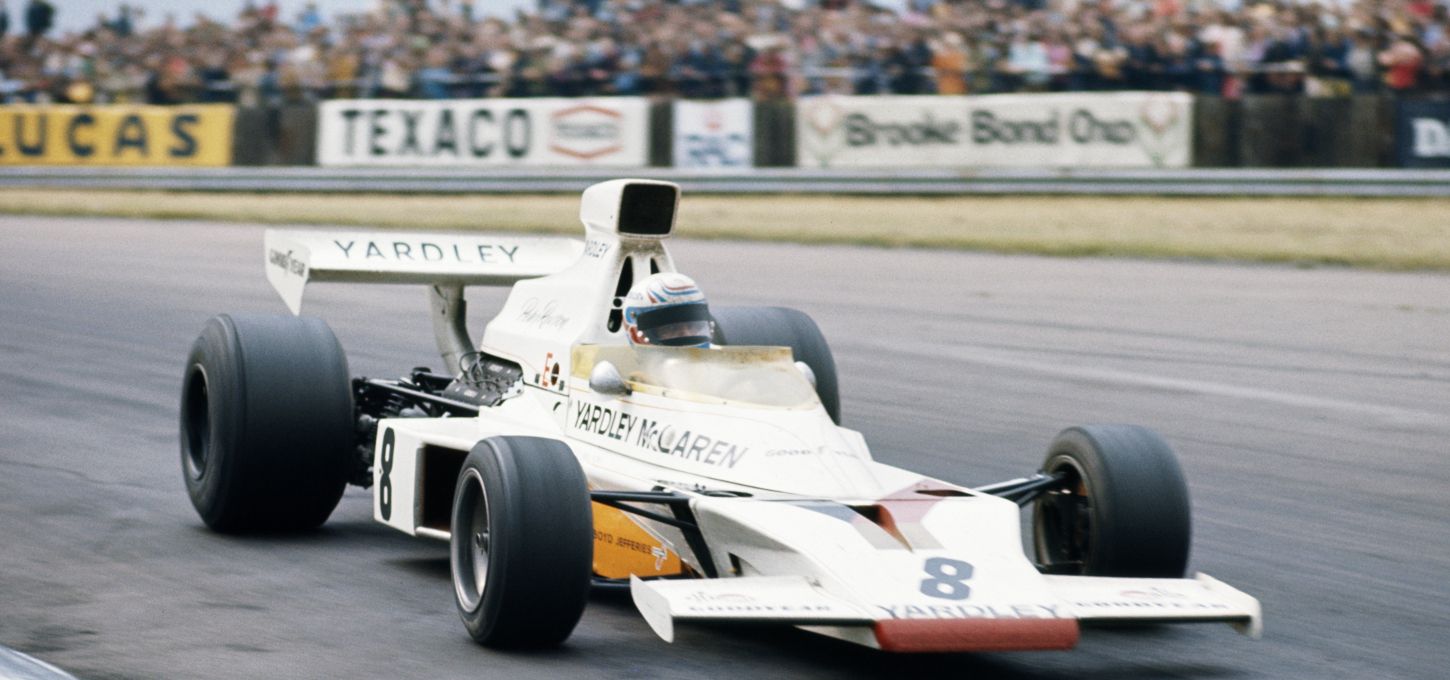 Peter Revson drives to victory at the British Grand Prix on 14 July 1973 at Silverstone.
Hamilton is actually third in this statistic, trailing another iconic driver, Jim Clark. Clark won four straight British Grands Prix from 1962 to 1965 and then another one in 1967. Of these, three (1963, 1965 and 1967) were at Silverstone and his points per race figure is 18.75, coming from four overall races at the venue.
Hamilton has raced at Silverstone 17 times and leads the points per race category when it comes to drivers with 10 or more races.
Most wins and podium finishes
Hamilton has a stellar record at Silverstone, winning eight of his 17 races at the circuit and making the podium 13 times.
Alain Prost, who has the second highest win total at Silverstone (5), is fourth on the podiums count with six. His podium record is bettered by Kimi Raikkonen and Michael Schumacher - both having been on the Silverstone podium seven times.
Prost's podium percentage is better than either driver, having had those six podiums in 10 races. That also translates to a 50% win percentage at Silverstone. Raikkonen only has one win, despite being on the podium seven times - while Schumacher had three.
View all markets on the British Grand Prix at Silverstone
F1 World Championship 2023: Latest Results & Standings
Pole-to-win conversion
Polesitters have won at Silverstone 21 times, while non-polesitters have won it 36 times - 63.16% of winners at Silverstone were therefore not on pole. Pole position has, however, given the highest number of winners with 21 and P2 has given 17 winners.
The furthest driver from pole to win the British Grand Prix at Silverstone is Emerson Fittipaldi, who won the race in 1975 while starting P7 in what was an accident filled race caused by hail conditions.
Eight drivers have a 100% pole-to-win record at Silverstone including defending champion, Carlos Sainz. Of those eight drivers, the only one to have multiple pole positions is Jim Clark who converted all of his three pole positions to wins at the circuit.
Nigel Mansell has converted two of his three pole positions to wins and Hamilton also ranks highly, winning four times from seven pole positions.
Fastest Laps and Grand Slams
Both Mansell and Hamilton share the record for the highest number of fastest laps at Silverstone with six. They're followed by Raikkonen (4) and Schumacher, Alonso, Mika Hakkinen, Damon Hill and Alberto Ascari (3 each).
The Grand Slam (pole position + win + fastest lap + lead each lap of the race) has been achieved four times at Silverstone, with Mansell leading this statistic. The 1992 World Champion completed the Silverstone Grand Slam in 1991 and 1992.
Hamilton and Ascari are the other two to complete this feat, doing so in 2017 and 1953 respectively. Ascari actually shared the fastest lap with Jose Froilan Gonzalez that year.
Jim Clark completed the Grand Slam twice at the British GP (1962 and 1964), but it came at Aintree and Brands Hatch respectively. Jack Brabham also completed a Grand Slam at the British GP at Brands Hatch in 1966.