bet365 News Team
Updated: 16 Jul 23 10:05
Published: 10 Jul 23 14:32
We take a look back at the 1983 Cricket World Cup final, which saw India take on the might of two-time winners West Indies at Lord's.
The 1983 World Cup in England was the third edition of the tournament and West Indies, winners of the first two, were everyone's favourites to complete the hat-trick.
Blessed with a squad featuring world-class stars of the calibre of Clive Lloyd, Viv Richards and Michael Holding, it was hard to see past the glorious Windies.
Certainly, few cricket fans or observers fancied India – but India hadn't read the script.
And so unfolded one of the greatest sporting upsets of all time, a shock that is still remembered with incredible fondness all the way from Chandigarh to Kerala 40 years later.

Latest Cricket odds
Lord's ready to crown Windies once more
June 25, 1983. It's a date etched into the psyche of millions upon millions of cricket-mad Indians, a date when one of cricket's greatest dynasties ended – and another was born.
It was the date, of course, when India walked out to take on West Indies in the final of the third cricket World Cup at Lord's, where the Windies had won the previous two and were long, long odds-on to make it three.
They were packed with stars of the calibre of Richards, Lloyd, Haynes and co; India could call upon a true great in Kapil Dev, but depth looked to be an issue.
India had precious little regard for limited-overs cricket having won only 12 out of 40 limited-one-dayers heading to England that year, while West Indies were the undisputed kings of the format.
It should have been a Caribbean onslaught. It turned into anything but.
Group win hinted at possible shock
India were 66/1 shots for the final, an extraordinary price which illustrated the gulf between the two countries.
Yet actually, that gulf had been narrowing, though most cricket observers seemed to ignore it.
India didn't win many one-dayers because their players struggled with the format.
Lest we forget, eight years earlier at the first World Cup, opener Sunil Gavaskar played the slowest innings in one-day history, 36 runs off 174 balls, apparently to show his distaste of this new-fangled form of the game.
And eight years on Gavaskar was still opening for his country.
India was a Test-playing nation who were almost reluctant guests at the World Cup party.
So when they beat West Indies in their opening group game at Old Trafford – medium pacer Roger Binny and left-arm spinner Ravi Shastri sharing six wickets in a 34-run win – most sages presumed it was nothing more than a wake-up call to the Windies and would have little impact on the destiny of the trophy.
How wrong they all were.
Dev's heroes and their date with destiny
On the same day India beat West Indies, Zimbabwe were stunning Australia in the other group game, a match which sent even greater shockwaves around the sport.
It put Australia on the back foot and they never really recovered.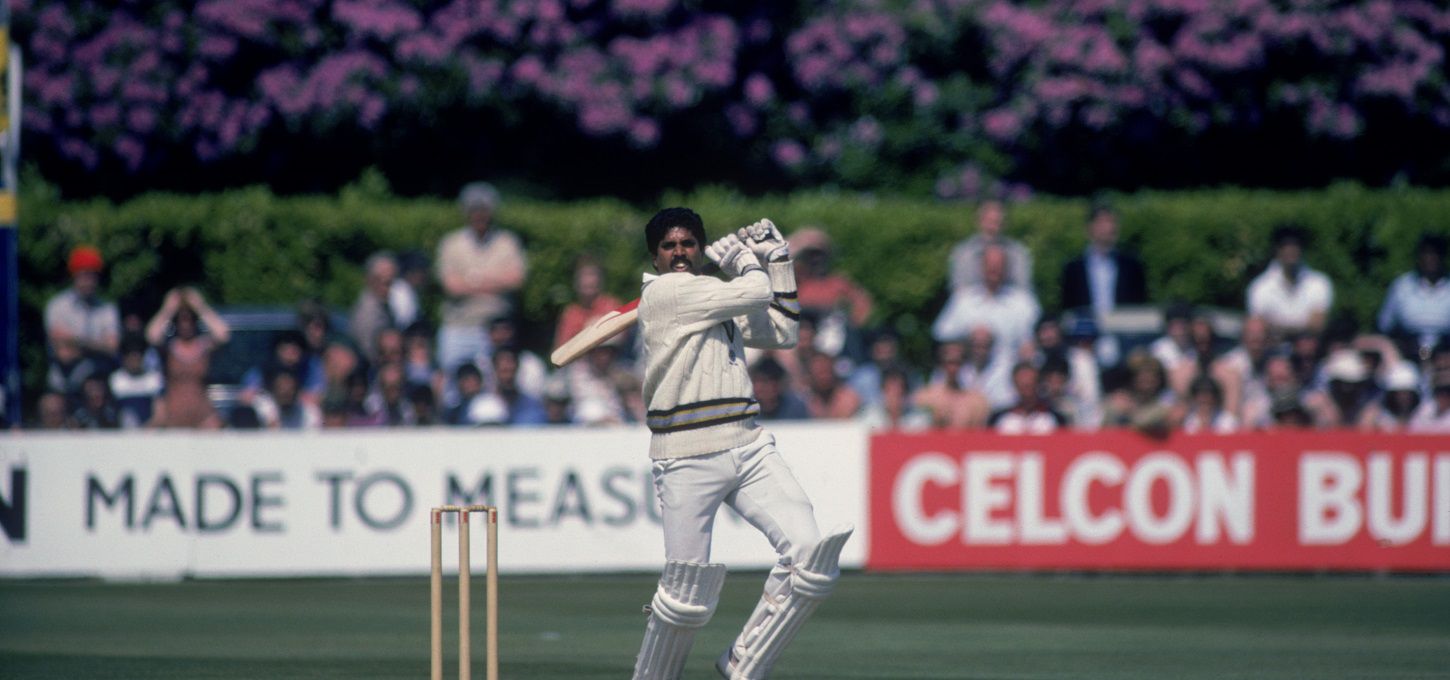 The Windies avenged that Manchester reverse to India by beating Kapil Dev's men by 66 runs at The Oval, Viv Richards scoring a sublime hundred.
But India weren't to be denied, qualifying as group runners-up for the semis where they took on hosts England at The Oval.
And they squeezed the life out of England – the usually merciless Ian Botham scoring just six off 26 balls – to win by six wickets.
The rewriting of the history books
How India won the 1983 final is still remarkable, even to this day.
Losing the toss on a greenish track to be sent in to face the quartet of Roberts, Garner, Marshall and Holding, would have been too much for most countries. And India were no different.
Gavaskar flopped again and the Indians were bowled out for just 183. Few gave them a sniff of defending such a meagre total.
But if India had done anything well over the course of the previous month, it had been strangling batting sides with a varied and effective bowling unit and once more this under-rated bowling attack would not be denied.
Led by Dev – who bowled a miserly one for 21 off 11 overs – the Windies' all-star batting line-up simply couldn't get going.
Richards, going at better than one a ball, fell for 33 and his colleagues were strangled by unlikely heroes like Mohinder Amarnath (3-12), Madan Lal (3-31) and Binny, who added one more wicket – that of none other than Clive Lloyd – to finish up the tournament's top wicket-taker with 18.
The previously invincible West Indies had been bowled out for a paltry 140 and Kapil Dev led wild celebrations at Lord's, matched by millions of people all across India.