bet365 News Team
Updated: 16 Jul 23 10:06
Published: 28 Jun 23 10:47
Ahead of the 2023 tournament in India, we have put together our version of the greatest team in Cricket World Cup history…
The 50-over Cricket World Cup has been littered with shocks, comebacks, memorable centuries and match-winning spells in its dramatic history.
Picking out the greatest 11 players to feature on the world stage is a difficult one, emphasised by the players we have had to leave out.
Explosive opener Sanath Jayasuriya, Pakistan stalwart Javed Miandad and the sublime AB de Villiers don't quite make the cut, and we've also left out arguably the greatest bowler of all-time…
Adam Gilchrist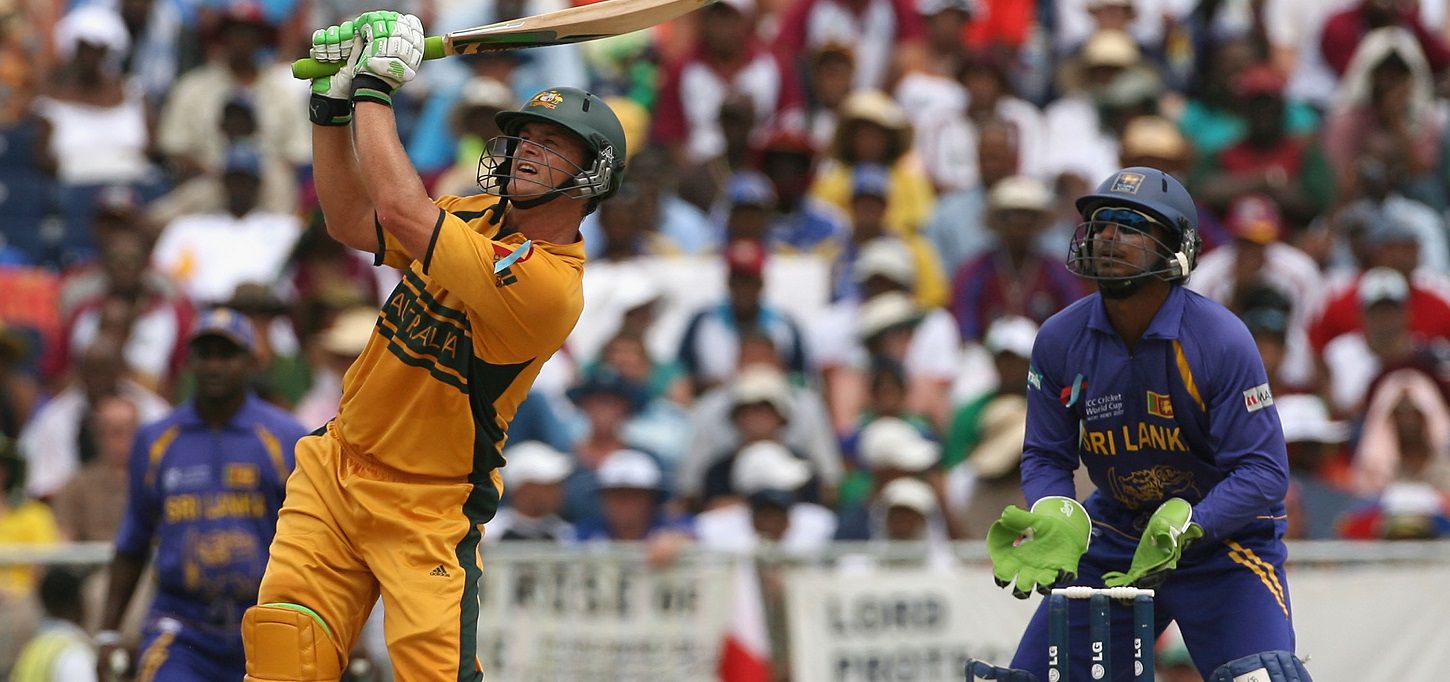 World Cup appearances: 31 (1999 - 2007)
World Cup wins: 3 (1999, 2003 and 2007)
Runs: 1085
Batting average: 36.16
Catches/stumpings: 45/7
50s: 8
100s: 1
Highest Score: 149 (v Sri Lanka in 2007 final)

The legendary Australia wicket-keeper batsman has played in three World Cups and has won every one of them.
His sublime 149 in the 2007 final against Sri Lanka remains the highest individual score in the final of a World Cup, and is fondly remembered as one of the greatest one-day innings of all-time.
Gilchrist was a mainstay of the great Australia side that dominated the late 90s and early 00s and he makes it into our team as an opening batsman ahead of the aforementioned Jayasuriya and teammate Matthew Hayden.

Rohit Sharma
World Cup appearances: 17 (2015 – 2019)
World Cup wins: 0
Runs: 978
Batting average: 65.20
50s: 3
100s: 6
Highest Score: 140 (v Pakistan in 2019 group stage)
India's Rohit Sharma has only played in two World Cups heading into the 2023 tournament, but he thoroughly deserves to take his place in our greatest World Cup team of all-time.
In the 2019 tournament in England, Sharma scored centuries against South Africa, Pakistan, England, Bangladesh and Sri Lanka to become the first player to score five hundreds in one tournament.
His overall tally of six centuries is the joint-highest in World Cup history alongside compatriot Sachin Tendulkar, and he will be hoping to pull away from the great man at a home World Cup this year.

Viv Richards
World Cup appearances: 23 (1975 – 1987)
World Cup wins: 2 (1975 and 1979)
Runs: 1013
Batting average: 63.31
50s: 5
100s: 3
Highest Score: 181 (v Sri Lanka in 1987 group stage)
Viv Richards was a major part of the West Indies side that won back-to-back World Cups in 1975 and 1979 to establish their dominance in the early years of the tournament.
The 1975 final saw him run out three of Australia's top four as West Indies won by 17 runs, while his famous unbeaten 138 against England in the final four years later helped them to retain the trophy.
He was still among the runs in his final World Cup in 1987, where he obliterated a Sri Lanka attack to record his highest World Cup score of 181.

Ricky Ponting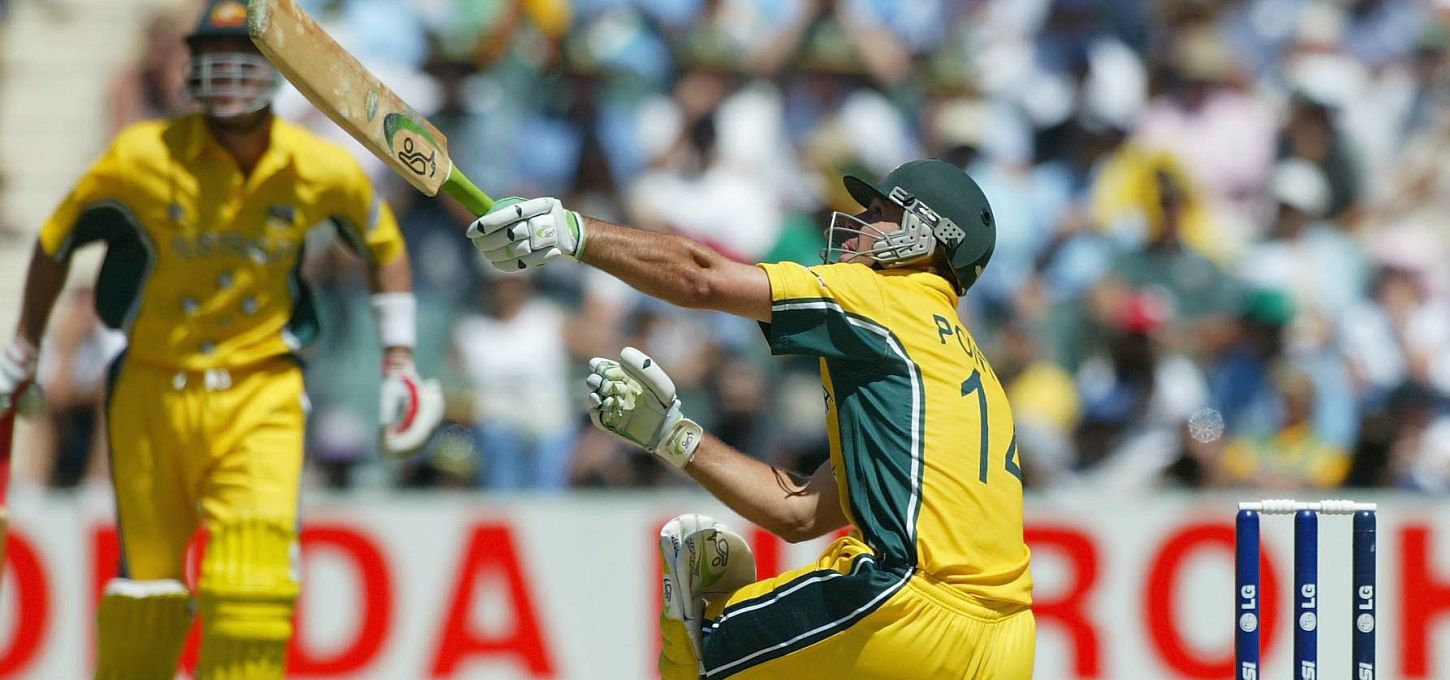 World Cup appearances: 46 (1996 - 2011)
World Cup wins: 3 (1999, 2003 and 2007)
Runs: 1743
Batting average: 45.86
50s: 6
100s: 5
Highest Score: 140* (v India in 2003 final)
Like Gilchrist, Ponting has won three World Cups and he takes his place as captain of this side.
He has won the most World Cup matches as captain, winning 26 out of 29, and his win percentage of 92.85% is also the highest in World Cup history.
He marshalled Australia through unbeaten World Cup defences in both 2003 and 2007, with his devastating unbeaten 140 in the 2003 final against India one of many World Cup career highlights.

Sachin Tendulkar
World Cup appearances: 45 (1992 - 2011)
World Cup wins: 1 (2011)
Runs: 2278
Batting average: 56.95
50s: 15
100s: 6
Highest Score: 152 (v Namibia in 2003 group stage)
He's admittedly a place or two lower down the order than he should be, but there is nobody more deserving of inclusion in this team than Sachin Tendulkar.
Tendulkar played in six World Cups throughout his illustrious career, the joint-highest alongside Javed Miandad.
He has scored the most runs in the history of the competition, has the joint-most centuries and he holds the record for the most runs in a single World Cup with his tally of 674 in 2003.
Perhaps the most incredible statistic is the amount of scores over 50 he has had. His total of 21 50+ scores is comfortably the best, with Shakib Al Hasan and Kumar Sangakkara next in the list with 12 each.

Kumar Sangakkara
World Cup appearances: 37 (2003 – 2015)
World Cup wins: 0
Runs: 1532
Batting average: 56.74
Catches/stumpings: 41/13
50s: 7
100s: 5
Highest Score: 124 (v Scotland in 2015 group stage)
Another player who should be higher in the order, Kumar Sangakkara enjoyed a fine World Cup career, reaching the semi-finals in 2003 and consecutive finals in 2007 and 2011.
Along with the likes of Mahela Jayawardene and Tillakaratne Dilshan, Sangakkara was a dominant figure in the Sri Lanka top-order for a number of years, and he is one of the greatest sub-continent players to ever play the game.
He also holds the record for most wicket-keeper dismissals with 54, and we've given him the gloves ahead of Gilchrist in this team.

Lance Klusener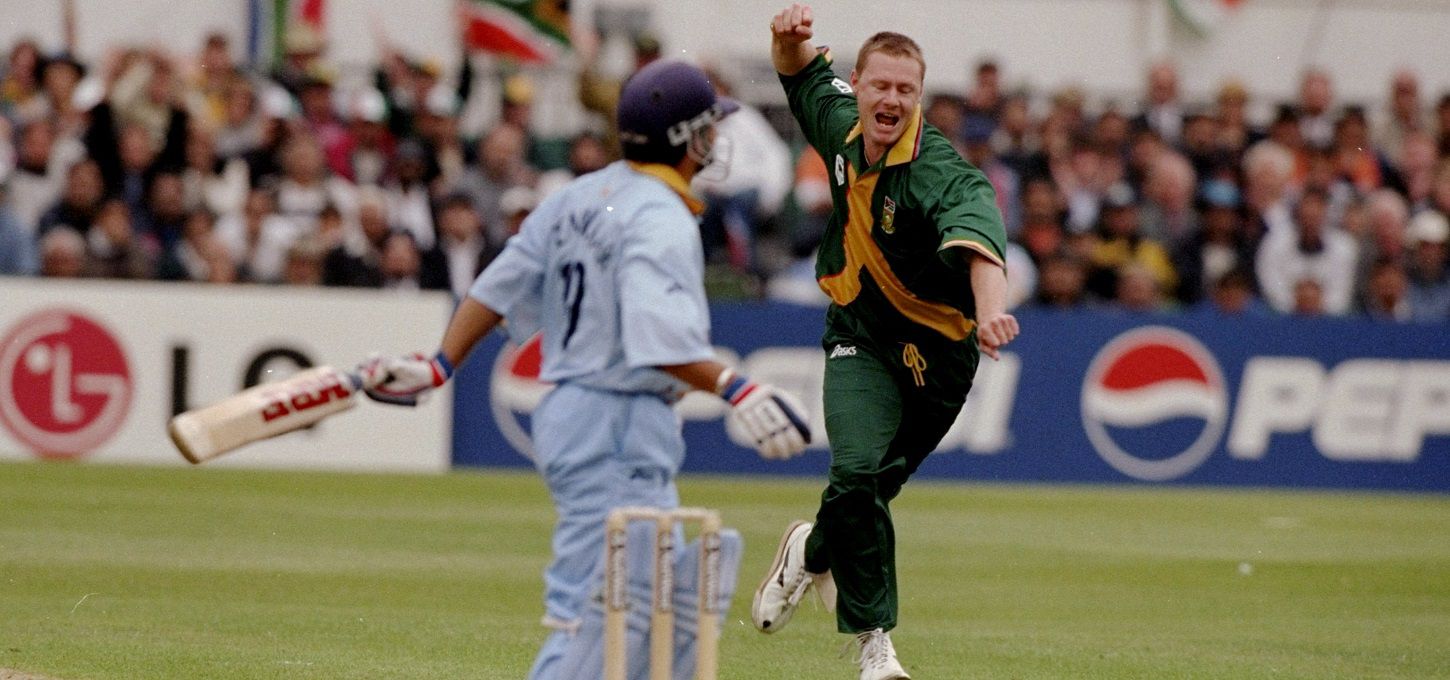 World Cup appearances: 14 (1999 - 2003)
World Cup wins: 0
Batting average: 124.00
50s: 3
100s: 0
Highest Score: 57 (v South Africa in 2003 group stage)
Bowling average: 22.13
Wickets: 22
Economy rate: 4.82
Best bowling figures: 5-21 (v Kenya in 1999 group stage)
We wanted an all-rounder in the team, and to be perfectly honest, we didn't have to look for long with this one.
A destructive middle-order batsman and a somewhat underrated pace bowler, Lance Klusener was the player of the tournament in 1999 as South Africa dramatically lost in the semi-finals to eventual winners Australia.
He won five man of the match awards in just 14 World Cup outings and his batting average is the highest ever in World Cup cricket.

Wasim Akram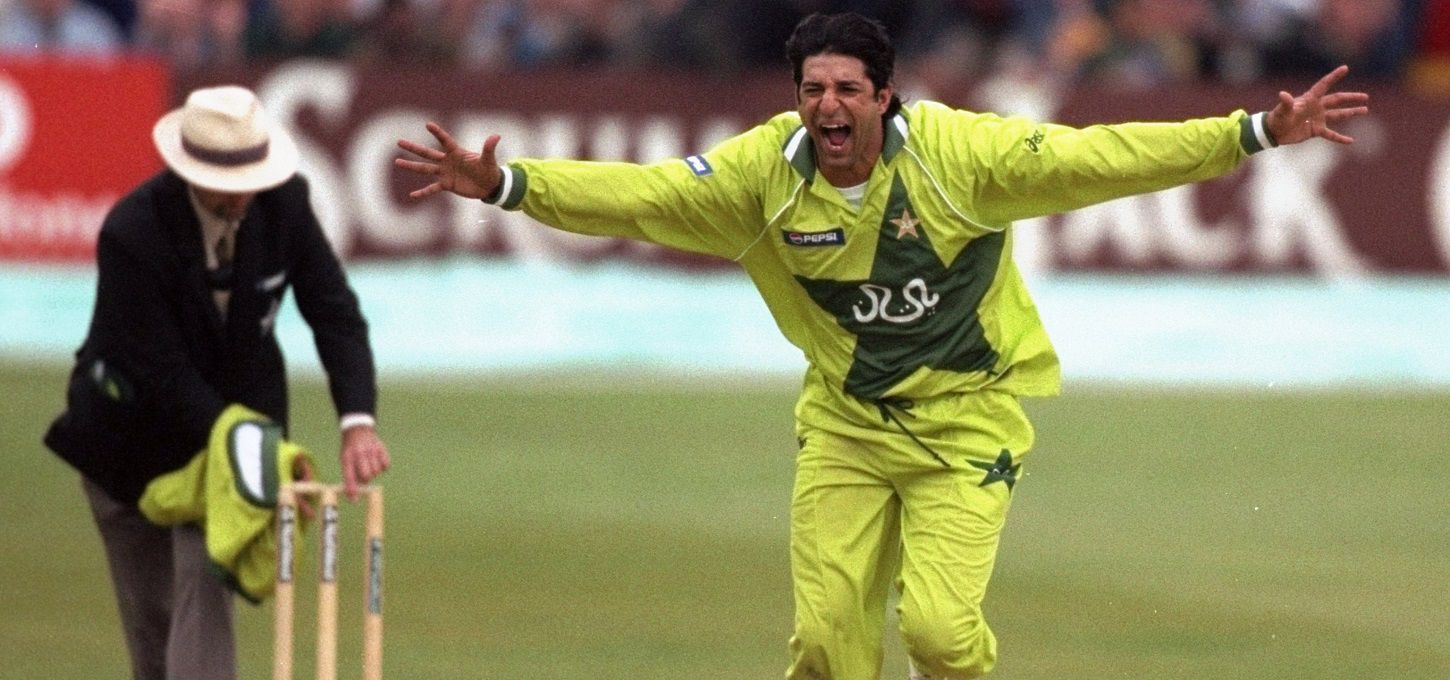 World Cup appearances: 38 (1987 – 2003)
World Cup wins: 1 (1992)
Bowling average: 23.83
Wickets: 55
Economy rate: 4.04
Best bowling figures: 5-28 (v Namibia in 2003 group stage)
Wasim Akram featured in World Cups across three different decades and his ability to swing the ball late caused problems to even the greatest of batsmen.
His performance in the 1992 final helped Pakistan become world champions for the first time as they defeated England in Melbourne.
After scoring a quickfire 33 from 18 balls to give Pakistan momentum heading into England's chase, he claimed 3-49 - including the wickets of Allan Lamb and Chris Lewis in consecutive balls to lead his side to victory.

Mitchell Starc
World Cup appearances: 18 (2015-2019)
World Cup wins: 1 (2015)
Bowling average: 14.81
Wickets: 49
Economy rate: 4.64
Best bowling figures: 6-28 (v New Zealand in 2015 group stage)
We've opted for two left-arm pace bowlers in this side, and with Mitchell Starc's World Cup record, it is easy to see why.
His World Cup bowling average is the best ever of any bowler to have bowled more than 400 deliveries, and his strike rate of 19.1 is second only to India's Mohammed Shami.
In 2019, he claimed 27 wickets as Australia reached the semi-finals, the highest in the tournament's history, and he also has a World Cup best of three five-wicket hauls.

Glenn McGrath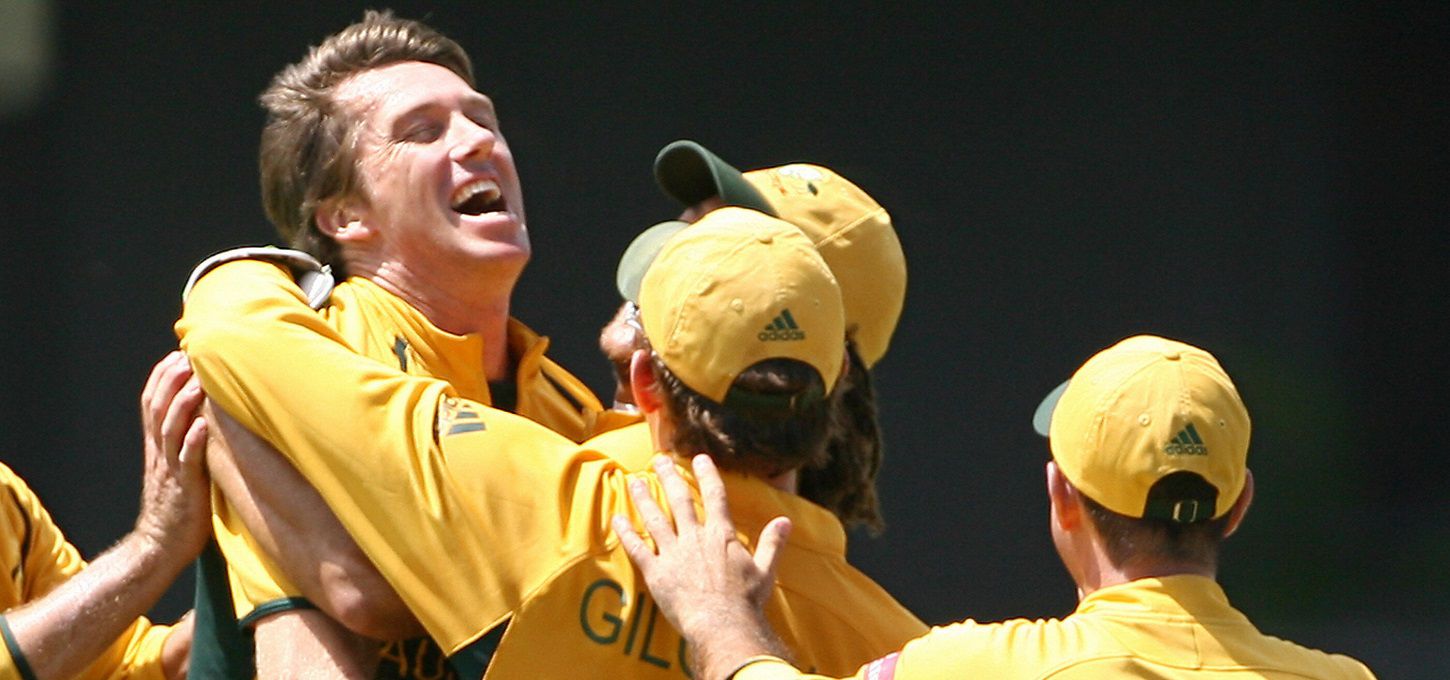 World Cup appearances: 36 (1996 - 2007)
World Cup wins: 3 (1999, 2003 and 2007)
Bowling average: 18.19
Wickets: 71
Economy rate: 3.96
Best bowling figures: 7-15 (v Namibia in 2003 group stage)
The most World Cup wickets and the tournament's best bowling figures, how could we leave out Glenn McGrath?
He played in four World Cups, winning three and losing in the final of the other, and his relentless control of line and length was both difficult to score against and difficult to keep out.
McGrath, Akram, Starc and Klusener make up the seam options. Now to find a quality spinner to complete the attack…

Muttiah Muralitharan
World Cup appearances: 40 (1996 – 2011)
World Cup wins: 1 (1996)
Bowling average: 19.63
Wickets: 68
Economy rate: 3.88
Best bowling figures: 4-19 (v Ireland in 2007 Super Eights)
If we're picking the betting bowler across their respective careers, Shane Warne would pip Muttiah Muralitharan as far as we're concerned.
However, Muralitharan's longevity in World Cup cricket gives him the edge in this team.
Warne played in two World Cups and was particularly impressive in 1999, finishing as the joint-leading wicket-taker as Australia lifted the trophy.
But the Sri Lanka superstar played in five World Cups, winning in 1996 and reaching back-to-back finals in 2007 and 2011, and only McGrath has taken more wickets than Muralitharan's tally of 68.

Greatest World Cup XI
Adam Gilchrist
Rohit Sharma
Viv Richards
Ricky Ponting
Sachin Tendulkar
Kumar Sangakkara
Lance Klusener
Wasim Akram
Mitchell Starc
Glenn McGrath
Muttiah Muralitharan