bet365 News Team
Updated: 22 Mar 23 10:05
Published: 17 Nov 22 11:54
bet365's Fan Nation Survey shows supporters around the world are backing Belgium's number one Thibaut Courtois to claim the coveted Golden Glove award in Qatar.
Our Fan Nation Survey has collected data from across the globe ahead of the FIFA 2022 World Cup and revealed who fans think will win the Golden Glove in this year's tournament.
The survey asked fans from nations competing in the 2022 World Cup which goalkeeper they thought would concede the fewest number of goals during the tournament.
Who do football fans think will win the Golden Glove in 2022?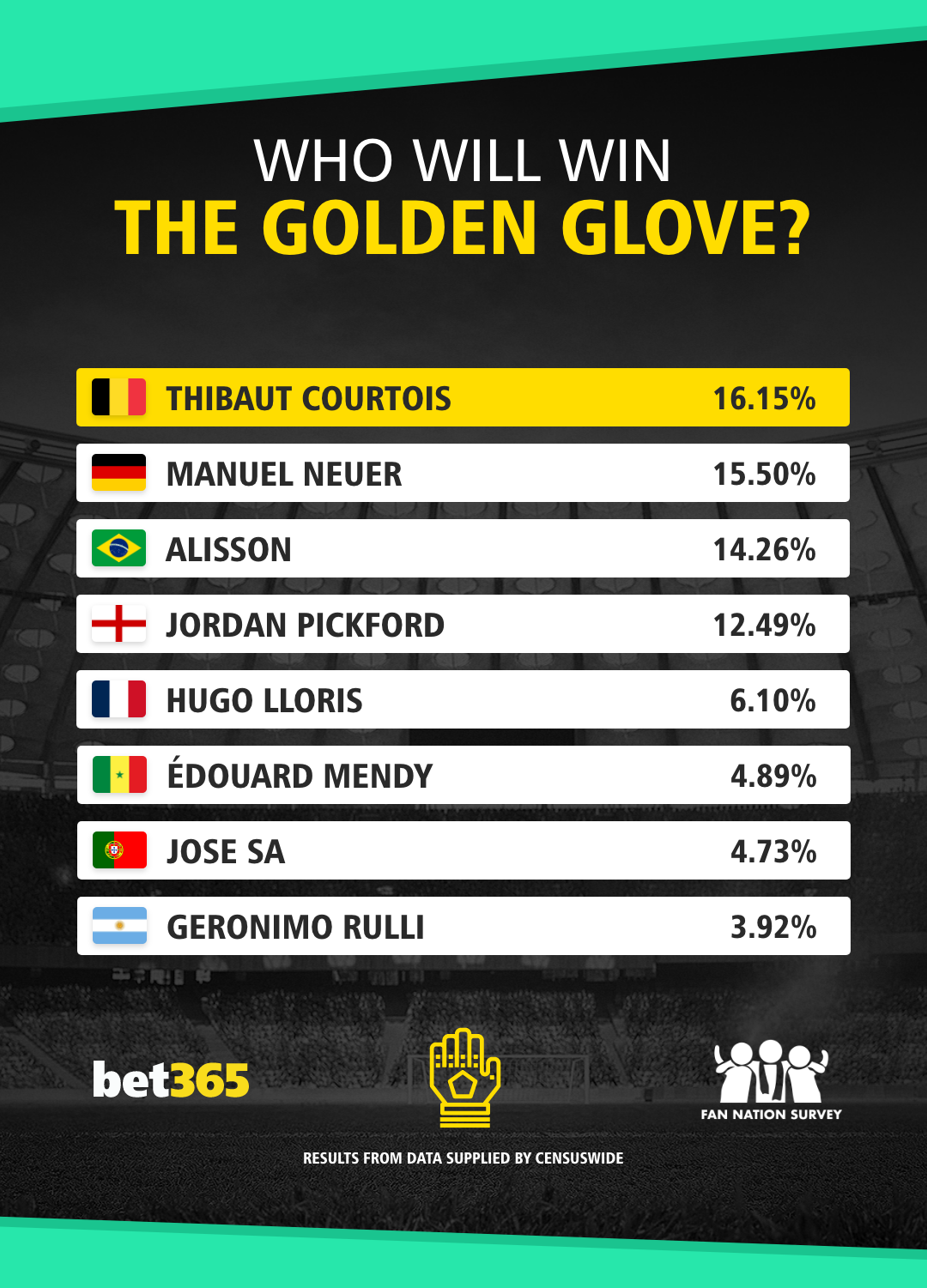 Real Madrid and Belgium number one Thibaut Courtois is the fans' choice to take home this year's converted Golden Glove, gaining 16.15% of votes on average across all fanbases.
The 6 ft 7" stopper has been in fine form for his club in the lead-up to this tournament, helping them to a La Liga and Champions League double last season, putting in an unbelievable performance in the final to stop a dangerous Liverpool frontline.
German veteran Manuel Neuer gained the second-highest number of votes on average with 15.5%.
This may well be the Bayern Munich keeper's last World Cup as his nation's number one, having turned 36 years old back in March.
A trio of Premier League goalkeepers follow the German in the rankings with Alisson (14.26%), Jordan Pickford (12.49%) and Hugo Lloris (6.10%) completing the top five.
Liverpool and Brazil's number one Alisson is widely regarded as one of the best in the world, especially when it comes to 1 v 1s.
Even though the Reds have struggled this season, he is yet to make a major mistake in the league, looking assured despite Liverpool's patchy form.
England's number one Jordan Pickford had an unbelievable tournament last time out conceding just two goals as the Three Lions made it to the final.
If he can replicate that form again, he will surely be taking the Golden Glove back to Merseyside.
Three Lions fans are backing him to do just that as well, with 30% of England supporters backing him to be the best goalkeeper in two tournaments in a row.
Tottenham and France's number one Hugo Lloris finished behind Pickford, despite gaining just half of his average percentage.
Lloris' form has been patchy this season with some Spurs fans losing faith in their keeper and calling for a replacement to be signed.
The Frenchman is vastly experienced when it comes to World Cups though, winning the tournament last time out in 2018.
The bet365 Fan Nation Survey has been powered by survey data collected from Censuswide.