bet365 News Team
Updated: 14 Mar 23 10:03
Published: 25 Nov 22 14:43
From Sir Geoff Hurst's iconic 1966 hat-trick goal to Zinedine Zidane's infamous headbutt - supporters around the world share their most memorable World Cup moments.
This article was originally published on 25 November 2022
Throughout the years there have been some incredible moments during the World Cup Finals.

From Maradona's 'Hand of God' to Sir Geoff Hurst's legendary hat-trick goal in 1966; everyone has their own special World Cup moment.
To find out what the most memorable World Cup moment is, the team at bet365 asked football fans around the world to share their favourite.

From Brazil to the Netherlands, Mexico to Germany, thousands of international football fans voted and these are the results.
The Most Memorable Moment in World Cup History...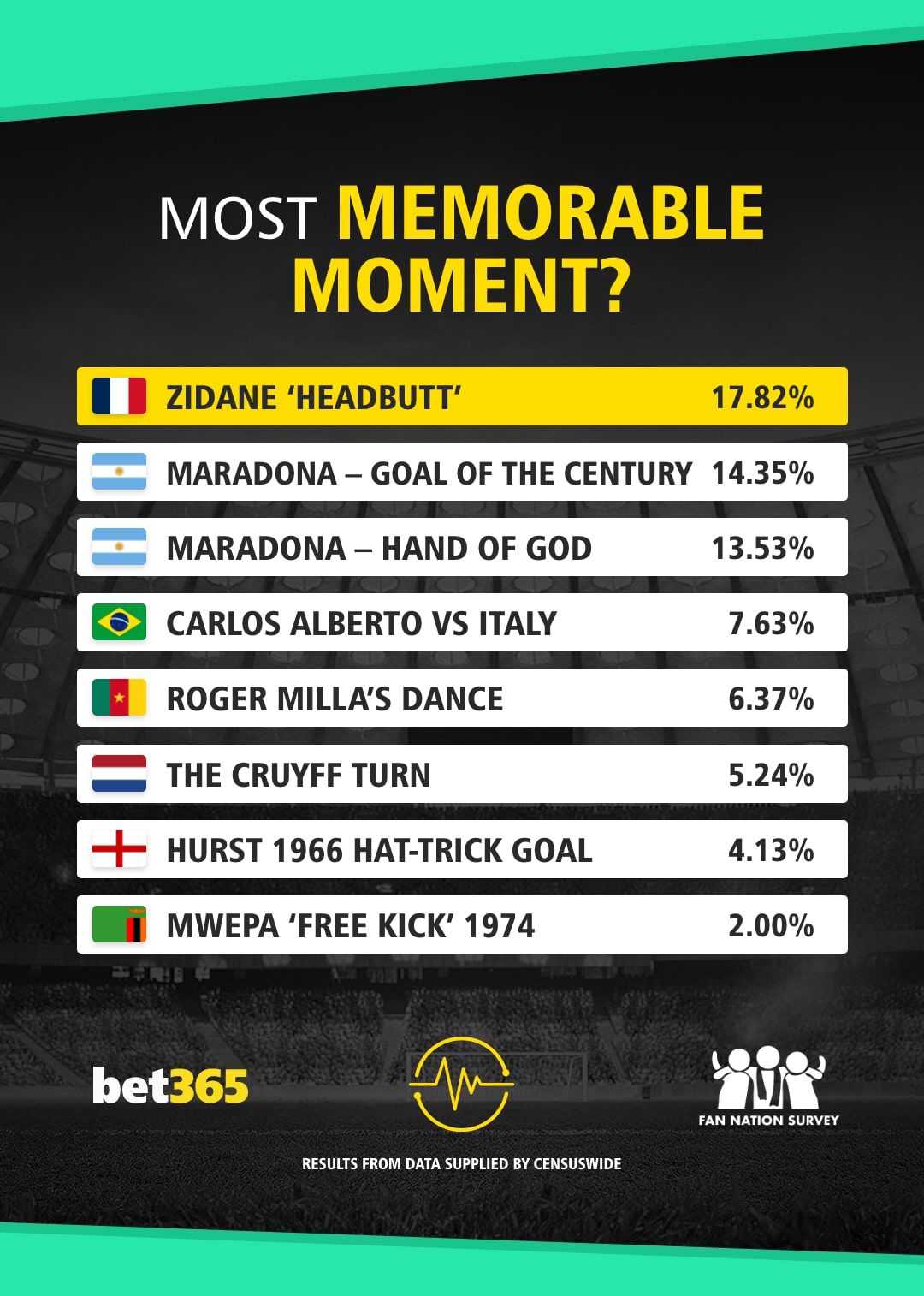 There were countless timeless moments to choose from, but Zinedine Zidane's headbutt in 2006 came top overall. The French player's controversial red card secured almost one fifth of the entire vote, with the precise figure being 17.82%.
Next up in second came Diego Maradona's 'Goal of the Century' from 1986 with 14.35% of the overall vote. Argentinian fans unsurprisingly chose it as their favourite moment, with 53.85% of survey participants in South America opting for it.
We spoke to John Barnes MBE to get his thoughts on his personal favourite moment, and playing against Maradona himself came up immediately.
Barnes said: "It was special to be on the pitch with Diego Maradona. He's one of my favourite players of all time. And he's fantastic, he's iconic. So even though I came on for the last 15 minutes, just to be on the pitch with him was special."
What are England fans' most memorable World Cup moments?
For England, it's no surprise that fans rate Hurst's 1966 hat-trick goal as their favourite World Cup moment, with 26.55% choosing the historic feat. 13.27% chose Maradona's 'Goal of the Century', in 1986, though, ranking it in second place.
There will be plenty more to come from bet365's Fan Nation Survey, delivering the best fan insight throughout the World Cup in Qatar, 2022.
The bet365 Fan Nation Survey has been powered by survey data collected from Censuswide.