Shaun Brown
Updated: 23 Jun 23 10:07
Published: 09 Feb 23 12:53
Shaun Brown takes a closer look at 'The Assasin' Adam Azim as the light-welterweight sensation prepares to take the next steps on his journey towards a world title this weekend.
If you believe in Adam Azim, it's not a case of if he becomes a world champion, it's a matter of when.

At just 20-years-old, having had just seven fights, Azim has two goals in mind... to win a world title, and to do it before the age of 22 - thus surpassing the achievement of Amir Khan and becoming the next British-Pakistani boxing superstar.
Azim's trainer Shane McGuigan, who has worked the corner of elite talents such as Carl Frampton and Josh Taylor, believes his hot super-lightweight prospect is 'the greatest talent he's ever trained.'

After a run of five eye-catching displays last year, Azim was bestowed various accolades, including the BBC Sport 'Young Fighter of the Year' and the Boxing News '2022 Prospect of the Year'.
This summer the BOXXER plans to fight for the European title.

Are we looking at the future face of British boxing as well as a worldwide household name? Or is the hype train in danger of derailing and going over a cliff? For evidence of the latter, you can look no further than his trainer and the television network backing him every step of the way.
McGuigan, rightly regarded as one of the world's best coaches, has over ten years' experience working with some of British boxing's biggest and best. Frampton, Taylor, Chantelle Cameron, Luke Campbell, George Groves, David Haye and Lawrence Okolie are just some of the stars who have acquired his services.

There can be no doubting his credentials and he is now guiding the likes of Caroline Dubois, Daniel Dubois, and Chris Billam-Smith to headier heights. McGuigan and Azim seem a perfect fit.
McGuigan is a trainer that likes his boxers to be aggressive but patient, and, in Azim, has a young starlet who already can go from 0-60 in no time, wiping out those that have stood in front of him.

But there is a level of patience to Azim which is to be admired given his current standing in the sport.

He could have been forgiven for showing signs of recklessness with less than 10 fights under his belt, but with his lightning reflexes and blistering hand speed, opts to pick the right moment to land single hooks and devastating one-twos that cause pain and confusion.
Sky Sports have not only backed Azim but his promoter Ben Shalom as well. The broadcasting juggernaut have invested in talent for over 20 years and often back the right horse. Ricky Hatton and Anthony Joshua are two notable examples.

Related Adam Azim v Santos Reyes Content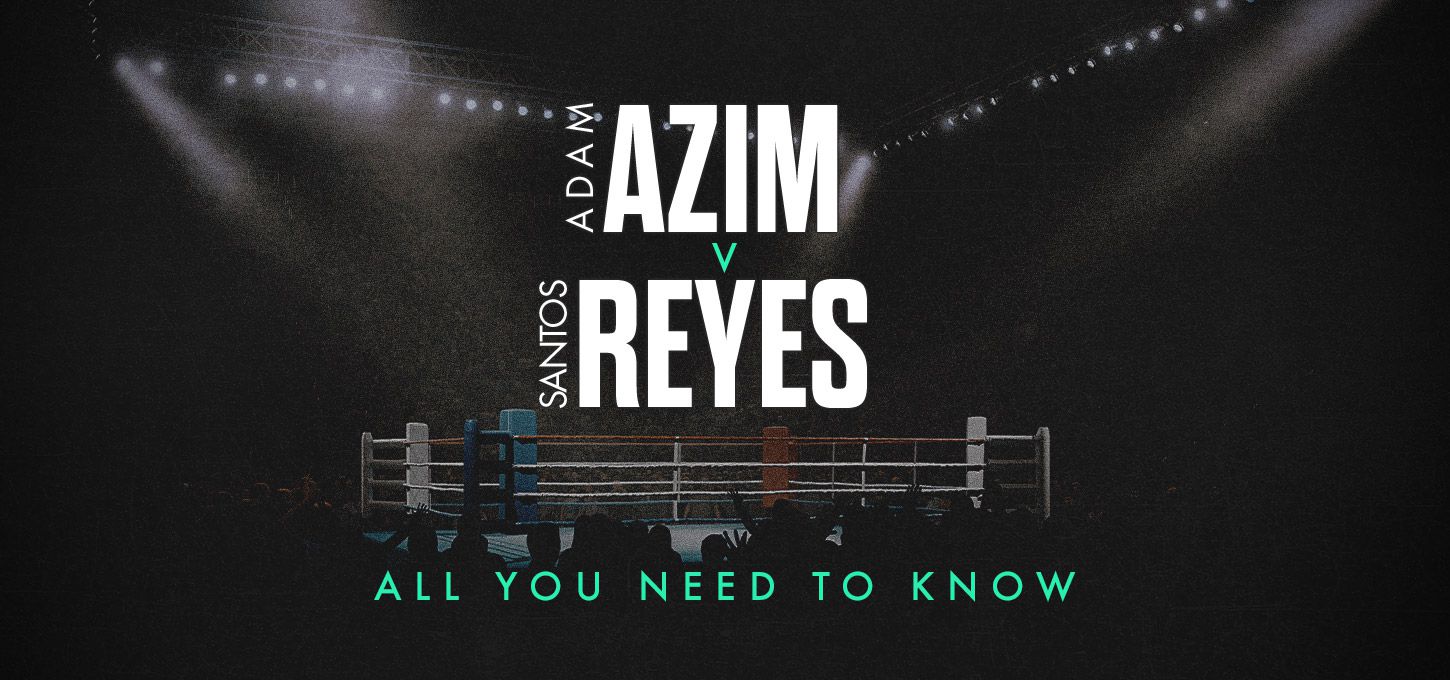 The latest news, betting tips and interviews ahead of this weekend's huge night of Boxing

The comparisons to Khan appear obvious but perhaps there are not as many similarities as you would maybe expect.

Yes they share the same heritage, and both use speed to their advantage, but Azim looks more powerful. Khan occasionally looked like an accident waiting to happen, but it was his heart and eye-catching abilities that pulled him through fights more often than not. Azim still hasn't had his gut check.
After eight fights as a pro, plying his trade on ITV, Khan's opponents had a combined record of 95 wins and 94 losses. Including Azim's upcoming eighth fight against the unbeaten Nicaraguan Santos Reyes (12-0, 3 KO's) his opponents have a combined record of 57 wins and 55 losses.

Khan, however, never faced anyone with an unbeaten slate until he ran into the destructive hands of Breidis Prescott in 2008. His 19th fight ended in a disastrous first round knockout. A memory that Sky will look to avoid a repeat of.
Azim is yet to be tested and has found that even his power can punch through the blocking hands of opponents and cause damage.

Former British super-lightweight champion Sam Maxwell has reportedly turned down a fight against Azim which is a pity. That would have been an ideal contest to discover if Azim was ready for far bigger challenges.

British champion Dalton Smith is an obvious clash, but will Eddie Hearn and Ben Shalom roll the dice this year or wait for an event far bigger further down the line?

An interesting wild card is Ireland's Pierce O'Leary - a hard-hitting 140-pounder - who will look to throw a spanner in the works of any planned world domination from the two Brits.
It would be foolish to describe Azim as the best prospect in world boxing, but his highlight reel is arguably one of the most exciting.

There is an array of talent coming down the sport's conveyor belt with some further down the line than Azim, and having already swam in far deeper waters.

But with the likes of Azim, Keyshawn Davis, Abdullah Mason, Ben Whittaker, Pat McCormack and Jared Anderson all tipped for the very top, fans could witness a golden age for the sport in the near future.

For Azim, the future looks laden with titles, riches, and fame but the proof will be in the matchups soon to come.
Boxing fans should make a note of the date of his 22nd birthday: July 21, 2024. If the wonderkid is to beat his close friend, Khan's, first world title achievement, then he must do so in the next 17 months.

View the latest odds, markets and Bet Boosts ahead of Adam Azim v Santos Reyes