David Schneidman
Updated: Jul 18 2023 05:53
Published: Jun 27 2023 21:45
Who is playing the the 2024 Winter Classic? When is the first Stanley Cup Final rematch? Read through for every notable event and matchup on the newly-released 2023/24 NHL schedule.
The 2023/24 NHL schedule was released on Tuesday, so let's look at the marquee matchups and events for the upcoming season.
| | |
| --- | --- |
| What | 2023/24 NHL Season |
| When | Tuesday, October 10, 2023 - Thursday, April 18, 2024 |
| How to watch | Sportsnet, TSN, CBC, TVA Sports, RDS |
| Odds | COL Avalanche +850, TOR Maple Leafs +900, EDM Oilers +900, NJ Devils +1100 |
Click here for a list of favourites to win the 2024 Stanley Cup.
Who plays on the opening night of the NHL season?
The 2023/24 NHL season begins on Tuesday, October 10, 2023 with a triple-header, and it is anyone's pick of what storyline to focus on.
First up at 5:30 PM ET is the Nashville Predators facing the Tampa Bay Lightning.
Next up, NHL fans will get to see No. 1 overall pick Connor Bedard in action when the Chicago Blackhawks face the Pittsburgh Penguins and Sidney Crosby. Bedard will make his NHL debut against one of the greatest players of all time in Crosby.
At 10:30 PM ET, the defending Stanley Cup champions are in action against a familiar foe. The Vegas Golden Knights will kick off their Cup defence against the Seattle Kraken, who will aim to do one better on what was a hugely successful second NHL season.
Who is playing in the Winter Classic?
The 2024 Winter Classic will be the 15th edition of the fan-favourite event first held in 2008.
At 3 PM ET on January 1, 2024, the Golden Knights and Kraken will square off from T-Mobile Park in Seattle, Washington, the home park of the Seattle Mariners.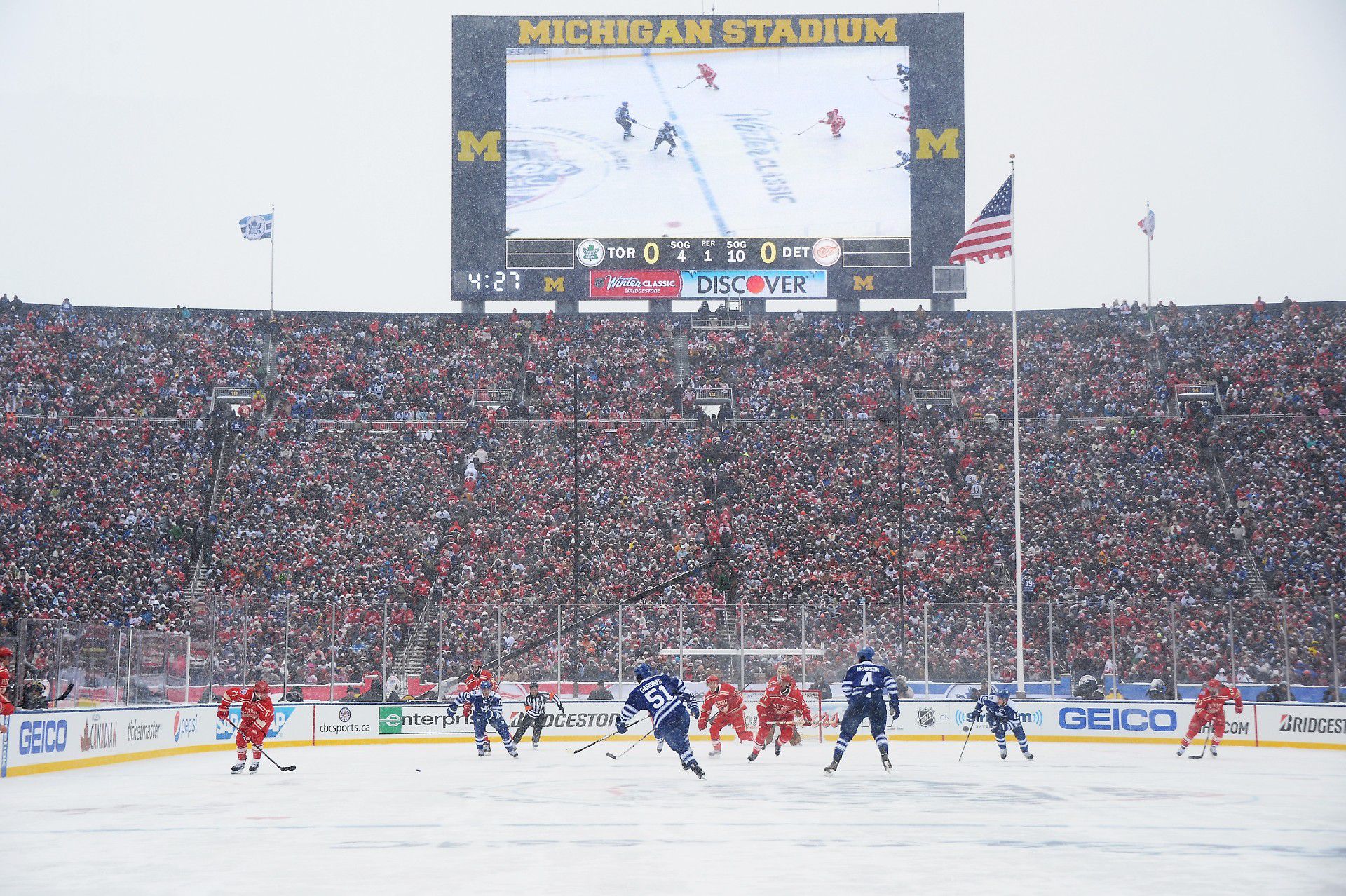 The 2014 Winter Classic between the Maple Leafs and Red Wings took place in front of 105,000 fans at Michigan Stadium.
Who is playing in the NHL Stadium Series?
The 2024 Stadium Series will take place on February 17-18, 2024, with two games taking place at MetLife Stadium in East Rutherford, New Jersey, the home of the New York Giants and New York Jets.
The Philadelphia Flyers and New Jersey Devils will play at 8 PM ET on Saturday, Feb. 17.
The New York Rangers and New York Islanders will play in Sunday's game, set to start at 3 PM ET.
What are the NHL's international games in 2023/24?
The 2023/24 NHL Global Series will see four teams – the Detroit Red Wings, Minnesota Wild, Ottawa Senators, and Toronto Maple Leafs – head to Avicii Arena in Stockholm, Sweden from Thursday, November 16 to Sunday, November 19, 2023.
The teams will take part in a four-day, four-game set.
Other notable games
Maple Leafs at Penguins – November 25 at 7 PM ET
Penguins GM Kyle Dubas goes against his former team
Blackhawks at Oilers – December 12 at 10 PM ET
First ever Connor McDavid vs. Connor Bedard matchup
Golden Knights at Panthers – December 23 at 3 PM ET
2023 Stanley Cup Final rematch